Salyan Khadgi is the head coach of Sankata Football Club, one of the oldest surviving clubs in Kathmandu. After playing for the club for over a decade, he took over the reins of the team in 2016 leading the club to Bikash Running Shield during his maiden stint as coach. Recently, Khadgi coached his team to finish second in the league, its best-ever performance in the tournament for over three decades. Onlinekhabar recently talked to Khadgi about the league season and how his team coped under pressure in the final few games.
Excerpts:
Before the season started, did you feel your team would secure second place?
At the start of the season, if someone told me we'd come second, I would have bitten his hands off! But I feel we played well this year to achieve what we did. The penultimate game against Three Star was a historic one for us as we achieved something we hadn't dreamed of–we bounced back after conceding a goal in just four minutes. We could have settled for a draw, which would still give us an advantage heading into the last match of the season, but I felt sealing the deal with a game to go would be the better option.
Sankata's best finish in the league was recorded 33 years ago when they won the league. After that, the team hadn't finished in the top three. As your team was on the verge of breaking the record, what thoughts came to your mind before the penultimate game?
I would be lying if I said I wasn't nervous. I was thinking about a lot of things because this was something none of us had imagined. People were expecting a lot from me because of the way our team had performed over the league season. Even though I was under pressure I didn't show it to my team. I motivated my team and that is how we won the game.
Your overall performance against the big boys hasn't been good this season. How did you overcome that?
Everyone will have doubts. After our 5-1 loss against Nepal Army people told me that this team wouldn't even make the top five which was our original target at the start of the season. But after that game, I decided to play a bit defensively. I realised that setting up a team to play attacking football every game was wrong. Yes, it is how we want to play, but there are moments when you have to respect your opposition.
I didn't respect the Nepal Army and that loss happened because of that. After that game, I learned a lesson to not take any team lightly and change tactics depending on the team. But the game against Manang was quite tight and I felt it could have gone either way. But I've learned a lot from this season and the mistakes I have made this season, I will not be repeating them.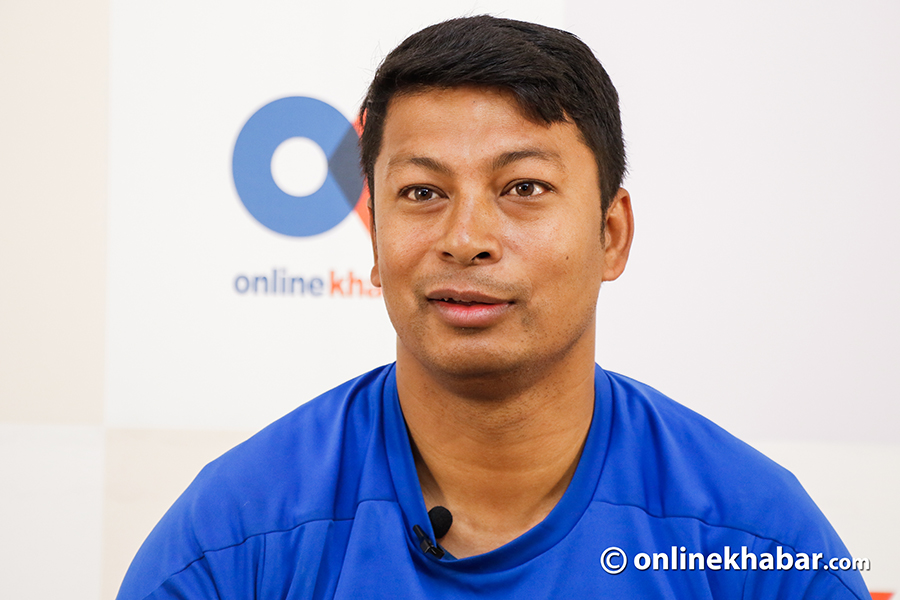 As you don't have any star players in your side, how much of a team effort was this?
I don't think a good team needs star players. I know I had an average team but all my players were young and hungry. They wanted to show the country that they could play and that was an important factor in us finishing second. These players haven't had a chance and were raring to go. They were helped by all my senior players who made sure the team always stuck together. Team captain Rabi Silwal was good this campaign. I couldn't have asked for a better leader.  He, along with other players, motivated the young ones, especially after the game against the Army. Senior players didn't let the younger player's heads drop which is what you would expect from them.
Was it hard to assemble a team?
Yes, it was. It wasn't hard just for me, but for all teams, except for the 'departmental' teams. The league happened after five years which resulted in a lot of players leaving the country or leaving football. That meant there were hardly any known players in the market. The only choice we had was to utilise the players that were available to us. But I feel fortunate that I was able to assemble a good team.
Was a league without relegation competitive?
A lot of people have questioned that but I felt it was quite competitive. At this point in time, all of us are thankful that league football has resumed after five years–even though this league didn't have relegation. This season helped prepare us for next season. Some teams might have had this on the back of their head that there is no relegation which meant they didn't need a good enough squad for this season. But most of the top teams were building teams to fight for the title. I'd say that the top was quite competitive the bottom might not have been equally competitive.
---
Published on January 7th, Monday, 2019 12:43 PM
---
Download Onlinekhabar App. Android click here & IOS click here . Keep in touch with us on Facebook, Twitter & YouTube.