Last Saturday, the Manahunkot hill in Vyas municipality-5 of Tanahun district saw nearly 10,000 visitors. Around three-km road leading up to the hilltop was congested with four-wheelers and two-wheelers.
Local Rewati Gurung, 65, was amazed to see the sudden crowd of the domestic tourists there where people could be hardly seen until a few weeks ago.
"I have never seen these many people in my life. Good Lord! These many people had never come here," Gurung said, laughing, "Some were taking photographs, some others were dancing, some were shouting, and we were all busy selling goods."
Manahunkot was abuzz with the crowds of people gathered there. However, like many other locals, Gurung was also unaware of what triggered the sudden flow of thousands of visitors there.
Of course, how would they even get time to think about this? Most of them were all busy selling goods to visitors. Earlier, only a few used to come there. It has just been a few months since this site has been seeing crowds of visitors.
Vyas municipality's ward 5 chairman Mohan Kumar Shrestha said, "It was so crowded in Manungkot on Saturday that we were scared. Thousands of people came in one day. And, by Friday evening only, more than 700 visitors had already arrived here and set up tents."
The trigger of TikTok
After being stuck home for months during the lockdown and other restrictions imposed to control the coronavirus outbreak, many people went out of their homes as soon as the restrictions were over– searching for some places to enjoy and refresh themselves. Some people enjoying nature also reached Manahunkot and made a Tiktok video with beautiful fogs in the background.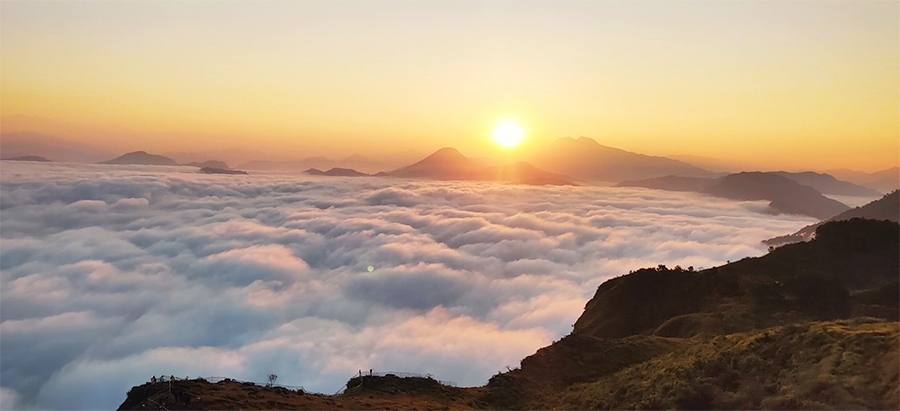 With the arrival of the Dashain, this trend skyrocketed. The view of sunrise and sunset from the hilltop, ever-changing shapes of fogs, and the view of mountains and hills half-covered with fogs and clouds during the winter are the main attractions of Manahunkot.
These features of Manahunkot as shown in Tiktok videos won the hearts of many others. The place went viral on the site. Some videos crossed thousands of views and likes in a single day. This excited the younger generation about visiting Manahunkot. They went there, made, and uploaded similar Tiktok videos.
The number of people reaching Manahunkot only to make TikTok videos suddenly soared. Hundreds of videos of Manahunkot have been uploaded on Tiktak on Saturday alone with hashtags like #ManungkotDamauli, #ManungkotDamauliNepal, #Manahunkot, and #ManahunkotTanahunNepal. And, millions have liked them.
One of the visitors, Utsab, from Pokhara, shared, "The sight of the sun rising in a sea of ​​fog is truly amazing. We feel like jumping into those layers of fog. After reaching Manahunkot, the heart really celebrates the festival."
Ward chair Shrestha also viewed that the sudden increase in the number of visitors in Manahunkot was linked to Tiktok.
However, many took to social media and criticised the crowds stating they increased the risk of the spread of the virus. And now, considering the ongoing pandemic and the sudden hordes of people, the Vyas municipality has only allowed 300 visitors per day to visit the site.
Mythological significance
Considered to be the abode of sages Parasar and Vyas, this place is also associated with fogs in mythology also. Next to the confluence of Seti and Madi was an ashram of the sage Parasar. After being attracted by the beauty of Matsyagandha, he had had intercourse with her, by creating fogs and by transforming the child Matsyagandha into an adult, and changing the smell of fish into fragrance while swimming in the river.
There is a myth that Vyas was born out of that relationship. That is why this place is also known as the abode of the same Parasar sage, and the birthplace of Veda Vyas.
Just like in this mythological tale, this place is lost under the veil of fogs every winter.
A forlorn place
Rewati Aale vividly remembers migrating to a crowded village after her wedding in 1975.
"When I came here after my wedding, there were many houses in this village. At that time, once I forget my own house and went to someone else's. Such a lively village later turned deserted," reminisced Aale.
According to Aale, there were around 60 houses in Manahunkot at that time. The village had 43 households till 1996, informed Jhul Bahadur Thapa, a local of Manahunkot who started teaching there in the same year.
As per Thapa, also the headmaster of Manung Primary School, Manahunkot is a pure Magar settlement. He further described, "It is called Manung because it has a stone that looks similar to a 'mana' (a container used in measurement traditionally). We call it Manung; some even call it Manahun. Earlier, only Magars used to live here, and there were other castes in the villages below the hilltop."
Despite the infrastructural development following the political change in and around the area nearby Manungkot, the residents of Manungkot were still facing the scarcity of water. "It used to take five hours to fetch water. Looking downwards (at Damauli), it was seen illuminated with lights. And, above, it was dark, " said Aale, "Other than this, everything was fine. However, people were leaving the village due to the water shortage."
The villagers had hoped that water and development would reach the village with political change. Jhul Bahadur Thapa said a school was built in the village with an initiative of the then Education Minister Govinda Raj Joshi in the early 1990s, and a tank was built in the village to collect even the rainwater from the roof of the same school. "However, that much water couldn't be sufficient for the whole village."
"Around mid-2000s, many people started migrating to a place called Sora," he said, "The village itself was displaced due to water scarcity."
Despite the assurances of every political leader during the elections, the dream of water in Manahunkot never came true, complained Thapa.
As of now, there are only seven houses in the Manahunkot. Three families have recently returned there after the increasing flow of visitors.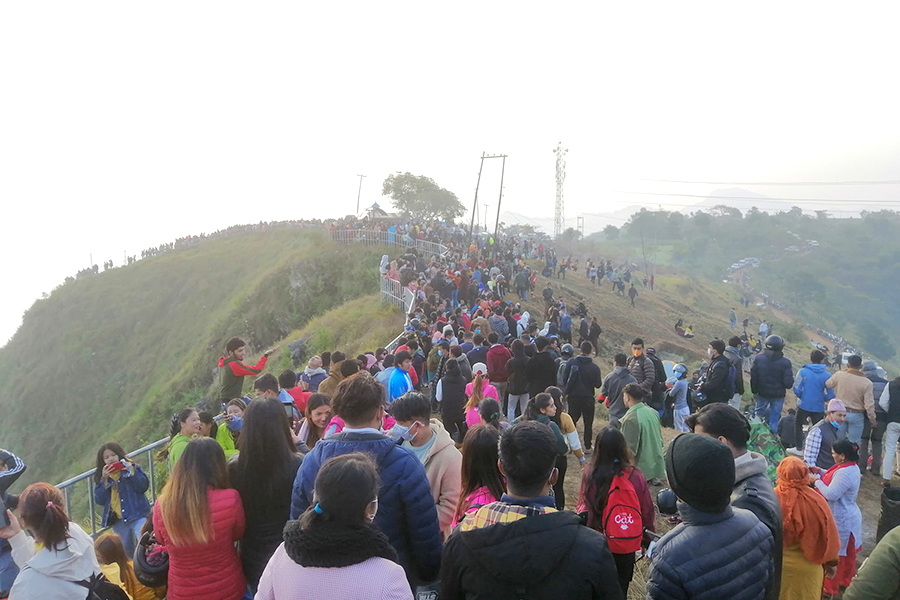 Lack of accomodation
The unpaved road to Manahunkot was built around 2005. Soon, during the Tanahun Festival, locals tested paragliding there. Shortly afterwards, a national-level Manahun Tourism Literary Festival was held. Tanahun continued to be known as a tourist destination, and such events continued to take place in Manahunkot. However, it could not leap up to fame and development even after having such natural aesthetics.
Nevertheless, Manahunkot has finally come to fame and become the choice of Nepali visitors due to social media. Although all the seven houses in the village are makeshift hotels now, this site has neither a good toilet nor a proper accommodation facility. It is no secret that those seven houses cannnot accommodate thousands of visitors coming there.
About half of the road to the hilltop is blacktopped and further plans are on to blacktop the rest.
"We buy bottled water and water supplied by tankers to cope up with the water crisis now. With the construction of roads, it has been easier to bring water on tankers," said Keshari Thapa, a local. Hundreds of visitors visit daily, but there are not any well-facilitated hotels or resorts. Due to the lack of accommodation, visitors themselves bring food and tents to stay here.
Local govt's plan
After the influx of visitors, some locals who had migrated from the place selling all their properties are regretting. Meanwhile, new investors are being attracted to this place. Ward chairman Mohan Kumar Shrestha said that investors wre showing interest in building a resort and a big hotel in Manahunkot.
With the increase in the number of visitors, the price of land is also increasing in Manahunkot and adjacent places such as Deurali, Naughare, Charghare, Chhapathok, and Bachryang. Mayor Baikuntha Neupane said a meeting of the municipality held in Manahunkot on Sunday had stopped the sale of land for the next two months so that the place could be developed as a tourist site.
At present, a view tower is being built on the hilltop at a cost of Rs 4 million. Work is in progress for building the trekking route from Patan, Chapaghat, and other areas at a cost of Rs 4 million. And, by now, the work of installing railings has already been completed.
Mayor Neupane informed that the meeting of the municipal executive committee also decided to make a master plan for solving the water crisis, building proper and well-facilitated infrastructures like toilets and others.
The municipality has planned to change the face of Manahunkot, which is just six km away from Chapaghat on the Prithvi Highway, just like of Bandipur and Nagarkot.