Have you ever wondered what lawmakers do in the federal parliament? What do they discuss or speak? Do you ever watch the live broadcast of the sessions of the parliament? Well, it is safe to say you are not missing out on much.
Most lawmakers speak about random issues that do not make sense while another group attacks either the ruling or the opposition parties. There are only a handful of lawmakers who make sense at the parliament and try to raise awareness of critical issues.
Worthless use of precious time
Getting to speak in the House of Representatives is not easy. A lawmaker has to fulfil a few criteria before he/she is allowed to speak. Even when they are allotted time, they waste it by praising the work done by themselves or their party.
It took Sujata Pariyar, a Nepali Congress lawmaker, a month to get the chance to speak. On August 10, she finally got a chance to speak during the zero hour when a lawmaker is only given a minute to speak. But she used 45 seconds to congratulate Sher Bahadur Deuba on becoming the prime minister and the last 15 seconds to question the inaugurations of various projects done by former prime minister KP Sharma Oli.
There are many who talk about internal matters of the party when given time. On March 7, as soon as the House of Representatives meeting began, a few lawmakers obstructed the meeting. Speaker Agni Sapkota, despite the commotion, gave Bhim Rawal permission to speak. Rawal then spoke for 10 minutes. During that time, he continuously criticised his party chair and then prime minister of the country, Oli. He spoke about how bad a precedent Oli had set and how poor he was as the prime minister of Nepal.
But most of it was superficial as he never went into detail. This is a common practice in Nepal's parliament.
On March 23, 2020, a parliamentary hearing was taking place to decide whether Mahendra Bahadur Pandey was eligible to become Nepal's ambassador to China. In the meeting, Nepali Congress lawmaker Jitendra Narayan Dev randomly talked about how political parties should not have an influence on the country's foreign policy. Why, when and how it was affected was not mentioned by Dev. It was an odd place to say that, said other lawmakers present in the meeting.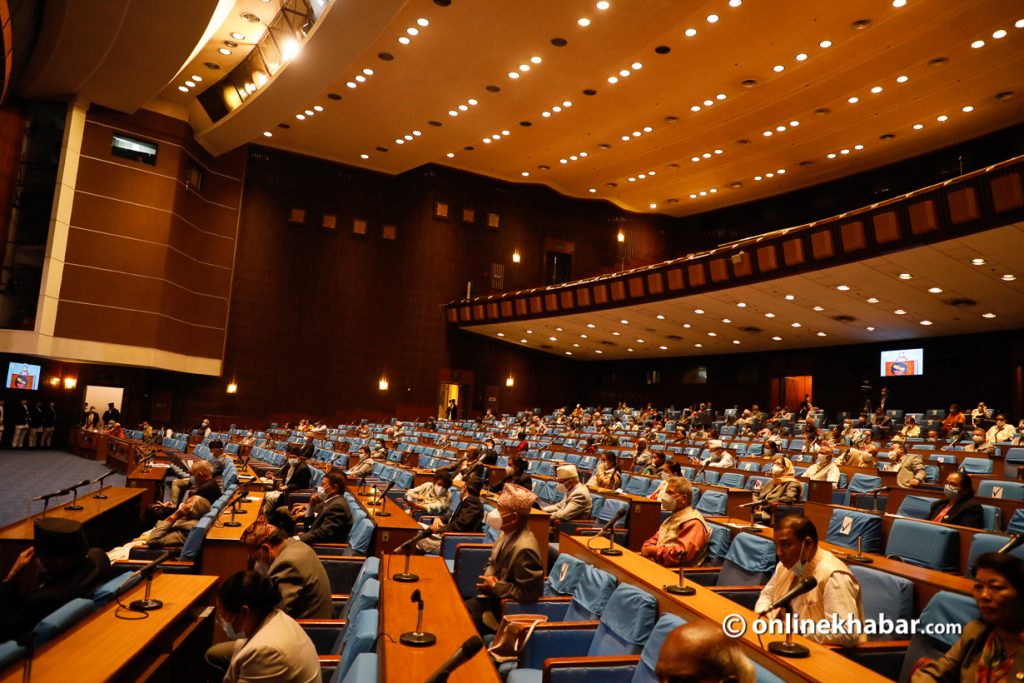 There are also instances in which lawmakers talk just for press coverage and say things that do not make sense. Nepali Congress lawmaker Tejulal Chaudhary on March 6, 2020, said something that puzzled everyone. He said that to ensure that Covid-19 did not affect the country as much, the country needed to be alcohol-free.
There are other examples like this. On June 23, 2019, the House of Representatives was discussing the Appropriation Bill. While the discussion was going on, Nepali Congress leader Umakanta Chaudhary referred to Oli as Jhut Prasad Oli (called him a liar in a sarcastic manner). In reply, a UML lawmaker Jhapat Rawal objected to Chaudhary and told him how would he feel if he referred to his party president as 'Chherbahadur' (a pun of Sher Bahadur Deuba's name, to mean a person who always has diarrhoea).
These types of incidents are common in Nepal's House of Representatives as lawmakers are found to be wasting time in the name of policymaking. This has put a question on the integrity of the post as political analysts fear what outcome will come when a researcher does research on what lawmakers say in the parliament.
National Assembly secretary Rajendra Phuyal says a lawmaker's statement is never questioned which has given rise to this. He says that no one questions whether the lawmaker is speaking facts or just talking for the sake of it.
"Whatever they speak is recorded. Along with that, the press also publishes it, so it's going to be interesting to see how people in the future will look at these archives. I'm sure they'll be disappointed," says Phuyal.
Oli has also been spreading misinformation in the parliament. On June 10, 2020, as Covid-19 was spreading around Nepal, Oli made a statement that irked a lot of medical professionals. He said that Nepalis were going to be safe from Covid-19 because Nepalis' immunity power was better than those in the west. He urged people to drink turmeric water which would help fight Covid-19.
It took almost 10,000 people dying for Oli to accept his mistake and said that he had thought that Covid-19 would not spread in the manner that it did in Nepal.
Writing and reading
Lawmakers for a long time have been reading statements from a notebook they bring. But, there are instances in which it seems like these people do not even understand what they are saying.
Should a lawmaker be allowed to do this? Things are not that clear.
On September 1, 1959, Krishna Prasad Bhattrai, the speaker at the time, had banned people from reading out what they wrote. This is in the parliament's archive and was included in the parliament's directive.
Along with that, Bhattarai also ruled that lawmakers could not read newspapers inside the parliament and also banned the use of cigarettes and tobacco. More importantly, he also asked lawmakers to speak if they had any input on the agenda that was being discussed on the day.
The current directive, however, does not have any of these provisions.
Forever problem: A lack of quorum 
Parliamentary committees of the House also face a recurring problem, a lack of quorum. There have been many instances in which a meeting has had to be held even though there are not enough lawmakers present. But, lawmakers do not really talk about this.
On November 22, 2018, the Finance Committee was due to sit for a meeting at 1 pm. But lawmaker Metmani Chaudhary came to the meeting 45 minutes late. Even though he was late, he still came as the committee members went from eight to nine.
The finance committee isn't the only one that is facing the quorum issue. According to rules, a committee meeting can only be conducted if there are 51 per cent members present. But there have been cases when a committee with 25 members has had to begin a meeting with only 10 present.
Bad lawmakers draft poor laws
How good Nepal's lawmakers are can be determined by the laws they frame. But, in Nepal's case, there are many examples that can point out why Nepal's lawmakers are not good. A case in point is the Giri Bandhu Tea Estate case in Jhapa.
On March 13, 2019, the Ministry of Land Reform and Management registered a bill in the House of Representatives to amend the Land Act, 1964. The bill then went to the Agriculture Cooperatives and Natural Resources Committee of the parliament for discussion.
After discussion and recommendations, the bill was put before the House for endorsement. As that happened, no one questioned why the bill needed sudden amendments. A few lawmakers had felt that the bill was being used to give away land to the Giri Bandhu Tea Estate in Jhapa, but no one put these questions forward to the House as the bill was passed by both houses and subsequently enacted by the president.
A while later, the company acquired and sold land and lawmakers were left ashamed. A few had even said how disappointed they were to have passed a bill that made it easy for the estate to acquire land.
"We made the law and using that law, these people acquired land. I feel quite shameful about this that the land mafia used us to get what they wanted," says UML leader Shanti Maya Pakhrin.
The committee asked the government to stop the estate from acquiring and selling land, but the committee members say that they are not aware if it has been implemented.
"We're following. Let's see what happens," says Purna Kumari Subedi, the committee's chairperson.
Nepali lawmakers' have stooped so low on the moral grounds that they have been making laws to serve their purpose. On April 17, 2019, The government put forward the bill on coordination among federal, provincial and local governments before the National Assembly. The bill was framed to establish a framework so that all three levels of government could effectively coordinate with each other. The bill was ratified by the National Assembly and sent to the House of Representatives on January 20, 2020.
The House added one thing to the bill – compulsory involvement of lawmakers in development projects.
The bill then went to the State Affairs and Good Governance Committee which also supported the claim and added that all development projects – local, provincial and central – would have to be overseen by a member of the parliament.
Committee member Pampha Bhusal had said that this was important because a lawmaker should know what is happening in their constituency. Nepali Congress lawmaker and committee member Dilendra Prasad Badu had stood against it as he said that it was immoral for lawmakers to discuss a bill that worked towards benefitting lawmakers.
"This is a conflict of interest," he had said.
Despite some protests, the bill was passed by the House and is being implemented now.
Lack of skilled human resource
The aforementioned examples show that lawmakers in Nepal lack morals and, to some extent, intelligence. Some lawmakers admit to this as there have been examples of lawmakers asking for training.
In 2019, Yogesh Bhattarai who was a part of the Education and Health Committee had called for proper training of lawmakers to make them effective. He also called for administrative training so that work could be done in an efficient manner.
But, there is a mechanism present in the parliament to train lawmakers through the Human Resource Department. But the state of that is disappointing. Department chief Nirmala Devi Lamichhane says that there are only four staff members who give a briefing to newly appointed lawmakers. She says that the department lacks budgets, ideas and space to work in an efficient manner.
Political parties, who should be training lawmakers themselves, are not interested in this either. CPN-UML chief whip Bishal Bhattarai says he is aware that the party should be training lawmakers but has not been able to for various reasons.
CPN-Maoist Centre chief whip Dev Gurung also agrees that his party has not been able to change this and train lawmakers. He also adds that lawmakers and politicians are too busy to take such classes.
"No one seems to have time," says Gurung.