On November 11, 2015, Nepal's Vice-president Nanda Bahadur Pun laid the foundation stone to one of the country's 'most ambitious' projects. Addressing mediapersons he said that the project will help towards meeting the increasing needs of a growing population in Kathmandu.
The Kathmandu View Tower was officially inaugurated. The 29-storey tower (12 of which will be built in the first phase) would be the tallest building in Nepal. On the 29th floor, a 'view tower' would allow locals and tourists to savour the wonderful vista of the city; on the basement, local buses would wait for passengers going around the city. The tower would be the go-place for shopping, cinema and dining. All this would be done within three years, Jaleshwor Swachchhanda Bkoi Builders Pvt Ltd, the company awarded the 7-billion-rupee project under BOOT model. The company would build and operate the building for 30 years, and hand it over the KMC.
For such a big project to materialise in the city, the residents would have to make some sacrifices. The bus park (Purano Bus Park) where the tower was to be built had to be relocated. In a congested city like Kathmandu, space is hard to get. So the Kathmandu Metropolitan City and Jaleshwor Swachchhanda Bkoi Builders decided to move the bus park to an open space just across the road (Khulla Manch) used for political rallies and meetings. 'This was a temporary arrangement for six months as the basement would be ready by then," said a KMC official. "That was why the construction company was assigned to build temporary toilets and bus stands at Khullamanch." This would be their biggest mistake.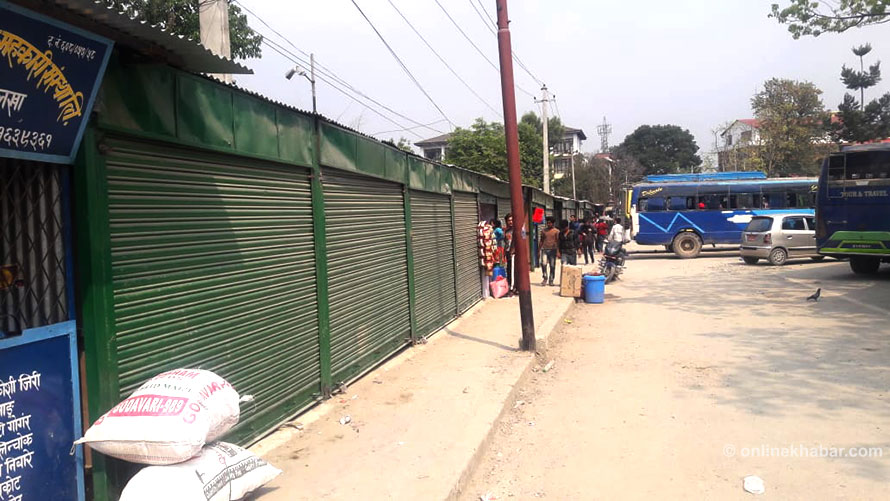 Fast forward three years, only less than 1% of the view tower has been completed. Work on the basement parking has not been even started. Jaleshwor Swachchhanda Bkoi is now calling the shots at the Khulla Manch bus park.  By mid-April this year, the company built 40 shops inside Khulla Manch by taking Rs 50 million as advance from businessmen eying the prime location. The company's chief Manoj Kumar Bhetwal is learnt to have demanded up to Rs 1.1 million for each shop. Even without the shops, the company is making Rs 1.5 million per month from 'managing the bus park.' It doesn't pay a penny in taxes.