Wrinkles are natural on the face of a 72-year-old man. So is the crooked back.
Wearing a Dhaka topi and a coat, he walked with his head bowed. Limping, he stepped forward, sighing, and pausing at intervals. When things got difficult, he stopped by the roadside, took a breath, and continued to walk to his destination.
He was Sher Bahadur Basnet from Priti village of Ramechhap.
He was fully aware that a prohibitory order was in place in the Kathmandu valley starting Thursday, April 29, to control the Covid-19 epidemic. He was also aware that the government had given two days for people to go home before the order would be imposed.
But, "I could not manage to get a ticket," Basnet lamented.
He had come to Kathmandu for treatment and visiting some temples here.
Initially, he thought he would not go home to his village during the prohibitory period. However, when he heard the cabinet had extended the seven-day order already in place to 15 days, he finally decided to go back to his village and not extend his stay here at his niece's house in Gaushala of Kathmandu.
"How can one stay at their relatives' always?" He said with mixed feelings.
That is why, on Friday (April 30) morning, he packed his stuff and decided to reach Ramechhap on foot.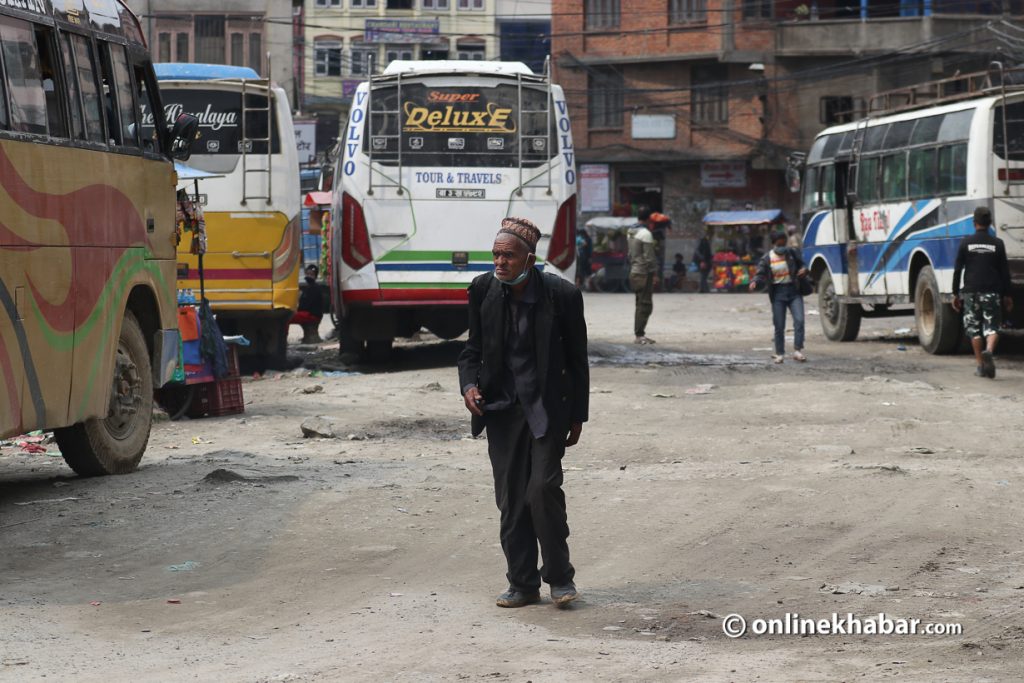 Carrying his black bag, he left his niece's home and walked the already familiar route and reached Banepa.
The trip had drained all his energy. Tired but still walking, he said, "Upon reaching Kavre, I hope to find a bus. But… let's see what happens!"
Those six and a half hours
The septuagenarian started his journey from Gaushala of Kathmandu at eight in the morning, after having his meal.
"Last year, I was hit by a motorcycle in Priti," he said, "Since then, I have not been able to walk well."
Nonetheless, slowly and steadily, he reached Banepa in six and a half hours; at 2:30 pm.
"Will I find a bus from here?" He was asking while heading towards the bus park.
There was no prohibitory order in place, in Kavre. Vehicles were plying the road freely. However, no long-distance vehicles were in sight.
He found a Tata Sumo en route to Khurkot of Sindhuli. When the driver of the vehicle offered to give him a ride up to Khurkot, he replied in a low voice, "I came prepared to walk till Ramechhap, on foot, if I had to. I will go as far as it is possible."
Not alone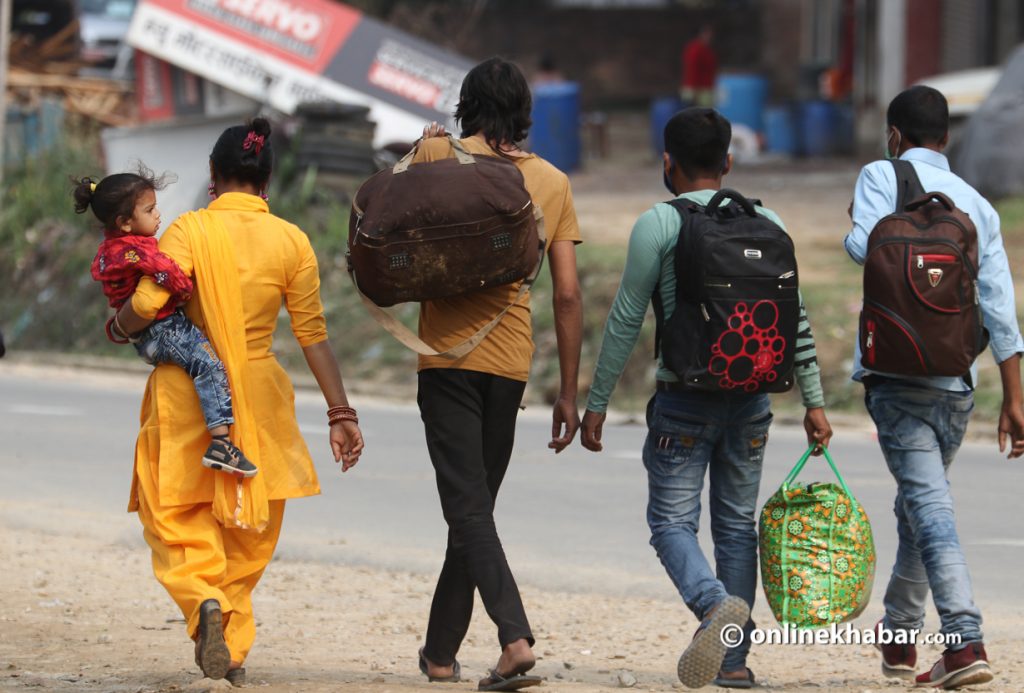 While imposing the lockdown in March 2020, the government did not give people enough time to return to their villages. Hundreds of people were stranded when the nation came to a halt suddenly. And, they returned home on foot as the lockdown kept extending.
This time, the authorities gave two days to return home. But, many did not get tickets and were stuck in the valley. Out of those stuck, many like Basnet reached Kavre on foot.
Many shared how they had reached Banepa bus park on taxis while others had arrived on foot. Among them was Bipin Sah of Banke too.
Sah, who was working in Kathmandu, first thought that the prohibitory order would not be as long as last time. But, on Thursday afternoon, he heard the news from his contractor, "The goods will not be coming for now, and the work will stop as well."
When work stops, he knew his income would too. "I have to eat and pay rent here," wondering how would he survive, he walked on foot and took a taxi from Koteshwor to cross Sanga, the Bhaktapur-Kavre border. From there, he walked to Banepa bus park.
Under normal circumstances, he would have reached the village at just Rs 700. Given the situation, he paid Rs 1,500 and got ready to return home.
Hard to find the tickets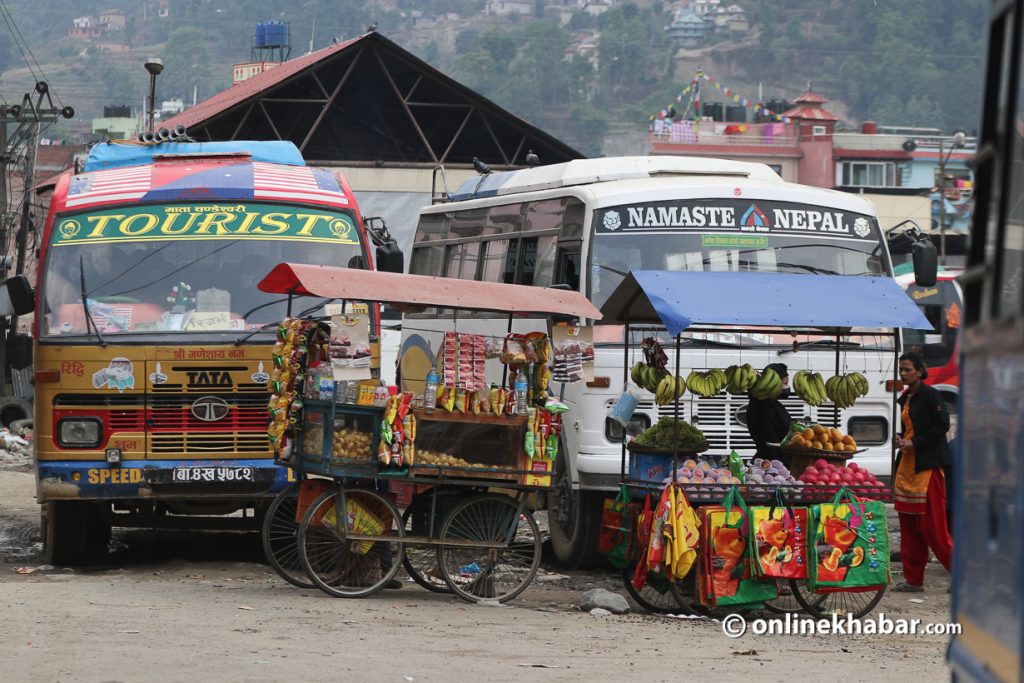 At the Banepa bus park, there were no long-distance vehicles, but one could rent the buses. 
Many people were inquiring about tickets to the eastern areas including Sunsari, Jhapa, and Sankhuwasabha. But, most of them would only get rejected.
But, a young man was suggesting they meet the drivers. He, who worked in a motorcycle workshop in Kavre, was also preparing to go to his home in Itahari of Sunsari.
While he was first asking about the tickets, a Tata Sumo stopped beside him, and the driver asked if he was going eastward.
When the young man said "Jhapa", the driver asked about the number of people he was travelling with. The driver explained, "If there are 10 people, it will be Rs 2,000 per person. If it is five, the cost is Rs 4,000 per head."
Then, the driver made the young man write down a mobile number to call if the latter manages people.
People waiting for their vehicles on the side whisper, "Sumos have become arrogant in the lockdown."
Mismanagement everywhere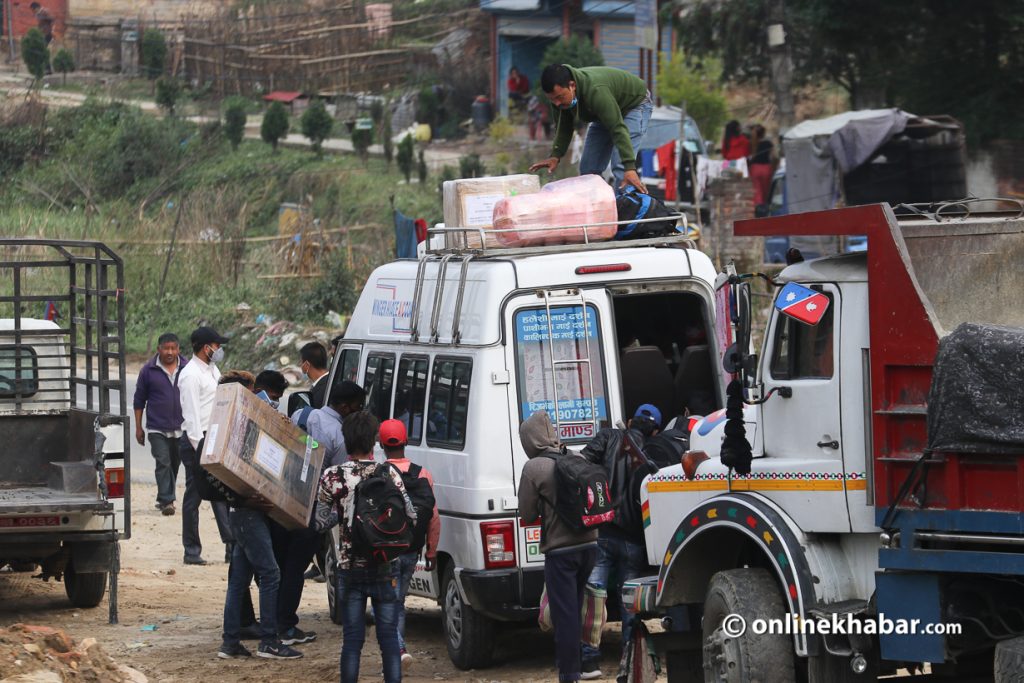 Another group of men had not reached Banepa yet. They were dragging large suitcases along with TV sets. It was not hard to determine they had just returned home from foreign employment. One of them, Vijay Yadav of Janakpur, was angrily complaining that the taxi bargained for the fare only after reaching near Sanga.
After the taxi asked for Rs 4,000, all were in a dilemma whether to go home or not, after coming so far.
The other two passengers were also shouting that the fare was too high and will not go further. Meanwhile, the driver, who was managing their belongings in the hood, shouted back, "Things do not work that way. If you had told earlier, I could have brought someone else."
Such confusion was a result of an unorganised system in the Kathmandu airport.
"I was surprised to hear the fare, upon reaching there. Even when we said we would not go further, he kept insisting we should pay at least 40 per cent, and started loading our luggage," says Yadav.
According to a driver, the Tata Sumo drivers were targeting the passengers coming from foreign countries. "They were reserving two taxis to bring the passengers from the airport to Sanga. From there, they would take them to their respective districts in the Sumos," he says, adding, "Such vehicles do not get stopped and, using it as a disguise, they offer rides to other migrant returnees on the way. But, the fares are such that the workers cannot even afford it."