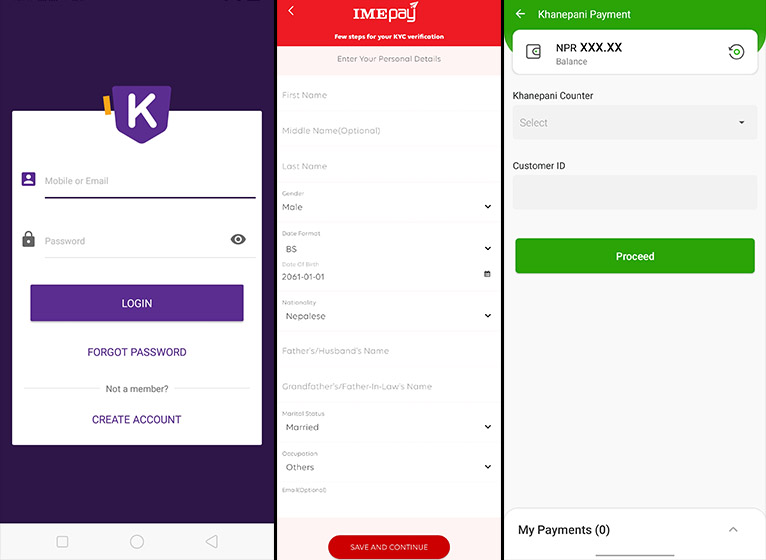 E-wallets, before the Covid-19 pandemic, had received only limited attention in Nepal. But, since this crisis, the use of e-wallets like e-Sewa and Khalti, etc are on a sharp rise as the pandemic has required people to minimise physical contact with as many people as possible to protect from the virus. People have started searching for new ways on how to pay their utility bills by staying at home.
Nepal is a relatively underdeveloped country that has yet to embrace digital wallets as a full-fledged monetary transaction option. But, they are really easy to use and you can pay all your bills from your mobile or computer without any hassle. It is especially important in such health crises; even though the lockdown is over, we still have to keep ourselves safe.
So, here are some e-wallet options in Nepal which you can use to pay your utility bills (water, electricity, internet services, tuition fees, newspaper subscription, and tv channels) with much ease and efficiency:
e-Sewa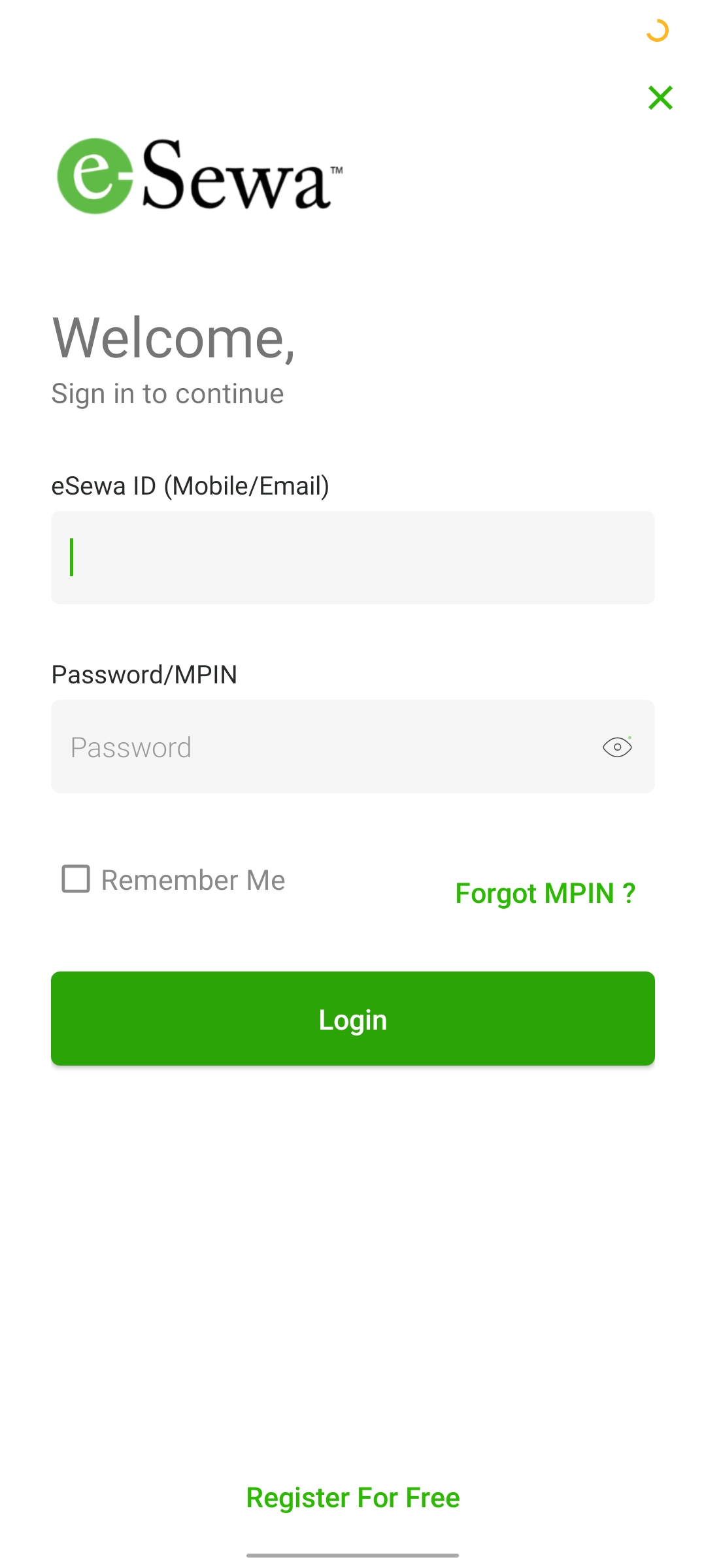 e-Sewa is one of the most popular and oldest online payment gateways in Nepal, founded by F1Soft International Pvt. Ltd. It is a secure, easy, and most preferred platform for cashless transactions or online payment. e-Sewa provides a multitude of services for its users. This digital wallet can be easily accessed via its website or mobile app.
But, first, you have to register yourself.
Download the e-Sewa app from Play Store and sign up using your phone number. Next, you will need to verify your account with a six-digit code that will be sent to your (registered) number. For security reasons, you will then be asked to create an MPIN (code) for your future transactions including money transfer, bill payment, etc.
Once you are done with the login process, it is advised you also verify your account. Verification is a must if you have to carry out a transaction worth Rs 5,000 and above. You can find a notice for KYC (Know Your Customer) verification form on your screen when you log in.
In order to verify your KYC, you need to fill two forms for personal and document information. The required personal information includes pretty basic details like your full name, gender, and birth date. Then, your parent's name, your municipality, permanent and current residence, ward number, and neighbourhood.
For the second part, you will need to upload your passport-size photo, your identity document (passport, citizenship, or driving licence), both front and back. Photos of these documents need to be clear so they can be verified easily. Filling up other information like your document number, place, and date of the issued document is also required. Once it's all done, you can then submit and you will receive a verification SMS once the process is over.
You can start making your transactions after you load money to your account. You can either load money to your e-Sewa account by depositing money from a bank, your mobile banking app, debit cards, or authorised cash points without much hassle.
The platform has given priority to security as well, so you can set a password, PIN, or fingerprint verification to protect your account.
How to pay your bills: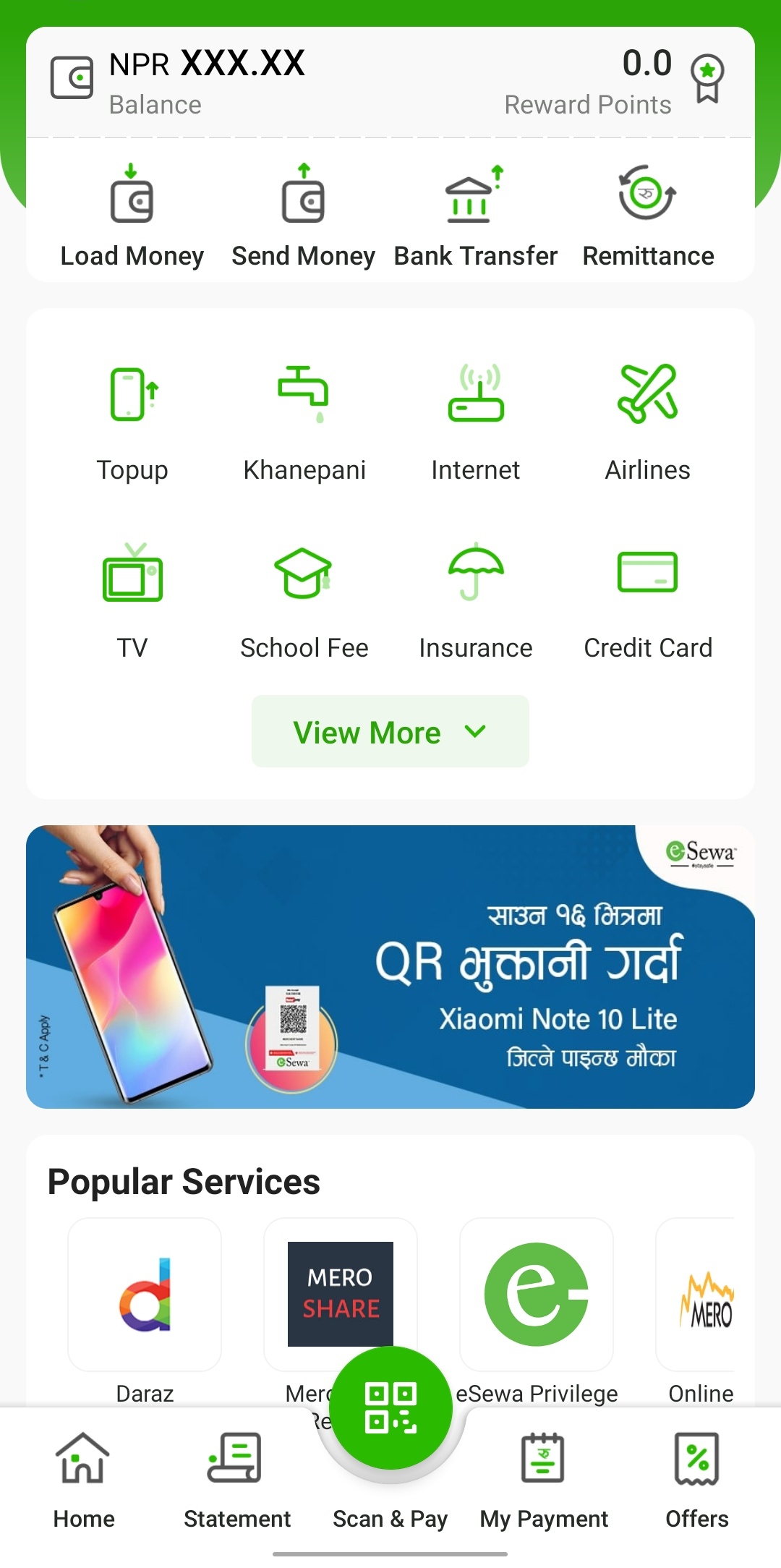 App payment: Open the app and then log in. On your home page, you will see icons (Electricity/ Khanepani/ Internet/ Top-up/ TV). Choose one, then fill the required details such as your name, customer id, receiver details, and click on 'proceed'. Your details will be displayed on the screen for verification, and then click on confirm.
You then need to enter the MPIN code as the final step for payment.
Scan and pay: Go cashless and use the app for your payment when outside. Open the app, tap on the QR Code Scanner icon. Then, you need to allow the camera to scan the merchant's QR code and enter the amount of payment and remarks (for your personal use). Then, you can proceed with the transaction, and you are done. Easy as that.
Offline use: The best thing about e-Sewa is that it does not require you to be connected to the internet to perform payments. Yes, it does have an offline mode, by which the users can transfer funds: via SMS. All the services are not possible in the offline us, but basic facilities like sending money to other e-Sewa users and performing mobile top-ups are possible.
Khalti
Khalti is a relatively new online cashless payment gateway established in January of 2017 by Sparrow Pay Pvt. Ltd. It is another massively used e-wallet service in Nepal. The user interface of Khalti is also user-friendly and easy to operate. All the basic and frequently used services are placed on the front screen to make access to those services easier. It also has a web version that is very similar to its mobile app, which makes it even easier to use.
How to register and use Khalti?
First, you need to create an account with your full name, phone number, etc. You will then receive a verification code that will allow you to log in to this app. Khalti provides you with a 10-rupee credit upon your account creation.
After logging in, you will be asked to fill up the KYC form (steps also similar to e-Sewa) so you can make the in-app transfer, (similar to e-Sewa). Once it is done, click on 'Update' and the app will send you SMS after it is verified.
How to pay your utility bills:
You first need to load funds. You can do this via e-banking, mobile banking, debit cards, Connect IPS, or bank deposits and through Khalti Sewa Kendra and even request from your friends.
App payment: Then, tap on the icon of your choice (Electricity/ Khanepani/ Internet/ Top-up/ TV) on the home page. On the next page, provide details including your customer id, counter details and amount, you will see a pop-up for confirmation and payment is done instantly.
You can even make payments through 'Bank transfer' as sending money to the receiver's bank account. Then, enter your account number, owner's name, amount to transfer, and tap on 'transfer'.
Scan and pay: You can also use this digital wallet platform to scan and pay, in shops, and to the merchants with Khalti accounts. You just simply have to tap on the 'Scan and Pay' option at the bottom of the screen and hover your phone over the merchant's QR code. Then, fill the amount and add remarks and proceed to pay.
Other than this, Khalti provides 1-3% cashback on its services upon each successful transaction. Also, it gives you Khalti points (rewards) upon every transaction, which can be exchanged for movie tickets and other goodies.
In terms of security also, Khalti provides you with the option to put an app password as the first four characters of your account every time you try to use this app. This is extremely useful to prevent any unauthorised use of your account. It also has fingerprint verification (in phones that support) to further enhance your security.
IME Pay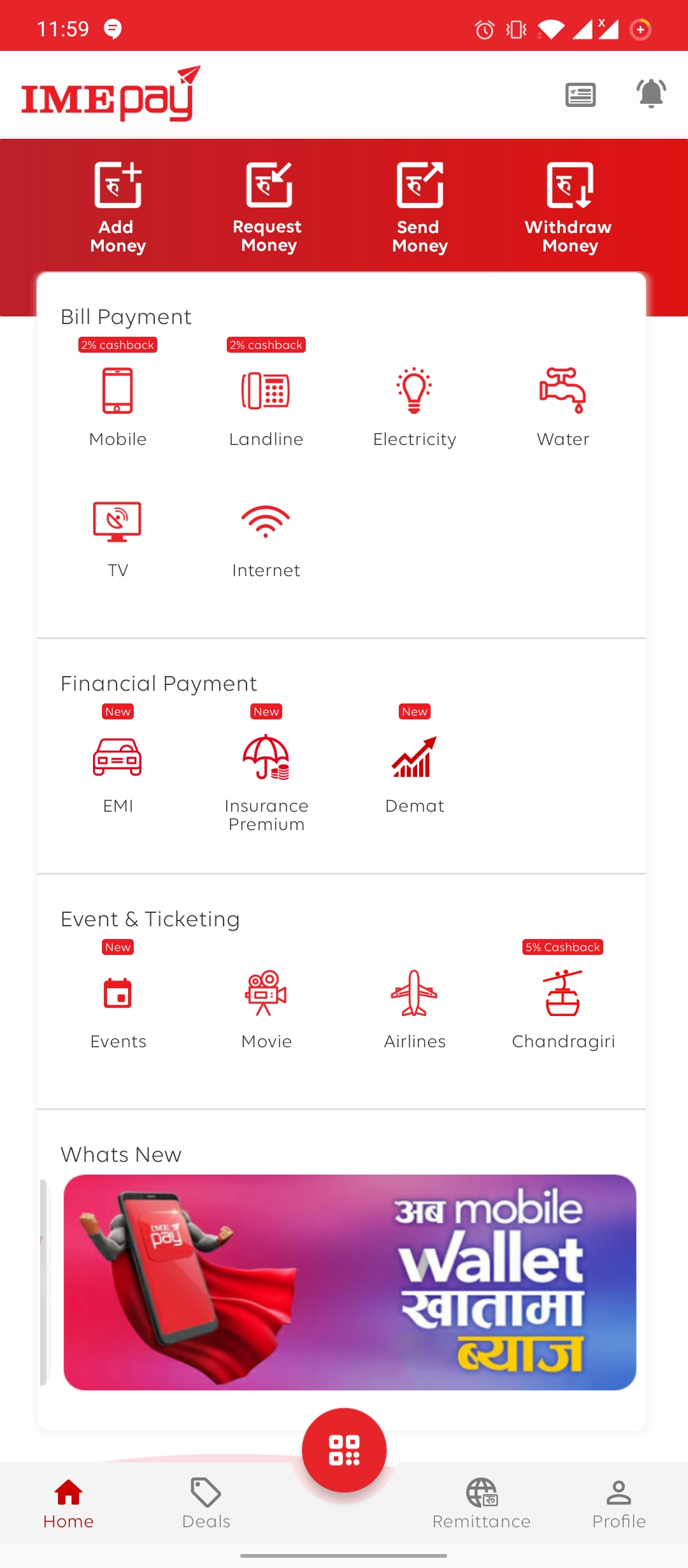 IME Pay is the first licenced company to provide digital payment solutions in Nepal, developed by IME Digital Solution Ltd, a subsidiary of IME Remit. Because of this reason, IME Pay is more of a remittance app that has incorporated other digital wallet services too. Unfortunately, this app is not as versatile as an e-wallet as Khalti or e-Sewa.
But making payments for utility bills, buying tickets for movies, subscriptions or paying merchants, etc can be easily made with this app also. This app also provides cashback with some purchases and also provides reward points for every purchase, which can be exchanged for prizes in the platform.
Bill payment:

To get started with this app, you will need to register or create an account with your phone number. After that, enter the 6-digit code for verification, which you will receive via SMS. It provides the user with 500 credit points after creating a new account. Similar to e-Sewa and Khalti, you need to fill up KYC form with all your personal details and documents. Now, you can easily load and make transactions from your profile.
For your transactions, simply click on 'pay bills' and enter your 4-digit code then confirm it. This app sends you an in-app notification once your payment is successful.
It also has basic security measures like fingerprint detection and password to protect your account from unwanted users.
So, during this pandemic, going cashless better protects you and others from the spread of coronavirus. With some of the e-wallet options currently found in Nepal, you can live your life easily and be safe.