Rekha Thapa was playful and fearless. As a child, she used to wrestle with boys, and climb neighbours' mango trees while her friends used to sit at the bottom of the tree hoping to get to eat those mangoes.
After the neighbours would know about this mischief, they used to chase her and her friends away. She used to jump from the tree and run away and her friends used to get beaten.
Such was Rekha Thapa in her childhood in her village in Morang of eastern Nepal.
She knew "everything" except dancing. However, her two sisters were good at dancing and thus pampered and praised in the family. Her sisters used to go to clubs to learn dance and Thapa used to follow them secretly. She used to peer through the window and watch her sisters dancing.
Thapa used to think, "I don't know how to dance. So, no one pays attention to me." People used to say that Prem Kumar Thapa's two daughters were very beautiful, but his youngest daughter was not that charming.
One fine day, when she reached the dance school, as usual, she leaned against the wall and kept staring at the others' dancing. And, the dance teacher noticed her.
The teacher approached her and asked if she liked to dance and urged her to give it a try once. She could not say 'yes', thus replied, "I don't know how to dance. I can't even move my legs."
But, the teacher did not listen to Rekha Thapa and further insisted she danced. Then, magic happened: she mesmerised everyone with her dance.
Where did that dance skill come from? Even she could find the answer. The teacher praised, "You can; you can dance really well." Since then, every time there were any dance programmes, she got on the stage and danced hard. The roar of praise and loving applause raised her spirits like a mountain.
Eventually, Rekha Thapa's passion for art grew. She wanted to be like Ishwori Pradhan as she saw the actress on television. The urge to establish one's identity in front of everyone awakened her. And then, her artistry got revealed.
How did a 'fearless' little girl who did not know how to dance jump into the world of acting? How did she land the glamour of a beauty pageant? How did she come to build her empire in the field of cinema as a 'hero' by giving up her air hostess dream? Here is her story that answers all these queries.
Her childhood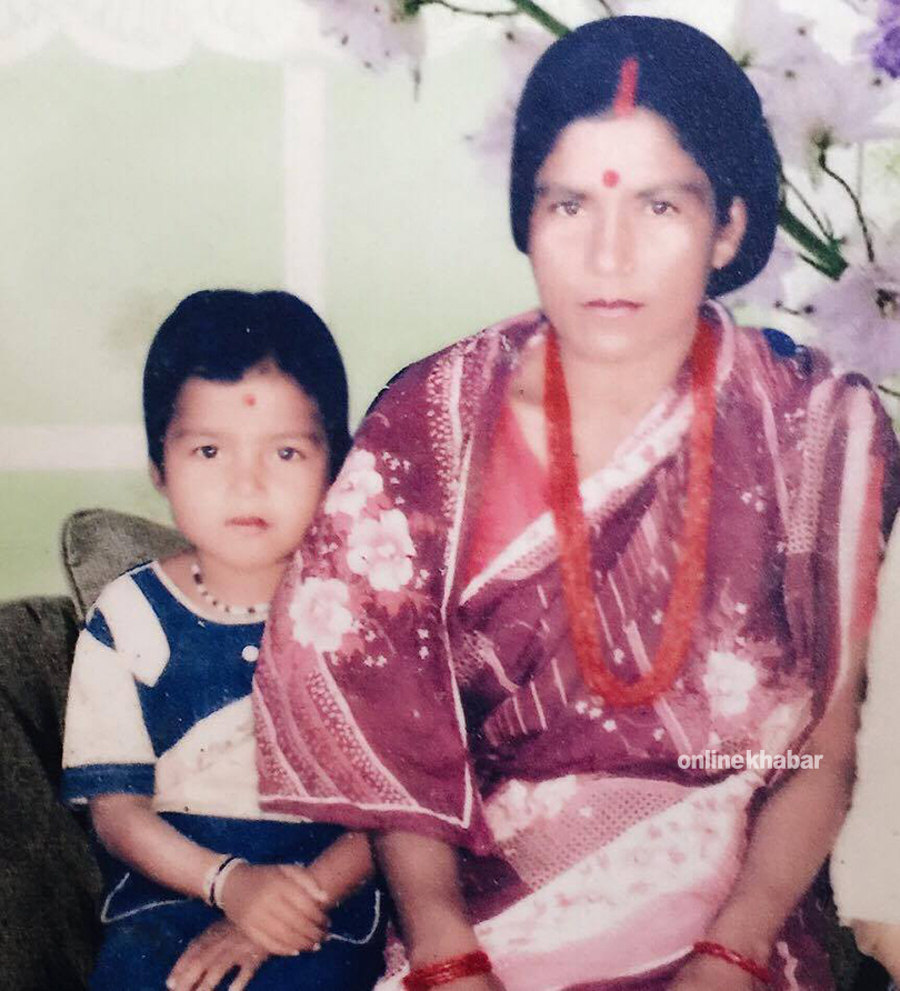 When Rekha Thapa was young, she used to steal her sisters' nail polish and gajal. She used to love wearing makeup. But, later on, her fascination with makeup gradually disappeared. She started learning karate. She joined a group of boys and became friends with them.
Then, for the first time, Thapa went to a cinema hall holding her mother's hands to watch 'Behuli'. The hall was all houseful.
Once a movie Aaphno Birano was shot in the village. She hurried through the crowd to see the filming. It was then that Rekha Thapa got to see Rajesh Hamal and Shree Krishna Shrestha there for the first time with her naked eyes. Later, she participated in a beauty contest, Miss Koshi, in Dharan. There too, she got to see Rajesh Hamal directly.
In 1999, Thapa participated in the Miss Nepal contest and reached the top ten. She recalls, "Nothing is achieved before time and after time. That was not my time."
Occasionally, her photo started being published in newspapers and magazines. Coincidentally, Naresh Paudel and Chhabi Raj Ojha were preparing to make a film named 'Hero' and were in the search of a new face for the heroine. Meanwhile, they noticed Rekha Thapa.
Into the filmy world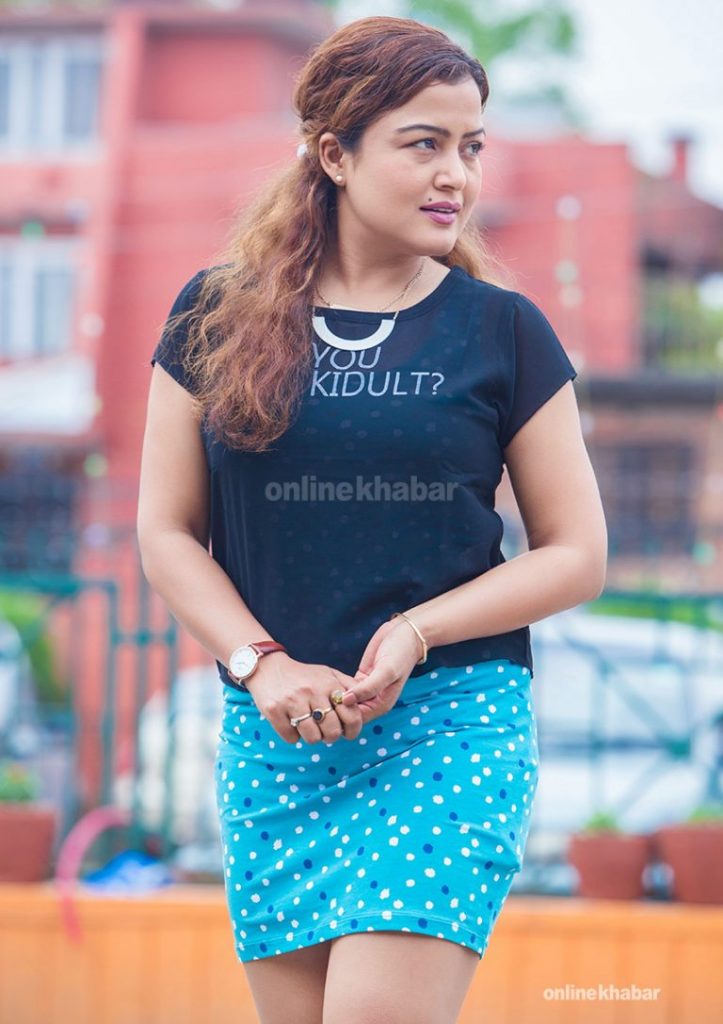 By that time, Rekha Thapa had started living in Kathmandu with her father and brothers. She was all set to join an air hostess training course the next day. However, all of a sudden, the phone rang. On the other side of the phone was Chhabi Raj Ojha.
She thought, "The opportunity for cinema may never come again. The air hostess training can be done later." She also opined that one could also fail in cinema. If she would fail, then she had thought of opting for an airline.
Then, she entered the world of cinema. She was called for a screen test. Preparations began. She was very excited about this project. But, suddenly, she had to hear a tough decision. Naresh Paudel and Chhabi Ojha called her and informed Rajesh Hamal would be the hero in the film. As she was very young, her pairing with Rajesh Hamal would not work. The producers, hence, said they would consider her for another film.
Thapa was disappointed. But, fortunately, Thapa was reconsidered; even though she was just 17, she looked mature. On top of that, makeup would also help. Now, she had to act alongside the superstar Rajesh Hamal, who she had seen when she was a child.
The first day of shooting was in Dakshinkali. She got ready for filming and her father wished her to do very well. By the time she reached the set, Rajesh Hamal was already there.
Seeing Rekha Thapa from the camera, Hamal asked, "Who is the girl? She is so young. Does our pair work?" After seeing Thapa's presentation, he, however, turned to the director and signalled thumbs up.
They were shooting a song. Choreographer Kamal Rai was also impressed with the dancing skills of Thapa. Likewise, the technicians were also happy.
Then, the film got screened. She received an abundance of praises. But, no one called for another film, for a year. She had a dilemma: whether to wait for a movie or do something else. At the same time, Ashok Sharma called her for his new project, 'Mitini'. She got featured with Bipana Thapa and Dilip Rayamajhi. After this, her uninterrupted journey in cinema continued.
Leading an era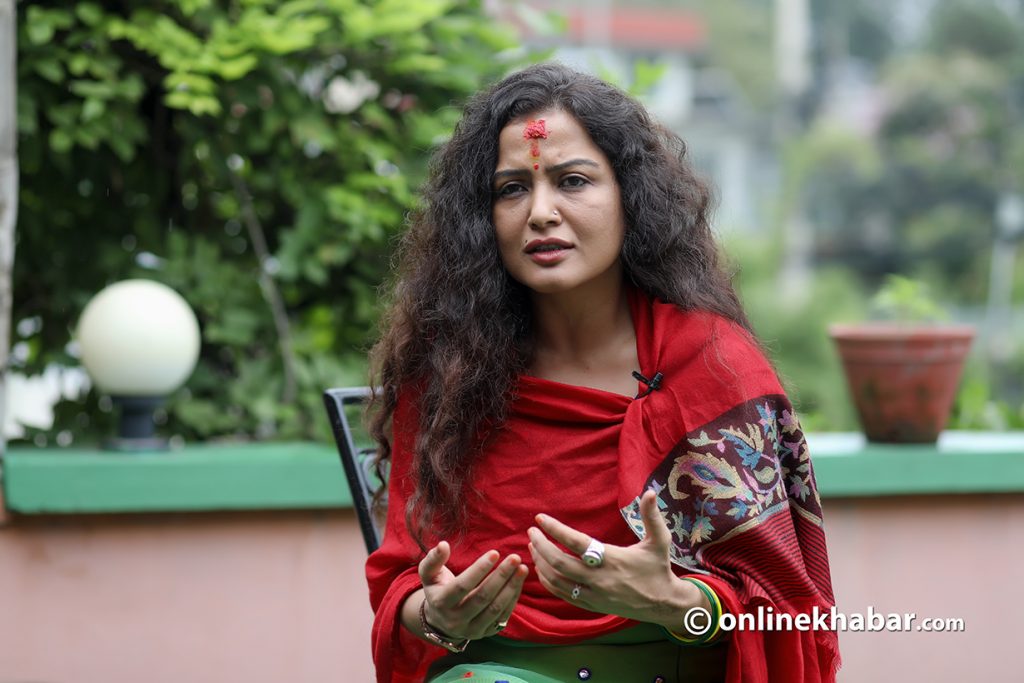 Eventually, the power of cinema came under Rekha Thapa as she overshadowed her competitors. Thapa was everywhere on the walls of the cities, on the television commercials, on the screens of the movies, and in the newspapers. Movies like Hami Teen Bhai, Krodh, Naseeb Aaphno, Batuli, Kismat, Kasle Choryo Mero Man, Hiphajat made her the 'number one' heroine.
At that time, the actresses were taken only for glamour in those movies, reflecting the deep-rooted patriarchy. Even today, most heroines are portrayed as curvy, gentle, and sensual but not given a central character.
Breaking this tradition, Rekha Thapa became the captain of the cinema and the Nepali cinema got a female hero. As a hardworking, combative, rebellious character, Thapa carried the whole story on her shoulders. Her movies and characters proved that a woman can be her own defender.
A punch to patriarchy
For almost half a decade, Thapa rebelled on the cinema screen. Wearing a short skirt and fitting jeans, she kicked at male frustration and ego. While her career was booming, she expanded the horizon of her roles. She herself became involved in cinema production and continued to project her life philosophy, sentiments, and stance through cinema. Lanka, Ravan, Kali, Himmatwali, Rampyari and Rudrapriya are some movies by her that have been attacking patriarchy.
Rekha Thapa dared to make a movie 'Malika' giving the central role to Kamala Wali, a 15-year-old girl from Kalegaun, Jajarkot. Wali, a rural teenager who had never seen television, never entered a cinema hall, never seen a colour magazine, suddenly became a hero.
The story of this movie is also a reflection of Thapa's life and philosophy. Thapa is fearless, combative, and clear by nature. She is a role model for all those women who are pushed, hidden, shrunk, and oppressed, who want to get out of this oppression of patriarchy and live happily at their own will.
The controversy queen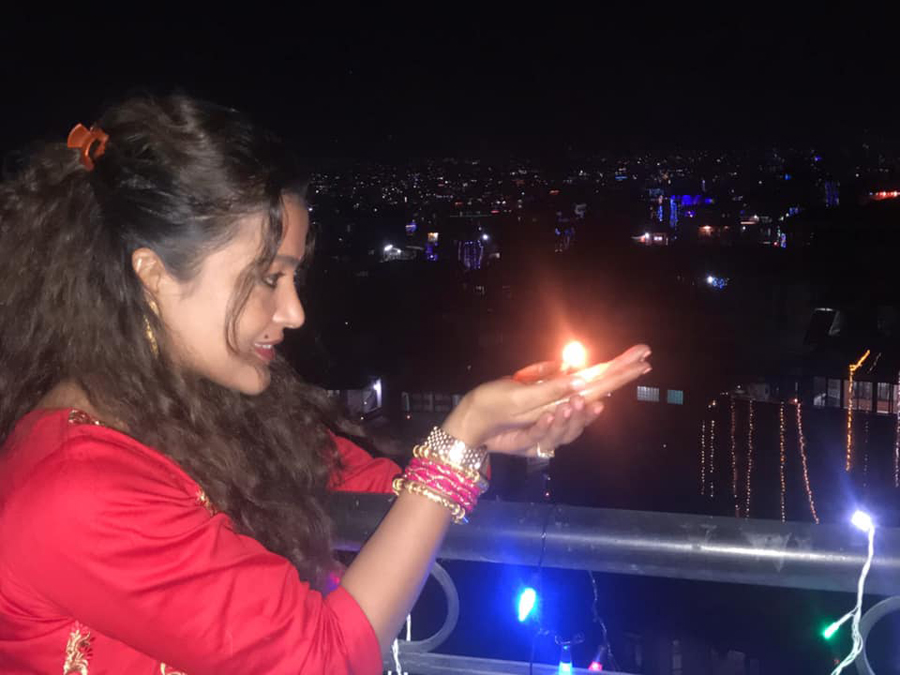 People criticised her and made fun of her for wearing short skirts. Even at the peak of her career, she could not remain free from controversy.
She married Chhabi Ojha in 2001. However, this relationship did not last long. In 2012, they formally ended their marriage.
She debuted Sudarshan Gautam in her film 'Himmatwali'. Later, rumours spread that she had an affair with Gautam. Further, she had had a harsh remark on actor Anmol KC being labelled a megastar. After this, rumours spread that the relationship between Bhuwan KC, Anmol's dad, and Rekha Thapa was not good.
Into politics
Rekha Thapa joined the Maoists party before the 2013 Constituent Assembly elections. She started her political career with the Maoists but is now in the Rastriya Prajatantra Party. She has also been elected as a central member of the RPP.
Meanwhile, she has appeared in various political programmes. Her activism is increasing in public meetings and cadre training programmes. She says, "Artists can bring awareness in society through songs, movies, etc. They can raise any issue. However, any improvement and development are possible only through politics. I am involved in politics with clear ideas, stances and ideals."
With that, Rekha Thapa's daily routine has changed now. There is no rush for any cinema now. In this moment of relaxation, she is experiencing the things that were missed at different stages of her life.