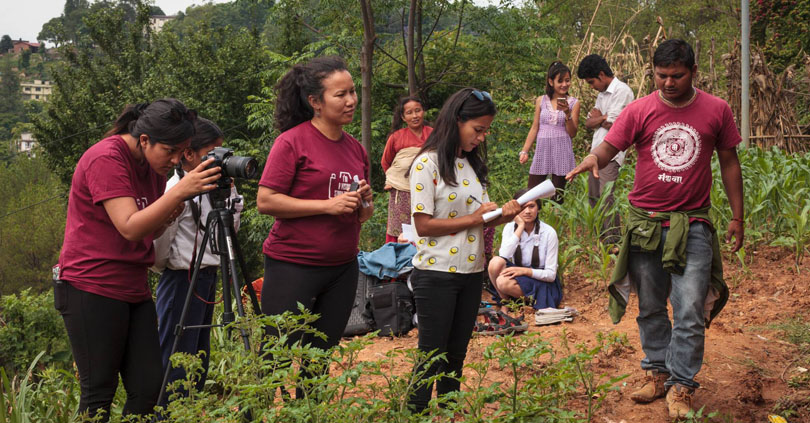 Kaamala Neupane is an Economics student and works for a private company in Kathmandu. Until last year, movies had never been an attraction for her. She used to think that camera was a complex machine and a simple woman like her could never take good shots.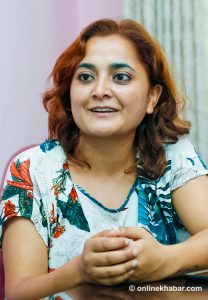 Just before Dashain last year, she trekked to Bhairavkunda of Sindhupalchok district with some colleagues. While she was resting in Yarmasing village on her way back home in Kathmandu, she met a local woman named Bishnu Maya Tamang.
Over casual conversation, Bishnu Maya shared how she was forced to tie the knot with a mentally-challenged man after her father lost a bet. She also told the trekker how she coped with poverty by learning and practising vegetable farming. At this time, the idea of recording her story into a movie clicked in Kaamala's mind.
"But, I did not have a movie camera, neither did I have any skill to take videos rightly," she recollects, "However, her story touched me so much that I told her I would come back one day with a video camera and capture her story into a film if I ever learnt how to use that machine. Therefore, I noted her phone number."
Kaamala was fortunate that she got an opportunity to turn her plan into reality. As soon as she learnt that a movie-making workshop was being organised for women aged 16 to 30, she submitted her application online without a second thought.
Kaamala was among the 22 women from various districts who gathered in Dhulikhel of Kavre from May 18-24 to learn different facets of movie-making. Onion Films, a company proving consultancy services to various organisations for documentaries and videos, had organised the event.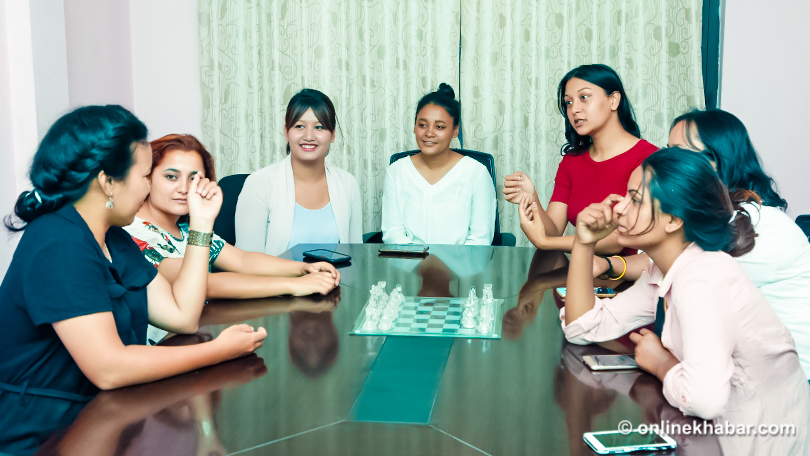 —
The programme
Surath Giri, one of the co-founders of the seven-year-old company, had received a grant of $ 8,800 in the AlumniTIES Grant Competition hosted by the United States Department of State.
An alumnus of the US International Visitor and Leadership Programme (IVLP), Surath had pitched the idea of organising a movie-making training for women with the grant after witnessing women's low participation in Young Cuts, a regular movie training that his company organises regularly.This is how Surath designed 'Her Story' and announced applications.
"In two weeks, we received 200 applications, out of which we had to select 20 participants," Giri shares, "But, the applications were so good that we decided to adjust two more seats and finalised the list of 22."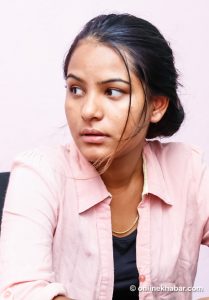 One of the participants was Sabikta Khadka, who was busy preparing for her wedding as she knew about the announcement. Always interested in movies, she applied for the workshop, but did not tell her parents about the programme as they were sure to stop her from attending.
"I was not willing to answer their questions about with whom I would stay and what I would do there. I just told them they would see what I would do after the programme," she shares, "Only after I sent pictures of my friends and the programme venue as well the hotel room, my mom was finally convinced that her daughter was not doing anything wrong."
Yes, each of the women has her own story of motivation and obstacles about participating in the workshop. But, they had a common understanding about their goal in the event: help women tell their stories.
Professional cinema makers had been invited to facilitate the workshop. Famed director Manoj Pandit and actor Reecha Sharma facilitated two sessions. Abinash Bikram Shah shared his knowledge about script-writing whereas Ujwal Bastakoti taught cinematography. Onion Films' in-house editor Gopal Shivakoti was there to facilitate the editing session.
—
The purpose
Empowering women was the focus of the event. While the event would directly empower 22 women to produce short movies and documentaries, the organisers had planned to give voice to many other women. Therefore, they made the participants make movies or short stories about women's rights and empowerment.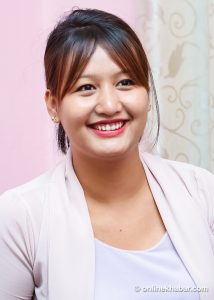 "Our society thinks that people who fail in studies do films. Women's participation in this sector is even more challenging," Sujata Gurung, a BBS graduate, shares, "I knew my family would not let me study films in universities though I was always attracted to stories and visualisation. Therefore, I managed to convince them for this workshop."
Sujata now thinks her impossible dream to do films has come true and with this skill, she can support many women.
Another participant Rewati Gurung thinks almost all Nepali movies are shot and viewed from the male gaze. "Women's perspective is very much missing in Nepali movie industry. Mostly women are shown submissive, kind and weak," her explanation reminds people of a feminist classroom, "If they do not conform to the role, they are considered bad. Therefore, it is necessary that women produce the films to give a new perspective."
"For example, men filmmakers cannot represent how a girl menstruating for the first time feels in a society like ours where talking about it is a taboo." As a part of the post-workshop assignment, Rewati has directed a short movie on how beliefs about menstruation are changing in the Nepali society.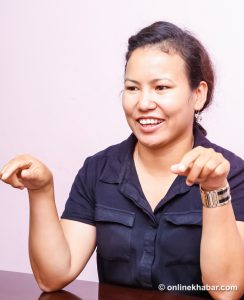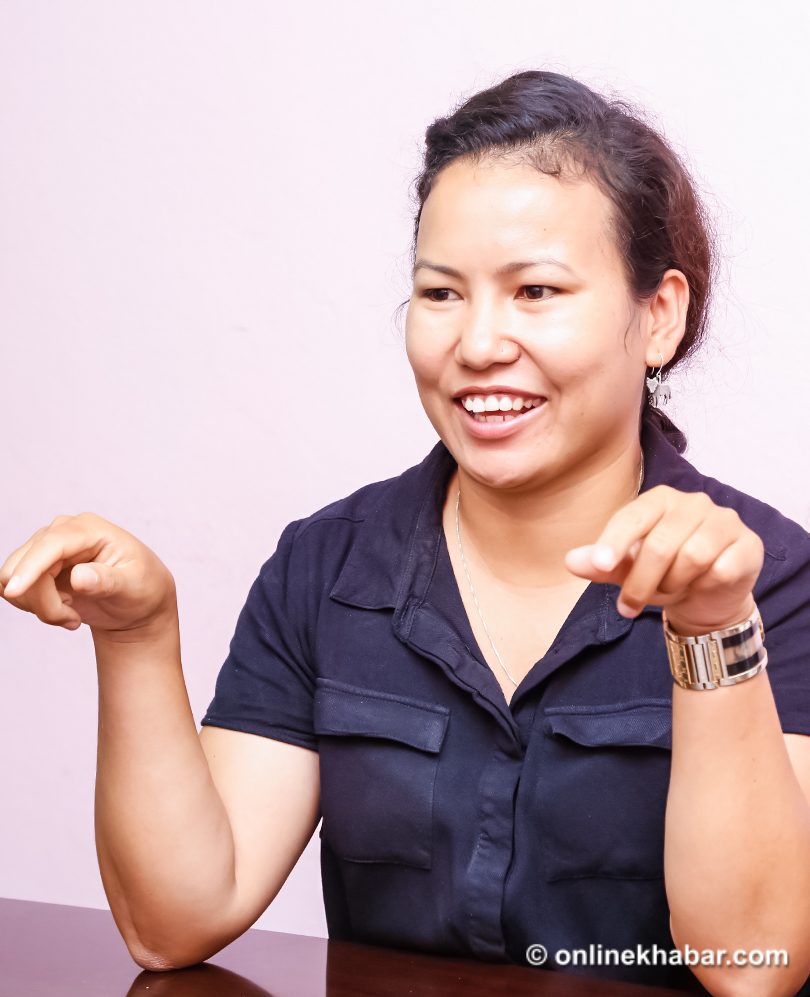 —
The productions
The 22 women were divided into six groups and asked to come up with ideas to produce movies and documentaries. Three groups were told to do fictional short movies whereas three others were assigned for documentaries.
The organisers provided Rs 5,000 to each team for production. The participants used most of it for transportation and food. They had to pay to actors of short movies. Some groups managed all the costs within Rs 5,000 budget whereas some exceeded the limit.
Three short movies produced from the workshop are: Ruwa, Badh: Let her breathe, and Rajowati. The documentaries are Ranju Darshana: Paving the path, Bishnu Maya Didi and Royera Haina Hansera. Each production is four to seven minutes long.
Ruwa is about an unfulfilled desire of a woman, sold into flesh trade, to conceive and become a mother. Badh is the story of sex-selective abortion. Rajowati narrates the story of a mother's struggle to let her first-time menstruating daughter enter house.
Ranju Darshana captures views of the young politician, her supporters and some political analysts about the 21-year-old lady's candidacy for the mayor of Kathmandu. Bishnu Maya Didi is the story of a rural woman from Sindhupalchok, who brought revolution in her and her neighbours' life through vegetable farming. Royera Haina Hansera is about problems faced by a woman after her husband was taken away into disappearance by army during the decade-long armed conflict.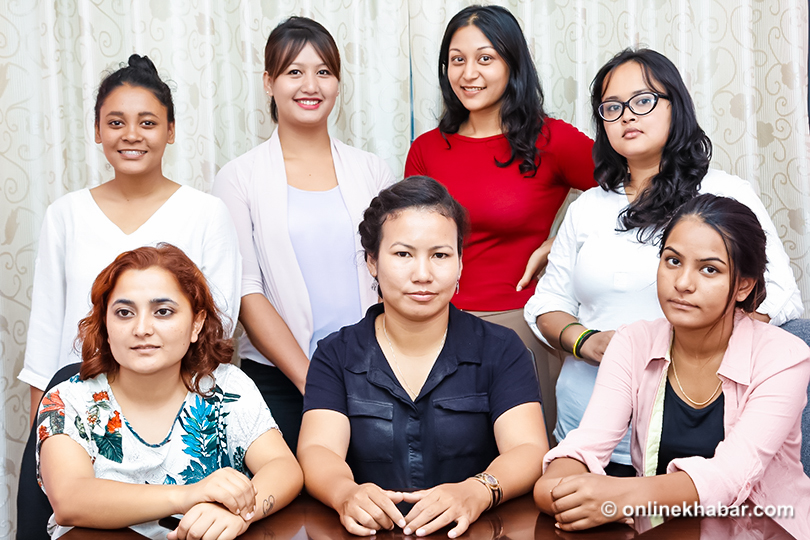 The first screening of the productions was held at Nepal Tourism Board in Kathmandu on Saturday, July 29. Despite the rainfall, the hall was full with inquisitive audience.
—
The plan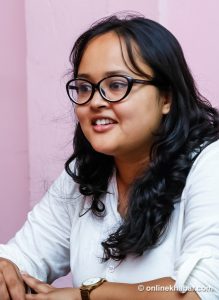 Sneha Subedi is a BBA graduate, but she thinks the workshop has opened up a new path for her. The maker of Ranju Darshana wants to produce more short films and documentaries. "I will learn from my mistakes, watch other people's productions and always continue to improve myself," she says, "I will submit my projects to various film and documentary festivals."
The organisers have also promised to help the participants reach relevant platforms. Therefore, they have not made the films public yet with a hope to submit them to a number of competitions being held in near future.
The participants have understood the paradigm shift in taste of Nepali (and international) audience from three-hour feature films to short movies with the rise of internet and social media. They want to cash in on ever-increasing internet use in Nepal to make changes in the society as they want.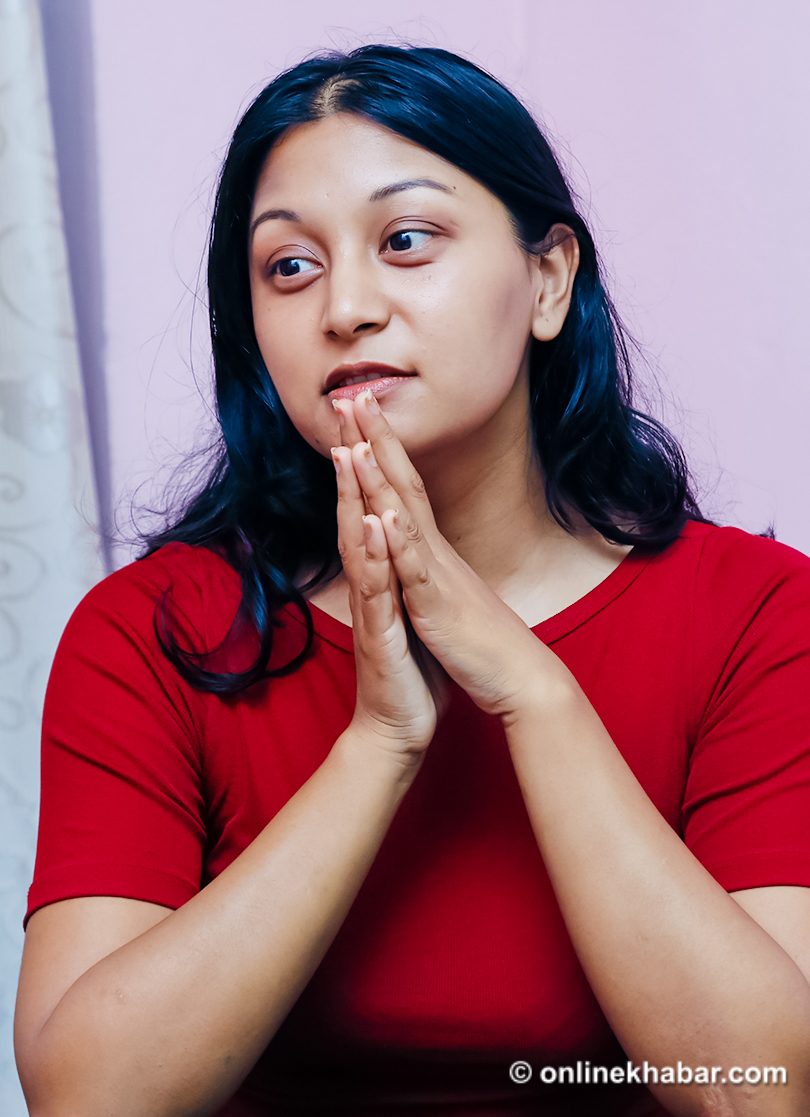 Although they know the access to internet is quite low in Nepali villages in comparison to Kathmandu, they hope the web diffuses to other areas and their short movies and documentaries will soon reach mobile sets of the villagers.
"Kathmandu sets codes of living and other places in the country will adopt them later," another participant Sajal Pradhan says, "Of course, the rural audience could be our best case scenario. But, members the urban audience, whom we have reached now, are our second base case scenario because they will influence other people."
And, influence is what they want to achieve because they know it is a way to change.