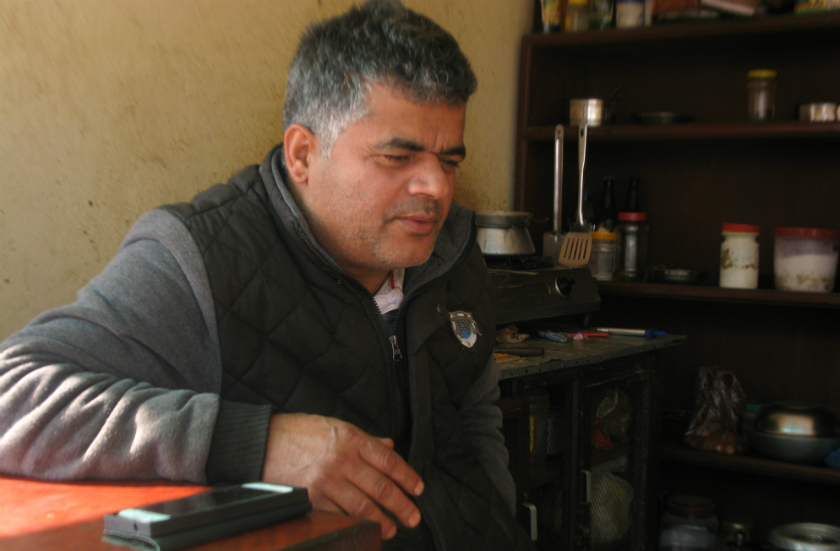 It goes without saying that you meet a lot of people in your daily life. You find most of them no different than the mundane tasks like shopping for food and doing house chores or as commonplace as the quotidian traffic of the Kathmandu Metropolis–but some stand out from the rest. You are more interested to talk with them and instantly develop an easy and close rapport.  One such person happened to be Mr Kamal Prasad Dhakal aka 'Pandy' when I met him.
It was sheer coincidence. We met at a quaint little village called Kavresthali, some 11km northwest of Kathmandu when I was cycling with a couple of friends, Lisa, a British national, and Shayeet, a neighbour and my cycling partner (read the previous story). Kamal runs a roadside tea shop at Kavresthali.
I had asked Kamal why the ludicrous name Pandy when we met last.  To quote him again: "My actual name is Kamal Prasad Dhakal. I'm a Brahmin or a 'pandit'. During my stints in Goa, I came across a lot of European tourists. They always asked my name. Now, it was kind of difficult for them to call me by my Nepali name. So, I decided to name myself Pandy, a short form for 'pandit'.  Much to Lisa's amusement, he even rhymed it and said, "Pandy like a candy."
After the first meeting, I was burning with curiosity to see him again and hear his story. I was truly hooked by this character, something of an eccentric. In a week or so, I set out on my mountain bike to see Pandy again. This time Lisa and Shayeet could not join me, but I had a new partner, Shankar.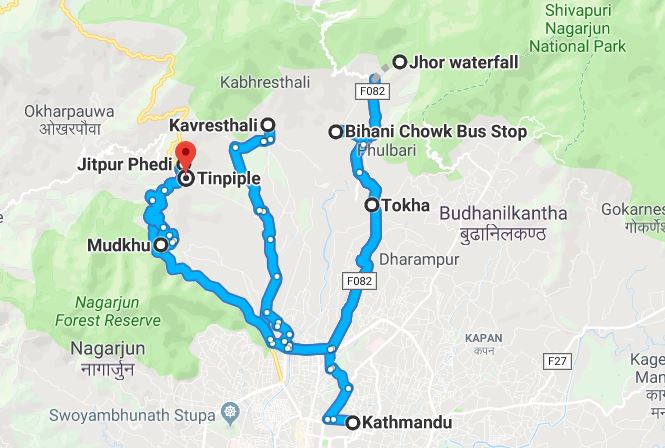 I chose a different route this time. We first rode to the old Newar town of Tokha, and then to Jhor, located some 11.5 kilometers north of Kathmandu at the foothills of the Shivapuri hills. From Jhor, a recently built highway goes to Nuwakot.
I was surprised to find the road widened and newly tarred all the way to Jhor(it was all shambles only six months ago). After Jhor, we left the highway and turned left towards Sangla on a graveled road.
Shortly, we left behind the narrow track on our right which led to the Boudeswor Mahadev, famed for the deity of Shiva enshrined deep inside a cave.  Right next to the cave, a massive waterfall that gets active during the monsoon, draws huge crowds on weekends.
After the bus park at Bihani Chowk, Sangla, we took the right-hand fork to Kavresthali. The road further led to Jitpur Phedi, Teen Piple. After Teen Piple, you can either head towards Kakani or Mudkhu and back to Kathmandu.
After a fairly tough pedaling up and down through the quiet backcountry with soothing fresh air and matching rustic landscape, we finally made it to Kavresthali in an hour.  Lo and behold, after working ourselves hard into a lather, up and down the hills, what do I see–Pandy's teashop shutters closed!  I swore loudly.
With a sinking heart, I approached a group of young fellows who hung around the place. "Hello, guys, do you have any idea why Kamal's shop is closed today?" "I heard he was not feeling well" answered one of the chaps.  "If you have to see him, he stays close by" offered another and pointed down the road. "He stays after four houses on the right." That hoisted my spirits.
I thanked my lucky stars to find Kamal aka Pandy home. He had strained a ligament and limped on his right foot. He remembered our last meeting and agreed to open his teashop for us when I told him about my purpose.
Obviously, I had to have the refreshing buffalo-milk tea first (my favorite when I ride to the country).  Kamal lost no time and busied himself in his one-room tea shop. The strong tea tasted fine like the last time–the buffalo milk did it all. Finally, we settled down for his story. He seemed excited to know that the story would come up on Onlinekhabar.
Kamal, now aged 42, was born and brought up at Kavresthali. After completing his 10th standard, he decided to go to India to seek greener pastures like his forefathers did by setting foot in Muglan (coined after a region under Mughal rulers who ruled India for over two centuries). He was aged 17 at the time. He landed a job as a waiter in a hotel in Manali, a Kullu Valley town in the Himachal Pradesh.
Inquisitive by nature, the young Kamal was hard working too. In less than a year, he was transferred to the food production (kitchen) as a back-waiter. The new job presented newer challenges but he took them all in his stride. Situated at an elevation of 2,050 meters, Manali was almost like Nepal nestled in the mountains that dropped to the Beas River valley. The beautiful surroundings made Kamal sometimes forget that he was on a foreign soil. With time he made good friends with the other hotel staffs who helped him overcome the pangs of homesickness.
Kamal's poised and self-assured manner led him further up the ladder in his career. He got promoted to a kitchen hand and then to an assistant cook. During this time, a waiter-friend once suggested trying his luck in Goa and gave him the address of a sea beach restaurant. He was game for this new opportunity. The state of things at the hotel in Manali also favored him.
The hotels in Manali, a tourist destination, were literally closed in winter for four months (Oct to Jan) because of cold weather (temperature dipped below freezing).
Conversely, those four months happened to be peak tourist season in Goa situated on the west coast of India (liberated from the Portuguese rule in 1961). Off he went to Goa to try his luck. He worked in a restaurant at Palolem Beach, Canacona, in Southern Goa.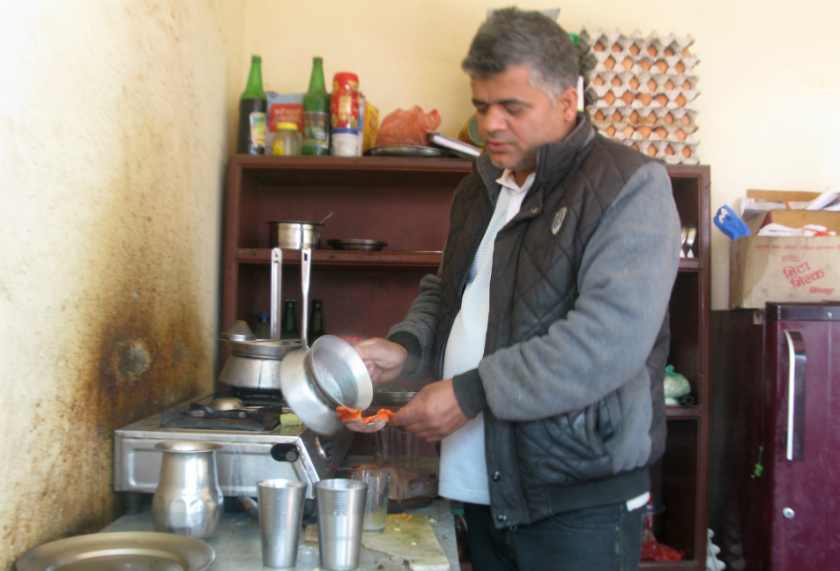 "My salary at the hotel in Manali was Rs. 2,200 a month.  I could not believe my eyes to see my day's earnings in Goa come to more than 400 rupees" explained Kamal as he sautéed noodles for some customers who had stopped by.
Surprisingly, for a small teashop, the frequency of people coming to drink tea and eat at his place was quite remarkable. I had to wait for him to continue his story in between recurrent interruptions.
It seemed, Kamal, was quite popular in the village and his tea shop seemed to be doing brisk business. I watched as more and more people dropped by and preferred eating at his shop than the one right across his, which did not have even half the customers he had.
I could feel that he had something, almost a palpable aura and a personal charisma, which drew more people to him. More than that, his shop served as a melting pot for the village elders and the local elite, who chatted over tea. After done with some customers, Kamal continued on with his story.
"I was thrilled by my maiden success in Goa, also called the Pearl of the Orient. It looked as if Goa never slept. By day it was the sun, sand and the surf. By night it was wining, dining and dancing. There were more than 7,000 licensed bars in Goa with endless numbers of illegal ones. Drugs and the local liquor called Feni were rife."
I worked for three months and made almost 40 thousand rupees. I'd never seen so much cash in my life before," Kamal smiled in reminiscence. But he fled to Manali after three months.
It was back-breaking work and he was not used to that. He worked like a beaver from seven in the morning until as late as 1.00am.  "It was like walking almost 40 km a day doing rounds of the kitchen and the restaurant's beach dining area."
For Kamal, the enticement was more than he could resist, though. Come every season, he made a trip back to that restaurant in Goa and worked there for four to five months supplementing his earnings at Manali by more than 10 fold.
Life seemed to glide effortlessly for Kamal. Then another lucky break came his way and he grabbed it. While working in Goa, with help from a waiter friend, he got a Visa for the UK and in 2006, with renewed hopes for better opportunities, he flew to England.
He worked and stayed in an old lady's house at Bristol, Southwest England. He spent two years with her in England, hopping over to France every six months to renew his visa.  England did not prove to be very fruitful as he had expected, though. Good jobs were not available without a work permit. During his stay in England, he visited Belfast, Scotland, Edinburg, Manchester, Wales, and others.
After two years, he flew back to India and rejoined the hotel at Manali and also resumed working in Goa. He spoke Konkani, the official language of Goa, English, Hindi and a smattering of Russian and Swedish.
His charming and polished personality made him very popular with the guests both at the Manali hotel and the restaurant in Goa. He had that knack for turning even the most mundane into interesting and exciting gossip.
The European tourists came asking for Pandy, both in Goa and Manali. Once, a Swedish guest sent him a thousand kroner when he got the news of a massive flood that hit Manali. So did a British guest, who sent him 500 pounds. Curiously, the guests became his friends. There were Swedish girls who fell for him and wished to marry him and take him to their country.
Soon, his charming personality led to an intimate relationship with a local girl from Manali and soon they got married. He had two daughters from his wife. During his stay in Manali, Kamal visited his hometown Kabhresthali with his wife and kids twice. The kids really loved Nepal.
For Kamal and his family, life seemed to roll effortlessly with no real worries. He kept his work at both the places in Manali and Goa. Days worked into months and the months into years. The babies grew into beautiful girls.
Life, however, decided to take an unexpected turn.
His wife suddenly inherited a sizable property and wealth upon her father's death. That seemed to bring good tidings for Kamal and his family. "Gone are the hard days" he mused excitedly.  "The irony of it was that instead of good, this brought bad days in our lives."
The sudden windfall, as it turned out, changed his wife into a totally different person. She developed a massive ego and became arrogant and opinionated. She started treating him like a servant. The situation got worse by the day.
To save his marriage, Kamal took brief leaves and left for Nepal. That did not help though to improve his relationship with his wife. She remained unchanged and unmoved. The marriage broke down and Kamal left Manali for good, only fond memories left to take him back. "My elder daughter from my first wife studies in the US in Philadelphia," Kamal told me.
In 2013, after three years in Nepal, Kamal remarried a Nepali girl and settled down in his hometown at Kavresthali. He has two baby daughters from his second wife.
"There are certain things in life that you cannot sidestep even if you wished or tried your best. You have no control over them. In my case fate decided my course for me. That was my destiny, my karma. Today, I've no worries and no regrets. I've enough land and property to fend for my family and myself." Kamal sounded content and confident.
More people started stopping by for tea and refreshments and I thought it was time to say our goodbye and let Kamal tend his business.