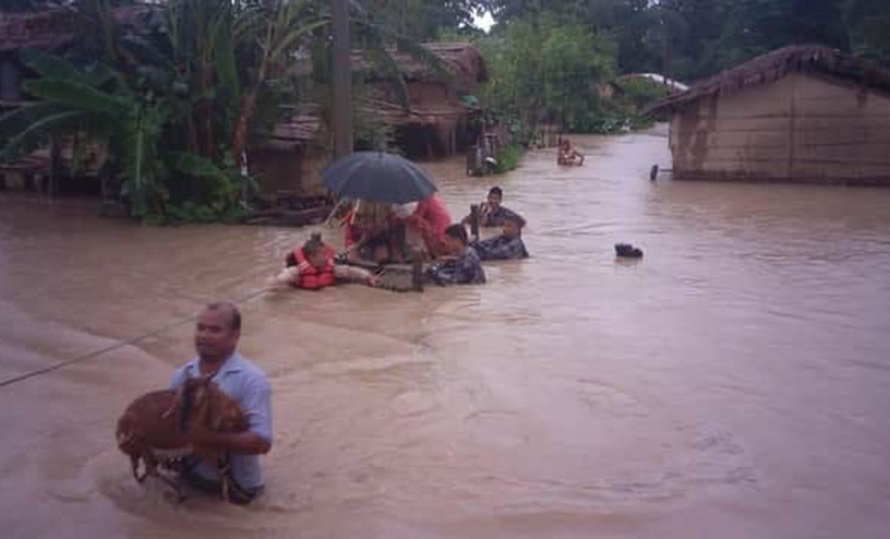 Kailali, July 30
Four persons are missing in different incidents of flood in Kailali of Sudurpaschim. The floods have inundated over 6,000 houses in the district.
Those missing are Kobi Sunar (54) from Janaki rural municipality-2, Scale Chaudhary (11), Ishwar Shahi (40), and Chakra BK (32) from Bhajani municipality-8, informs SP Anup Shamsher JRB, the District Police Office.
Flooded Kada, Parthaiya, Kandra, and Mohana rivers in the district entered human settlements, causing havoc, according to him. "They disappeared while efforts were underway to relocate them to safety," JBR says, "We are searching for them." Nepal Army, Nepal Police, and Armed Police Force personnel have been mobilised in the mission.
Initially, seven persons were missing, but later, three were found alive.
Meanwhile, 6,320 houses have been inundated by the floods, according to the Assistant Chief District Officer Hira Lal Chaudhary. "The displaced people have settled in school buildings and roads," he says, adding a few, however, have returned to their own houses as the water levels have decreased.