Shivam Rajbhandari is a nine-year-old boy living in Nepaltar on the northern outskirts of Kathmandu. Since the Covid-19 pandemic has hit the country in March, like every child, he is also locked inside his home.
One day, he saw two kites weaving and swaying in the wind up above the sky while he was on his rooftop. He got fascinated by the 'kite battle' and this fascination in him gave birth to his desire to learn how to fly a kite.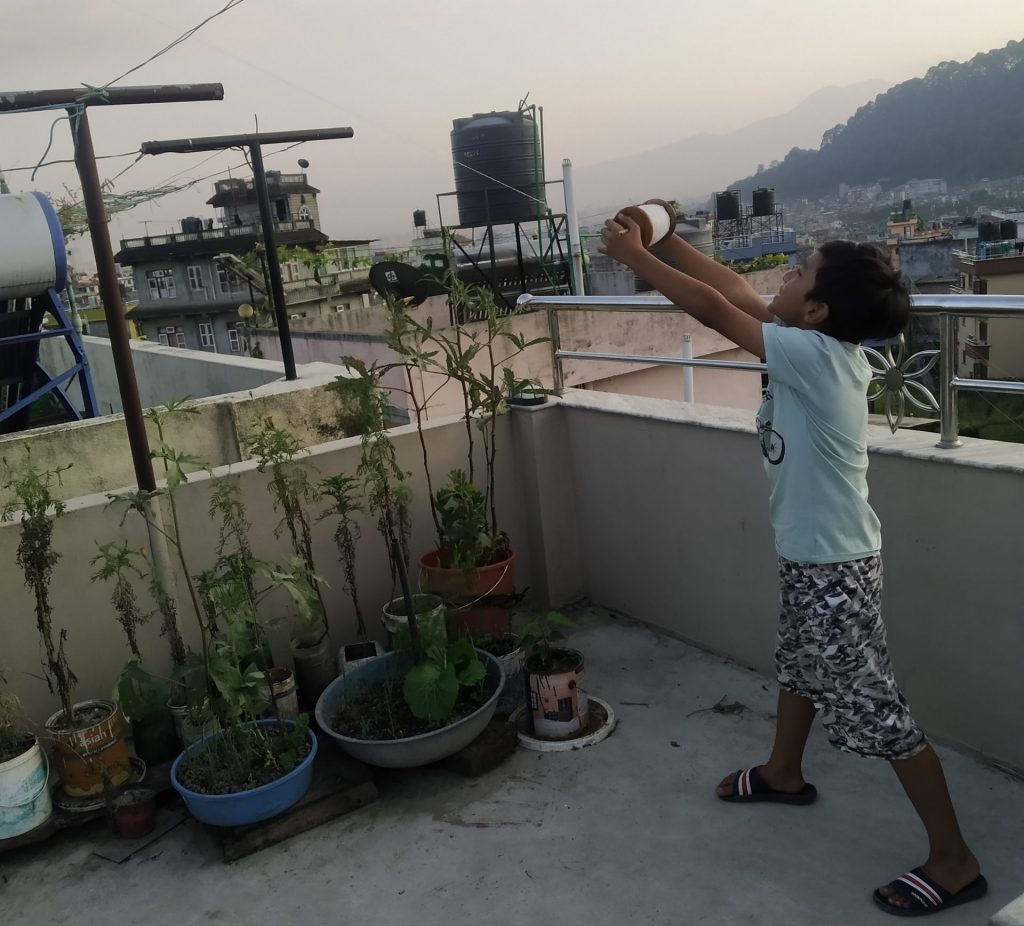 Kites used to be a synonym of Dashain, the greatest festival of Nepal, at least in Kathmandu until a few years ago. However, in previous autumns, Rajbhandari had not seen as many kites as he has seen them this year. If it was not lockdown and other restrictions imposed by the government to control the epidemic, the child would be busy going to school and doing homework. He would not have any time to go to the rooftop and watch the sky.
Perhaps others flying kites around Rajbhandari's neighbourhood would also have the same story.
After years, the number of kites in the sky of Kathmandu has significantly gone up, taking people to the years they longed to live in, confirm kite-crazy children, youth and traders alike. Although no one wished Covid-19 to live in the world any longer, they think the revival of kite culture is the pandemic's nice gift Kathmandu.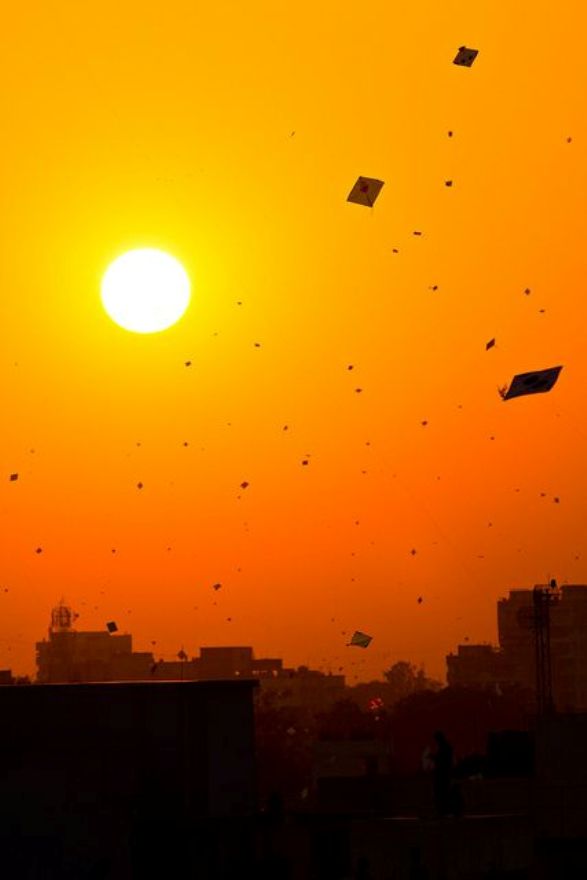 As pandemic pleases
"Seeing the flying kites in the sky, I asked my daddy to buy me a kite, a spool and strings," Rajbhandari says as his father listens when Onlinekhabar talks to them, "I also asked him to teach me how to fly kites."
As his father's office was also closed amid the pandemic, he was free to teach his son something that he had left doing long ago. Thinking this might be a great escape for his son from mobile phone games, he brought everything asked by the child and taught him to fly kites.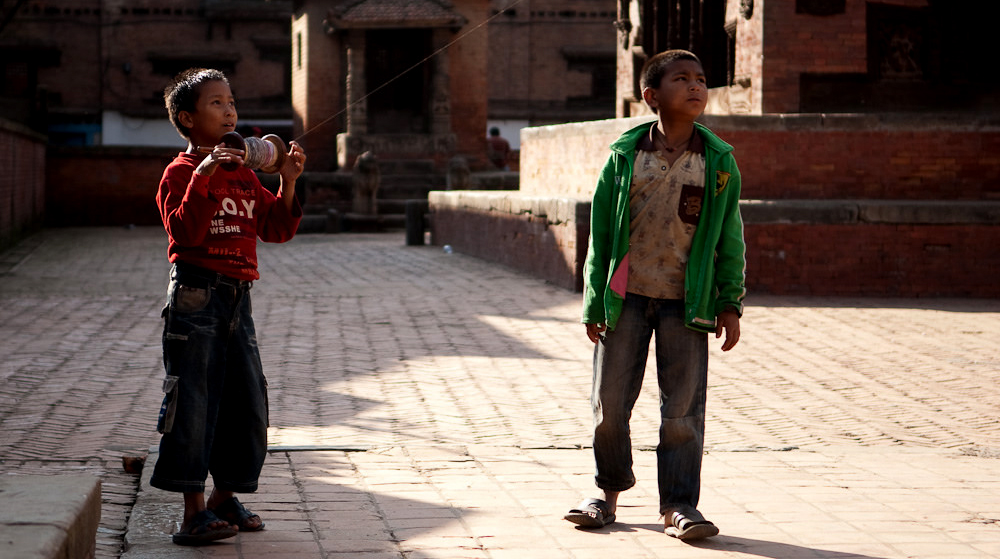 Meanwhile, the boy continues, "Whenever the weather is suitable, I always fly a kite with my cousin and my father. I am just loving it."
A few kilometres away from Rajbhandari's house in the valley, Sailesh Bhandari, a man in his mid-20s in Syuchatar of Kathmandu, says he aggressively gets indulged in his neighbourhood's 'kite battle' every afternoon.
Bhandari reminisces, "I used to fly kites like this some five to seven years ago. Then, I had left."
"But, this year, I started flying kites after the prohibitory order was announced in Kathmandu in the third week of August. Since then, I have been flying kites daily." Bhandari has already spent about Rs 5,000 for kites, spools, and strings.
He thanks the pandemic for this opportunity. He shares, "Due to the prohibitory order, I could not go out like many and do my job. So, I opted for flying kites and battling with my neighbours and my cousins."
Bhandari has already rejoined his job by now, but he says, "I still try my best to make my time to fly kites."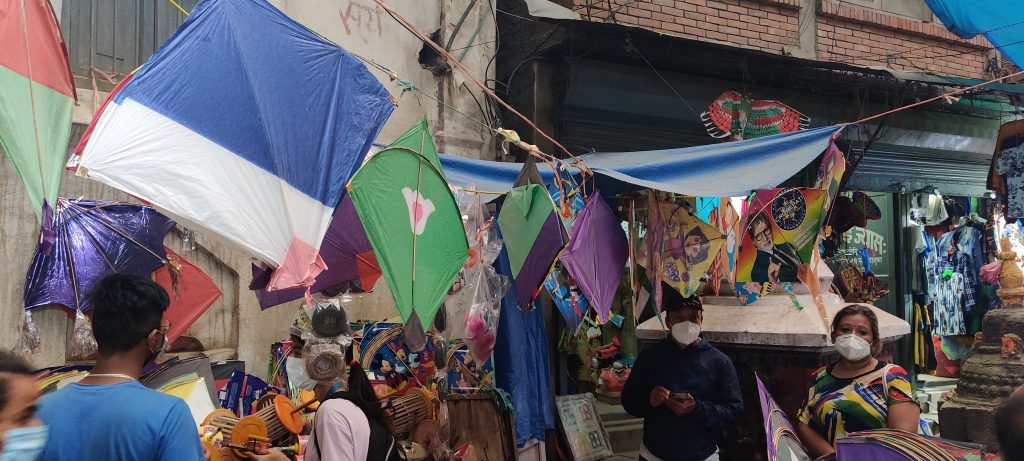 Until last year, the tradition of flying kites was gradually waning. The rapid modernisation including the access to addictive internet technology, busy schedule, loads of options for entertainment, and unavailability of open spaces were apparent reasons. However, this year, the open blue sky of Kathmandu is studded with an abundance of colourful, attached but free-flying kites.
In the past years, people would fly kites during the Dashain festival only. However, this year, people started flying them from the beginning of July already. And, the number of people flying kites has been increasing day by day.
Trade excitement and imbalance
Sabita Budhathoki owns a grocery shop in Balkot, Bhaktapur. She has been selling kites, strings and wooden reels around this time for the past four years. "In previous years, we hardly used to sell about 50 pieces of kites per day. But now, we are selling ten times more."
A kite wholesaler Bipin Raj Baidya also corroborates Budhathoki's statement. Baidya has been selling kites to retailers at his shop, Bhutamali Pasa: The Kite Shop at Chhetrapati for almost 17 years. He enthuses, "The sales have skyrocketed this year. Percent-wise, it is a rise of around 80 per cent, almost double."
"The demand this year is reminding me of my business some 12 to 15 years ago."
Budhathoki informs she had to wait in a long line to buy kites from wholesalers recently. A majority of kites and other materials are imported to Nepal from India. Only a few spools are manufactured in Nepal.
Binit Manandhar, another wholesaler at Tyauda of the capital, says, "This year, the demand is definitely high than that of past years. However, the supply is low. We are selling kites, spools, and strings from the last year's stock."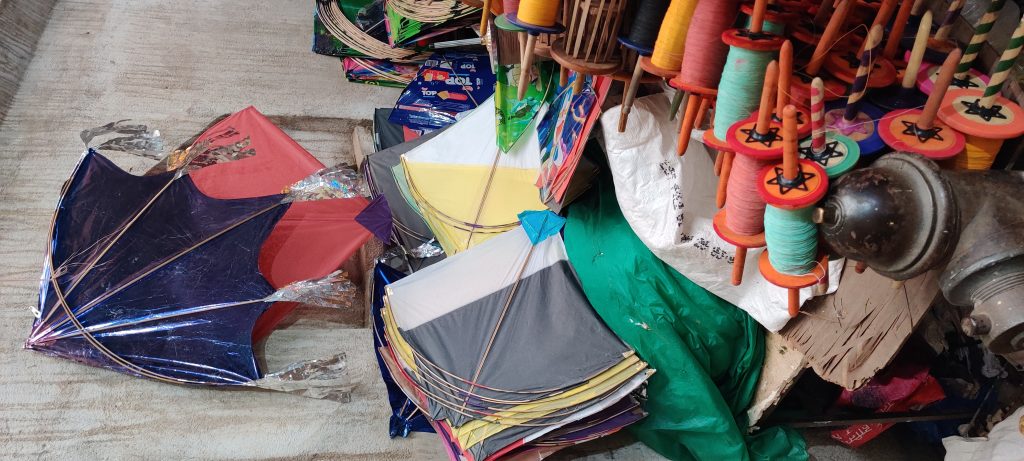 "Only those who have better links with suppliers and other stakeholders are importing kites without any barriers," Baidya says, "The duration it takes to get the order delivered has also made us impossible to satisfy the market demand. Previously, it would take about five to six days for the ordered goods to reach the Nepali market. Now, it is taking 10 to 15 days."
The imbalance between demand and supply has also affected pricing. Budhathoki informs, "The kite which we have been selling for Rs 5 to our costumers for the past three years now costs double."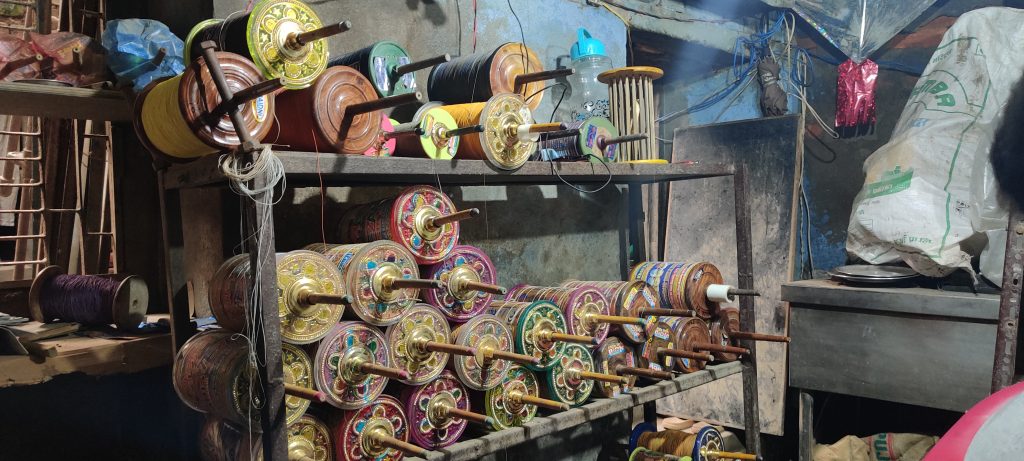 Baidya feels the prices have been fixed arbitrarily. He explains, "Some are selling the kites adding 10 per cent to their cost price whereas some add 20 or 40 per cent. Some just double the price."
Traders like Baidya and Manandar are also aware that the pandemic has helped their businesses revive as the kite-flying culture has also got the second lease of life.
However, they do not have any answer to their own question: Will this be the same in the coming years as well?