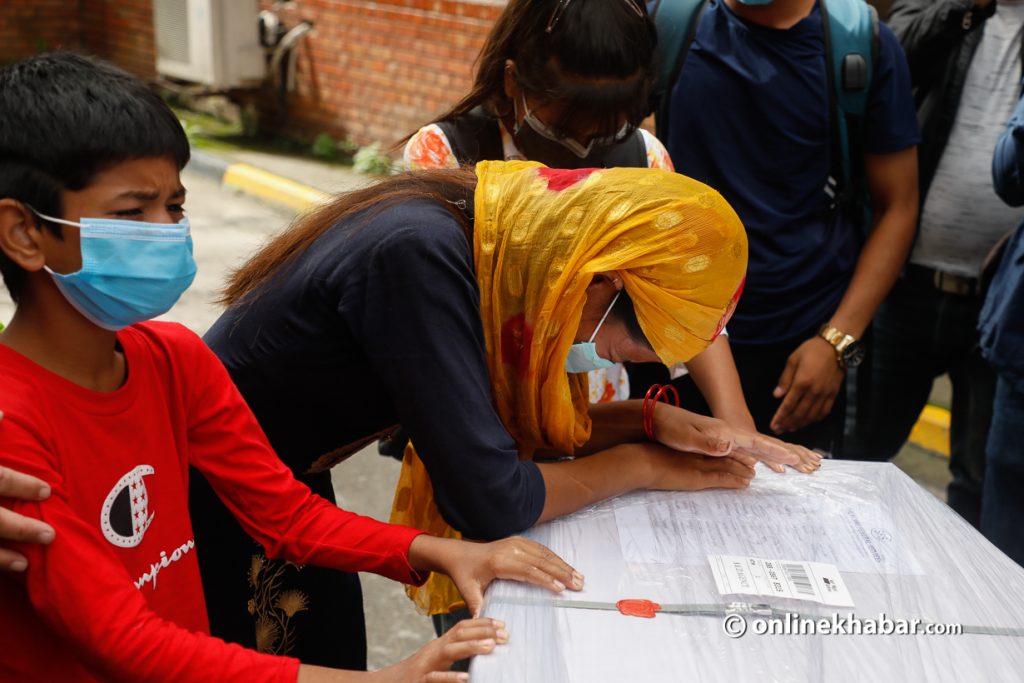 Bhim Bahadur Lohar, from Madhuwan rural municipality in Bardiya, went to Qatar to work in 2010. There he worked for a construction company tasked to build buildings including one of the eight stadiums that are currently hosting the FIFA World Cup 2022.
Lohar called his wife every day; they talked about his day there and what his family were doing in Nepal. He sent most of what he earnt, Rs 35,000 a month, back home as his family built a house with the money he sent.
He was healthy and was not suffering from any chronic disease but one day his wife, Sita, received a call from relatives telling her Lohar died in Qatar.
"His death certificate said he died a natural death. But, it didn't state how he died," says Sita. "He hadn't been paid for around five months and his company sent Rs 295,000 after his death."
If the money was his due salary or the provident fund, she does not know.
Lohar died on January 13 and he arrived in a box 10 days later. After the arrival of his lifeless body, the insurance company gave Sita Rs 1.4 million and Rs 700,000 from the government's labour department.
"Who will look after us now? How long will the money last," says Sita, who worries for her 12-year-old daughter, as the FIFA World Cup begins in Qatar in fervour.
As Nepal and the world is engulfed in the World Cup fever, many seem to have forgotten its dark side. Lohar is one of the thousands of Nepalis who died in Qatar due to harsh working conditions. Even though Qatar continues to deny this, multiple reports in various international media outlets show how extreme working conditions were for those involved in the construction of stadiums and other buildings.
Despite many Nepalis returning home in coffins and others with chronic illnesses, their families here still waiting for compensation and insurance money. Many refuse to watch the FIFA World Cup hosted by a country which changed their lives forever, for the worse.
All pain, no gain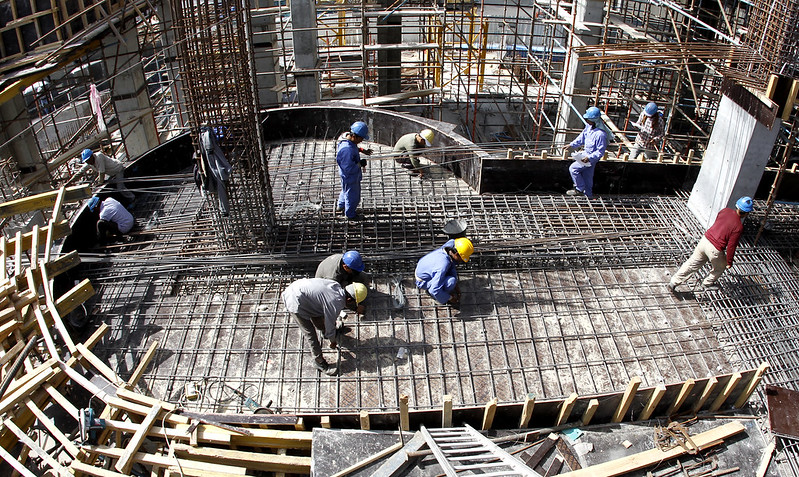 Janakpur's Budhan Pandit is one of the many victimised by Qatar's FIFA World Cup plan. Pandit and his family lived in a small hut made out of zinc sheets and tarpaulin. During the summer, it got unbearably hot; in the monsoon, water sept in from everywhere; in the winter, the cold was spine-tingling. To ensure his two teenage sons did not have to suffer the same fate, Pandit went to work in Doha in 2017. But, little did he know that he would never see them again.
Pandit, 42, died while building the runway for an airport in Doha on June 21, 2021.
Pandit's family was shaken. The only source of income for them was Pandit, but after his death, his elder son Umesh, 19, has been tasked with the responsibility as he tries to earn money working as a labourer.
Pandit's family hoped they would get compensation and insurance money. But, all they received was Rs 25,000 to perform the final rites. They did all the paperwork, but they are yet to receive compensation from the Department of Labour or the company he worked for.
"I've been going to different government bodies, but they don't respond to my questions. It seems the government just doesn't care. I've given them all the necessary documents, but things have not moved forward," says 17-year-old Dinesh, Pandit's younger son.
Pandit's wife Urmila is worried about what they will do if they do not get the compensation amount. A case has been filed against them for building a house on the land that is owned by her father-in-law. Her elder son dropped out of school as the family could not afford it while their younger son is on the verge of dropping out.
"I worry for the future of my sons," she says.
Lavishness at the cost of lives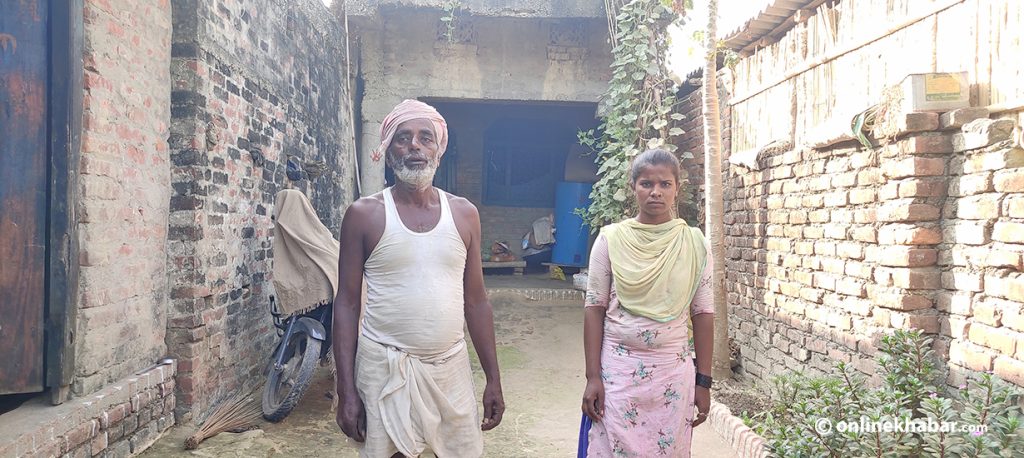 Baldev Sah, 64, is emotional when he talks about his son. With tears in his eyes, he accuses the leaders of the country of not caring about people like them. He accuses them of buying votes but not creating opportunities for young people who have no choice but to go work abroad and come home in the box.
"They are selfish. They don't care about the poor. All they care about is money and power. I can't believe my son is gone," he says, remembering his son Dasain who died while preparing infrastructure for the FIFA World Cup 2022.
Qatar won the race to host the 2022 FIFA World Cup, beating out powerful countries. But, the country did not have the infrastructure to host the world's biggest football tournament. To build them, Qatar started recruiting a large number of workers from countries like Nepal, India, and Pakistan among others.
As the demand for workers increased, lots of Nepalis started queueing up outside recruitment agencies. The number of Nepalis going to Qatar in 2010 was less than 50,000, but after that, the number crossed 100,000. The excitement was such that everyone wanted to go earn money working in the rich Gulf country.
But, as more and more people started to go, another side of the country started to come to light. News of human rights abuse started to appear in different newspapers across the globe. People died due to the harsh working conditions and thousands were injured building infrastructure for the FIFA World Cup 2022.
The Guardian published a report on February 23, 2021, saying that migrant workers are dying unexpectedly in Qatar. This news shed light on the number of Nepalis that died there.
This showed how the Nepal government did not care about Nepalis dying working in temperatures soaring above 50 degrees C. Rameshwar Nepal, South Asia Director of Equidem International, an international human rights organisation, says Nepal and its policies are weak when it comes to labour diplomacy.
A report published by Equidem on November 10 shows that there has been extreme exploitation of the workers engaged in the construction of the FIFA World Cup stadiums. The report prepared after talking to the workers at eight stadiums from September 2020 to October 2022 suggests many were put to work in temperatures above 50 degrees C. It is mentioned in the details that many were not paid on time and some were not paid at all while a lot were told they would be fired if they did not work or complained too much.
Anish Adhikari, who worked at the Lusali Stadium where the final match of the FIFA World Cup will be played, told Equidem that he was not paid.
"I was not paid what I was promised. I was told I was being recruited for one thing, but when I got to Qatar, I was asked to do something else," says Adhikari, adding the living conditions were pathetic as many were not even given proper food to eat.
Things got so out of hand in the past few years that companies banned workers from speaking to a team from FIFA visiting Qatar to see if news of worker exploitation were true.
A Nepali who works at Al Thumama Stadium in the run-up to the FIFA World Cup tells about his pain with Equidem and says, "After I got tired while working, the boss came and threatened to cut my salary for two days and sent me to Nepal."
Alarming numbers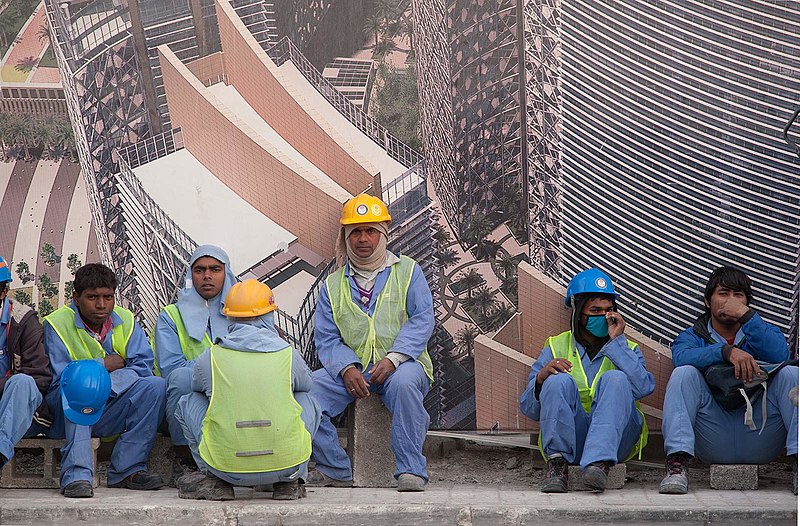 According to the data given to The Guardian by the Nepali Embassy in Qatar, 1,641 Nepali workers died in the ten years between 2011 and 2020. Ghal Singh Rai, who came to work at the Education City Stadium, which was being prepared for the FIFA World Cup, died of suicide within a week of his arrival in Qatar.
The Qatari government has been saying that the deaths of migrant workers were due to natural causes and diseases. However, organisations such as Amnesty International, Human Rights Watch and the International Labor Organization (ILO) have been saying that the migrant workers died because they were forced to work in the heat, exploited and were not provided with good food and healthcare.
Qatar demanded 30,000 workers just to build the stadiums needed for the FIFA World Cup 2022. Most of them were Nepalis, Bangladeshis and Indians. In a report published by Amnesty in 2016, a Nepali worker working at the Khalifa Stadium complained about not getting their wages.
"My family has become homeless, my children have been expelled from school. I am stressed every day because of this torture," the worker told Amnesty.
The International Labor Organization says the reason migrant workers died in Qatar was the inhumane treatment by the state. According to the ILO, in order to avoid paying compensation after the death of the worker, Qatar claims that the death was due to natural causes and illness instead.
The Foreign Employment Board has recorded that 582 Nepali workers died in Qatar from 2011 to 2021 due to natural illness. According to the data, 1,883 Nepalis lost their lives in Qatar from 2011 to 2021. More than 400 Nepalis were injured in this period.
The Foreign Employment Board, however, says only 1,865 families were compensated.
A report published by the ILO in October 2019 showed that workers' internal body temperature reaches 38 degrees Celsius when they have to work in the hot sun and workers die due to hyperthermia.
Dr Anup Subedee says that mental stress added to hard physical work in extreme heat will cause heart problems.
"After working hard for a long time in the hot sun, the body will definitely get weak and that affects the heart," says Subedee.
This is why Human Rights Watch strongly objected to the fact that Qatar said that people who died of cardiac arrest and hyperthermia as natural deaths. It has been demanding an impartial investigation into the deaths of workers in preparation for the FIFA World Cup, 2022.
According to the Foreign Employment Board, the number of deaths and injuries may be higher. "We only have the data of those who died abroad and applied for compensation during the period of the contract and within one year of the end of the contract," says Maiya Kandel, the information officer of the board, "Not all relatives of workers who died abroad reach us."
Following an outcry from human rights organisations from around the world, Qatar loosened some of the laws imposed on migrant workers in late 2017.
Qatar started by changing the Kafala system which holds them hostage and prohibits workers from working under the open sky during the summer. However, by the time this reform was made, the hot Qatari sun had already destroyed thousands of Nepali lives.
Amnesty International accused Qatar of trying to escape from paying compensation by treating the deaths of workers who died due to extreme heat as natural.
"This is a violation of labour rights. It also tries to block the way of legal treatment and compensation for the victim's family," said an Amnesty report.
According to Qatari law, if a worker dies due to natural causes, no compensation shall be given to the worker's family.
See no evil, hear no evil
Income from foreign employment accounts for a large part of Nepal's economy.
According to the Nepal Living Standards Survey, 2011, 17 per cent of the total household income is covered by remittance. This accounts for one-third of Nepal's households.
Despite the death of thousands of workers who play an important role in the country's economy, the government of Nepal has also remained silent.
In 2005, a labour agreement was signed between Nepal and Qatar. It was only in 2010 that Qatar, which is considered a relatively safe destination for Nepali workers, was chosen to host the FIFA World Cup 2022. After that, the death rate of Nepali workers in Qatar also increased.
After the death rate increased, the government planned to place health workers in embassies located in key labour destination countries. The plan was made in 2019 as the government felt Nepalis abroad did not receive healthcare on time and even if they did get treatment, it was difficult because of the language. However, this plan was not implemented.
In November 2017, Qatar promised to improve workers' conditions by signing an agreement with the ILO. However, international human rights organisations have alleged that Qatar has not fulfilled this promise in its rush to host the FIFA World Cup. Two years after Qatar promised not to make workers work in the summer sun, on October 2, 2019, 24-year-old Nepali Rupchandra Rumba, who worked at Qatar's Education City Stadium, died, reported The Guardian.
Qatar deported 60 Nepali workers in August 2022 who protested against working conditions. This was seen negatively in Nepal and the world as many Nepalis who built these stadiums for the FIFA World Cup will not get to watch a single match in it.
Saru Joshi, an expert on foreign employment matters, says Qatar dismissed the deaths of migrant workers as natural and heart attacks while preparing the necessary infrastructure for the World Cup.
"For Qatar, the FIFA World Cup is bigger than human lives," says Joshi.
She also blames the Nepal government for its role in this as it did nothing despite knowing that Nepalis were dying in Qatar,
---
This story was translated from the original Nepali version and edited for clarity and length.