In 1972, the Nepal government established the National Potato Development Programme to develop the country's agriculture sector hoping it would make the farmers in Nepal and the country itself self-sustaining.
But, five decades on, Nepal still has not been fully sustainable in potato farming let alone agriculture. In the past five months of the current fiscal year, Nepal has imported potatoes worth Rs 5.27 billion from India and Bangladesh. According to data made public by the Department of Customs, Nepal, on average, has imported vegetables worth Rs 1.7 billion a month in the past five months. If you add grains like rice, lentils, maize and fruits, the figure is even higher as in the past few years, Nepal has imported food products in excess of Rs 200 billion a year.
This figure is disturbing and shocking as Nepal claims to have over 60 per cent of the population involved in agriculture. Yet, the country imports almost everything. Experts say this is a critical concern.
What is worse is the politicians and businesses that should be helping the industry grow are doing the exact opposite as they rip the farmers off through the help of middlemen and discourage farming. The government also does not help the farmers in Nepal.
Sorrow and sorrow everywhere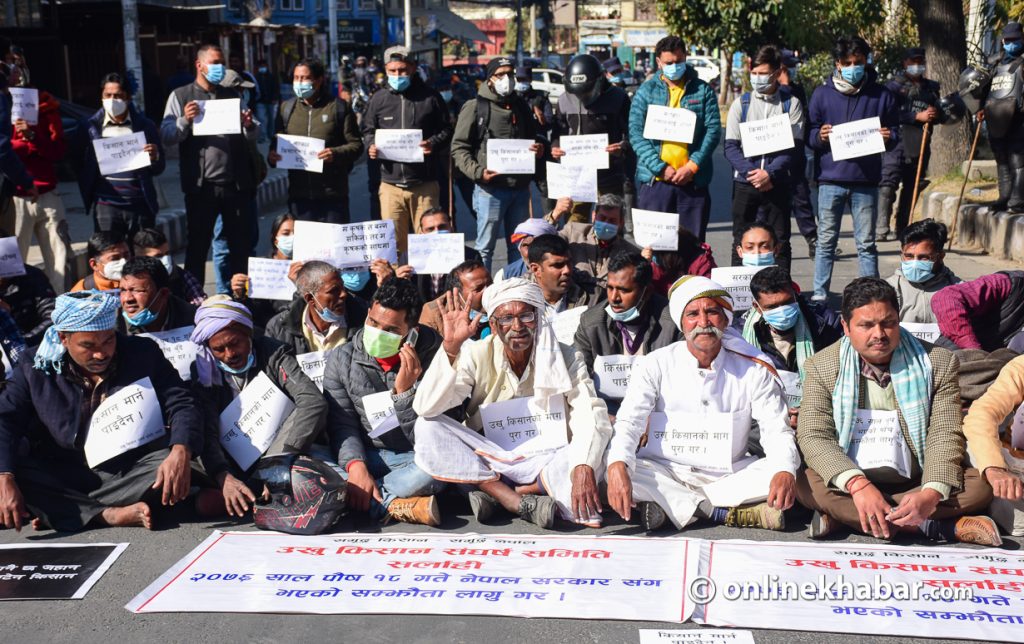 Farmers in Nepal who sold sugarcane to sugar mills in fiscal years 2017-18 and 2018-19 still have not been paid despite multiple protests. Farmers of Sarlahi alone say that they are yet to receive around Rs 130 million from these sugar mills.
Most of these farmers are buried in debts, says Hari Shyam Yadav, the secretary of Sarlahi's sugarcane farmer struggle committee.
"There are over 5,000 of us waiting for payment for our hard work. These businesses owe over Rs 1.16 billion. We've protested everywhere, even in Kathmandu, and done a lot. People have even died during these protests, but we've still not gotten a penny," says Yadav.
He further questions if more farmers in Nepal need to die for the government to take this seriously because he thinks the government only spoke to the farmers when one of their friends died during the protest. "The government wants us to compromise by not taking the full money. How is this fair?" he questions.
Kapil Muni Mainali, the president of the Nepal Sugarcane Producers' Federation, says this has resulted in a lot of farmers stepping away from farming as this whole issue has discouraged them.
"Who would want to continue when they've not received money for the sugarcane they sold four years ago?" questions Mainali.
Farmers in Nepal produce sugarcane in 41 districts across Nepal in around 71,000 hectares. Most of the farming is done in the Terai belt which is ideal for sugarcane farming.
But cultivating sugarcane is not easy for them. They have been using tractors and other technologies to plant these. There is a lot of human resources needed too during the first year of plantation and costs around Rs 200,000 to plant these sugarcanes in around one hectare of land, from which they get around 900 quintal sugarcane. These farmers say from 1 hectare, they make around Rs 80,000 profit.
The government, keeping this in mind, determines the price of sugarcane every year. But, as it does not do that on time, farmers accuse the government of working in favour of industrialists rather than them.
And, they are right. The government last year gave the sugar mills two months to pay the farmers. But after criticism, the mills paid them in 15 days.
"They can pay us, but the government gives them time. We really think the government doesn't want farmers," says Mainali.
Things are likely to be similar for sugarcane farmers in Nepal this year too.
Neither rice nor respite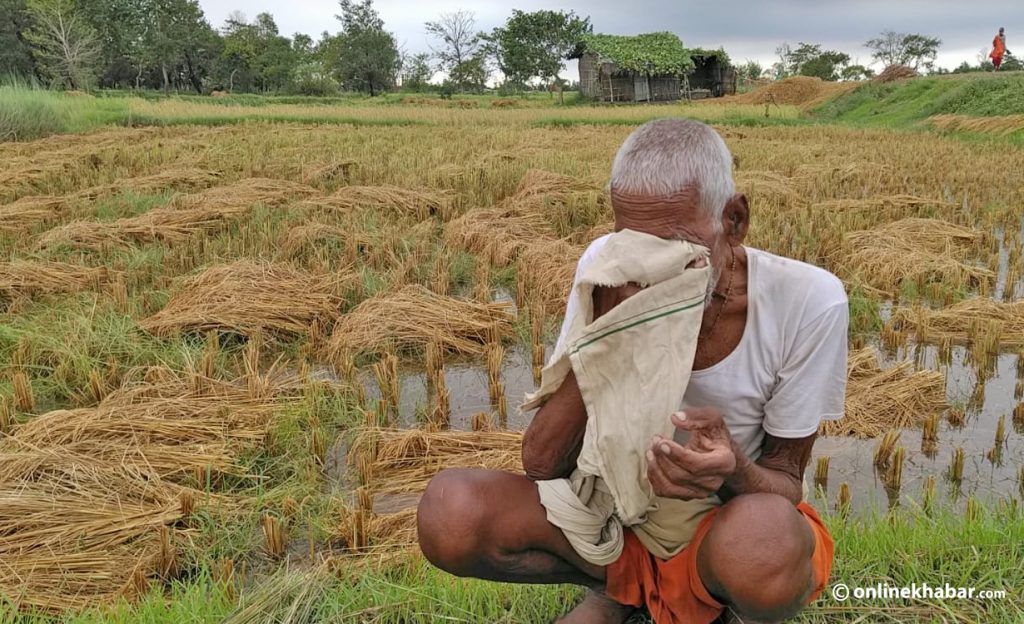 In the autumn of 2021, Nepal witnessed unseasonal rainfall when it rained continuously for four days. The government has two bodies that are tasked with warning the farmers about unnatural rainfall, but as they did not disseminate the correct information, rice plantations worth Rs 11 billion got destroyed.
Experts say the government bodies should have asked farmers in Nepal not to cut down the plants as it would be raining for a week at least. Instead, it told them to look at the weather and then harvest the crops. It rained four days straight. The farmers had no time to bring the yields in and most of it got destroyed.
These farmers are still waiting for aid as most of them have little to no money to last the winter. The Ministry of Agriculture spokesperson Prakash Sanjel had told Onlinekhabar that these people would be receiving aid soon, but over two months have passed and they have received nothing.
Bad seeds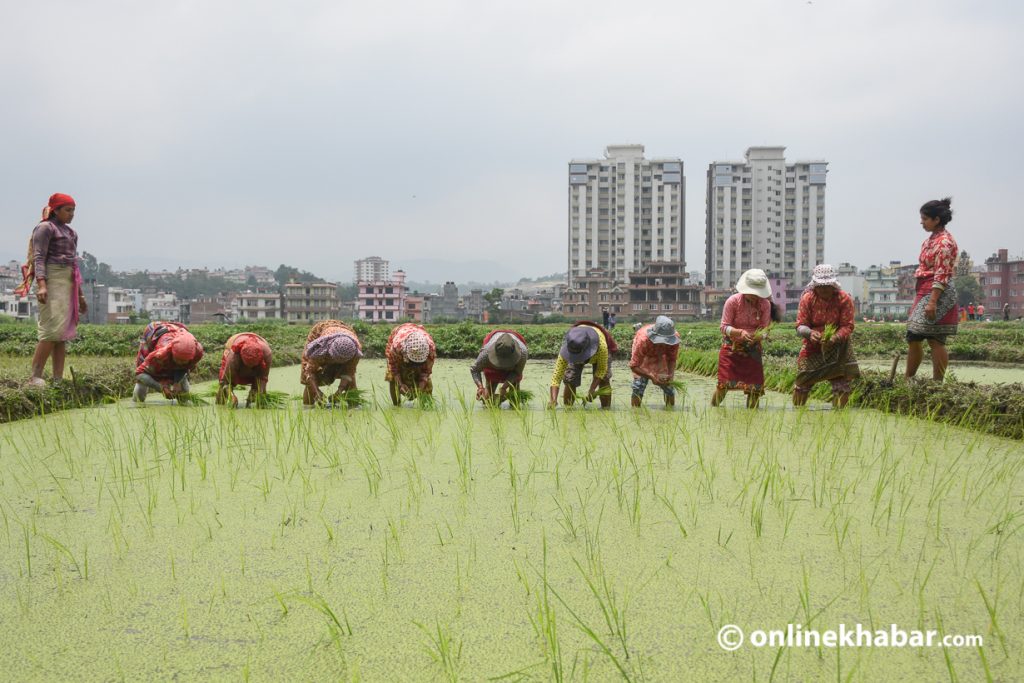 Farmers of the Kathmandu valley planted DY 28 rice seedlings this year. But, to their horror, the seedlings did not grow into rice plants. The reason is these seeds were only for places that were under 700 metres from sea level. The distributor of these seeds did not warn anyone about this.
Thousands of farmers in Nepal planted this seed and have faced losses in millions, but the government has not taken action against such distributors who conned the farmers for their business gain. The decision of whether the farmers will get any relief is yet to be made.
People quitting farming
It is safe to say farmers in Nepal are at a crossroads. A lack of earning opportunities and incentives has resulted in many farmers giving up growing cash crops and main crops.
According to data, the plantation of oilseed went down. In 2018-19, oilseed was grown in 2.6 million hectares, but it went down to 2.4 million by now. Similarly, the production of other crops like rice, wheat, maize and buckwheat has also gone down.
This is mostly due to farmers in Nepal giving up agriculture, experts say. According to data, around 13.5 per cent of people have quit agriculture in the past decade alone which has also had an effect on the economy.
In 2011, 73 per cent of the country's population was into farming. That number now has gone down significantly as only 60 per cent are into it today.
This has affected the gross domestic product of the country too. In 2011, 32.7 per cent of the GDP was contributed by agriculture. In 2021, that fell down to 25.5 per cent.
This has resulted in the country being dependent on imports. The National Planning Commission says a lot of products that the country imports can be produced in the country. But, since farmers in Nepal are not interested, the import of products like rice, wheat, onion, potato and garlic has skyrocketed.
In the fiscal year 2020-21, Nepal imported rice worth Rs 18 billion while the country imported rice with husks worth Rs Rs 882 billion. Most of these are imported from India. The import of maize has also gone up in the past few years.
Discouraged farmers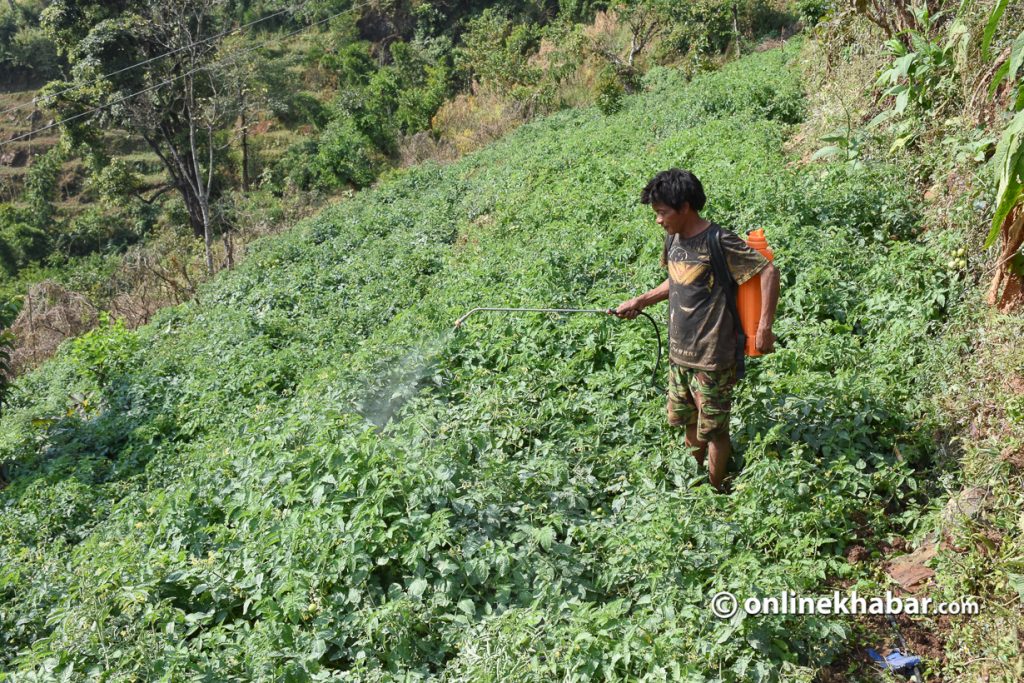 Agriculture experts believe farmers in Nepal are giving up farming because they feel it is not worth it. The farmers feel that there is no point toiling so hard because government officials that should be working on making the situation better do little to nothing about it.
They feel the government bodies do not encourage them at all nor do they give them an incentive to continue farming. These officials are not pushed enough by the ministers to work efficiently, experts say.
Another reason for farmers in Nepal being discouraged is the role of middlemen who take up most of the money. Despite knowing this, the government has done nothing to stop their interference.
Agriculture expert Madan Rai says that it was about time the government stepped up its effort to revive agriculture in the country.
"These people need to take ownership and be a bit responsible because farmers in Nepal are crying and dying," says Rai. "There needs to be someone who should be answerable."
But, government officials say that they are working hard to help the farmers. Agriculture Secretary Govinda Sharma says that they have been working hard but a few issues like a lack of data, poor policy and the farmers in Nepal themselves are not helping them work as effectively.