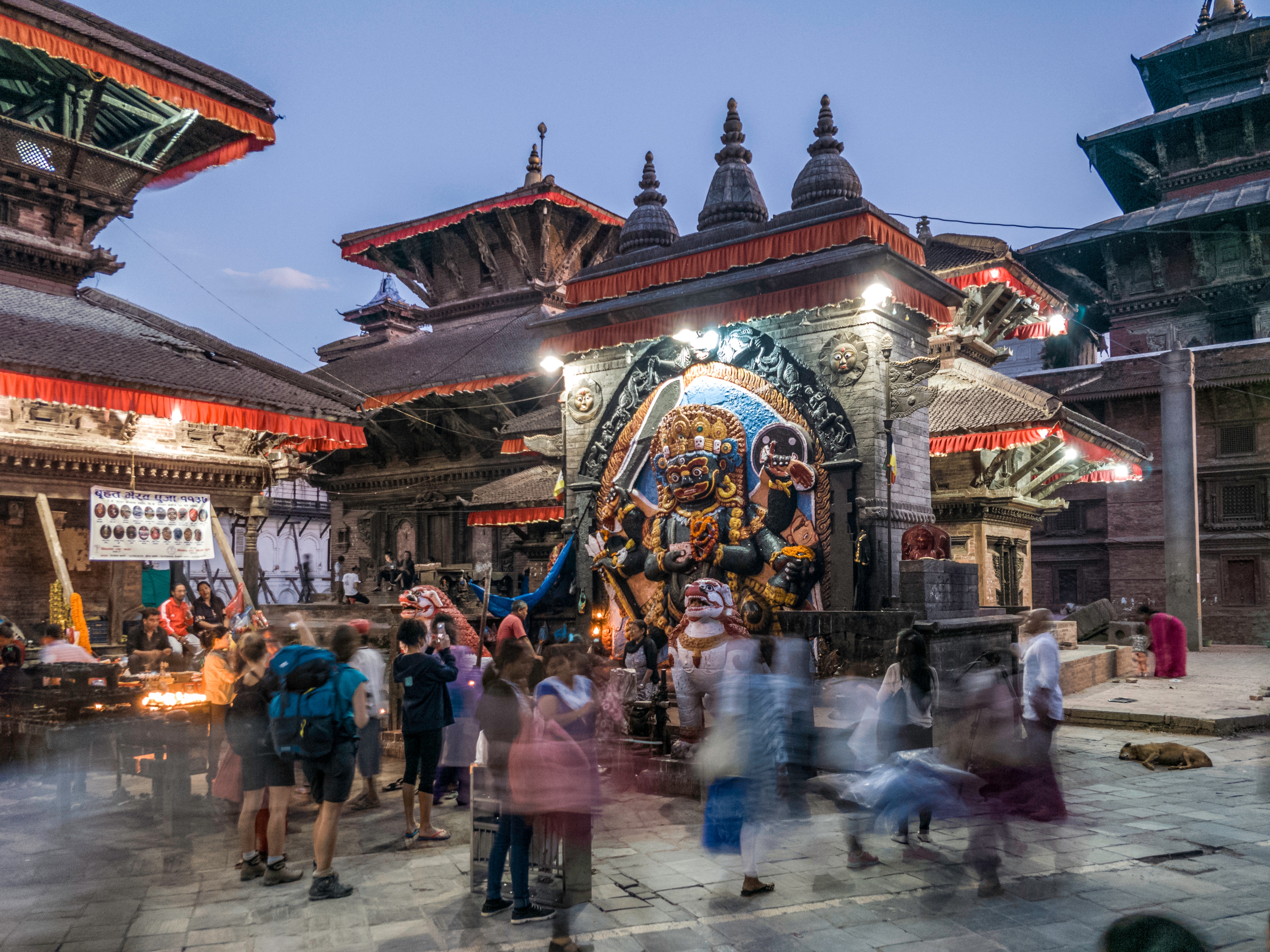 With Indra Jatra in full swing, there are different forms of Bhairav that are taken out of their temples for all the devotees to offer their prayers and other offerings. There are a few common forms of Bhairav that people are familiar with, but there are many more forms.
All forms of the deity are often depicted with a ferocious face or rage as its primary emotion. Regardless, the deity is heavily worshipped and considered to be the protector of humankind and the cities of Kathmandu valley.
Bhairav is primarily said to be the incarnation of Shiva, but a few other stories also depict the deity to be the incarnation of Vishnu. The deity not only has a deep connection with the Hindu religion but also the Buddhist religion, described as a form of Buddha in some and Boddhisattva in others. There are different forms of Bhairav and there are different temples built dedicated to these forms, here are a few of them:
Swet Bhairav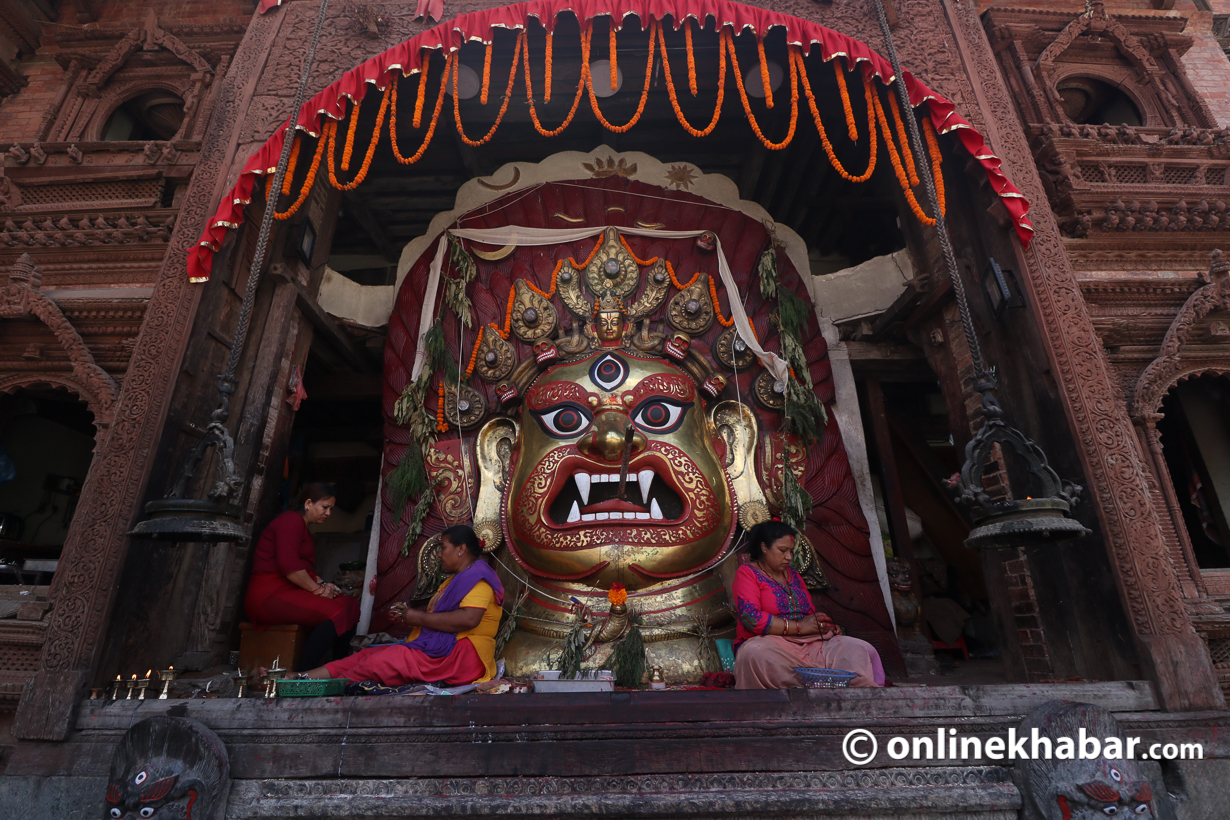 Swet Bhairav, an embodiment of Bhairava, a facet of Lord Shiva, resides within Hanuman Dhoka, Kathmandu Durbar Square. It is one of the most known among the different forms of Bhairav. Revered for purity and auspiciousness, this statue remains concealed behind a wooden latticed window throughout the year, emerging only during the festival of Indra Jatra, when devotees present offerings of rice liquor and rice beer with a bamboo straw. Recently one of the bottom windows has been kept open for devotees.
In Hindu mythology, Swet Bhairav holds a revered status as his luminous white eyes symbolise purity and serve as a protective shield against malevolent influences. It is considered the most dangerous form of Lord Shiva. It is named Swet Bhairav for it is made of white stone. It is said to have been commissioned by king Rana Bahadur Shah during the mid-1790s.
Aakash Bhairav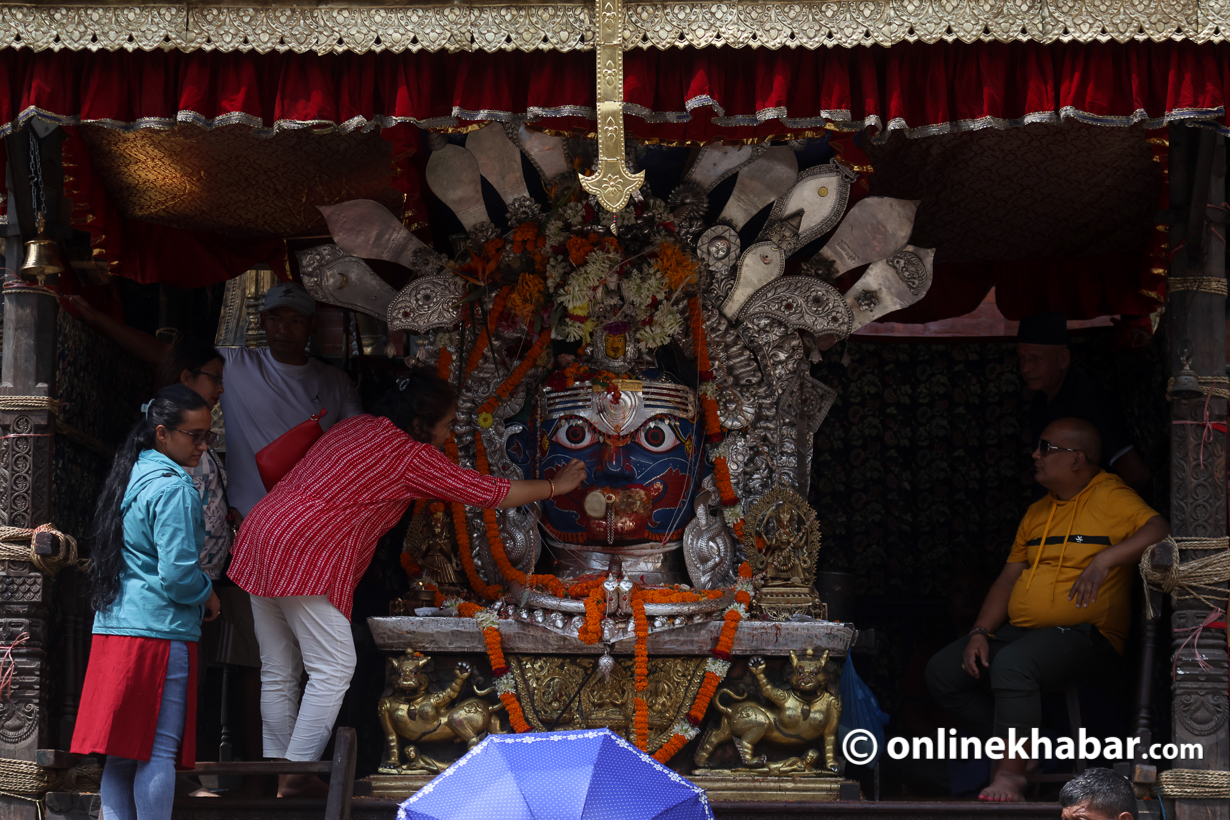 The three-storied Aakash Bhairav temple is situated within the central courtyard of Kathmandu Durbar Square, associated with the realm of the sky. Locals also call it Aaju dyo, or the god of sky or sky god. He is also referred to as King Yalambar, believed to be the first king (also aaju in Nepal Bhasa).
Portrayed with azure skin and a stellar crown, this deity is revered for granting wishes and bestowing good fortune. Devotees seek protection during air travel and a connection to the spiritual essence of the vast sky, emphasising the deity's role as the guardian of the heavens.
Another form of the bhairav is also called Baka Dya Bhairav, a sculpture of which can be seen in Wotu, some metres away from Indrachok where Aakash Bhairav is situated. A different version refers to the two as brothers.
The Bhairavnath temple in Taumadhi square of Bhaktapur is also said to be a form of Aakash Bhairav. There are other different forms of Bhairav as well.
Kaal Bhairav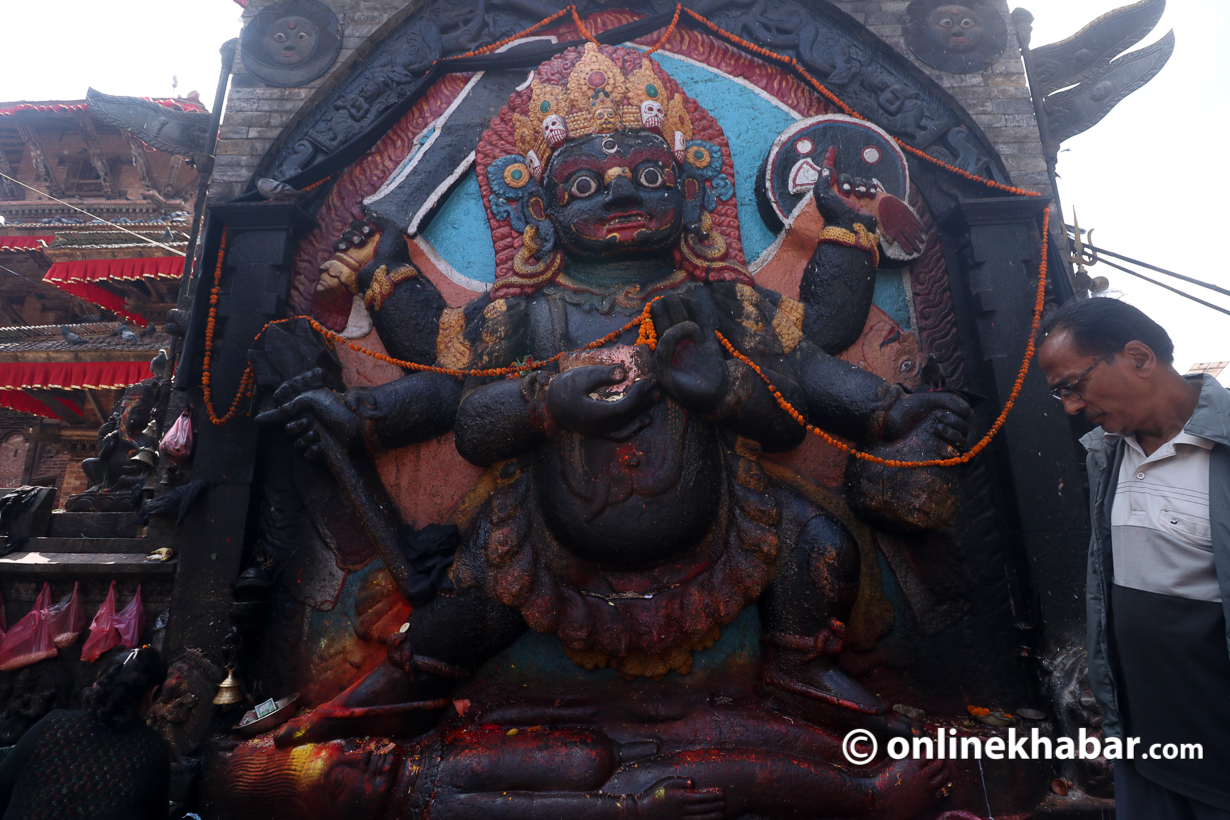 Kaal Bhairav stands resolutely in the southwestern corner of Kathmandu Durbar Square, representing the domains of time and death. The 12-foot-tall idol with six arms is believed to have been made of a single block of stone, brought from Nagarjun during the Malla period. Among the different forms of Bhairav, one can see this deity in plain sight.
The idol is depicted as one stepping over a dead body, holding a decapitated head in one hand. Hence, the statue bears a fierce countenance and is fervently worshipped as a guardian against malevolent forces and misfortune. Devotees seek blessings from the deity to navigate life's hardships, diseases, poverty, enemies and other challenges. The deity is also believed to be the enraged form of Lord Shiva when the latter wished to teach Lord Brahma a lesson for being arrogant.
Another version of the story also considers Mahankaal Bhairav, enshrined in a temple near Tundikhel to be Kaal Bhairav. Devotees throng this temple as well.
Bagh Bhairav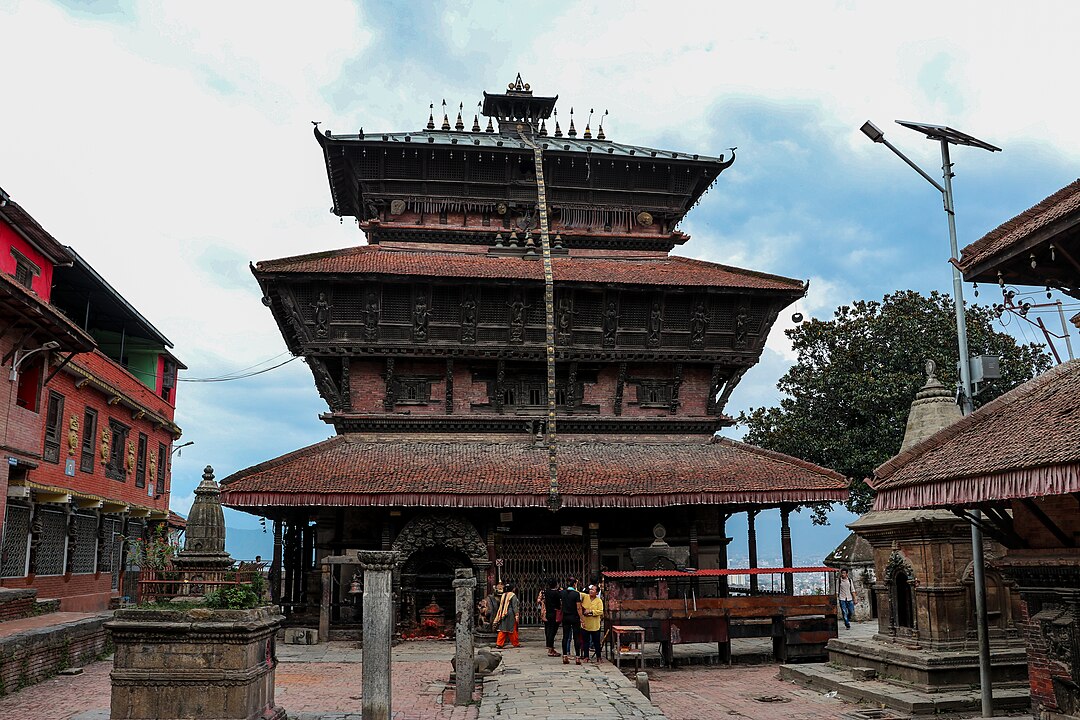 In the town of Kirtipur, Nepal, the Bagh Bhairav Temple stands as a sanctuary for Bhairav. Among the different forms of Bhairav, this is also a fearsome manifestation of divine power and strength. Devotees gather here, seeking the deity's formidable energy to wade away their troubles, shield them from threats and bolster their courage when adversity strikes.
A riveting legend tells the tale of Bhairav coming in the form of a menacing tiger, in a mud sculpture of a tiger, and instilling terror among the villagers, wreaking havoc, and eating their livestock. Upon knowing the truth, the villagers cut the tongue of the sculpture so that they could save their livestock. Later, legends say, the temple was built where the sculpture was left behind. Whereas historically, as per Gopalrajbamshawali, it is said to have been built some 900 years ago.
Another temple of Bagh Bhairav is in Champadevi.
Pachali Bhairav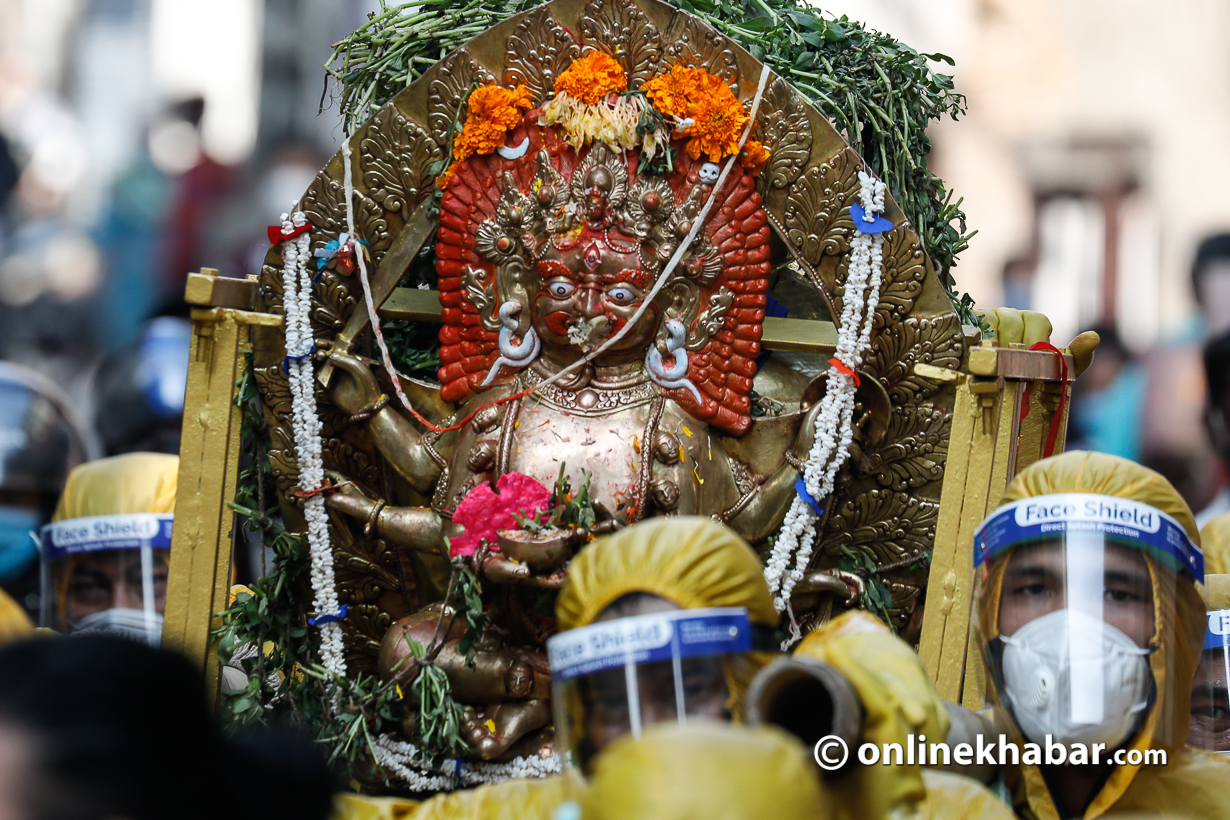 This is another important and heavily worshipped form of Bhairav. It is considered to be one of the fiercest among the different forms of Bhairav. In some stories, the deity has been mentioned to be the king of Pharping while in others, he is referred to as the farmer.
The temple of Pachali Bhairav is situated in Teku area, and is frequented by the jyapu sub-community. It is said that king Gunakamadev established the tradition of worshipping this deity. And every year, in Dashain, the locals also take out a special procession of the deity and also organise a big feast to commemorate it.
Unmatta Bhairav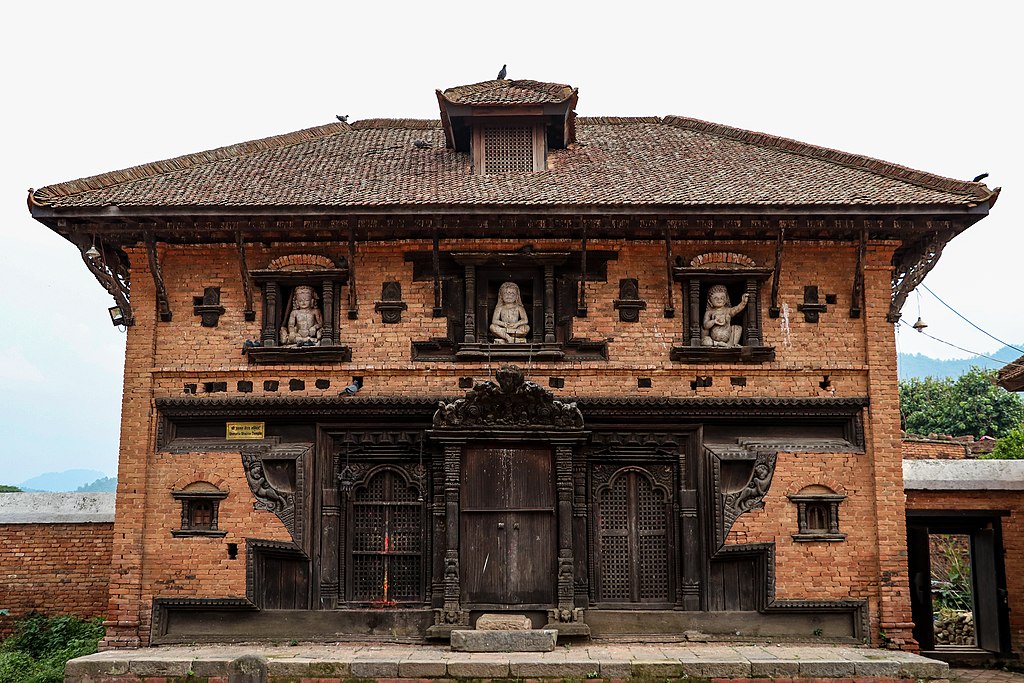 Unmanta Bhairav, also known as Unmukta Bhairav, is considered to be the protector of the Pashupatinath temple. It is located near the southern gate of the temple. It is said that the temple was built there to maintain the energy balance, which enabled the citizens to inhabit the southern parts of the city too.
When it comes to different forms of Bhairav, this one can be seen brandishing 10 weapons in each arm and wearing a garland of human skulls. Devotees believe that worshipping Unmukta Bhairav can infuse love and harmony into their relationships. Couples often visit temples dedicated to Unmanta Bhairav to perform rituals seeking blessings for the gift of children as legend has it that those who venerate his erected phallus are blessed with offspring.
Another temple of this Bhairav is located in Panauti.
Shaant Bhairav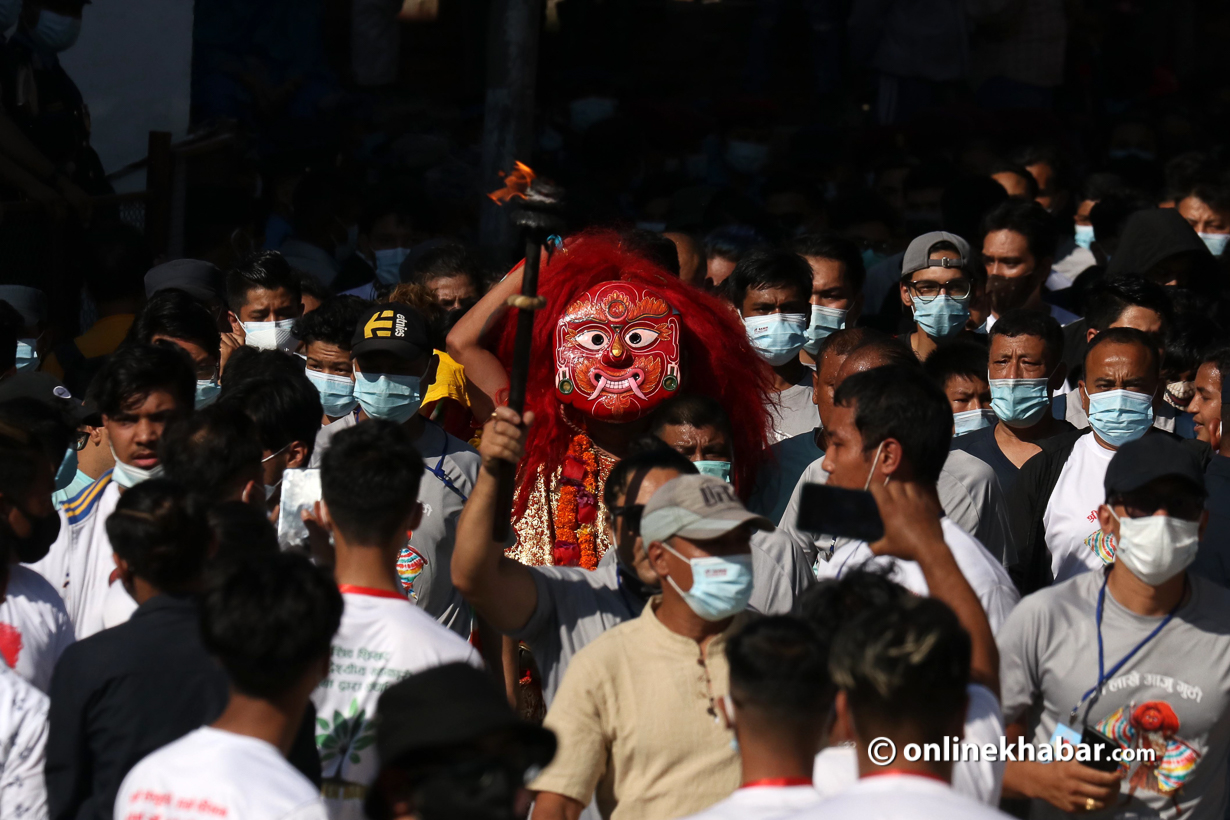 Probably one of the most famous among the different forms of Bhairav is Shaant Bhairav. Also known as Majipa Lakhey Dya, Shaant Bhairav is considered the protector of children. The deity, in the form of a (wearable) mask, is enshrined in a temple in Lakhenani Galli of Kathmandu.
Though it still has a demonic face, depicted with red skin and long fangs, this Bhairav form is believed to embody peace and tranquillity. It is often depicted with a serene countenance and a peaceful demeanour, believed to bestow inner peace and spiritual enlightenment upon devotees. According to legends, Majipa Lakhey fell in love with a human girl and came into the city as a human but was captured and released, on the condition that he would protect the city. This also gives this diety a more empathetic connection.
Batuk Bhairav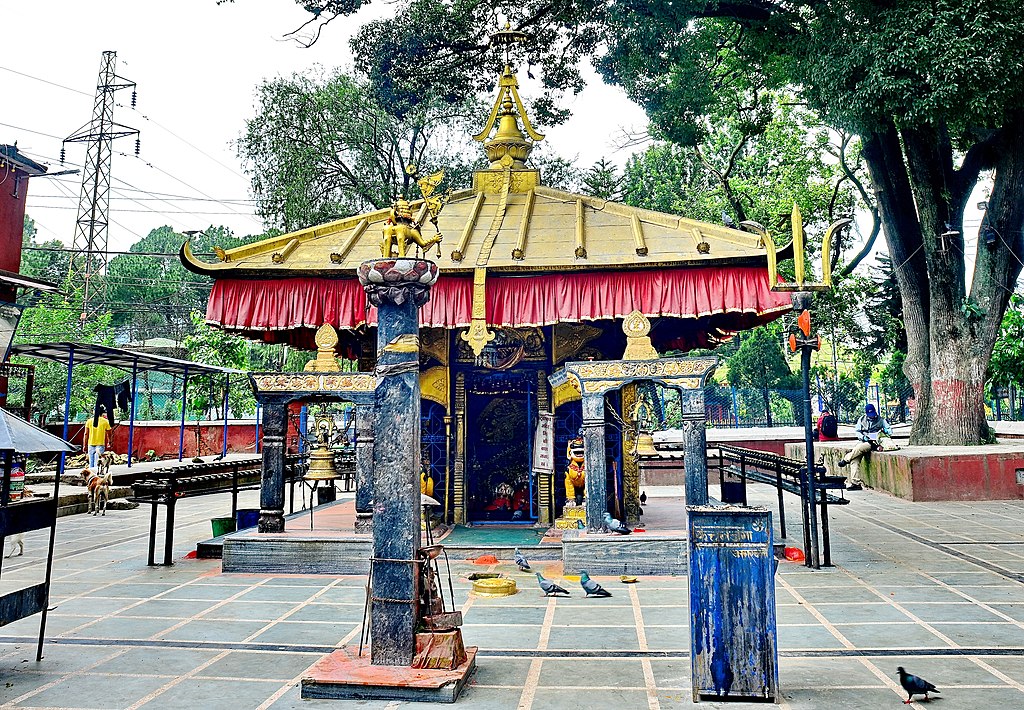 Located in Lagankhel, Patan, Batuk Bhairav Temple is a shrine celebrating the joyful and playful form of the deity, often depicted as a young boy. It's believed that worshipping Batuk Bhairav can bring happiness and creativity to one's life. Devotees flock to this temple seeking childlike innocence and the ability to face life's challenges with a joyful spirit.
A popular legend tells of a demon named Aapad who gained power through meditation and started abusing it. The gods prayed to Lord Shiva and he appeared as Batuk Bhairav and put an end to it. Among the different forms of Bhairav, this form has eight arms and is always depicted with a dog and it is believed that feeding dogs will please this deity too.
Kritimukh Bhairav
This Bhairav form, known for its terrifying visage, was conceived by Lord Shiva himself to confront Rahu. Just a glimpse of this fearsome deity was sufficient to send Rahu fleeing in fear. This deity has a monstrous countenance and is often depicted with bulging eyes, horns, canine teeth and a ferocious face.
It is also commonly seen carved above the wooden doors, guarding the entrance of the temples signifying the profound and sacred precincts of many Hindu temples. In that sense, it is one of the most sighted one among the different forms of Bhairav. One can also see a shrine for this form in the western facade of Pashupatinath Temple in Kathmandu. In this temple, there is only the face of the bhairav on the ground.
Hayagriva Bhairav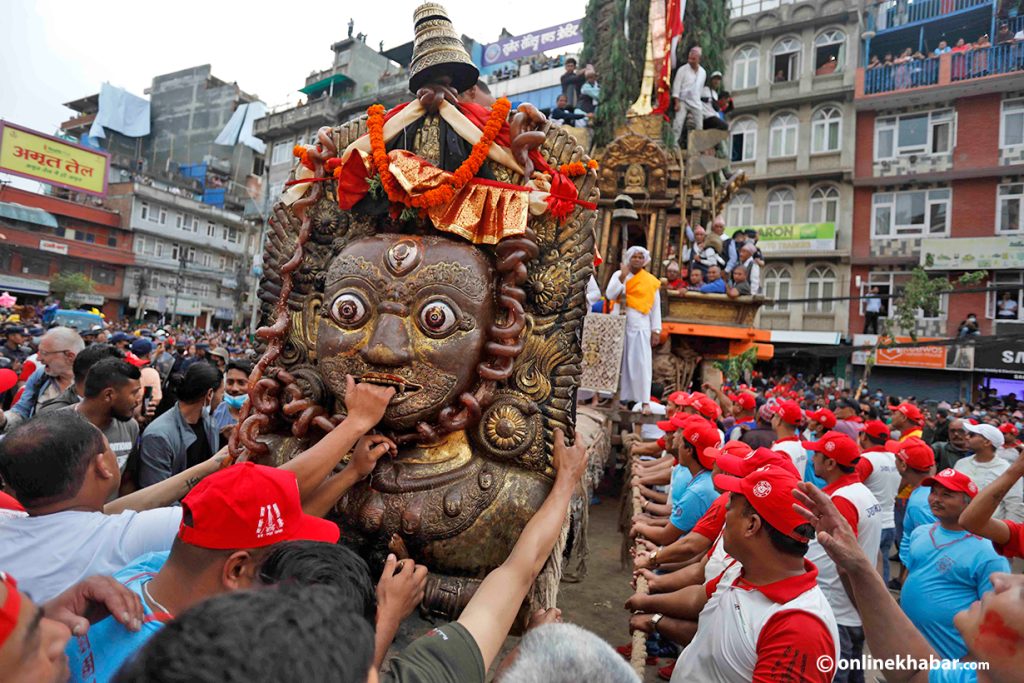 As per the Hindu religion, Hayagriva Bhairav is a horse-headed form of Lord Vishnu. It also has a Buddhist connection and is said to be among the four Buddhist Bhairavas.
The temple of this deity is situated at Machhindra baha in Bungamati, Lalitpur. It is said to have been built by king Siddhi Narsingh Malla in the 16th century. This form is locally also known as Rundakunda. And the face of this deity can also be seen in the chariot of the Rato Machhindranth.
Stories suggest that this is one of the key forms of Bhairav, with some depicting it as the leader of the Bhairavs in Kathmandu. Local stories consider this Bhairav like Bungamati's father or king. It is red-skinned and three eyes, and appears to be laughing even with its ferocious look on its face just like other different forms of Bhairav.