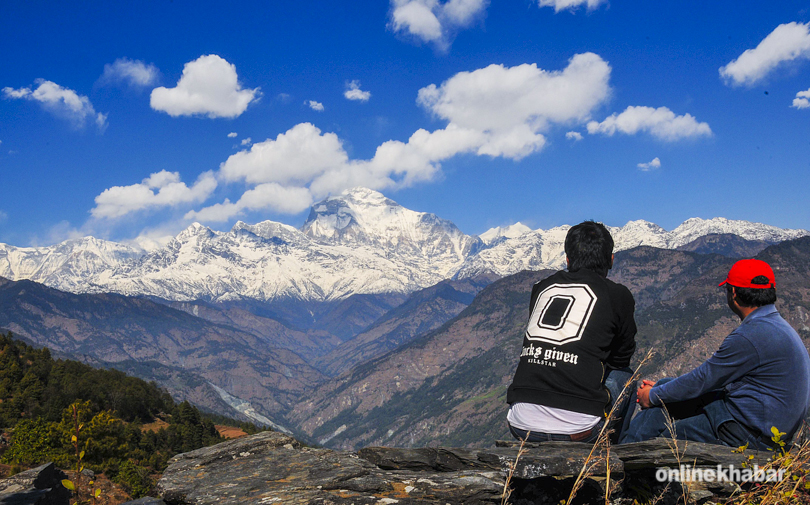 A new trekking route to Dhaulagiri-I Base Camp was recently identified, and this means that you can reach there in seven days, a duration relatively shorter than the 21-day adventure trekkers usually associate with the mountain.
You begin your journey from from Beni in Myagdi go through Jhi, Pakha Pani, Rai Khor, Ghyasi Kharka, Chari, Fedi, Sahasra Bhir and Odar Camp before reaching the southern base camp of Dhaulagiri-I.
The seven-day trek has the potential to become popular with tourists, believes Pawan Shakya, managing director of Himalayan Map House. It was Shakya who came up with the route.
In February 2016, Shakya had led an expedition to chart out possible alternative routes for trekkers in the region. The work was a collaboration between Myagdi Chamber of Commerce & Industry, Nepal Tourism Board, Trekking Agencies Association of Nepal and Non-Resident Nepali Association, Myagdi among others.
Located at an altitude of 4000 m, the route was developed after following a trail frequented by hunters and herders.
Although the trip is short, you are not short-changed for adventure, for sure. Here we look at three major highlights of the the new route.
1.
Dhaulagiri and is hues

Getting up and close with Dhaulagiri gives you the opportunity to witness the different hues of the mountain. While the rays of the early morning sun lend it a golden hue, it turns white as the day progresses. Then when the sun slowly slides, the gold is back again!
2.
The people, their settlements

Magar people, and their living culture is an important part of the Dhaulagiri experience. While you stay at one of the homestays, enjoy the delicacies your local host prepares, and then get ready for some authentic music. The Magars have a unique culture, and are known for their hospitality.
 3.
The journey on foot

While you may be enchanted by the snow-capped mountains you encounter on the way to Base Camp, the foot journey itself is no less exciting. You pass through suspension bridges, swift-flowing rivers and lush green fields. This makes the seven days you are on the trail quite memorable !
View the location on map: