(Read the first part)
Despite the grand-sounding name, Switzerland Park in Dahachok hills failed to measure up to our expectations.  Shayeet and I did not in all seriousness relish the idea of turning once unsullied hillside into a picnic spot.
The gravel road after Switzerland Park looked graded, offering a smooth ride. We learned from the teashop owner work around the clock was carried out only a week ago for the Prime Minister's visit to inaugurate Kalu Pandey Memorial Park.
As the hill rose straight up ahead, the left flank dropped to terraced fields and countryside. Far across, I could make out through haze and smog fuzzy glimpse of a string of cable-car towers that climbed to Chandragiri height. A cluster of houses squatted on the hillside that dropped to the town of Thankot.
Towards Kalu Pandey Memorial
As we pedalled uphill, the past endless steep climbs seemed to tell on my limbs. I fell way behind and seemed to struggle on my pedals. As I took a bend, I saw Shayeet off his bike, eyeing his rear bicycle wheel. As I caught up, it was as plain as day, his bike had a flat. Not to worry, though. To take on the matter, we were fully equipped.
For every mountain biker, the rule of thumb requires to pack, among others, a pump, patch kits, and a spare tube. We call it hard-nosed survival skills. We had everything stashed into our backpack, including a toolset and a first-aid kit. You never know when they might come in handy while you are riding the hills or some remote locales, or for that matter, take a fall and get hurt—if it comes to that.
As we were short on time, we skipped the patch-up work and just replaced the tube with a spare. It took us hardly 20 minutes to fix it. Shyaeet pumped the tyre up, and we were all set to spin again. "Come on, partner, let's shake a leg, we haven't got much time," I called out as I straddled my bike.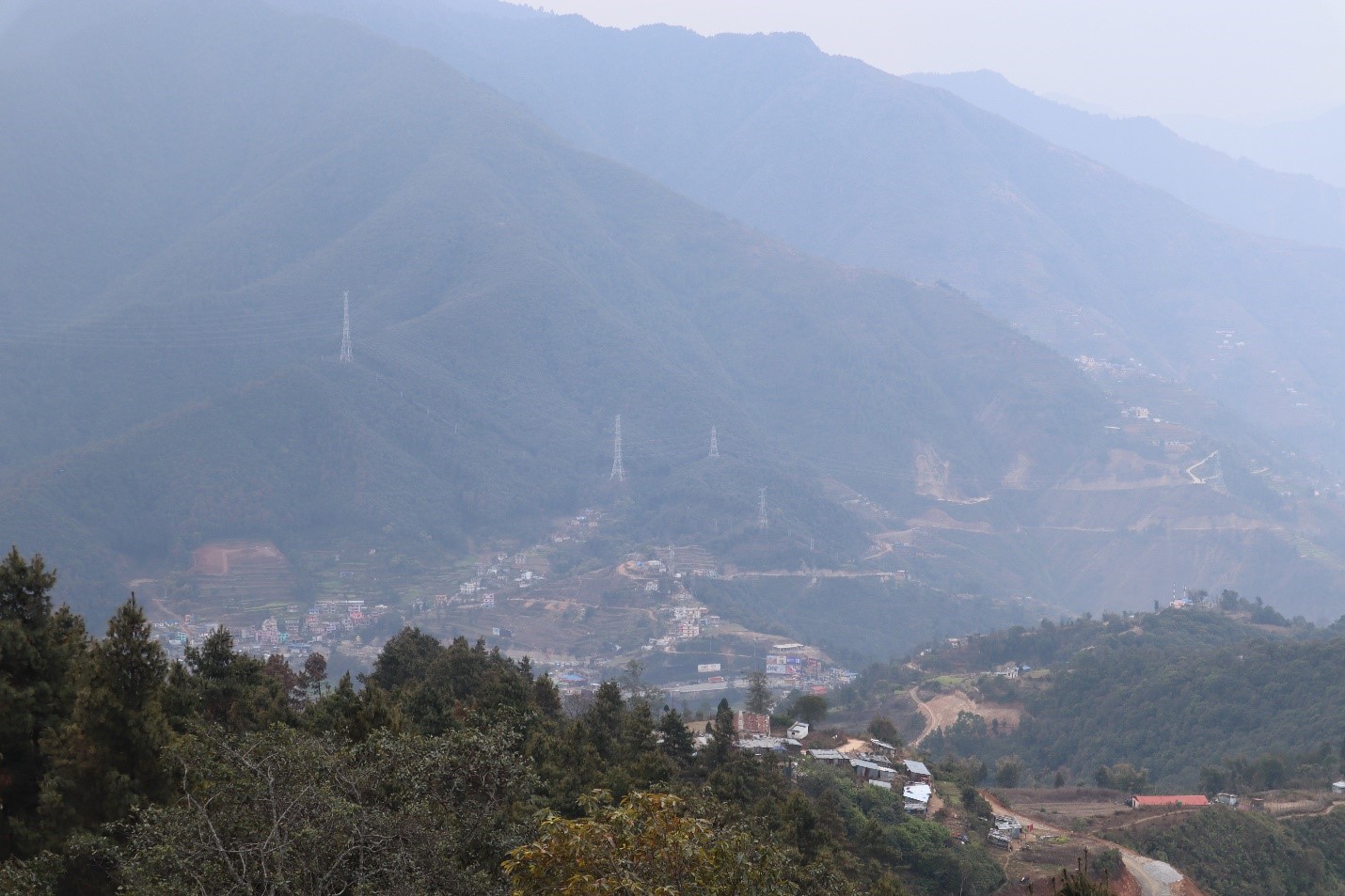 Indra Daha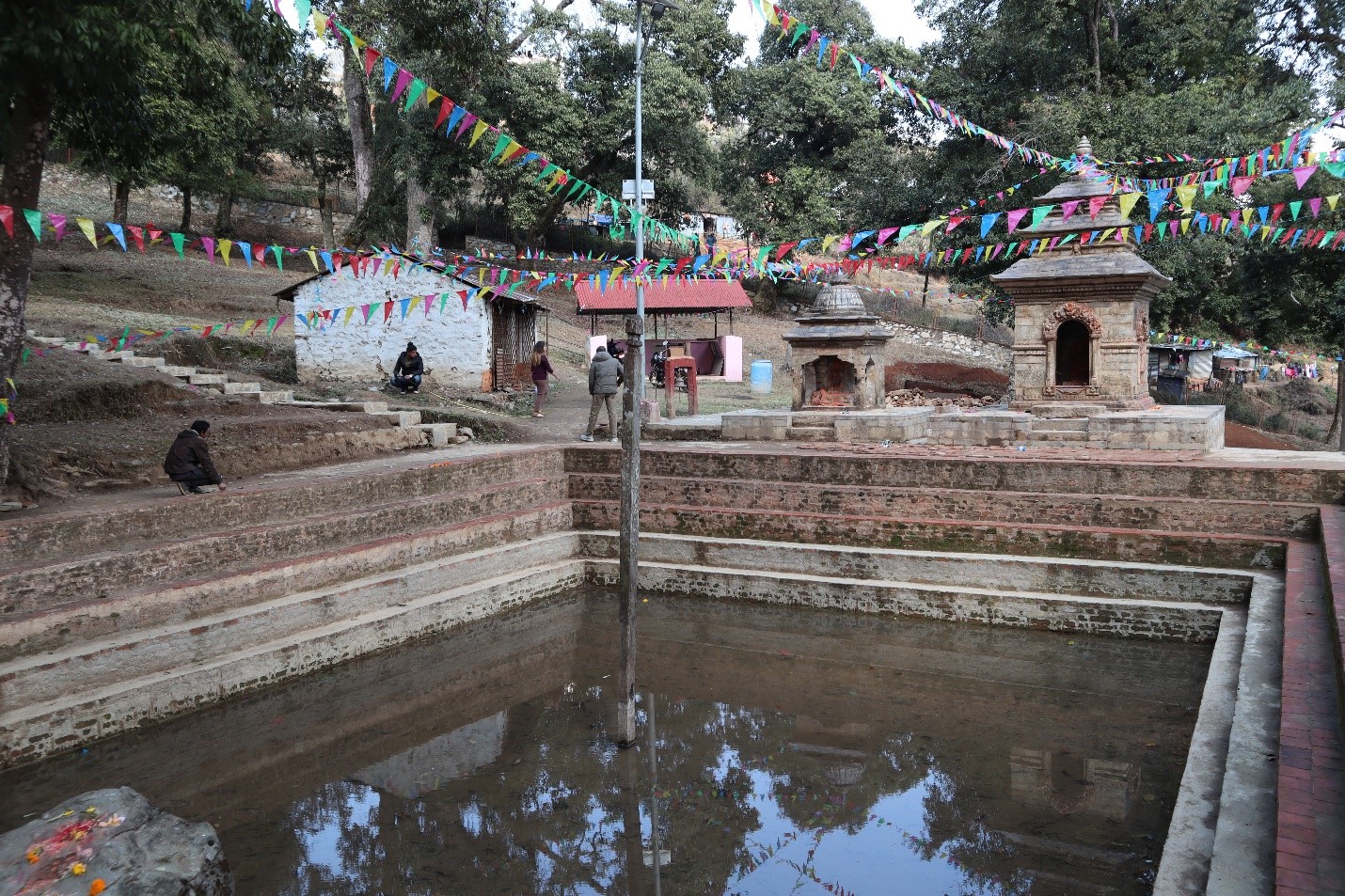 Little before Kalu Pandey Memorial Park, my eyes caught a turnoff. A sign read Indra Daha. We decided to have a look-see. The place had a small pond in the fore, while Shikhara and Pagoda style small temples flanked the front, which housed stone figures of Lord Indra, Indrayani, Shaligram, Bhairav, and Surya.
Amazing it may sound, the temple also held only stone carving in the whole of Nepal of an elephant (Indra's vehicle), Airavata, with Indra and his wife, Indrayani (also Sachi Devi) on its back.
As I wondered what must have given the shrine its name, I spotted a man offering his prayers. I approached him. A large seven-headed stone-figure of Vasuki Nag, the King of serpents, seen invariably around Lord Shiva's neck, stood over the pond with its hood fanned out.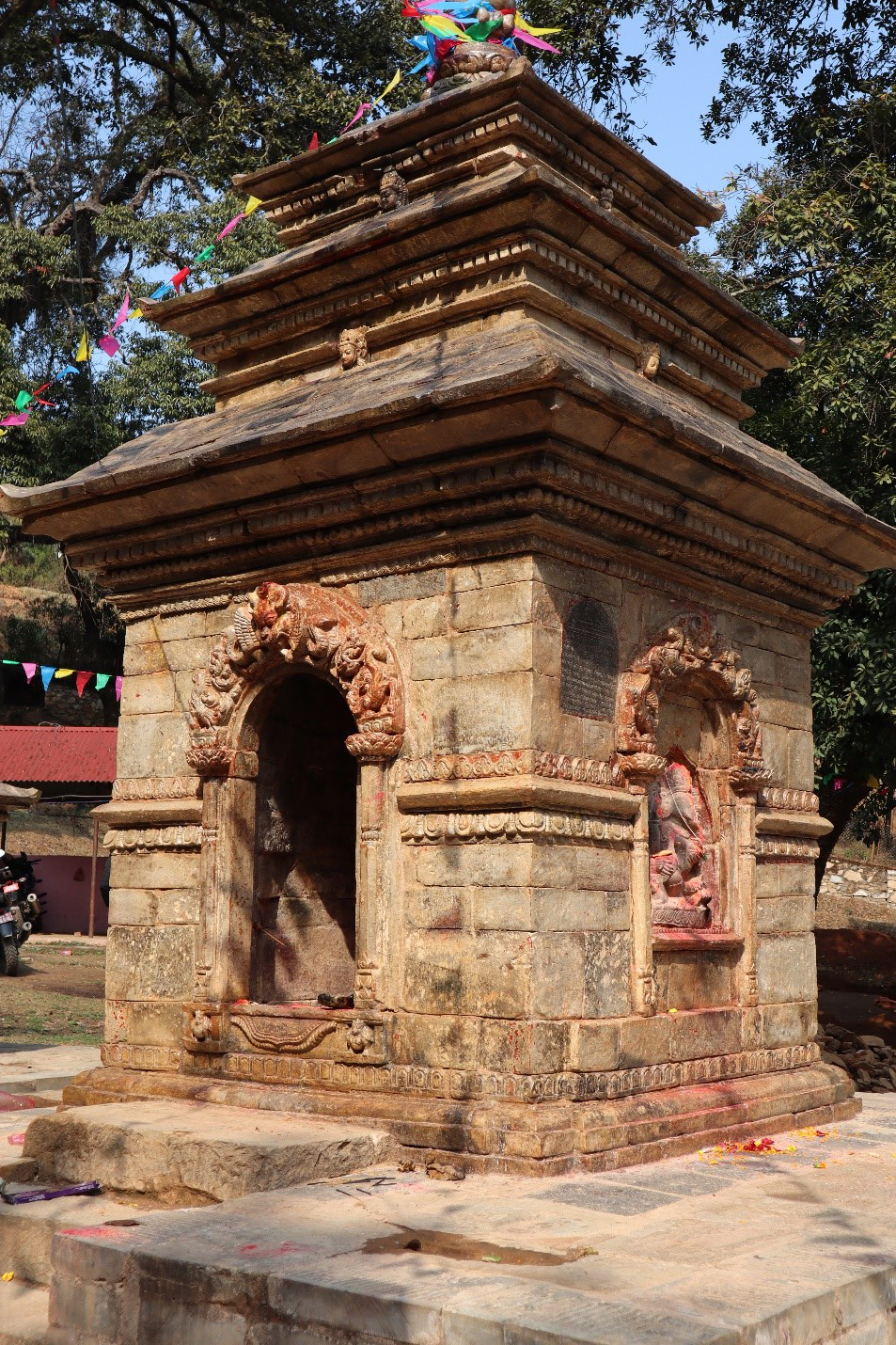 The gentleman sounded all too happy to satisfy my curiosity. "Referring to holy scriptures of Vedic Puranas by Vyasa, the ancient scholar who penned the epic drama, Mahabharat," he began, "Lord Devraj Indra, God of thunder, storm, and rains made Lady Ahalya, consort of Rig-Vedic sage Gautam Maharishi, the victim of his lust by deception using his celestial power to transmute himself as a clone of her husband."
"Following this incident," the man resumed, "when Gautam Rishi found out about it, enraged, he handed down a curse to Indra, which condemned him to lose his virility for good. He also cursed Ahalya to remain invisible for life, blending into the dust of the hermitage she lived in. Ahalya was eventually liberated from the curse when Lord Rama and Laxman, during their exile, happened to visit the hermitage and stepped inside."
"Guilt and remorse led Indra to observe many years of hard penance and reclusion. After completing his profound atonement to rid himself of the spell, he took a cleansing dip in a pool and left for his abode in Heaven."
"This pond happens to be the same where Lord Indra took a dip and thus came to be called, Indra Daha, and the shrine, Indrasthan. Every year on the day of Bhadra Shukla Purnima (full moon in Aug/Sept), a day after the celebration of Indra Jatra, at Basantpur, Kathmandu, a festival is held at this place, which draws thousands of devotees to Indra Daha to take a holy dip," he finished.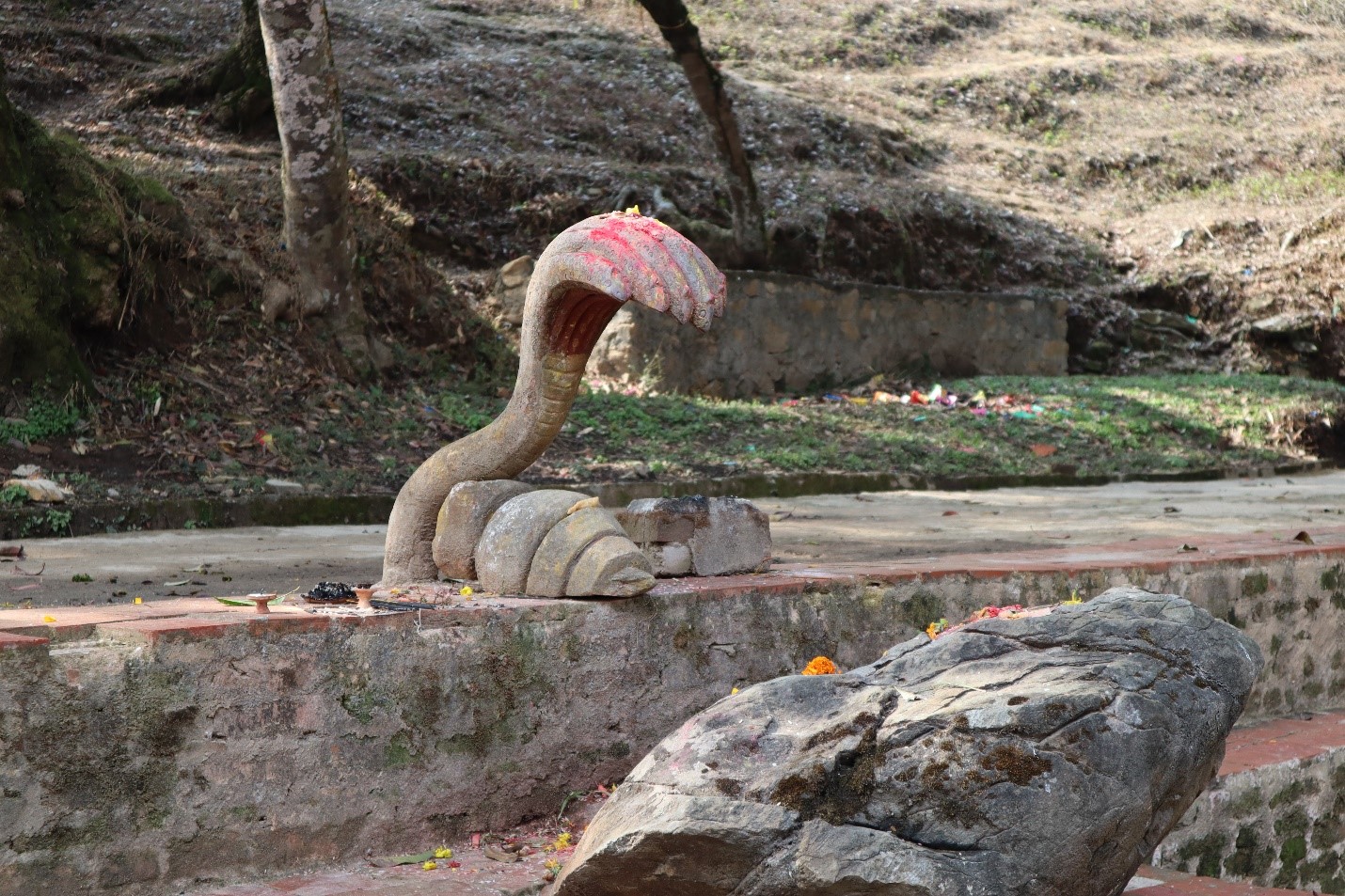 Kalu Pandey Memorial
We thanked the man and huffed it up the last leg to Kalu Pandey Memorial. The park rested on a grassy clearing upon the brow of a hill. What caught my eyes first was the imposing life-size statue of Kaji Kalu Pandey done in glossy gold, in full regalia of a warrior.
Dressed in a long flowing white frock and a distinctive white cap, his right hand held a long scimitar, a khukuri, a signature weapon of the Gokhalis, lay stuck in a cummerbund, and a buckler shield slung by his left waist.
Kalu Pandey always stood out among others for his one-of-a-kind white rounded cap. Armed with flintlock muskets, the Shardul Jung Gulma, also popular as  Prithvi Narayan Shah's Gurujyu's Paltan, even today, is seen wearing an identical cap (in black) as they parade down Basantpur Square on the day of Ghatasthapana (onset of Dashain).
Next to the statue, a flagpole flew our national flag. A view tower pending finishing works stood behind the park. Further across, I noticed a telecom radio-repeater tower, which I learned associated with a tragic air-crash in 1999 when a Necon Air aircraft arriving from Pokhara hit the tower and crashed, killing all aboard.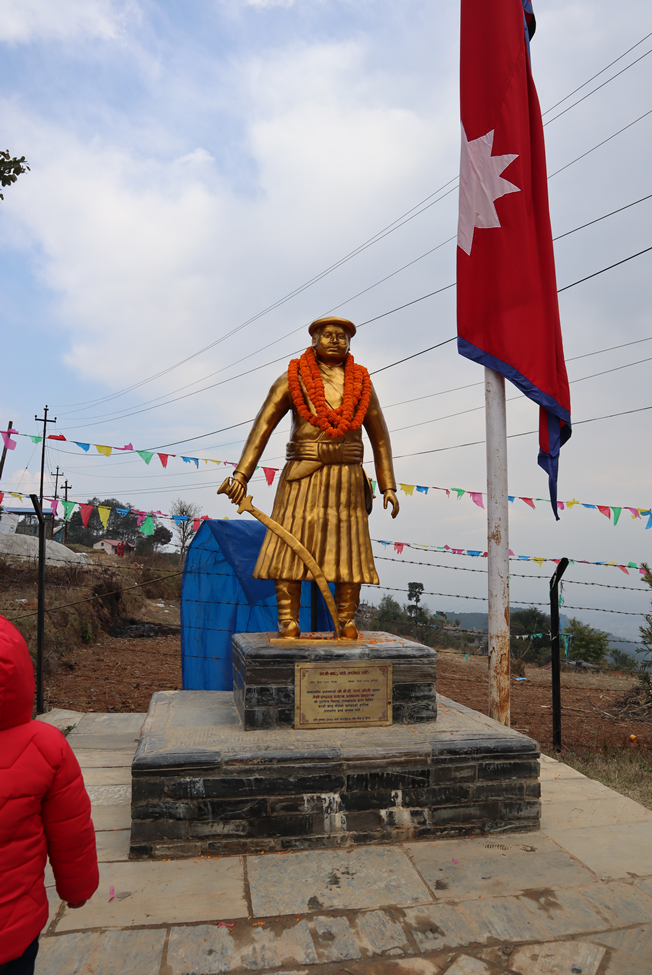 Next on the park grounds, the remains of Kaji Kalu Pandey (said to be a severed head), slain in the battle of Kirtipur, lay in a three-tier burial platform clad in thin stone veneer texture.   An inscribed marble tablet stood close by on the turf.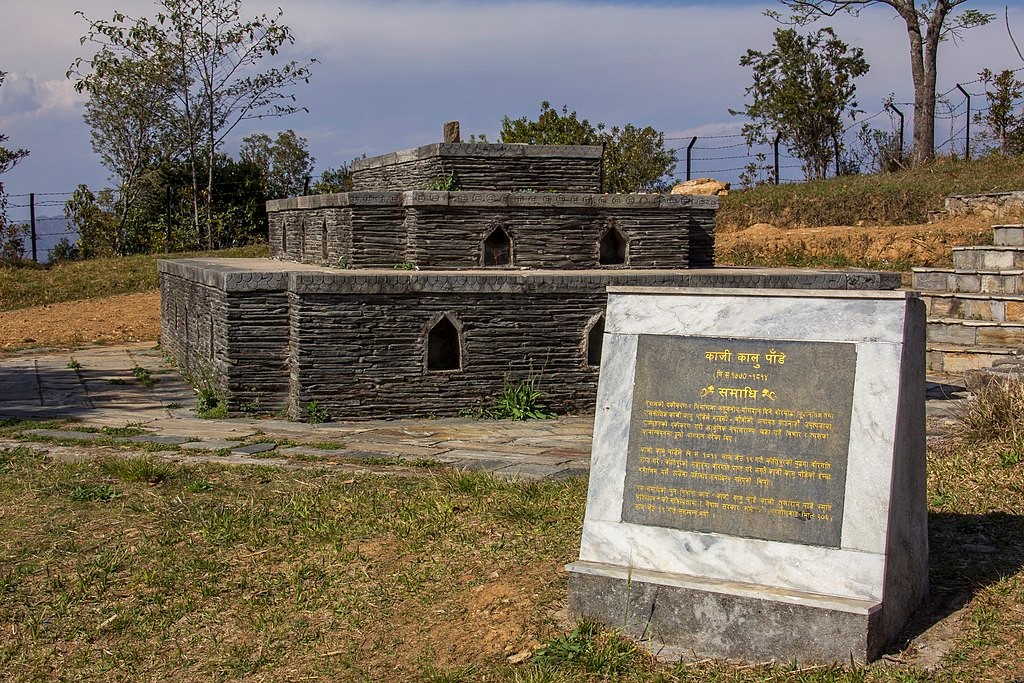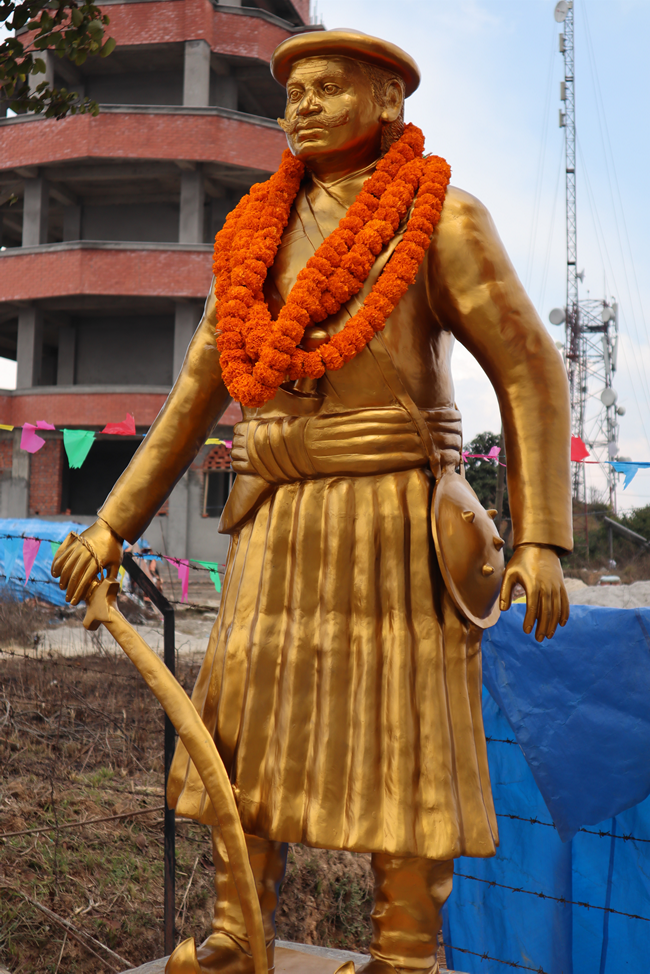 History
Born as Banshidhar Pandey in 1770 BS, Kalu Pandey was considered a shrewd administrator and gallant warrior. For his resourcefulness and tact in warfare, Gorkha ruler Prithvi Narayan Shah appointed him his Chief Minister and also conferred upon him the title of Kaji.
The pages of history chronicle the sweeping victories made by King Prithvi Narayan Shah over petty states like Nuwakot, Belkot, Sirhanchok, Tadhi, and Naldhum, under Kalu Pandey's command. Disaster, however, struck when the Gorkha ruler, in his consuming drive to annex the Valley of Nepal, namely Kathmandu, Lalitpur, and Bhadgaun, made a hasty decision.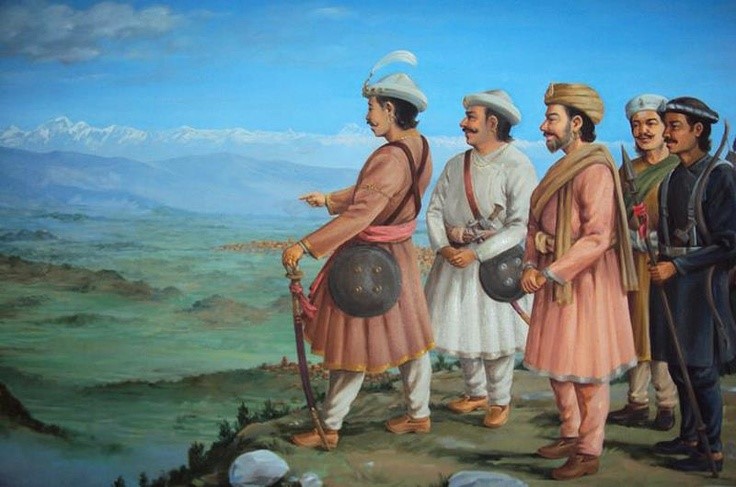 Premonition
For Prithvi Narayan Shah to wage war on Nepal Valley kingdoms, he had to overcome Kirtipur first, which stood as an invincible fortress. In his haste, he ordered Kalu Pandey to mount an assault on Kirtipur.
A sagacious commander, acting on a tip-off from his undercover agents about the three kingdoms having formed a powerful coalition of their armed forces to repel the Gorkhali attack, advised the King not to attack Kirtipur at the time.
The Gorkha ruler, despite Kalu Pandey's pleas, however, remained adamant and unyielding. He seemed in an all-fired hurry to seize Kirtipur and advance to the Valley kingdoms.  The great warrior, it is said, had a hunch that the battle would result in his death. He even bade farewell to his wife with a sad heart and left his son with the King to be taken care of should something happen to him.
The Gorkhali soldiers under Kaji Kalu Pandey's command, invaded Kirtipur in May 1757 during peak Dashain festival, advancing by way of Naikap. After wading through the Balkhu Khola (stream), the Gorkhalis met with stiff resistance at Tyanglaphant. Outnumbered, the invaders, however, stood no chance against the combined Newar forces of the Nepal Valley led by Kaji Danuvanta. They had to face a frustrating defeat and retreated—paying a heavy price, though.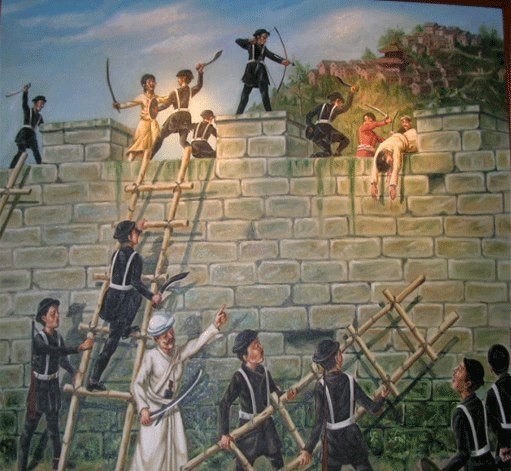 The battle that lasted for five hours ended with the death of 400 Gorkhali braves—and the valiant Commander of the Gorkhali forces, Kalu Pandey, slain (Jestha 19, 1814 BS). Prithvi Narayan Shah, too, narrowly escaping death, fled incognito as a sadhu or ascetic to his fort in Nuwakot.
That was a momentous victory for the Newar kingdoms, including Kirtipur. After the retreat of Gorkhali forces, the combined militia of three kingdoms paraded the streets to mark their triumph. They went on to hang Kaji Kalu Pandey's weapons for display on the walls of the Bagh Bhairav Temple in Kirtipur.
Manakamana Temple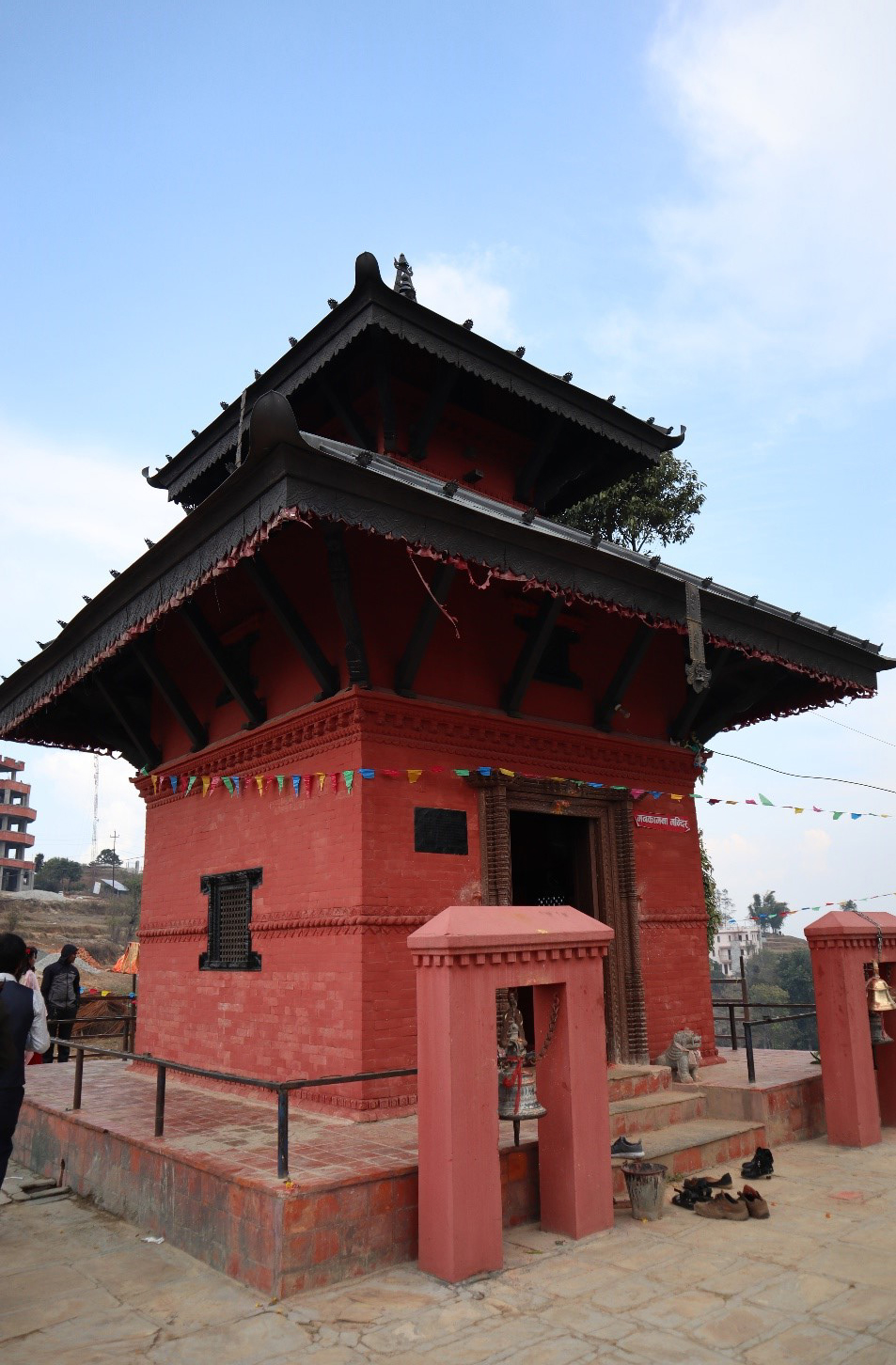 We next stopped by a replica of Mankamana Temple, just 50 yards from the Park.  History pages record King Prithvi Narayan Shah built the temple in memory of his most cherished army commander, Kaji Kalu Pandey.
"The last wish of the great warrior at his dying moment, it is said, was to be buried at a vantage point, which commanded a view of both Gorkha and Manakamana Temple," said an 86-year-old village elder, Jit Bahadur Magar, whom we met at the temple.
He further told me, the height we stood upon not only commanded a view of Kathmandu, Lalitpur, and Bhaktapur, but on a clear day also allowed visitors to catch a glimpse of Gorkha, Nuwakot, Dhading, and Rasuwa. As we prepared to leave, I looked towards the north-eastern skyline, if I could pick up the Himalayan ranges Dahachok hills boast.
But the blasted shimmering haze completely blanketed the northern skies. Locals claim some of the vantage grounds offer you to clap your eyes on a spectacular sight of the entire Himalayan shebang that includes Ganesh Himal, Jugal, Gaurishankar, Sumeru, Lakpa Dorje, Manasalu, the Mahalangur Range and the Annapurna Range including the iconic Machhapuchare. If weather, of course, permits.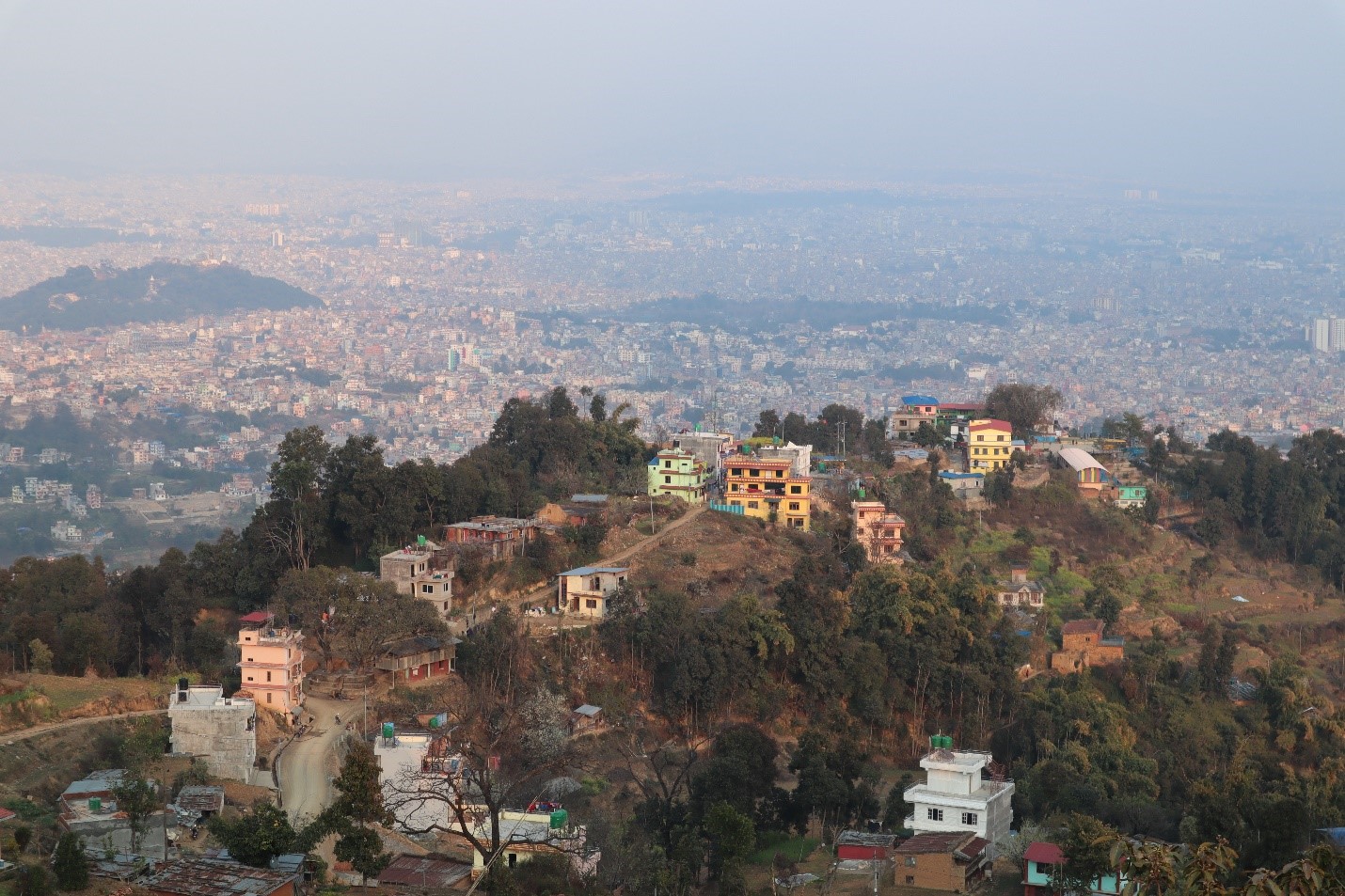 Happier and wiser, we hit the road back home. I kept wondering at Dahachok's immense diversity. It was not just another locale. Apart from offering a scenic getaway, the boondocks to reconnect with, it paraded a reputed pilgrimage, scriptures from middle ages, and chockful of history all thrown in.
Later, I also learned the foothills of Dahacok hills held ruins of ancient forts and scattered stone slabs in rice fields, which bore letters inscribed in Sanskrit Lichhavi script (400 to 750 CE). Maybe, Lichhavis once ruled there, I figured.
As we rolled down the road, in the orange glow of the setting sun, I caught a glimpse of the sprawling valley. I stopped and watched. "Man, isn't it just amazing?" I said aloud. Small wonder, the Gorkha ruler was so beset with the vision of hoisting his victory banner over the tempting valley—I mused.
Images, except other sources mentioned in captions, by the author