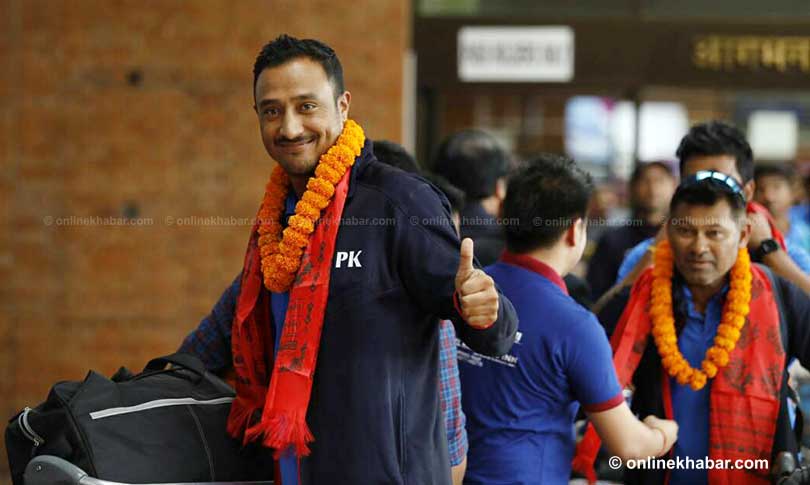 Kathmandu, September 25
Nepal's cricket team are leaving for Singapore to play a T20 tri-series on Wednesday night. The team will face hosts Singapore and Zimbabwe in the series which will start on September 27.
In the first match of the series, Nepal will face test-playing nation Zimbabwe on September 27 and hosts Singapore on September 28. Similarly, Nepal will take on Zimbabwe again on October 1 after which they will take on Singapore on October 2. The top two teams will then play the final to determine the series winners.
After the tri-series, Nepal will then fly to Oman to play another T20 series. Nepal will take on hosts Oman, the Netherlands, Hong Kong and Ireland. The series is due to start on October 5.
Nepal will take on Hong Kong on October 6, Netherlands on October 7, Ireland on October 9 and Oman on October 10.
The team that will play in both series have already been announced and consist of a lot of young players. The team will, however, be without vice-captain Gyanendra Malla, Basanta Regmi and Sharad Vesawkar.
Team
Paras Khadka (C), Dipendra Singh Airee (VC), Binod Bhandari (WK), Sandeep Lamichhane, Pawan Saraff, Sandeep Jora, Kushal malla, Rohit Kumar Paudel, Sompal Kami, Karan KC, Aarif Sheikh, Avinash Bohora, Lalit Narayan Rajbanshi, Sushan Bhari and Ishan Pandey.