Oxygen support has been a must for some critically ill Cvid-19 patients. Without oxygen support, it is seen that there is a high chance that such patients cannot survive.
These chances have been rapidly turning into reality in many places of Nepal of late. Many Covid-19 patients have already lost their lives due to the shortage of oxygen in most parts of the country, as confirmed by many news reports. However, Chitwan stands as an exception in this case. There is no shortage of oxygen in the hospitals of Chitwan, which is also known as the medical city.
Better medical infrastructures and management
Many critical Covid-19 patients are being brought to Chitwan from different parts of the country, including the country's capital via helicopters. Currently, there are 356 Covid-19 patients from different districts getting treatment in Chitwan's hospitals. And, most of them are undergoing treatment on oxygen support. Those who do not need oxygen support are staying in home isolation.
Of the active Covid-19 cases within the district, 2,307 are in home isolation and only 164 are admitted to hospitals. Most of the Covid-19 patients are kept in three big hospitals of Chitwan: Bharatpur Hospital, Chitwan Medical College and College of Medical Sciences, Bharatpur.
Out of these hospitals, Bharatpur Hospital and Chitwan Medical College have their own oxygen plant. The College of Medical Sciences (Purano Medical College) also has its own plant but in Gaindakot of Nawalpur. The director of the college, Dr Manohar Pradhan, says, "We have been providing oxygen to the patients by filling it in the cylinders."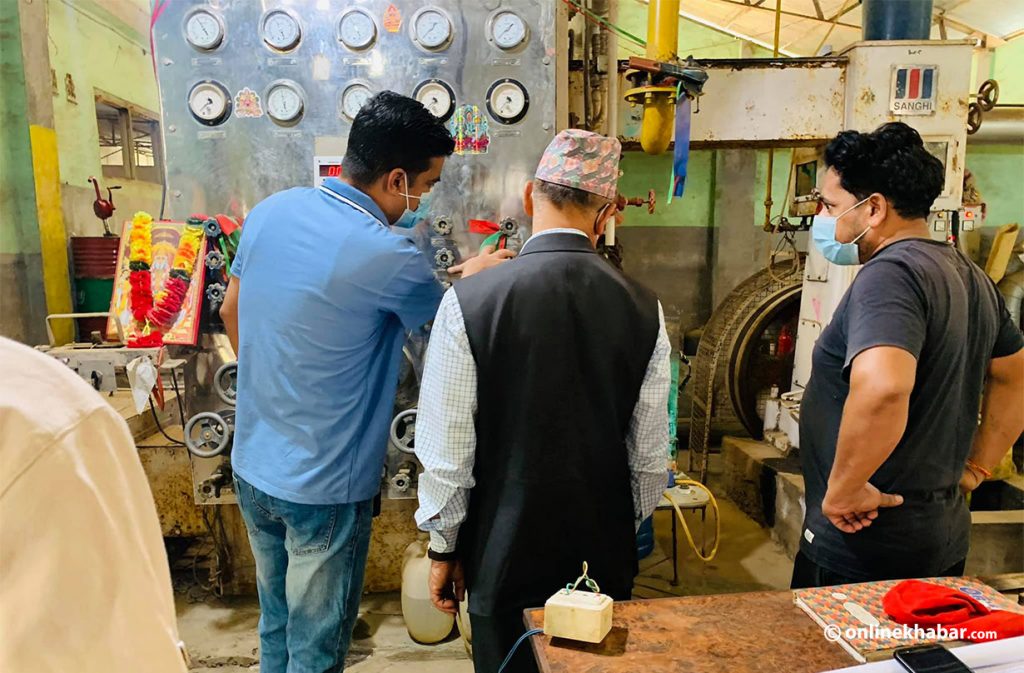 In the fight with the pandemic, Chitwan Medical College is also treating 149 Covid-19 patients, and most of them are undergoing treatment with additional oxygen support. Dr Harish Chandra Neupane, the CMC managing director, informs that more than half of them are from districts outside Chitwan.
"So far, our hospital has not faced any shortage of oxygen for Covid-19 patients; our plant can support up to 370 beds, there is also a cylinder back-up," says Neupane, "The college has set up the largest 183-bed Covid-19 ICU in Nepal."
Similarly, Dr Bhoj Raj Adhikari, the chairman of Bharatpur Hospital, which has been treating many Covid-19 patients, states, "As oxygen is supplied to the patients directly from the plant, there has been no shortage of oxygen until today."
The hospital's plant, which always runs round the clock, has the capacity to produce 720,000 litres of oxygen in 24 hours. "We have to supply high-flow oxygen," adds Adhikari, "Sometimes, it is difficult to maintain the oxygen pressure when the oxygen is supplied directly from the central supply."
Since the plant is running continuously, problems can arise at any time, so an oxygen 'backup' cylinder has been kept. Meanwhile, BP Koirala Memorial Cancer Hospital in Chitwan also has its own oxygen plant, 50 cylinders and 20 beds for coronavirus-infected cancer patients.
Deepak Babu Tiwari, the chief of the District Public Health Office, says big hospitals here have their own oxygen plants and oxygen cylinders on standby. He has been in constant touch with hospitals and oxygen production companies regarding oxygen supply for the past month.
But, fear is there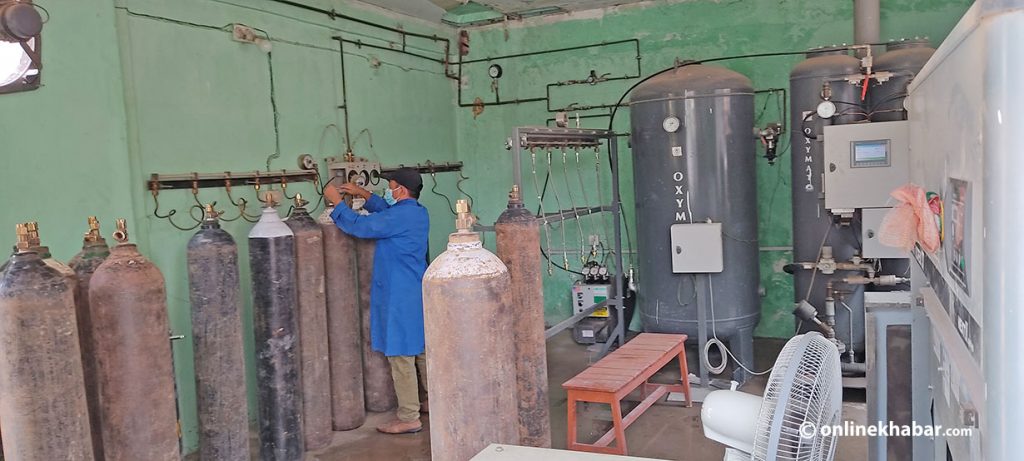 According to Tiwari, the officials are working on managing the stock as there may be a shortage of oxygen considering the rise of Covid-19 patients in the district and around.
Pradhan also shares a similar risk. "Even though there is no lack of oxygen for the patients now, it could be difficult in the near future as the number of infected people is increasing. For that, a backup of the cylinder is needed."
Similarly, Neupane is also afraid that their current setup will not be able to support the scaling numbers of patients.
Oxygen industry running 24X7
Apart from the three big hospitals in Chitwan, the only oxygen production company in Chitwan, Om Sanjivani Oxygen Suppliers in Ramnagar has a capacity of producing 150 cubic metres of oxygen per day. Its operator Niranjan Neupane says that the demand for oxygen is high and they work on oxygen cylinder management day and night without even sleeping.
According to Neupane, the company has been closed for only two hours in the last 12 days as cylinders have been coming from various cities of western Nepal such as Dhangadhi, Dang, Butwal, and Bardiya for refilling.
"We have 4,200 big and 800 small cylinders. Out of that, only 400 are kept on standby. And, we can fill 510 big cylinders in a day," reports Neupane.
Likewise, there is another company, Siddhivinayak Oxygen Industries in Gaindakot of the neighbouring Nawalpur district. Run by the Purano Medical College, the company has the capacity of filling 400 big cylinders. It has 2,800 big and 700 small cylinders in stock, informs, Kiran Kumar Nepal, the manager there.
His company has been supplying oxygen cylinders to some private hospitals in Chitwan and Hetaunda besides the Purano Medical College. "We are getting calls from Pokhara, Dang, Nepalgunj and other places for oxygen. But, we can't produce more than our capacity," says Nepal.
Apart from these two companies, Bhajuratna Engineering has been selling 250 big and 150 small cylinders of oxygen from Himal Oxygen Depot in Bharatpur. Likewise, Chitwan Oxygen Gas has been selling 45 big and 13 small cylinders.
Apart from various factories, Bhajuratna has been providing oxygen to Chitwan Medical College, Narayani Community Hospital and Manakamana Hospital.
Officials' urge against hoarding cylinders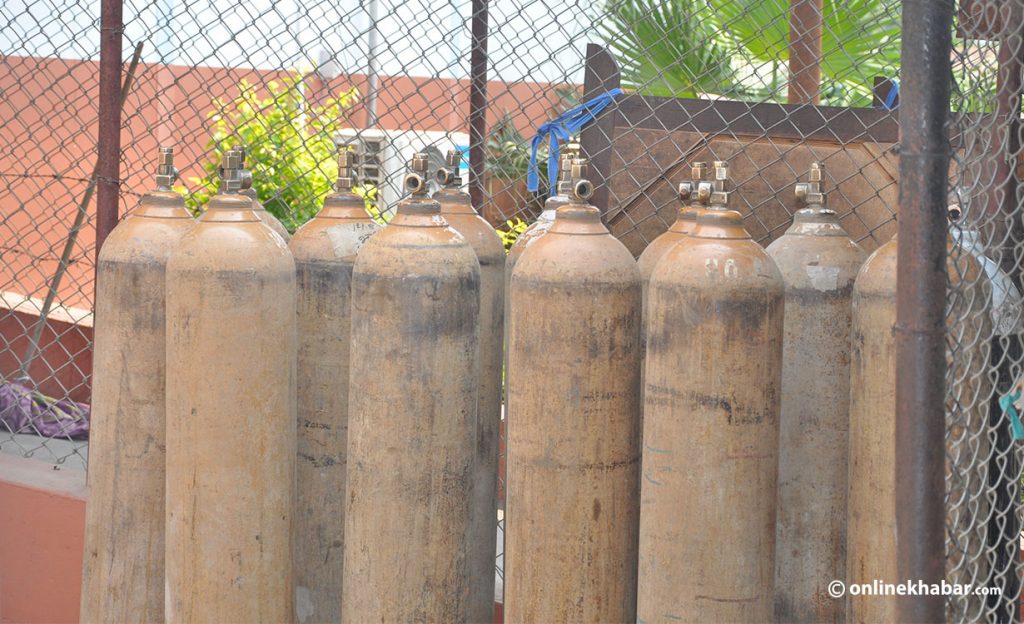 Oxygen cylinders from all these plants and depots used to go to various factories rather than patients and hospitals in the past. However, the cylinders being supplied to various industries and factories are being collected now.
Further, the Chitwan Industries Association has requested all to deposit the oxygen cylinders used in the industries in the district within the association.
Ganesh Prasad Silwal, the executive director of the association, states that a request has been made to send back the cylinders to the association, adding more than 40 industrial enterprises in the district are using oxygen currently. It is expected that the association is expecting to collect more than 50 cylinders.
Also, the District Administration Office (DAO) has banned the supply of oxygen cylinders to other places without the permission of doctors, hospitals or the administration. The Chitwan DAO has also instructed the industrialists and individuals to return the oxygen cylinders.
The DAO has warned of taking action by mobilising police if there is any difficulty in getting the oxygen cylinders back. About 50 per cent of the oxygen cylinders produced and sold by industries and suppliers in Chitwan are used in industries.