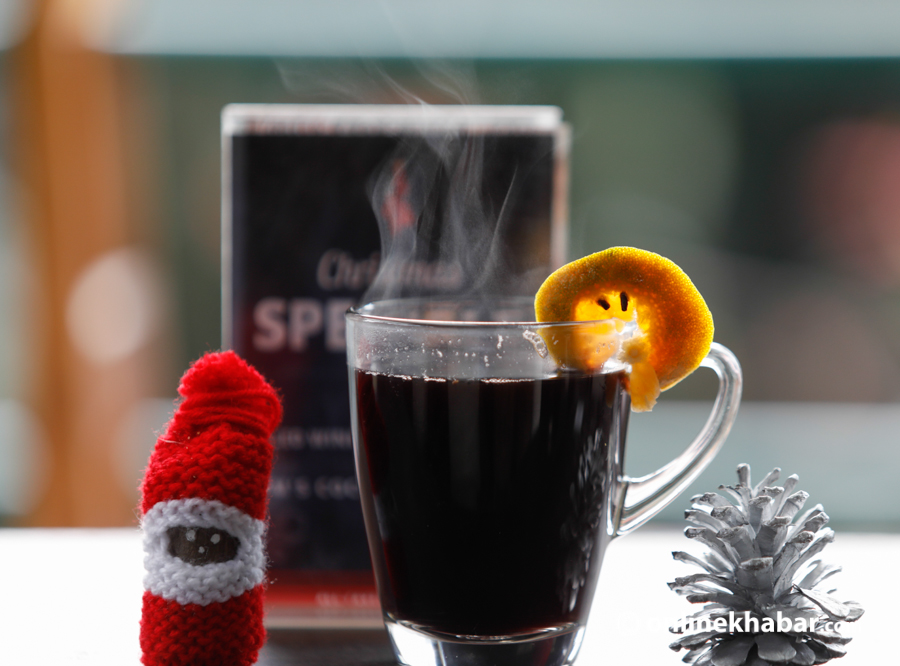 The weather was cold and the sun was barely out. That's why I headed to Pauline's Garden to savour their mulled wine. The recently-built 'covered' rooftop has been decorated to welcome a Christmas. Pauline, the owner of the place has paid attention to every little detail. Even the water bottles, for example, are wearing red Christmas stockings.
But what stood out the most was their four-course Christmas menu which will be served from December 24 to January 1. It includes an antipasti (appetiser), starter, main course, dessert, and a drink.
I had a tough time choosing four meals but with Pauline's help, I eventually got there.
For the appetiser, I went for blue cheese stuffed with shitake mushroom. This was an interesting dish. The blue cheese had a strong taste and texture to it as compared to the earthen and smoky flavour of the shitake mushroom. The chef took the cover off the mushroom and in it stuffed mushrooms along which blue cheese and tomatoes. The blue cheese, even though it had a strong flavour, didn't smell as much as I'd expected it would. This was great and it also went quite well with the warm mulled wine.
The mulled wine was warm and tasty. The spices and fruits added to the red wine gave it a sweeter and fruitier flavour. Often consumed during the winters, this drink is a must try, especially during Christmas.
To keep my body warm, I opted for the pumpkin soup–an ideal dish for a gloomy day. The soup had a thick smoothy-like texture. It blended well with spices and had a fresh earthy taste to it with along with a hint of sweetness, which must have come from the pumpkin. This dish has a creamy, velvety feel to it and goes well with garlic bread.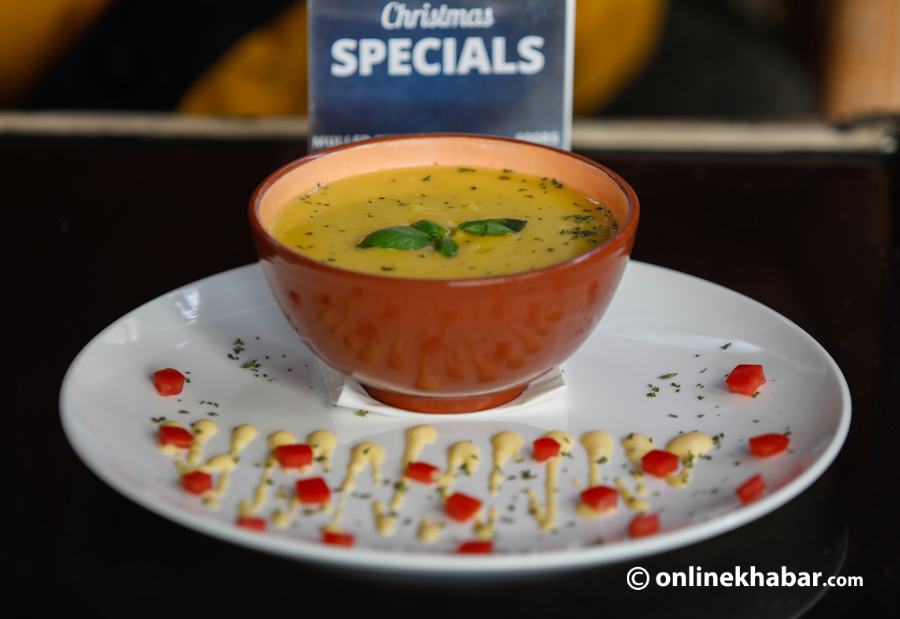 Roasted chicken served with a morels mushroom sauce, sautéed vegetables, and Christmas mashed potatoes, was one of the most fulfilling main courses I have had in a long time. The chicken was tender and juicy and roasted to perfection. It was flavourful and the added taste of rare morels mushroom gave the dish that extra oomph. Morels sauce on the side had an earthy and nutty flavour and went quite well with the chicken and the mashed potatoes on the side.
For dessert, I opted for the apple and oats crumble. It was hot, sweet, and incredibly comforting. The oats crumble added extra flavour to the apple crumble. The ice cream and strawberry topping made this a delightful dessert to end a wonderful Christmas meal.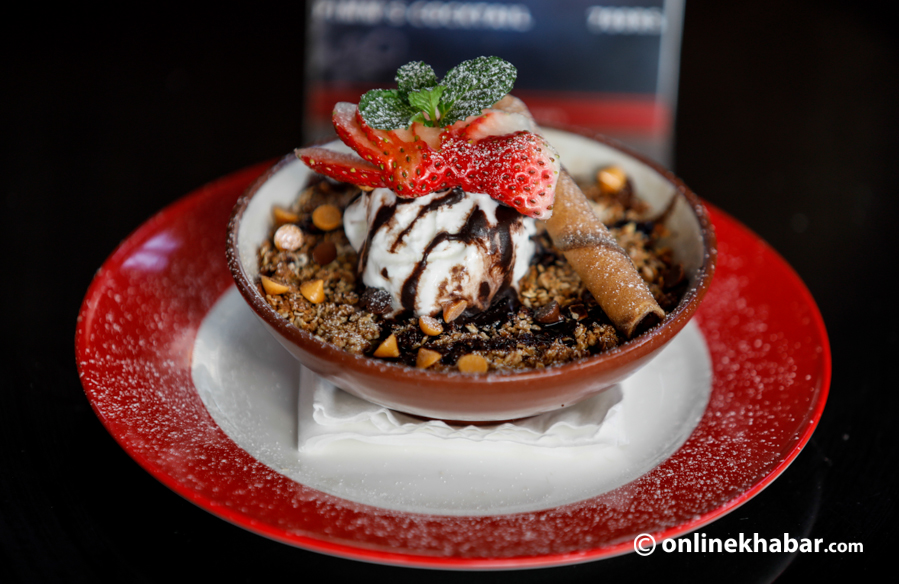 Other items on the menu include Thai-style grilled tiger prawn, prawns, salmon and basa fish clear soup, tartiflette, teriyaki grilled salmon steak, chocolate, and nut cake.
There's so much to love about Christmas Day, but the holiday is not without its stresses. So the last thing you want to do is spend hours in the kitchen preparing a feast.
Why not let Pauline and her staff do the work for you? So all you have to do is sit back, relax, and enjoy a fulfilling Christmas meal with your loved ones. She's also giving out Christmas gifts to anyone who pre-books. She also shares that there will be a bonfire for people sitting in the garden.
---
Where: Pauline's Garden
Baluwatar
When: December 24 – January 1
Price: Rs 2,950 + taxes
For bookings: 01-4221537