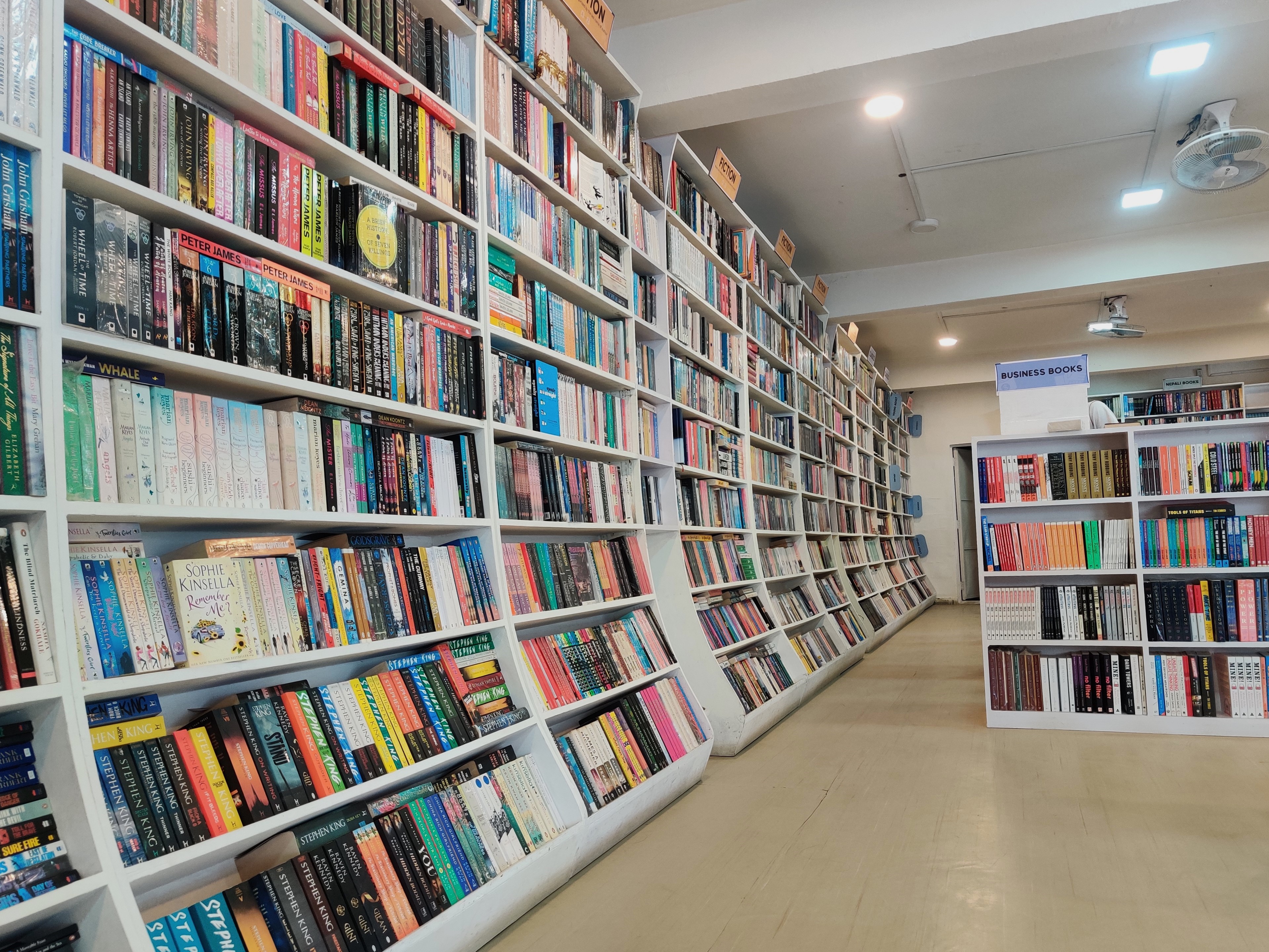 When Prem Prasad Sharma came up with the idea of starting a bookshop in Pokhara, many were sceptical. Unlike today, becoming an entrepreneur was not as rewarding. When he shared the idea with people, many warned him. Some even called his idea outrageous. Sharma, however, did not listen to his naysayers as he set up the Nepal Mandala Book Shop in Lakeside, Pokhara.
Since then, Sharma has encountered numerous highs and lows, yet he has met each challenge head-on, propelling the business to new heights. What started as a 100-square-foot shop by the Phewa Lake has come a long way and he now operates two prominent bookstores in Kathmandu and Pokhara. With his children actively involved, he has also seen his bookstore expand virtually, as Books Mandala, connecting readers from across Nepal, and even the world.
Books Mandala is now striving to progress further in its mission to establish a welcoming reading space. The owners are keen to broaden their horizons by venturing into the production of ebooks and audiobooks as they believe everyone should have access to books in whatever format they prefer.
Humble beginnings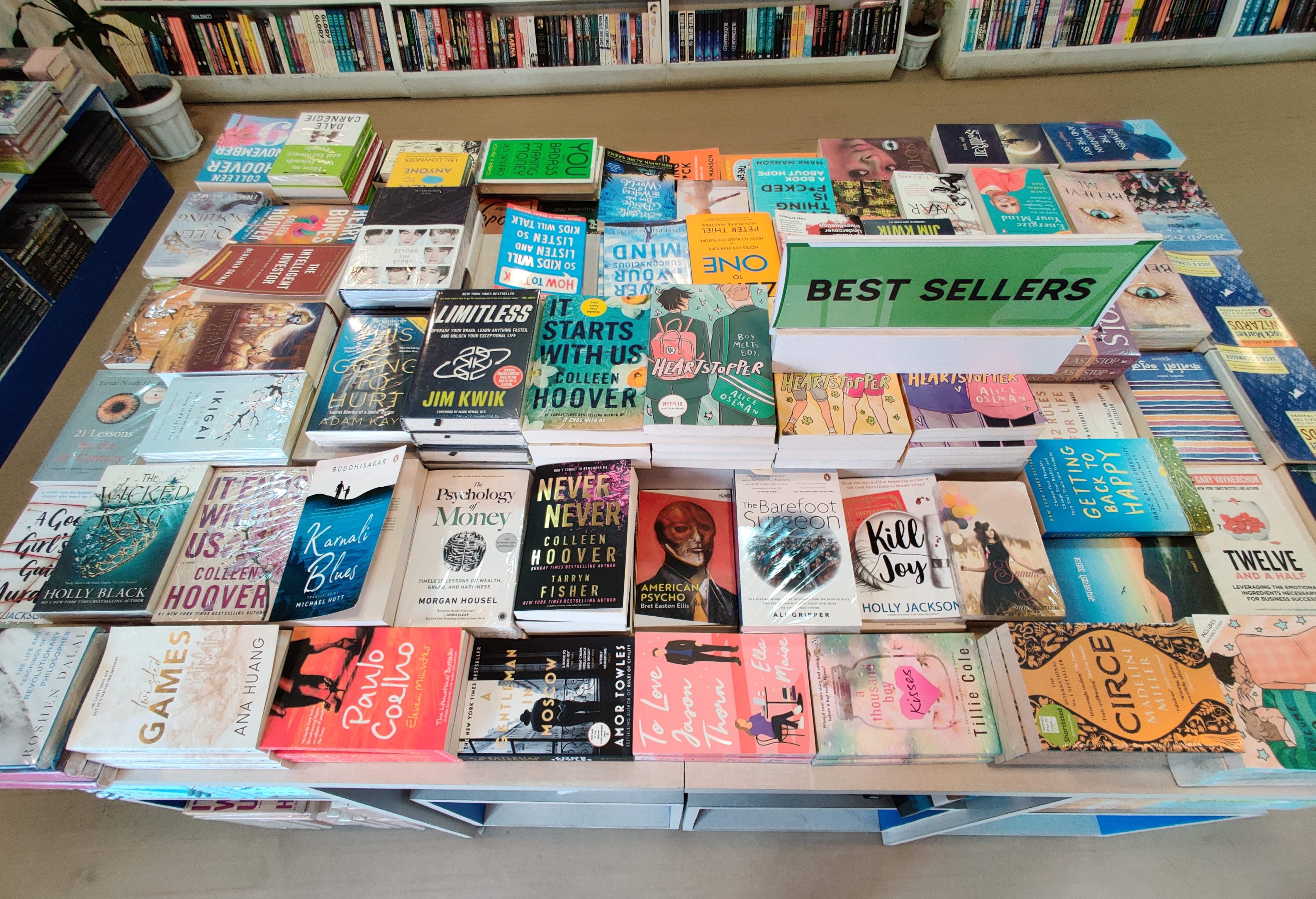 Born into a conventional Nepali family, Sharma wanted to do something on his own. While all five of his brothers pursued conventional jobs, he wanted to start his own business. He tried his hand at many things. He sold vegetables, fruits, dairy products and textiles.
"I even sold maps, posters and textiles in Pokhara," he says.
Initially, the idea of selling books had not crossed his mind. However, as family and friends began requesting him to bring back books from his travels to India and other destinations, he saw the potential for a promising business venture.
"It set a base for me and I started to explore the idea of setting up a shop in Pokhara," he says.
During the 90s, books were affordable as it was not taxed. He also loved how people's faces filled with joy after receiving the book they had long waited to read.
"For me, books became a medium to meet new people and other like-minded people. I started bringing books not just from Kathmandu or Delhi but also from Frankfurt and various parts of the USA."
After looking at the demand, he set up Nepal Mandala Book Shop, a 100-square-foot sanctuary for books in Pokhara in 1991. Soon, his shop drew the attention of scholars and book enthusiasts in Pokhara. Despite its limited space, he not only sold secondhand books but also offered to purchase them from others, providing a 10 per cent commission for those eager to share more affordable reads with fellow enthusiasts.
Handing over the reins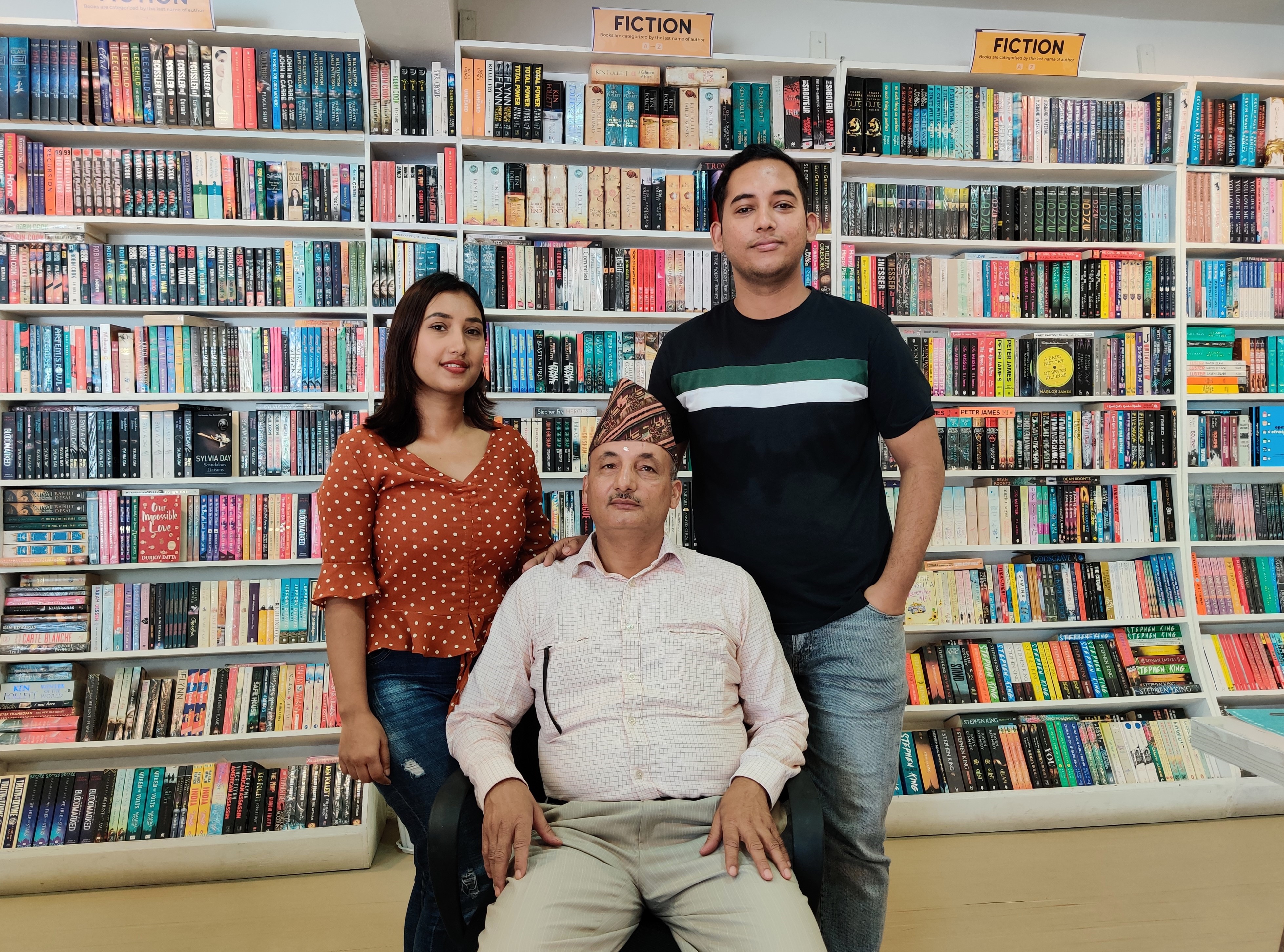 The business, its growth, and the foundation he established — all were dedicated to his children, Pratima (30) and Saurab (27). Before long, both of them developed a keen interest in the business their father had established and began actively participating in the decision-making process.
"Their ideas and vision have taken the business to new heights," says Prem Prasad.
Drawing on their backgrounds in software engineering, the siblings' initial step was to link their education with their father's legacy, improving and organising what he had built.
"It all began as my final year project. I understood the importance of digital tools and set up an investor system for the shop in 2016," says Pratima. "We still did not know what to do next."
That, however, laid the foundation for the future. Using the digital inventory, they then started working on an e-commerce website which went live in 2019. The website, they say, is managed by Manada Tech, a venture run by Saurab.
Before they set up Books Mandala, the siblings observed the burgeoning popularity of book enthusiasts on Instagram, loosely grouped under the genre of bookstagrammers in 2017. This naturally generated a demand and uncovered a market gap in terms of accessing books. They hopped on pretty quickly and, in 2018, partnered with a delivery service and started delivering books to places that reached various places across Nepal.
Until 2019, they were only based in Pokhara with their business doing well thanks to the number of tourists coming to the country. However, the Covid pandemic and the lockdown changed a lot as they realised they needed to change and adapt.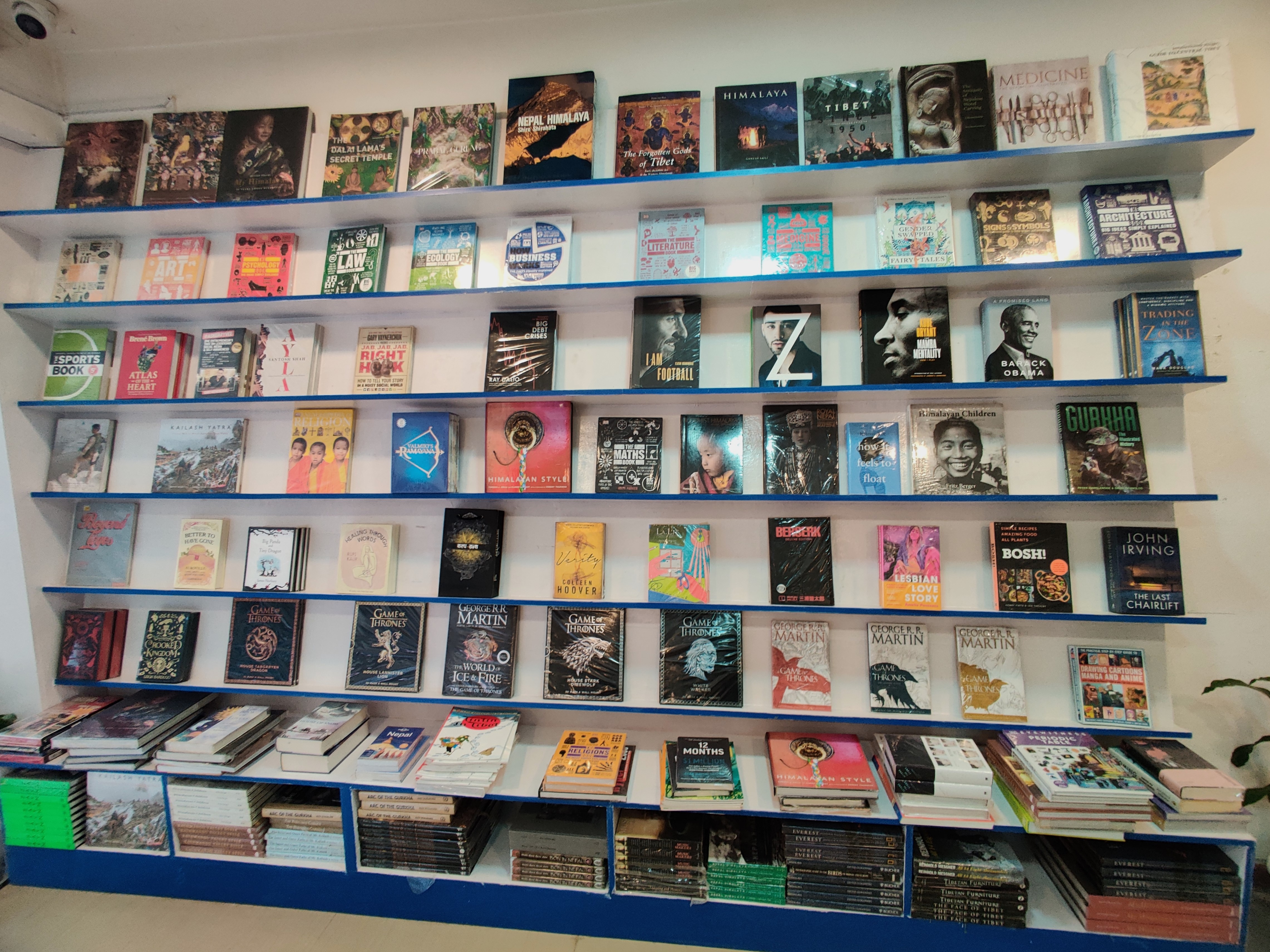 "Change is evident. If I had not adapted my business in the beginning, taking risks, or adapted to the opportunity, then I would not have had this store today. So I am happy that the store has taken such a shape, and the children are taking the reins," says Prem Prasad.
However, according to the children, persuading him about the necessity of incorporating technology and explaining why it was crucial involved a significant amount of back-and-forth discussions.
"He is of course used to his ways of doing the business. He has been a very hands-on person. So to let loose, let the new ideas flow and to realise why we were insisting on going online was not easy early on," says Saurab.
But with time, Saurab says, he grew confident in the new ways of doing the business.
"Once the orders started flowing, the business grew, and mostly through online. He was more than happy to take the back seat."
Pratima and Saurab, however, both understand the importance of upholding and preserving the values that their father instilled when he initially established the business.
"We have learned a lot from his entrepreneurial mindset, we have seen him struggle and admired his resilience. He is a quick decision-maker and is always guiding us. And he never lets us forget how important a customer is. We want to carry on what he has built," says Pratima.
Adapting to the new world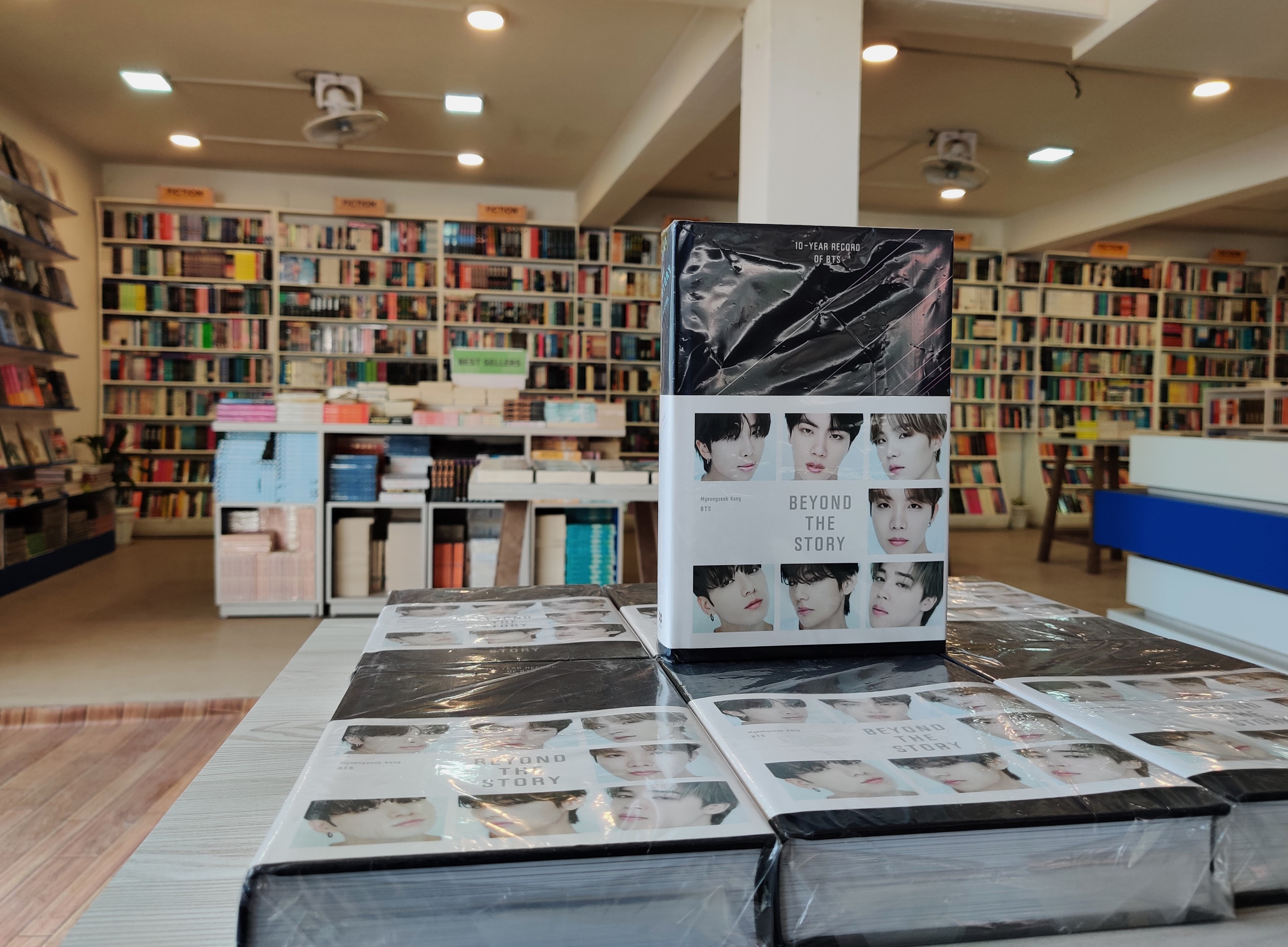 While they were transitioning to go online, a shift was occurring in Nepal. Around 80 per cent of the book distribution had become centred in Kathmandu. Despite the decrease in tourism, there was an escalating demand for book deliveries. These were not just limited to Kathmandu as Book Mandala was getting orders from the eastern parts of the country. Meeting this demand, however, was not feasible from their location in Pokhara.
"We did not have any competition. The only one was SastoBooks. I believe we set the market for book delivery in Nepal," says Saurab.
Wanting to ensure things moved smoother, they decided to expand and set up a shop in Kathmandu. After the first lockdown in March 2020, they set up an online-based store in Gairidhara in Kathmandu. This plan, however, did not materialise and started looking for a place to set up a bigger store which they eventually found in Baluwatar.
"The plan is to have both an online and physical store and provide services. We want to continue to set a bench march," says Saurab.
For their online presence, they adopted the name Books Mandala, which has become the new identity for them among their readers.
"The word mandala meant the universe, so we meant to create the universe of books," says Saurab.
Using the same name, Books Mandala has established a noticeable presence on social media, which further boosted the number of inquiries and orders they received.
Even though they started off by selling international books, Books Mandala's commitment to Nepali literature is also growing.
"We have a special section for Nepali books, ensuring that local authors and readers have a dedicated space to celebrate their literary heritage. And we are also looking forward to many collaborations and tie-ups with local publishers and authors to keep the literary dialogue engaging and growing for local readers," says Saurab.
Ultimately, Books Mandala, over the course of the past few years has built a great community within its network.
"The online space was very welcoming, but we listened to a lot of our frequent readers and new and realised that they want a physical store to browse the books as well. So we have set up this new space with all that in mind," says Pratima.
Now Books Mandala wants to continue to evolve and offer a holistic literary experience. It is now planning to venture into the world of ebooks and audiobooks as Books Mandala feels it also needs to cater to those who cannot read.
"We want to cater to even those who might not be physically or visually challenged and have restricted access to the books," says Pratima.
She says once the expansion is complete, Books Mandala's new location in Baluwatar will boast a café, providing an inviting space for reading. Additionally, it will include a book-swapping corner where avid readers can read used books for free and swap them, nurturing a sense of community and a shared passion for reading.