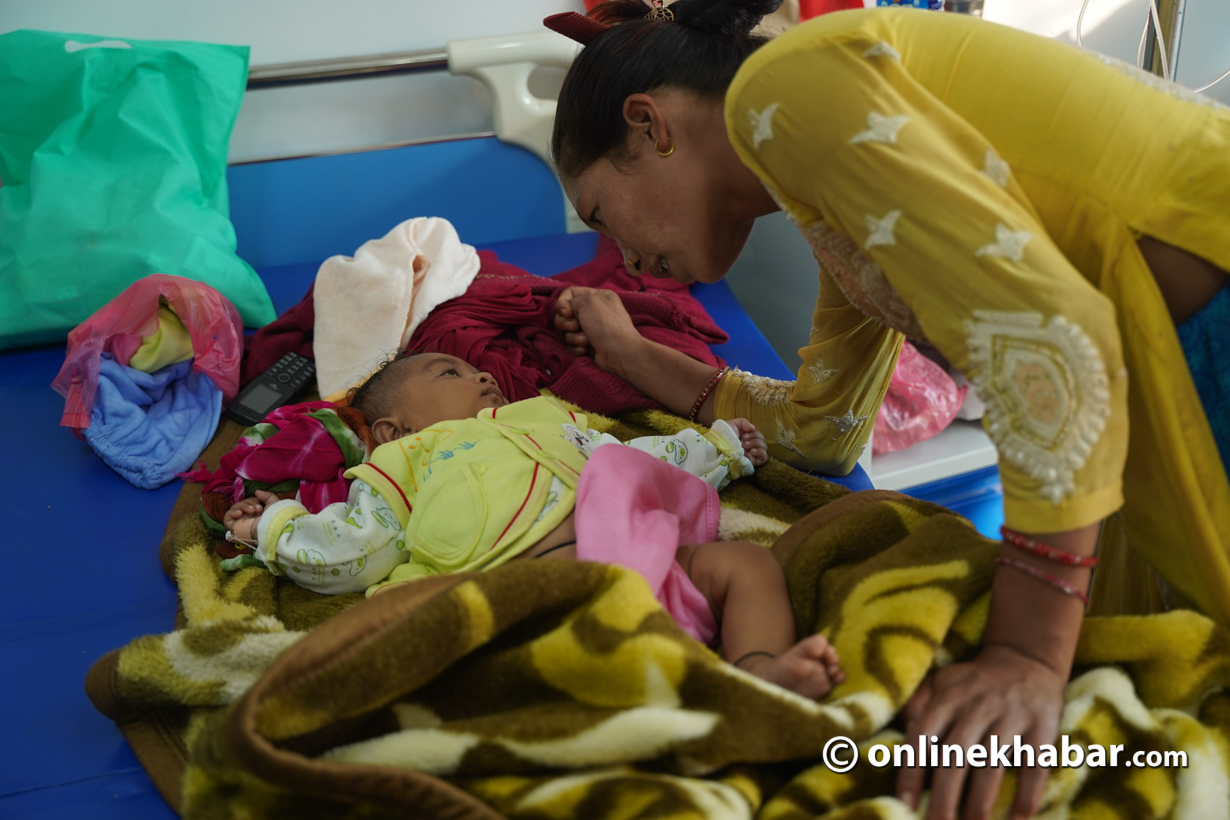 Hem Raj Chanara, a 25-year-old resident of Nalgad Municipality-5 in Jajarkot, was in a deep sleep alongside his wife and three-month-old son, Sonam. They were suddenly woken up by a 6.4 magnitude earthquake on November 3 at 11.47 pm, disrupting their peaceful sleep.
In the chaos that ensued, Sonam's mother instinctively rushed outside, her primary concern being the safety of her infant. Hemraj, disoriented in the darkness, followed closely. However, before they could make it to safety, the house's roof collapsed.
A rock fell on the baby who they were desperately trying to save. The child suffered injuries to his legs, arms, and back. Subsequently, they rushed the baby to the nearest health post.
"The child started crying uncontrollably. We were both confused what should we do?" recalls Hemraj. "I don't even know how I made it outside, at that moment."
Since the health post had limited treatment options, Hem Raj decided to find an ambulance and travel to Nepalgunj. Sonam is now safe, but Hem Raj is facing a more pressing concern as he is grappling with homelessness.
"I don't know what to do," says Hem Raj.
Life with scars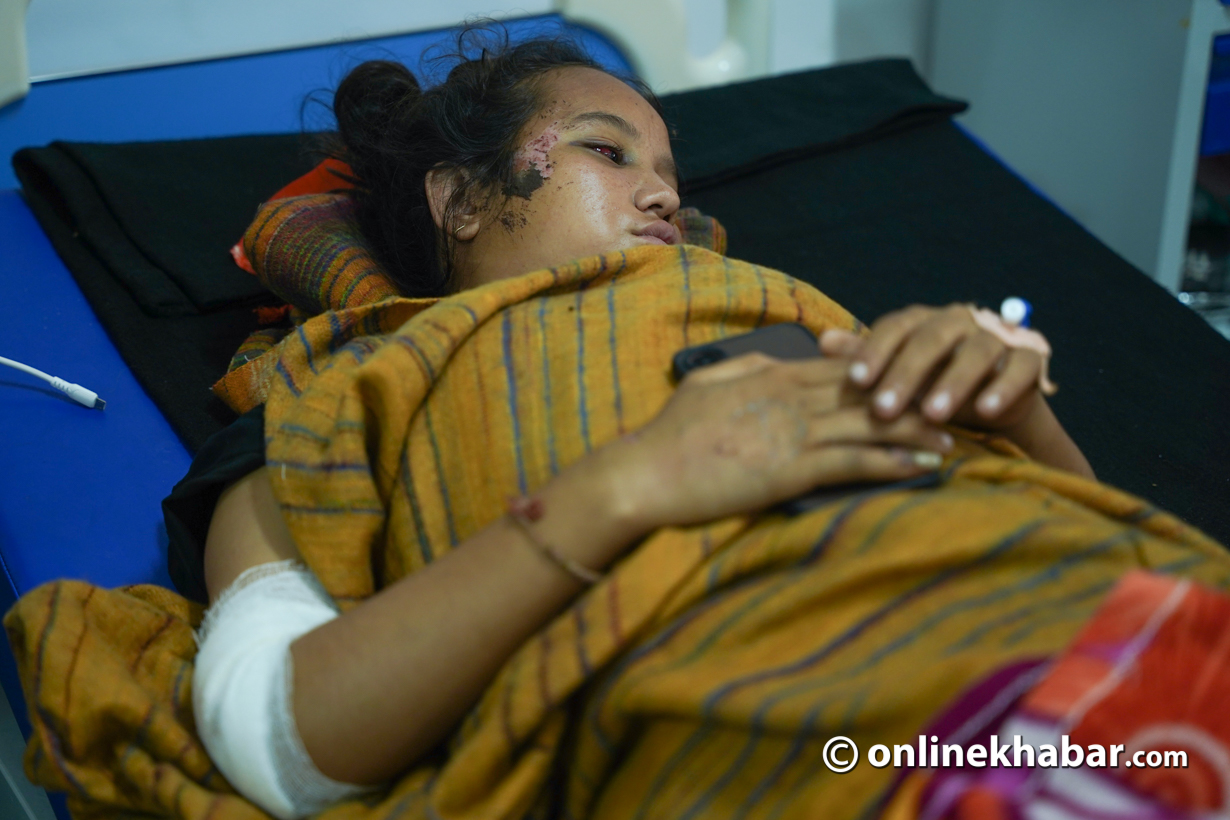 Anamika Shahi, a 15-year-old resident of Rimna in Bheri Municipality is grappling with a possible blood clot in her right eye and injuries to the right side of her face. Additionally, she sustained wounds on her hands, feet, and stomach.
"There were four people in the house. The roof collapsed on me, and there's hardly a spot without injuries," she says. "I vividly remember being ushered out by my uncle, brother, sister-in-law, and father."
She is a grade 10 student at a local school in Rimna. She mentioned that another grade 9 student from the same school also sustained injuries. Reflecting on the grim situation, she says, "Many have lost their lives in the village; I feel grateful to have survived."
Her father also sustained injuries while her mother and brother were unscathed. But Shahi suffered major injuries as she moved from one hospital to another before finding herself at Bheri Hospital.
Her condition was critical when she was airlifted and transported to Bheri Hospital, on November 4. She is stable, and now, among the 53 individuals admitted to the hospital.
Just out of reach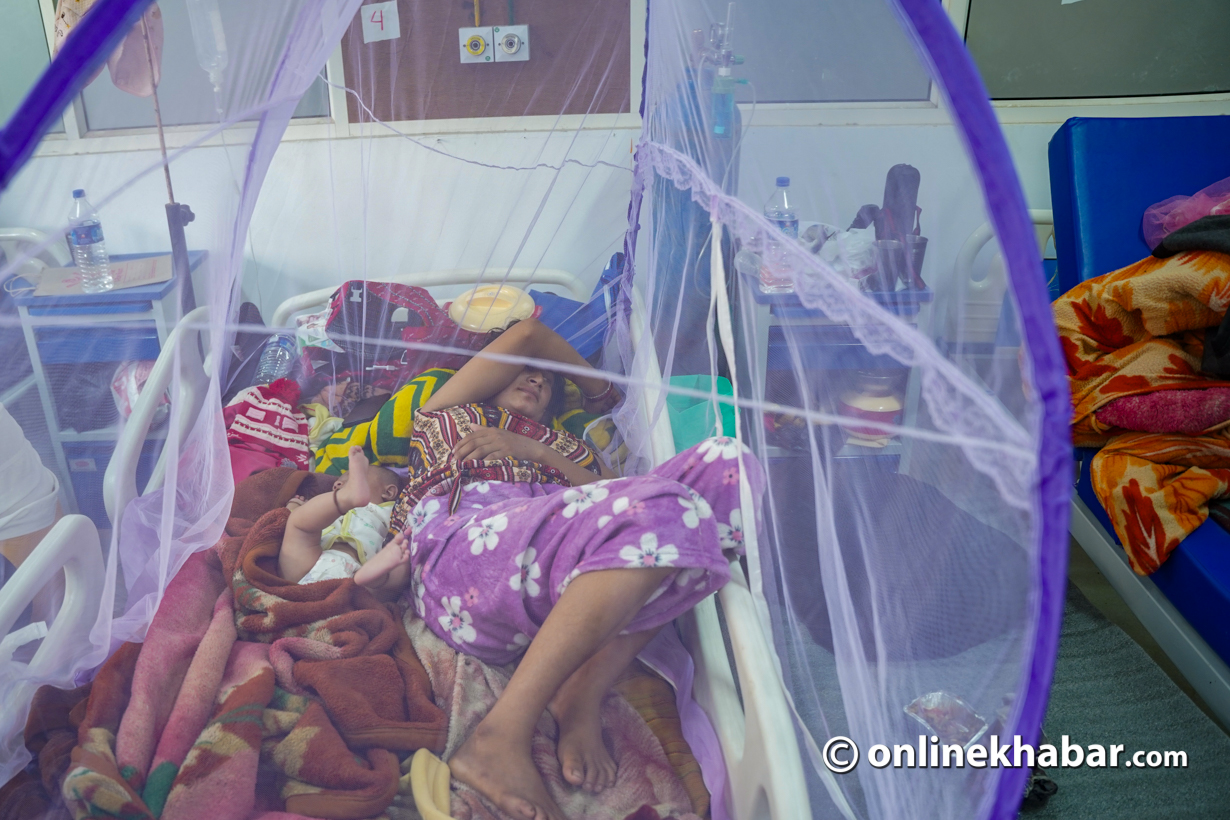 Navita Khadka, a 26-year-old residing in Sanibheri Rural Municipality in Rukum West, was also in a deep sleep with her two sons when the earthquake struck on Friday.
When the house started shaking, she swiftly leapt and shielded her four-year-old son, Lawis. The younger child was saved, but she sustained injuries in her chest and left hand, in the process.
"They are recovering but we lost our eight-year-old Nirjal," says Navita's husband, Ram Bahadur.
He feels he could have saved his son had he not been on night duty.
"Ther pain is unbearable," he says.
Getting through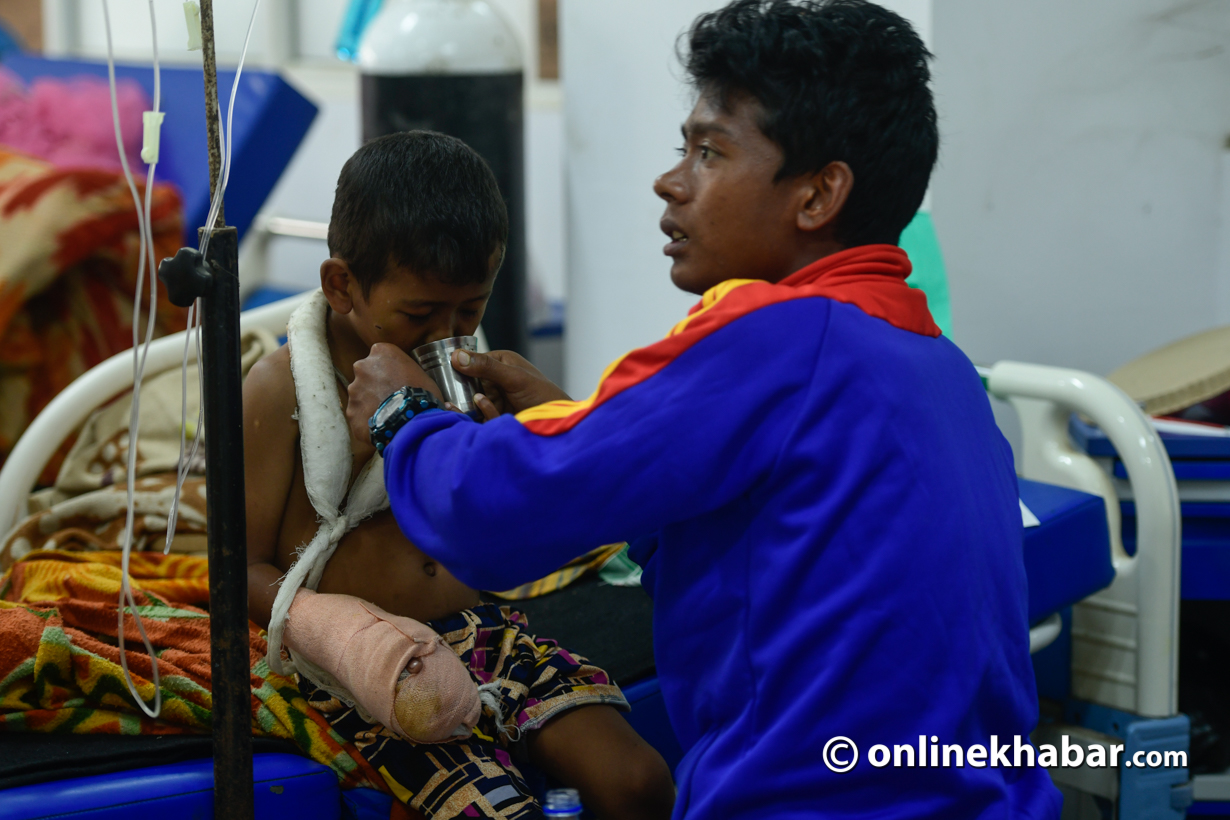 In the green room of the hospital, around 2 pm on Thursday, five-year-old Sushant Pun Magar from Sanibheri Rural Municipality-2 in Rukum West was being fed momo by his father.
The five-year-old's mother Pushpa Mahatara says they were in the same bed when the earthquake struck. In an attempt to flee, Sushant was hit by a tin.
"He has injured his hand," says Pushpa Mahatara, Sushant's mother.
Mahatara, who is also currently undergoing treatment at the hospital, shares that they have not incurred any expenses except for transporting the child to the hospital in an ambulance. But they realise the gravity of the situation when they get back as they have to rebuild everything.
"The earthquake took everything, how will people who earn their living through labour work manage to get money to pay for treatment?" she questions. "We're using the little funds provided by relatives to get the child something he desires to eat."
Treatment is a priority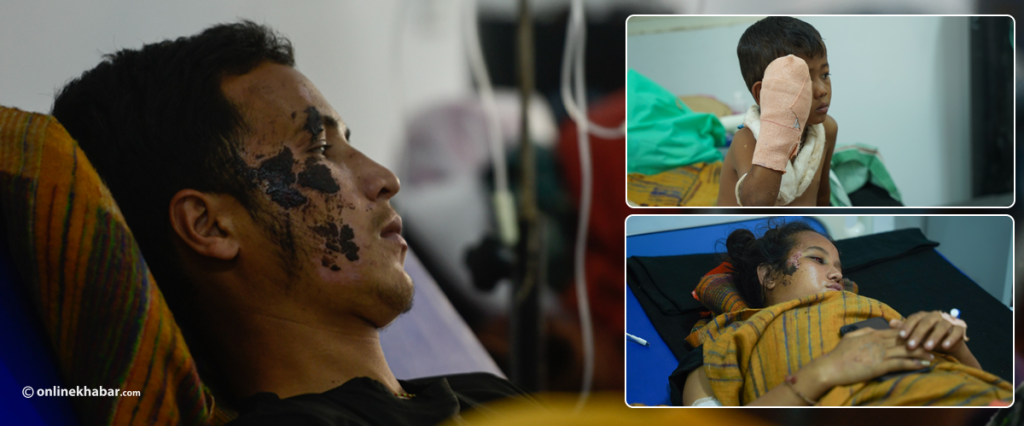 According to the Bheri Hospital, 53 patients with complex health issues have been admitted thus far. There are seven individuals under five years old, five between 5 and 15 years old, another five aged between 15 and 18 years old, 33 between 18 and 60 years old, and six people over 60 years old.
"Today (Thursday), we have referred three individuals to Tribhuvan University Teaching Hospital, in Maharajganj of Kathmandu," says Dr Pawan Rayamajhi, the hospital's chief medical superintendent. "Although there aren't many external injuries, we've made the referrals due to internal complexities."
According to him, 10 of the patients admitted to the hospital required surgical procedures. Among those seeking treatment, an unborn child did not survive after the mother sustained severe injuries to her stomach. The woman's husband also died in the earthquake.
The medical staff added that one of the injured was grappling with haemophilia, a blood-related problem where the blood clot is irregular. They further explain that the conditions of three seriously affected individuals are improving, while one was hospitalised ultimately succumbing to their injuries.
"We were able to rescue many others who sought refuge in the hospital," says Rayamajhi. "As of Wednesday, three patients have been discharged."