Pizza is a confusing food. It is round in shape that comes in a square box and is eaten as triangles.
But, who does not love pizzas? Pizzas are the comfort food for all the cheese lovers in the world. The pizza market has been growing faster than ever as people across the world are also growing crazy for the cheesy goodness.
The story of pizza started from ancient Iran, Rome and Greece where people started eating flatbreads and different toppings, many of which are popular even today. Likewise, modern-day pizza expanded across the world from southwestern Italy's Campania region.
Generally, the base of the pizza is made from flour, yeast, water, salt, oil whereas the topping differs as per the eater's choice. It is customisable and you can have a pizza for every mood.
If you are in Kathmandu valley but are still new to pizza, here we recommend you try pizzas from the following places:
1. Roadhouse Café
Roadhouse Café is a well-known name, especially but not restricted to its pizza in the Kathmandu valley. This cafe easily attracts youth with its freshly made, hand-stretched signature wood-fired pizza with toppings. Margherita, chicken tandoori, farmhouse, Greek, Mexicana and Roadhouse Blues are some of the delicious pizzas it serves with extra unique and common toppings such as rocket leaves, sweet corn, yak cheese, and mozzarella. You can also request the cafe to make your own pizza but within its options.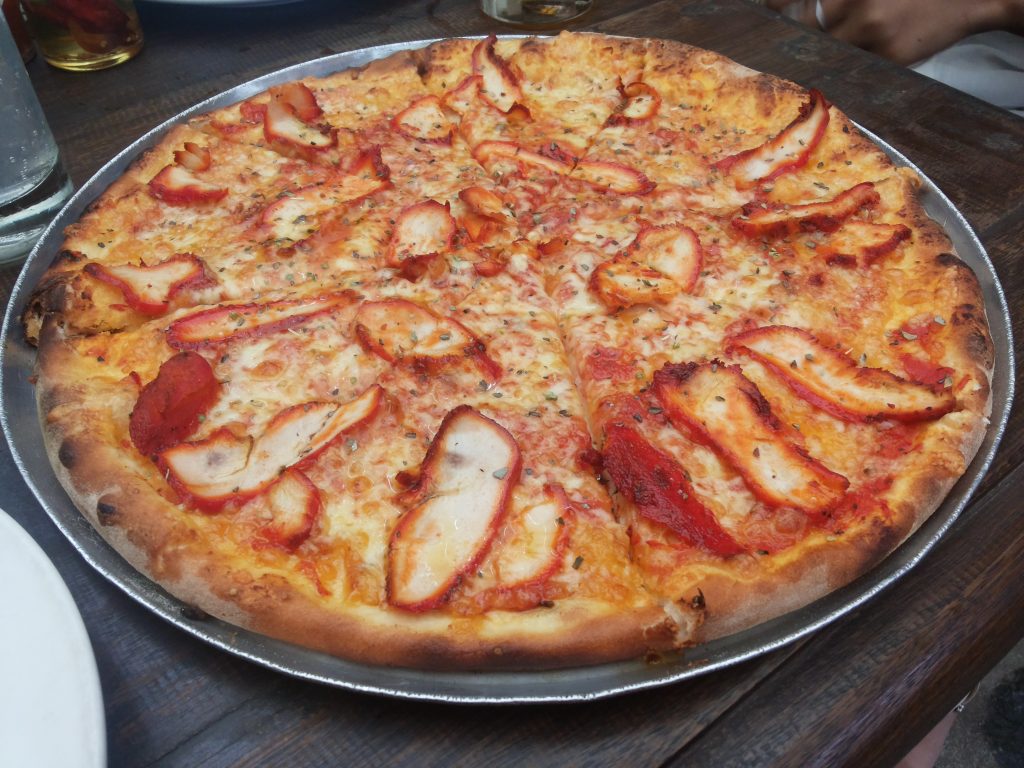 Roadhouse is famous for its traditional vibe inside its cafe in all of its locations: Thamel, Bhatbhateni, Pulchok, Jhamsikhel, Buddha, and Durbarmarg. It extends its services from 11 am to 7 pm every day.
2. Moksh Cafe
If you want to eat delicious food, pizzas and eat at a reasonable price, Moksh is the best option for you. Located in Jhamsikhel, Lalitpur, you will find the atmosphere of the Moksh to be very peaceful as it has a cosy garden.
At Moksh, you can order wood-fired pizzas in varieties such as Classic Margherita, Wood Fired Pan, Meat Pizza, and many more. Moksh is a wonderful place to go with friends, where one can enjoy food and music at the same time during its live performances.
3. Fire and Ice Pizzeria
Fire and Ice restaurant is a loved place and very famous destination for foreign trekkers, travellers, climbers as well as local people for its amazing, delicious, authentic Italian foods, and speciality pizzas.
Italian chefs from Naples played a vital role in the initiation of Fire and Ice at the Sanchaya Kosh Bhawan in Thamel. It serves a variety of pizzas such as Insalata Mista, Ettore pizza, Rompipalle pizza, Calzones, and its signature Fire and Ice pizza among others. Yet, it is mainly known for its Hawaiiana pizza made with tomatoes, mozzarella, ham, pineapple, green peppers, ginger, and oregano. If you wish, toppings are always there for you. You can enjoy their delicious Italian pizzas from 11 am to 7 pm.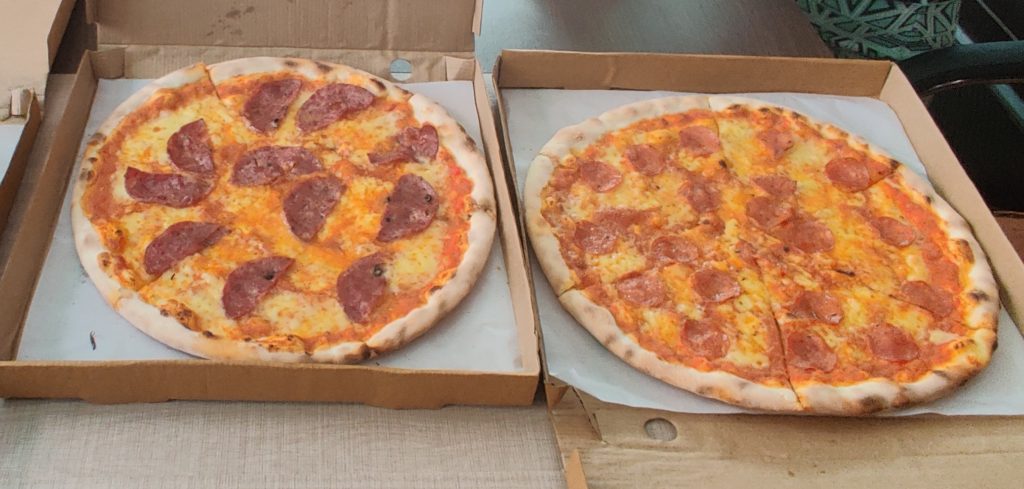 4. Pizza King
Pizza King, one of the finest places to have pizzas in Kathmandu, is situated at Narsingh Chok Marg, Thamel, Kathmandu.
Like other cafes, this place also serves pizzas with its own little twist and has different varieties of pizza. Their customers are very satisfied with its pizzas such as Garden Party, Margherita (double/triple cheese), Chicken Delight, Chicken Supreme, Kings Special, Hawaiian Pizza, Tuna Delight and many more. The taste of its pizzas has attracted customers again and again.
5. Gurkhaz Grill
Gurkhaz Grill, located in Jhamsikhel, Lalitpur, is a multi-cuisine restaurant with an open garden and hall. It is a cosy place to be, best for family, friends' gatherings and small celebrations.
If you want to try meat lovers pizza in Kathmandu, this is the place to be. You can enjoy a variety of meats, even in its fresh, handmade pizzas in varieties such as Carbonara, Smoked Chicken, Salami, Hawaiian Chicken, BBQ Chicken, and Seafood with different toppings.
For vegetarians, it has margherita and spicy veggie pizzas.
6. Bricks Cafe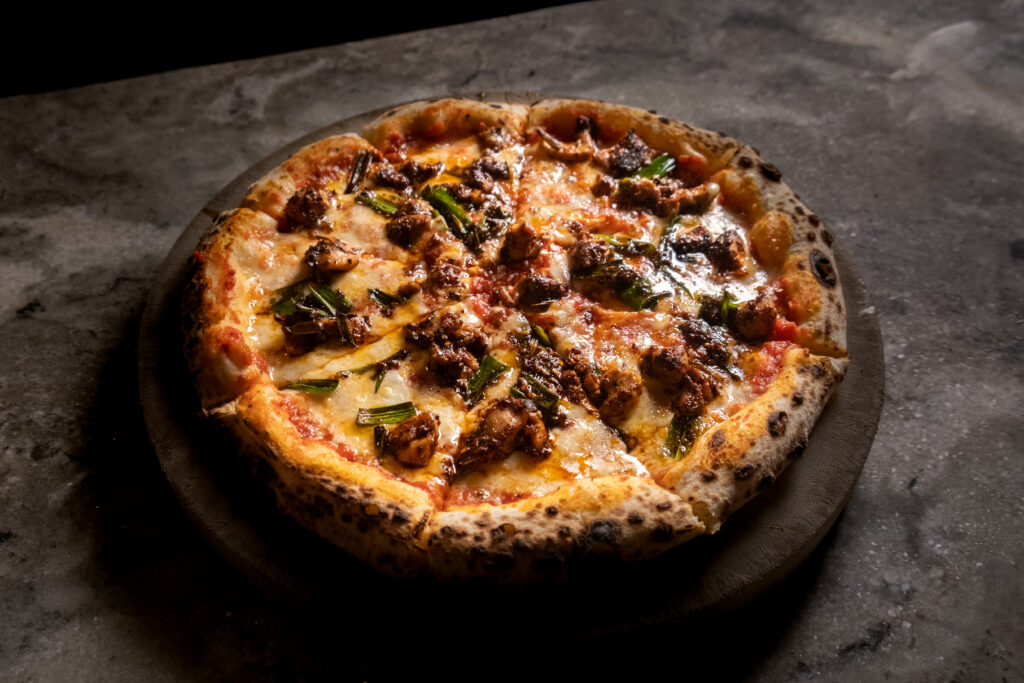 As the name suggests, the cafe is constructed of bricks, along with its pleasant and calm vibe. If you are in for yummy, wood-fired food, you can find this cafe in Kupondole, Lalitpur. The speciality of the Bricks Cafe is its firewood pizzas. People enjoy its varieties such as Margherita, Veggie Paradise, Four Season, Smoked Chicken, Ham Hawaiian, Bricks Supreme with some extra toppings.
If you want to try different pizzas but are afraid that you would not be able to finish them in a single setting, Bricks Cafe has the solution for it. It has started the Half & Half Pizza scheme, in which one can order any two pizzas of their choice in a single order. This new style of serving makes it one of the popular places for pizza in the Kathmandu valley.
7. Marco Polo Pizzeria
Marco Polo Pizzeria is located at Chhaya Centre, Thamel. It excels in two cuisines: Italian and Mediterranean. Famous for its delicious pizza and pasta in Kathmandu, this place provides its services from 12 pm to 6 pm.
It serves fresh, authentic pizzas in various options such as Margherita, Vegetarian Alla Venice, Diavola and their special Marcopolo pizza, Chicken Parmigiana, and Shrimp Pesto, among others. Its varieties in toppings are especially impressive including regulars like fresh tomato, olives, onion, vegetables and basil along with special toppings like shrimp, steak, pastrami, tuna, calamari and vegan cheese.