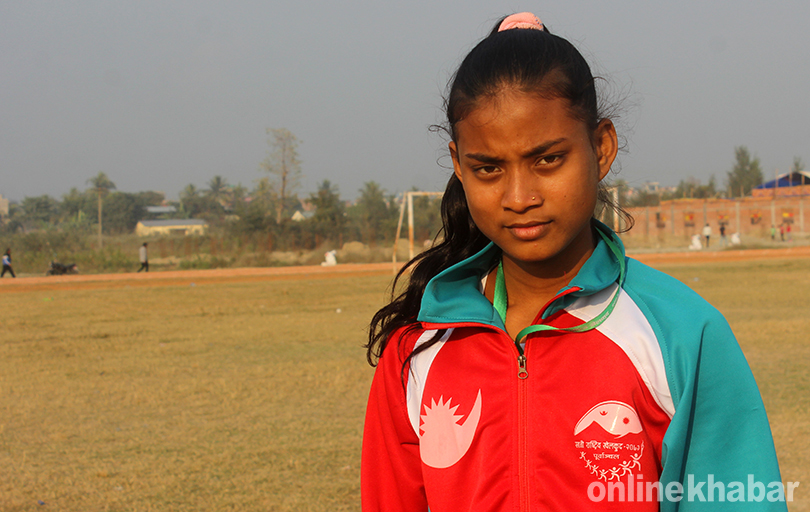 Athlete Jaya Rani Chaudhary ventured out of her hometown of Bardiya for the first time for the national games.
Itahari, December 25
At the 100m race event of the seventh National Games underway in eastern Nepal, a bare-footed athlete took position side by side former Olympian Chandra Kala Thapa.
The hastily-completed track of Itahari's stadium was strewn with pebbles and plastic wrappers but what was more striking was the disparities between the various teams and athletes that were present at the event.
"There's no prospect of any records being broken today," said one of the judges looking at the poor condition of the track.
But the track, as well as the organisers, did not hinder Bardiya's Jaya Rani Chaudhary from completing the race. Chaudhary, who has ventured out of her hometown of Bardiya for the first time, not only finished the race; she also proved to be a strong competition for Thapa, who finished merely 0.28 second faster than Chaudhary.
Below is an excerpt from a conversation Jaya Rani Chaudhary had win OnlineKhabar after the race.
Congratulations on finishing the race. Where are you from?
I hail from Bardiya district. I am originally from Orali Bazar but I currently live in Gulariya. I live in a hostel there.
How old are you?
I will be 16 in a few months.
Have you finished school?
No. I currently study in grade 7.
Tell us about your selection process. How were you selected?
I am quite active in sports. My school pushed me to compete in district-level games. After being selected at the preliminary round on December 9, I made it to the final selection on December 13.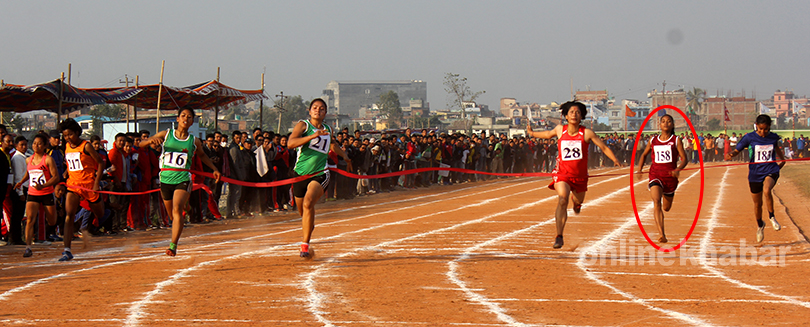 Chaudhary, during the race.
Which sports were you active in?
Almost every sports; from volleyball to athletics and even football.
Have you come to Itahari before this?
No. This is the third time I have ventured out of Bardiya.
What has been your best record?
I had finished the 100m race in 14 seconds during my district-level selection.
You were bare-footed during that race too?
Yeah, I was not wearing any shoes.
Didn't you trainer ever tell you to wear shoes?
I am used to running this way. If I wear shoes, my legs feel heavy.
At the event today, there were former Olympians and other professional athletes who were being helped by their trainers before entering the track. Do you ever feel that you would win medals if you had trainers helping you out?
Yes. Of course. But I can hardly do anything. My teachers often say that I am untrained and I can't win any medals unless I am trained.
Will you continue your schooling after the national games? Or do you plan to train yourself further as an athlete?
I want to continue both.
Who will be waiting for you at home in Bardiya?
Because I live at a hostel in Gulariya, I hardly get to meet my parents unless it is during major festivals like Maghi.
Will we get to meet you at the next national games?
Hopefully yes.