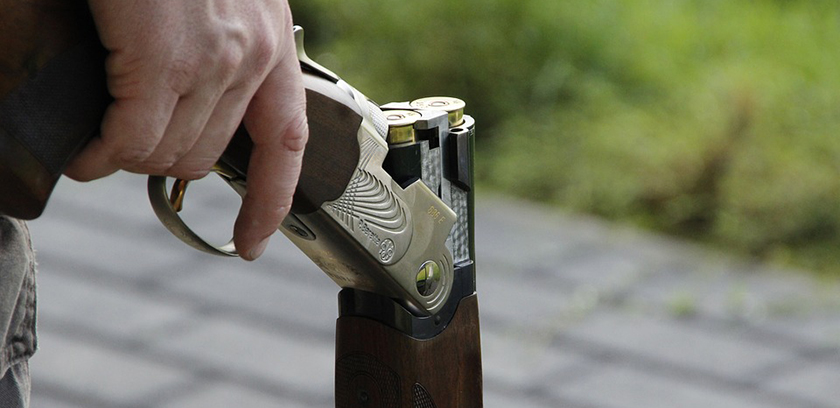 One fine morning, a man in a camouflage baseball cap and matching fatigue crawled doggy fashion on a freshly cut rice field, a gun clutched in his right hand.
The field, still wet with the morning mist, wets and soils his clothes and the paddy stubbles hurt—for all he cares. It turns out he is stalking a bevvy of jungle fowl foraging for fallen paddy. But before the man can bear his barrel onto his quarry, the chickens burst into flight, leaving behind a breathless angry man mouthing obscenities.
That was Vijay, my friend, and it was the first day of our hunting trip to eastern Nepal—a village called Kanchanpur in Saptari district, some 400 km away from Kathmandu. We made that trip way back in the late 1990s, when hunting was officially open.
When it came to hunting, with the beginning of the season (Sept till Feb) around the corner, hunters couldn't wait to start planning their trips. An excited duo, so did Vijay and I, a trifle too early—almost four weeks ahead of time. We planned on shooting red jungle fowl and chir kaliz pheasant, which ran aplenty in the thick forest north of the village.  If lucky, we could run into an elusive peafowl or two.
The elongated forest belt in Kanchanpur runs along the Chure hills that undulate from east to west as far as you can see. The south looks onto the Mahendra Highway and vast swathes of fertile land. The iconic 56-gate Koshi Barrage at Bhimnagar is some 22km east.
After attending to the formalities of acquiring the hunting licence, we eventually left for the much-awaited trip—an 8-hour drive from Kathmandu. The first half of the highway (Thankot/Naubise/Mugling/Narayanghat) traversed the rugged hilly country with tricky switchbacks and sheer drops with the Trishuli river raging below. Since I'd driven on that stretch of the highway before, I was confident behind the wheels of my trusted Maruti Gypsy jeep.
The winding drive almost ended at Narayanghat and flatter landscapes—the Inner Terai—with the Mahabharat range to the north stretched onward Hetauda. After Amlekhganj, once famous for its short-gauge railways (1920s), the Terai (translating to foothills) stretched all the way to our destination, the legendary Charkoshe Jhadi (literally, 12km jungle) en route after Pathlaiya.
Kanchanpur, then, was a small sleepy village with mostly mud houses and thatched roofs. Some well-to-do families had brick houses roofed with baked clay tiles. We were to stay at a friend's house, who happened to be a doctor practising in Kathmandu.

Our hunt began the very next day. The jungle was located at the foothills of the Chure in the north and it took us hardly a half hour's walk across clusters of huts, mud houses and cultivated fields. Early morning walks through those scattered settlements, the crisp weather, the pungent smell of smoke from burning stoves, the sticky honey-like smell of the freshly-cut paddy—all had a heady effect on me.
Now for our armoury, Vijay carried a single barrel 12-gauge Baikal shotgun; I had a double-barrel Webley and Scott, a British gun inherited from my father. Jagat, a local villager, served as our guide.
We soon realised that game did not come as easily as we had thought.  The first day brought nothing but a blank. On the second day, though, we managed a couple of shots at the chickens on the wings; we met with only annoying misses.
Even Jagat, who knew the area like the back of his hand, was amazed by the poor sightings of jungle fowl. "It is strange, this area used to be crawling with chickens," said Jagat, shaking his head in frustration.
"Rest assured though, sirs, tomorrow, I'll take you to a different spot that's sure to have chickens, and pheasants, too," Jagat added confidently. That raised our hopes.
On the third day, we chose to explore the Rai Khola(river) that cut its course deep into the Chure hills in the north. The narrow river gully was flanked by thickly wooded hills. Jagat's words turned to be true and the day three proved a success.
Vijay managed to bag three chickens while I satisfied myself with two.
The pheasants, however, seemed elusive.
Celebrations followed that evening as we helped ourselves with some local raksi (alcohol) and the day's prize shoot, wild chicken curry. Wow, other domestic chicken meat was no match for that distinctive sharp flavour that left us licking our fingers with relish.
On day four, Jagat decided we beat a strip of stout sal, sisau and scrub jungle called the nursery, north of the highway. Once deep into the woods, we pressed on stealthily, twenty yards separating us. Jagat, unarmed, brought up Vijay's rear.
Once deep into the woods, we pressed on stealthily, twenty yards separating us. Jagat, unarmed, brought up Vijay's rear. 
Once deep into the woods, we pressed on stealthily, twenty yards separating us. Jagat, unarmed, brought up Vijay's rear. We kept a slow pace, nerves taut with anticipation and palpitation running at fever pitch. Except for the sound of distant pealing of cattle bells and the intermittent chatter of bulbuls and jays, the jungle remained hushed. Suddenly a cock pheasant broke cover.
Bang, I fired!

Two things happened in quick succession.
A stray pellet had ricocheted off an outcrop on the ground and found its mark on his back. Near panic, I felt the terra firma slip beneath me. After a hurried conference, we decided to pack up and end our hunting trip. If Vijay was as distraught as I, he did not show it. Consumed by uneasy thoughts, I spent the night in tosses and turns.
With the approaching light the next morning, and an unsettling reminder what axe was to befall upon us, I stepped on the gas. Time dragged on leaden feet before we finally made it to Kathmandu on time to see the doctor friend of mine.
"Lo and behold!"
We were in for the biggest surprise of our lives. After administering a shot of tetanus and a smile on his face, my doctor friend, to our great consternation, ruled out an operation saying the pellet lodged into the back muscles would do no harm whatsoever even if it stayed embedded for life. He said he would not mind operating on it but it would be painful and not worth, just a waste of time. Dumbfounded, Vijay and I gaped at each other, in total disbelief.
Dumbfounded, Vijay and I gaped at each other, in total disbelief.
That finally settled our nerves though, and we sighed in great relief.  All fears and doubts dispelled, I slept that night at peace with the world.
Twenty-five years now, Vijay is in fine fettle and still carries the pellet in his back. Whenever together, we laugh off the misadventure.
Photos for representative purpose.