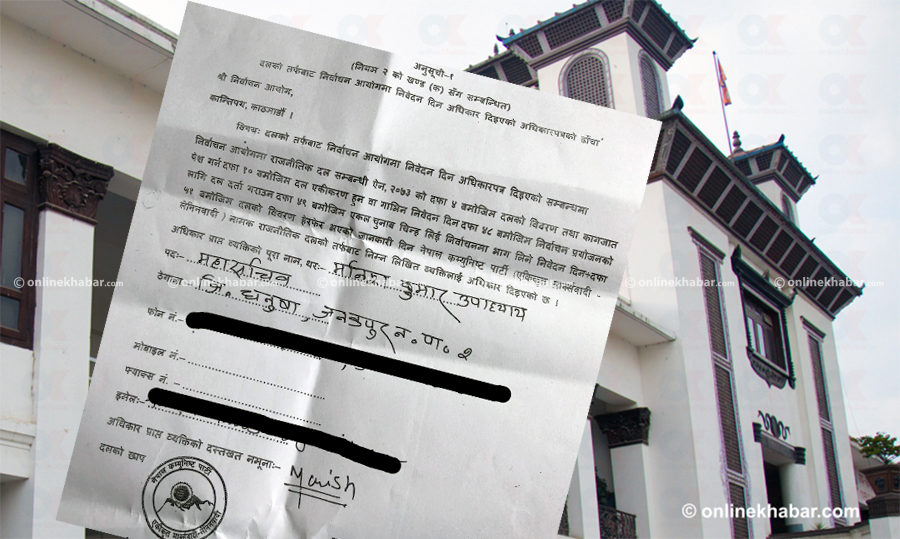 Kathmandu, July 1
As the ruling Nepal Communist Party is already tense due to differences and disputes among leaders over some crucial issues, yet another concern has appeared to trouble the party. Recently, some people have submitted an application to the Election Commission proposing a new party named Communist Party of Nepal-United Marxist Leninist (CPN-UML).
As this name was taken by the party led by the Prime Minister KP Sharma Oli until it was merged with the then CPN-Maoist Centre in May 2018 to establish the NCP, some leaders in the NCP have now accused Oli, who is under fire for 'incompetent leadership', of trying to revive the old party splitting the united one.
However, it has been found that the 21 people submitting the application for the registration of the party are not recognised in national politics.
Onlinekhabar has received some documents attached to the application, according to which the central committee of the proposed party includes the following:
Chairperson: Sandhya Tiwari, Biratnagar, Morang
Vice-chairperson: Bhagawati Khadka, Gelu, Ramechhap
General Secretary: Manish Kumar Upadhyaya, Janakpur, Dhanusha
Province 1 Secretary: Asmita Sunar, Ratapani, Khotang
Province 2 Secretary: Dawa Lama, Sasapur, Sarlahi
Bagmati Secretary: Jaya Ram Raut, Sakhuawa, Rautahat
Gandaki Secretary: Khagendra Prasad Bhusal, Parvat
Province 5 Secretary: Radha Puri, Kerunga, Arghakhanchi
Karnali Secretary: Hira Bahadur Bohora, Pahada, Dolpa
Sudurpaschim Secretary: Tara Devi Shahi, Kapadtola, Bajura
Members
Pawan Bista, Syuchatar, Kathmandu
Nilam Pokharel, Bhadrapur, Jhapa
Kiran Lamichhane, Gothatar, Kathmandu
Umesh Mahato, Sarlahi
Usha Kumari Jha, Mansingh Patti, Dhanusha
Pradeep Raj Giri, Gothatar, Kathmandu
Purnima Tamang, Dapcha, Kavre
Nischal Basnet, Asanpur, Siraha
Sanjeev Bista, Gothatar, Kathmandu
Bimala Karki, Chhaling, Bhaktapur
Bimala Bista Rokka, Syuchatar, Kathmandu