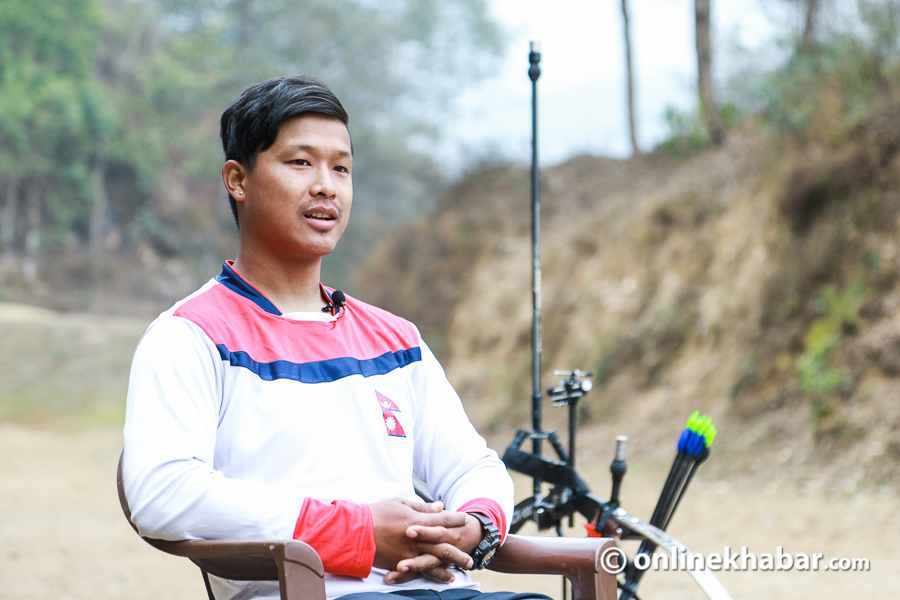 Tilak Pun Magar, 26, practices with Nepal's Archery Team at a makeshift range at the Armed Police Force's Headquarters in Halchowk. Of the 10 arrows he fires, 8 hit the bullseye but Magar isn't excited. "I wanted all 10 to hit the target," he says adding "When you're Nepal's number one Archer, there is no room for complacency."
Magar's rise in archery, in his own words, is 'coincidental'. Magar, who spent his childhood in Pokhara, went to India after completing his SLC. But due to problems in the family, he had to come back to Nepal. That decision proved vital as it paved way for a new career.
"When I came back, I had no idea what to do. One day I met a friend of mine Dev Pun. He had some archery equipment with him. Curious, I asked him about the sport and he introduced me to my teacher Kishor Gurung."
Even though the cost of the archery equipment was beyond Magar's capacity, that didn't stop him. He kept on learning and working hard when one day Gurung, looking at Magar's determination gifted him an archery set.
"It was a beginners' set, but it was helpful. I owe him a lot," he adds. With the set and guidance provided by Gurung, Magar took part in his first national-level junior archery tournament in 2013 and won gold.
The following year, he participated in the senior category and won one set against an experienced competitor. This gave him the confidence that he could compete with the best. "That set win gave me added confidence that I could participate with others, however, I knew that I had to work hard and I needed better equipment."
However, in 2015, after pressure from family and his realisation that there was no future in archery, he decided to take a break and join Nepal Police as Assistant Sub-Inspector.
In 2016 after getting into Nepal Police, he decided to give archery one last go. "I asked my seniors if I could peruse archery and represent Nepal Police in various tournaments. First, they told me that they couldn't buy me equipment as it cost too much. But when I told them, I had the required equipment, they said I could peruse archery again."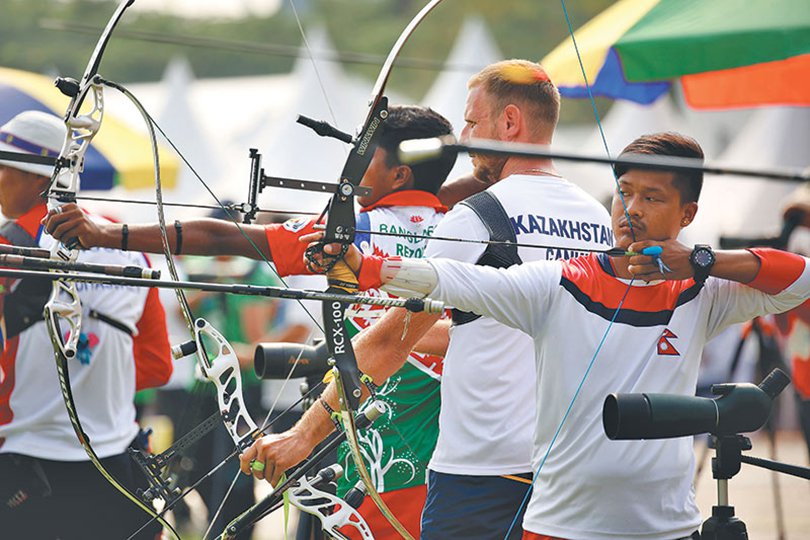 Even though he received permission, he then faced another problem – where to train. "It was quite tough at first but when I got into the national team it started to get easier."
Magar first got into the national team when he stood fourth in the 2017 national archery competition. The fourth position meant he was included in the national team and started to train with the national team under the guidance of Deepak Raj Gurung, who is also the President of Nepal Archery Association.
He then also started to represent Nepal in international tournaments. "In 2018 I went to Bangkok and Dhaka. My performances in both tournaments were not up to the mark and I knew I had to work hard if I was to win any medal for Nepal."
However, in the same tournament in Dhaka, he was part of a mix-team event in which Nepal did manage to win a bronze medal which he says is one of the most important medals of his career.
"Me and Junu Awale were in the team and the game went to a tiebreaker. We won by two points. I still remember it like it was yesterday."
In 2018, Magar was back in Dhaka, this time taking part in the 2nd ISSF Solidarity Archery Championship where he was a part of a mix-team which won a silver medal. "The news that we won silver was reported by the media and after hearing that my parents were very proud of me."
He also took part in the 2018 Asian Game in Indonesia where he achieved his career best when he scored 649 out of 720. But he lost out in the round of 16.
"It's not easy competing away from Nepal. We have the same equipment and training method, but what we lack in is mental strength and training facility."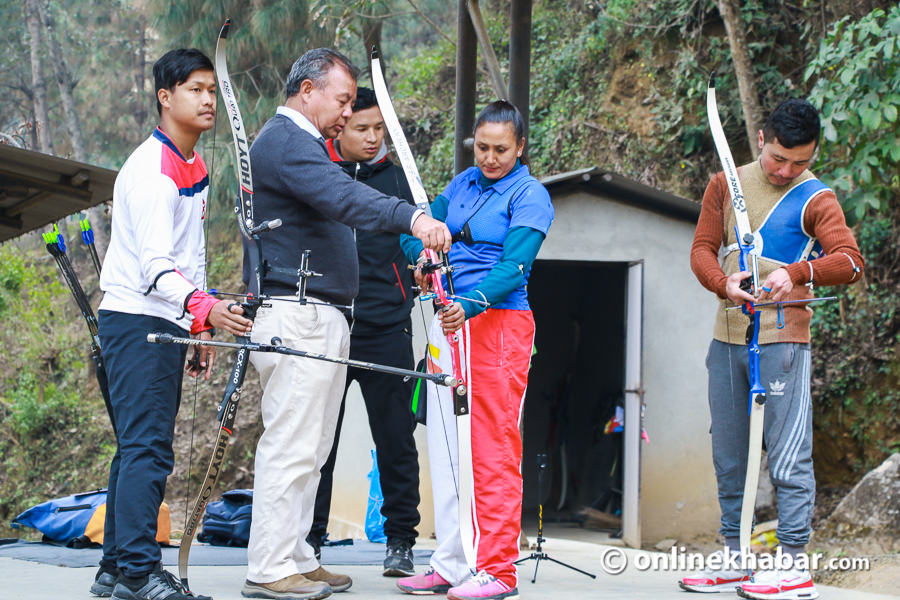 His thoughts are echoed by his coach and President of Nepal Archery Association, Deepak Raj Gurung. "When I train them I teach them techniques and give them points on how to improve their game. I show them videos of champions and tell them to follow their techniques but what I cannot do is tell them what the champion is thinking before releasing his arrow. The mental aspect of an archer is just important. If you don't have that you are not going to go far."
Magar currently is training with his teammates and coach Gurung either at the Armed Police Force's shooting range in Halchowk or the Army's in Lagankhel. Both Magar and Gurung share that the army and Armed Police have been extremely supportive.
"We hope Magar and the rest of the team bring a medal or two in the SAG. But our main aim is to do the nation proud in the 2020 Olympic," adds Gurung.
But the team has other matters at hand before that. Magar and his national teammates are currently in Bangladesh taking part in the 3rd ISSF Solidarity Archery Championship after which they will be going to Bangkok to participate in Archery Asia Cup.
"Both tournaments are important for me. They will affect my ranking as well. I hope by the end of the two tournaments I will better my ranking which currently stands at 228."
---
Published on February 24th, Sunday, 2019 11:16 AM
---
Download Onlinekhabar App. Android click here & IOS click here . Keep in touch with us on Facebook, Twitter & YouTube.