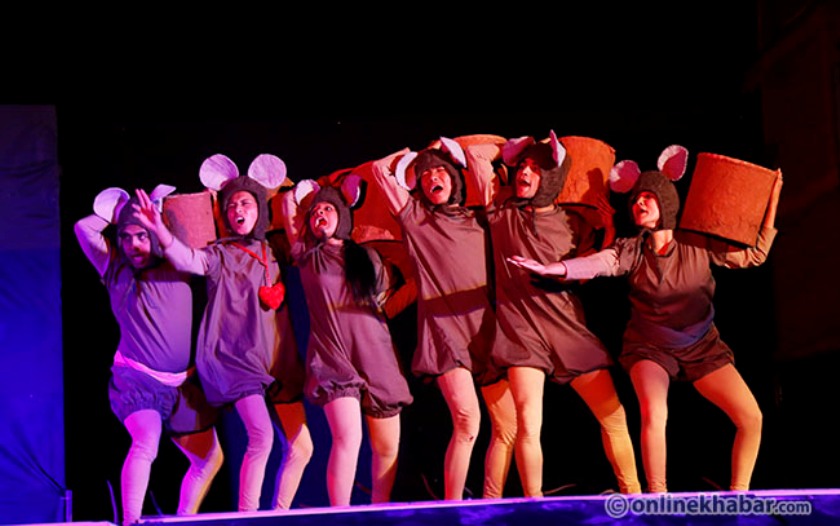 Mandala Natakghar, producer of some of the most-known plays in Nepal, has recently introduced 'Junkiri', a mobile theatre.
This theatre is set on a truck, which opens on three of its four sides, forming a platform upon which plays can be staged. Rajan Khatiwada, director at Mandala Natakghar says that if the stage is open only towards the back of the truck, a show can be put up for about 35 people. Similarly, if it is opened on three sides, it can be used to address around 500 viewers at the same time.
Junkiri was conceptualised by Rajan Khatiwada himself while he was visiting India. "We are calling this a 'mobile theatre' because we can just pick up our actors and visit the desired location ourselves," he says. "Instead of calling people to watch the show, we can simply go to them and stage a show."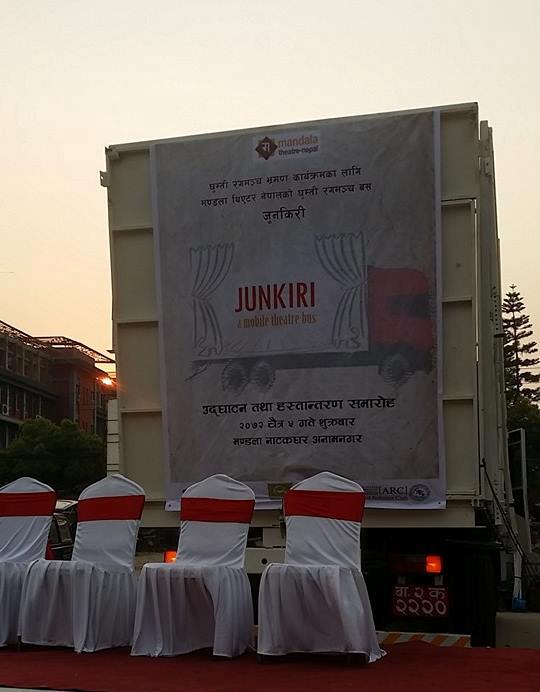 Som Nath Khanal, the coordinator of Junkiri elaborates on how Junkiri was conceptualized and how it is where it is today, "We had been going to the people and staging shows in the past, but we were doing so without using a vehicle."
"We know that the people appreciate our efforts when we do so. Now with GIZ, an INGO, supporting us financially to purchase this vehicle and stage the shows, things have become easier. We require less effort than before."
Currently, Junkiri is staging a play titled 'Manchintey Firantey', directed by Khatiwada with a cast consisting of Asant Sharma, Bijay Baral, Sirjana Subba among others.
Khanal says, "We are planning to visit some locations inside Kathmandu Valley under a pilot project. Within a few months, we will visit locations outside the Valley. We are also set to stage our plays in a few locations in other SAARC countries as well."
The initial cost of putting the vehicle together was around Rs 5.1 million. Khatiwada says, "This was a significant sum that we have put in for the theatre. But considering the how much money it takes to put up a stage after traveling to a place, I say that this amount is justified."
---
Currently there are several famed theatres running in Kathmandu. Since people are selective, promotions for plays depend on word of mouth.
---
"The stage is taken care of, and our crew can travel in this same vehicle. On top of that, we don't need to rent an entire location. I wouldn't say that it (the truck) has put us in a better financial position because with the vehicle comes the challenges of keeping it optimised. This vehicle has a hydraulic system, and keeping it in prime condition has been added to our list of responsibilities."
The prospect of theatre in Nepal is substantial. But things have hardly been explored.
Currently there are several famed theatres running in Kathmandu. Since people are selective, promotions for plays depend on word of mouth. Theatres need more investment than films because theatre requires more time and discipline. It has not been able to reach the height it rightly deserves.
"Plays are made with passion, discipline and with our sweat and blood," Khanal says.
"Actors need to come out on the stage for every show, carry the same enthusiasm and put a check on their emotions. These stories are conjured up with rigor. This way, every show becomes unique and original, and we want to keep do this with the same vigor every time."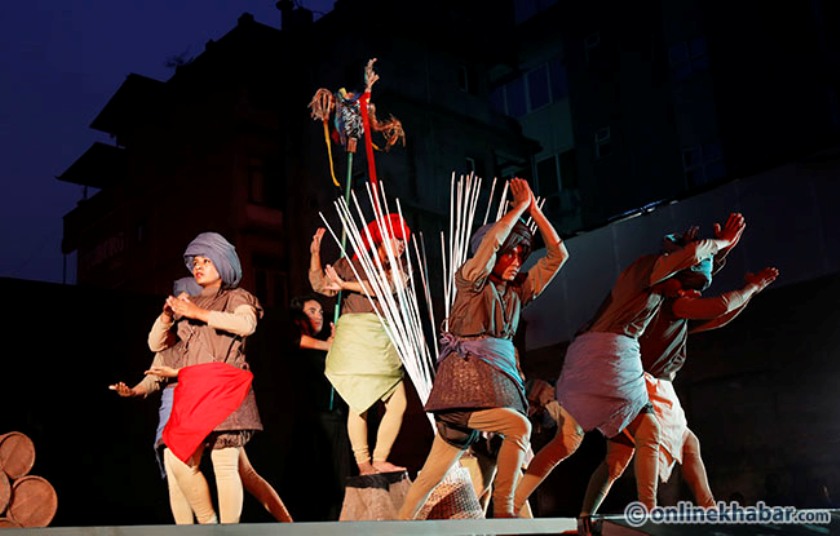 Mobile theatre can open new avenues in untapped markets. Theatre is evolving from a closed house to an open-air show, and the interactivity that this introduces can help grab the attention of people who have been refraining from going to the theatres.
Khatiwada says, "Theatres connect the society with the people. People in the audience can see a reflection of the society through our actors. We are enthused with this thought."
"This adds yet another challenge for us, which is mostly political in nature," Khatiwada adds. "When we are standing in front of a large number of people, people from all quarters of the society are watching us, and for this reason, we need to be more sensitive about the issues being raised, accordingly."
Khatiwada further adds, "Art cannot be confined to a small area. We are still pondering over how we can be creative, yet maintain sensitivity towards the new ideas."
---
Published on April 6th, Wednesday, 2016 12:30 PM
---
Download Onlinekhabar App. Android click here & IOS click here . Keep in touch with us on Facebook, Twitter & YouTube.