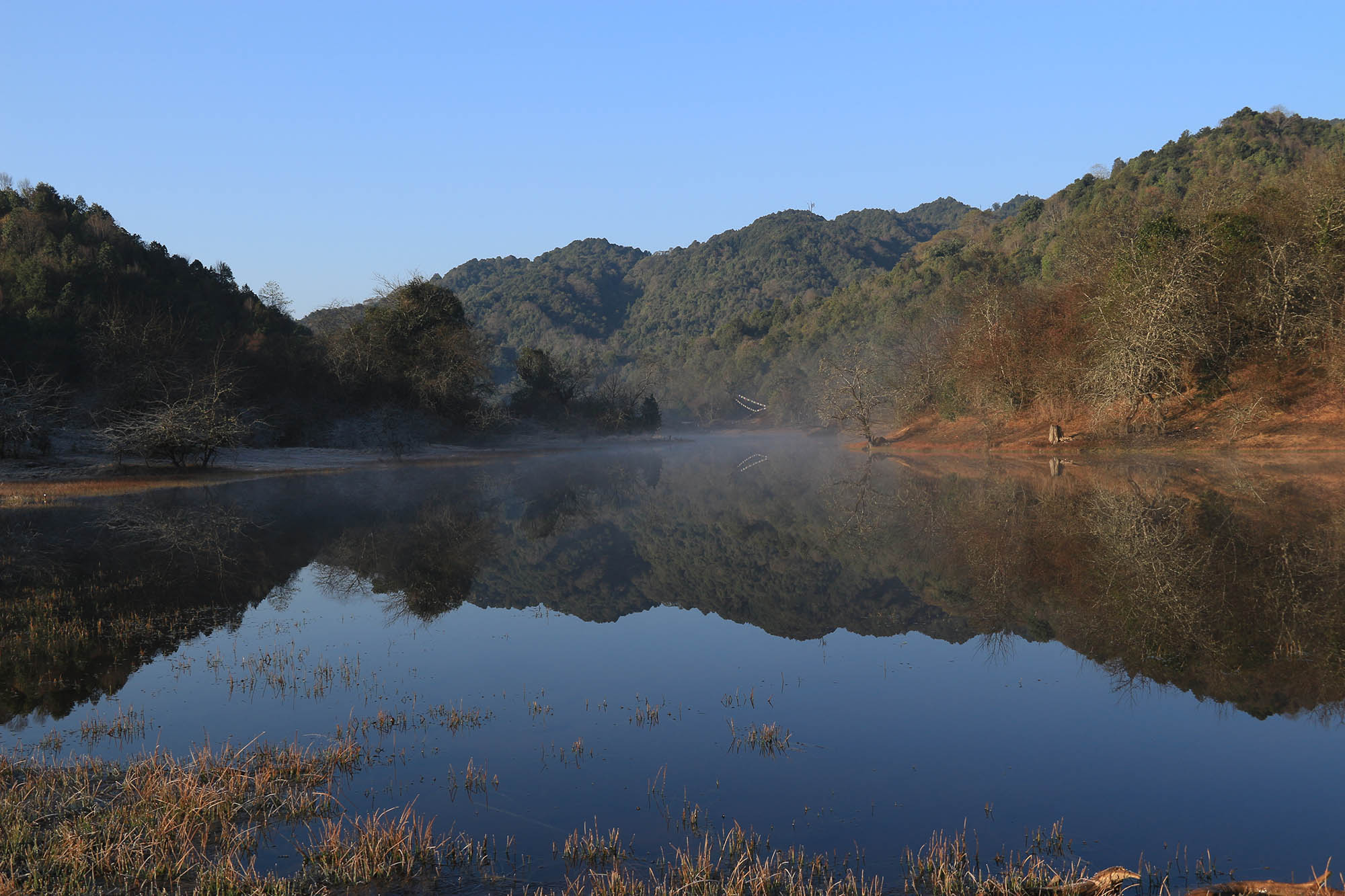 Walking past the little bazaar at Sundarijal, a huge rusty iron water pipe running through its centre, is nothing remarkable. You are either a visitor going up to see the waterfall, the reservoir or walking up as far as you can, or a hiker leaving a human habitation for the wilderness. But there is a sequence of sorts.
First, you see the tea shops, their counters crammed with sel, malpuwa, samosa and jeri. Next, you pass Nepal's second hydropower station. Then a couple of houses, with laden grapefruit and tamarillo trees in their kitchen gardens; spinach and cauliflowers and spring onion sprouting from neat beds. You buy a ticket to the Shivapuri Nagarjun National Park at a small booth, then continue the climb. Then a soothing sight for the mind and an excuse to rest the body: a big waterfall. The last building along the trail is a Nepal Scouts Training Centre, formerly a house where BP Koirala, Nepal's former prime minister, was once imprisoned under orders from King Mahendra. Although unintended, the building's location and history become a statement of sorts: This is the site where a man was exiled from society; you are on the border between city and the outdoors.
For a visitor today, that site marks an exit door of sorts, a way out from the confines of the Kathmandu Valley into the wilderness. Walking past that building, a Shivapuri Nagarjun National Park entrance ticket in pocket, it's as if you're free once again, moving deeper into forests, higher and farther from the haze-veiled city, closer to the mountains. The Sundarijal reservoir appears; its turquoise waters a welcome excuse for stopping. The Bagmati is beautiful here, unmolested, oblivious to the defilements awaiting her once she leaves the protection of the national park.
The next house that appears is one of several that make up Mulkharka, a small village of terraced fields, houses with protruding wooden balconies, corn ears hanging in them, looking like a huge centipede. Turning around, you see, framed in a 'V' formed by the ridges of two hills on either side of the ravine, the long corrugated tin roofs shimmering in the sun, splotches of green around them: Kathmandu. You notice that there are many more concreted houses now in Mulkharka. The 2015 earthquake turned most traditional stone-and-wood homes to rubble. A few survive, their sides plastered with earth, flaky and cracked in places, blackened in others by soot from wood fires.
A dappled trail through a forest of tree trunk to tree trunk moss carpeting, wisps of old man's beard hanging from branches. Scuttling feet that turn out to be a covey of kalij pheasants. Vultures wheeling in the sky. That is the hike for the next four to five hours after Mulkharka.
At the end of those hours of surrendering yourself to the wilderness you arrive in Chisapani. Like a bleached canine, Langtang Lirung peaks from behind a serrated range of black barren mountains, devoid of vegetation and snow. Other mountains are closer, larger, glaciers clearly visible. Beginning with Gauri Shankar in the east, there is an arc of Himalayan giants on the horizon: Dorje Lakpa, Ganesh, Manaslu, the Annapurnas. Chisapani itself is a gateway to longer treks, Gosainkunda and Helambu. But for people who are out in the wild after a long sentence in the city, the mountains, forests, blue sky and the night sky bejewelled with stars are enough.
The walk from Chisapani to Pani Muhan takes you through some of the best preserved forests around Kathmandu. You know that from the size of some of the oak trees, giants seven or eight feet wide, towering a hundred or more feet above the forest. The same trees keep most of the sunlight out, so you hike through a dark, somewhat foreboding, place. It's clear from the trail carpeted in leaves that this route does not see many trekkers. Only the presence of cow dung, stone steps and tangerine ribbons tied to tree branches to serve as indicators reassures you that the trail hasn't been abandoned altogether. For that reason, it creates the temporary feeling of being in a foreign land. Mere kilometrse from Kathmandu, you walk under ancient trees, savouring the patches of sunlight, familiarising yourself with this world, plotting your next escape from the city.        

The Hike: Sundarijal to Chisapani to Pani Muhan
Duration: For frequent hikers, the walk from Sundarijal to Chisapani is five hours. If you're not used to hiking and like to take it slow and easy with plenty of stops, give yourself at least seven hours. Irrespective of your hiking abilities, it's best to start early from Sundarijal to give yourself the maximum amount of daylight. Another reason for starting early would be to witness the sunset from Chisapani.
It will take between four to five hours for fast walkers to cover the stretch from Chisapani to Pani Muhan. Done at a leisurely pace, it will be a seven-hour hike.
Grade: It's a climb all the way from the bus park in Sundarijal until you enter the forest above Mulkharka. That is the only stretch on this entire loop that is strenuous. Otherwise, it's mostly a matter of length than difficulty.  
Getting There: Buses depart every ten minutes from the makeshift bus park south of Ratna Park in Kathmandu. Get off at the bus park in Sundarijal and head up the paved trail that runs parallel to the big water supply pipe.
Route: There are signboards at most crossroads on the trail between Sundarijal and Chisapani. You can also ask people for directions. After Mulkharka, there is only one trail that goes all the way to Chisapani.
A quarter of an hour before Chisapani, at the crest of a climb, there is a signboard beside a corrugated tin-roofed shelter. It points to a trail going west from the main trail. You will need to turn right if you are coming from Chisapani; coming from Pani Muhan, turn left and head downhill for Chisapani. It's natural to doubt whether you have taken the right turn because the trail doesn't look like it's used much. As long as you keep seeing tangerine ribbons of cloth tied to branches and the occasional set of stone steps, you are on the right trail. Half an hour later, you will arrive in a small grassy clearing with a tin-roofed shed and a row of small white memorial stupas. A motorable road crosses the trail here. Keep walking, across the road and into the forest. A post with several place names and arrows will tell you that Shivapuri Peak and Pani Muhan are to the west (straight). The next crossroads on this route will be a trail weaving up a hill. Continue downhill. You will arrive at Bagdwar, a small place with a stupa and some huts where ascetics live. No more turns needed after that. Follow the trail all the way down to Nagi Gompa.
NOTE: You can make Pani Muhan, the entrance to Shivapuri National Park north of Budhanilakantha, your starting point for this hike. However, there is a ludicrous rule that requires all visitors to hire a guide. That means an extra 800 rupees.
For some reason the mandatory guide rule is only applicable at the Pani Muhan entrance. You don't have to pay that fee if you walk up from Sundarijal.
The park also has a 'one entry, one permit' system. That means that you will need to buy a new entrance ticket for a new day. So even if you went only to Chisapani, stayed the night there, then came back down the same way, you will need to buy a new ticket for the return trip.   
Fuel for the Trails: There are no shops to buy food or drinks after Mulkharka. However, it's best to fill up on samosa and sel in one of Sundarijal's many tea shops before heading out. Carry plenty of water with you; there are no sources of drinking water after Mulkharka until Chisapani.
You will need to stock up on food and drinks even more for the hike from Chisapani to Pani Muhan. The only place you will be able to buy food and refill your water bottles will be Nagi Gompa, which is almost at the end of the day's hike. It's better to carry all your food and at least two litres of water per person.
National Park entry fee: Rs 57 (Nepalis); Rs 565 (foreigners)
Budget:  2,000 rupees per person
Reminders
Chisapani rules: Make sure you enquire of your hotel operator in Chisapani about their tariffs. Most hotels there have different prices for Nepalis and non-Nepalis when it comes to meals. Even a thermos of hot water, a complimentary gesture in many places in Nepal, has a price here. There is also a rule in some places that requires you to eat where you stay. Enquire, not assume, when in Chisapani.
Not a place for shortcuts: Remember at all times that you are in a wilderness. Although shortcuts may be enticing, stick to the main trail. There are plenty of cases every year of people taking a shortcut and then losing their way.
Lodging
Hotel Chisopani has tidy rooms with large windows, attached bathrooms and private balconies. The prices are reasonable and the staff friendly. Chisapani being a favourite weekend destination with Kathmanduites as well as the preferred night halt for trekkers heading to Gosainkunda, the village can be filled to capacity. It's always best to make advance bookings. Hotel Chisopani: 9818723924 (Reema Regmi).
Food
For snacks, head down the road from Chisapani toward a small monastery. Fifty metres from the monastery, on the right, is a shed with a blue door. This is Jiddey Budi's eatery. She serves the best stir-fried smoked meat and homemade millet wine. You won't have a dull moment at her place. Ask her about the Khampas or about her tale of the Chinese princess who brought chillies to Nepal as dowry. Her neighbour, a woman who goes by the name of Roshan Ki Aama, serves the best milk tea in the village.