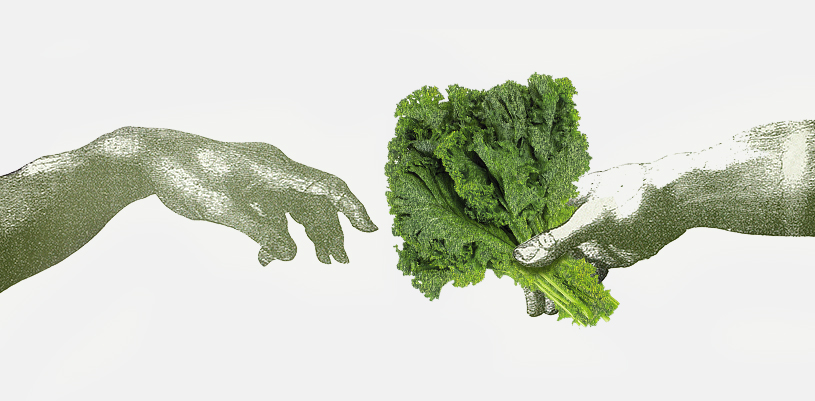 "Where will you get your calcium and protein from?" my mom asked me one fine morning with both skepticism and concern. I had just decided to go vegan; my reason for which was to become completely ethical. It all started when an abandoned calf died with his head on my lap just outside my parents' home.
I learned male calves are abandoned, in Kathmandu and in many places around the country, as they did not serve any purpose for humans, and sucked away the precious milk from their mothers. It is the milk for which the cows are reared for. These young calves and other old 'unproductive' cows then become dependent on garbage for food. Little do they know that plastic bags block their intestines, and they die a slow painful death.
The decision was a no-brainer for me. But I had no answers to my mom's question, which was simple yet loaded. This question followed me everywhere for months; my relatives as well as friends were worried about the decision I had taken; it was a decision about which people are still skeptical and critical. Whenever I tell people that I am a vegan, I have noticed that everyone becomes a 'nutritional specialist'. From what I ought to eat to why I should not stop consuming meat and poultry, these suggestions come with genuine concern. But some are so far from being true that they are preposterous.
A year ago, I was invited to a TV programme where the the significance of animal sacrifice and meat consumption during Dashain was being discussed. While the discourse was about meat only, there were two ladies in the audience, certified nutritionists, who kept on saying that we needed meat for survival.
It was incredible to listen to the babble of ignorance on national television. Being a vegan fitness instructor, this whole idea of vegetarianism and veganism inviting poor health was absurd. Indeed, majority of our population assumes that without meat and dairy products, there is not much left to carry your life on.
---
Being a vegan fitness instructor, this whole idea of vegetarianism and veganism inviting poor health was absurd.
---
However, there is a huge pantry of produce that vegans can easily get their nutrition from. It took me few months to map out my options, but once I figured out the kind of nutrition I needed, the and places where I could get them, it was a smooth road ahead.
Vegans are mainly scrutinised for lack of protein in their diet, but protein is incredibly easy to find. As you wander around your nearest vegetable market, you can easily spot many plant-based proteins like tofu, green leafy vegetables, green beans, black-eyed peas, mushroom, chickpeas, nuts, lentils, sprouts and kidney beans among others.
While cow's milk is the most popular form of milk, studies have shown that an cholesterol in blood increases when you drink high concentration of fat present in such milk. Tofu, orange juice, plant-based milk such as almond milk, coconut milk, flax milk and soy milk, broccoli, sesame, turnip greens and Bok Choy are some rich sources of calcium. Not only are these products good for your bone strength, but they also act as agents of detoxification working throughout systems of your body.
'Nature's Best', a Facebook-based enterprise sells these delicious homemade milk made from almond, coconut, flax and hemp. All you have to do is send a message on the page and order your choice of this rich calcium completely vegan milk.
Hummus ( chickpeas paste ), whole wheat, pomegranate, pumpkin seeds, kidney beans, raisins, pumpkin seeds, sunflower seeds are some of the richest sources of iron. Nutritional yeast which can be easily prepared at home is a rich source of Vitamin B12. At the same time you can also get B12 supplements from local pharmacies after consulting with your doctor for the best one.
It is indeed very convenient to switch to a vegan diet, especially if you choose to make your meals at home. However, there are a number of vegan and vegan- friendly restaurants in Kathmandu for eating out.
Places Restaurant & Bar, Saat Ghumti, Thamel (014700413) will pacify your tastebuds and hunger with servings of great vegan cuisine like pumpkin momos  in a relaxing environment.
Loving Heart, Boudha (9843042551) is a newly established restaurant which specialises in vegan food. For a quick bite, try their succulent veg rolls or momos filled with chocolate. Or simply enjoy a warm cup of soy milk tea in the presence of the main Stupa at Boudha.
OR2K, Mandala Street, Thamel (014422097) is an old name in the Nepali restaurant scene but their delicious Israeli and middle eastern cuisine only seem to get better with time. Try hummus with mushroom and Tahini or dig into one of their falafels while washing down the food with their unmistakably green tasting mint lemonade.