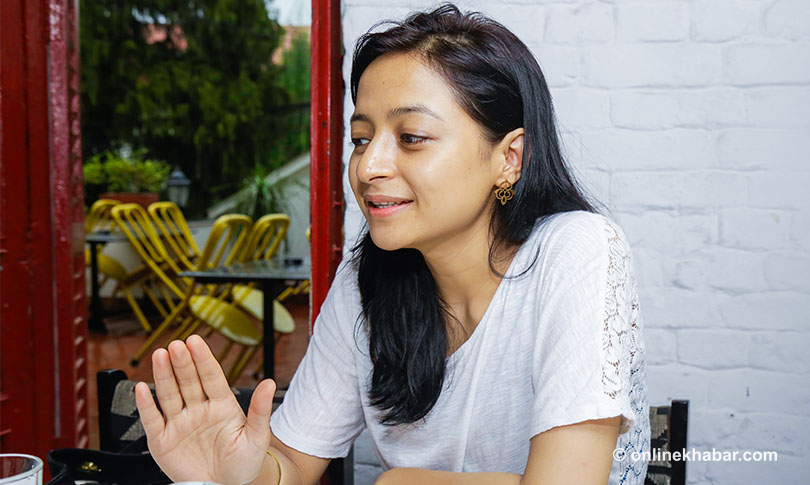 When Aayusha Shrestha returned home after completing her studies in India, she felt like a foreigner. She was attracted to the artistic images and designs carved on temples at Patan Durbar Square among other places of Kathmandu Valley. She was always excited to know what they signified.
But, it was disappointing. There was no one to answer her queries. She found some information from foreign sources, but she was in search of firsthand knowledge from locals.
"As I spent most of my childhood and early youth in India, I did not know what these images stood for," she says, "But later I realised that it was not only me. Every other youth of my age living in this city does not know the history and culture of Kathmandu."
Born in Kupandole of Patan, Shrestha was sent to India by her parents as they felt that the decade-long conflict disturbed the educational environment here. She went to school in Rajasthan and moved to New Delhi for higher education. She returned to Patan in 2011 with a Master's in Sociology.
"Then I really wanted to do something to learn and make people aware about our history and culture. We do not have a proper education system to handover our heritage to the newer generation and our culture exists only in the oral tradition," she views, "Therefore, I feared that our rich traditional practices may die one day if people do not realise its value."
Tiny attempts towards big goal
This is how Shrestha began her self-study in art and culture of Kathmandu. In the process, she learned that the heritage extends from big multi-storey temples to tiny artworks, and exists in many tangible and intangible forms.
"Then, I chose metal and handmade pieces of jewellery to launch my endeavour to conserve of our culture because I realised that every small piece of ornament has an interesting story," she remembers her four-year-long home-based research that majorly involved self-documentation, "But, the sad thing again is that most artisans had no time to retell those stories as they had to meet the demand of the market. They did not have a system to transmit their knowledge."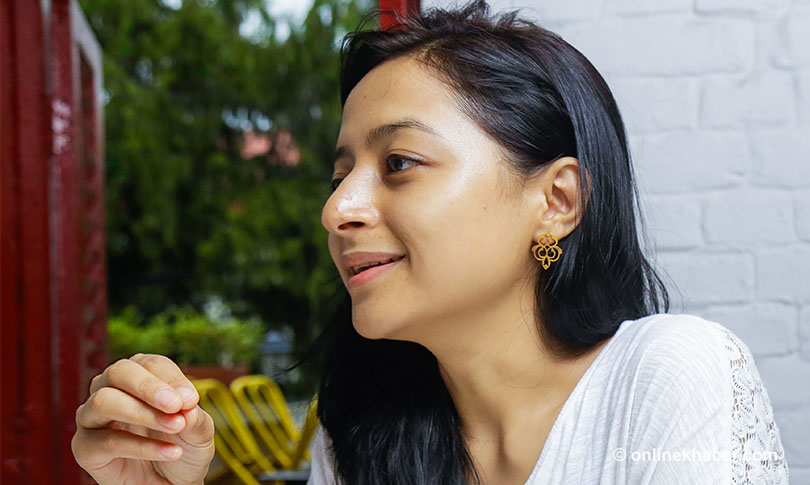 Therefore, she decided to produce easy consumer goods with cultural concepts and meanings and begin the journey with metal jewellery.
Meanwhile, her interest led her to the Kathmandu University School of Arts, Centre for Art and Design, where she majored in Graphic Communications. "As soon as I completed the degree in 2014, I realised that designing was easier than conceptualisation, but it is the concept or meaning of a design that really matters."
Since early 2015, Shrestha was planning to launch her 'business', but the earthquake on April 25 that year stalled her preparations for few months. Nevertheless, it was the earthquake that made her realise how important it was to transmit traditional knowledge and culture to the new generation before it would be too late.
"Many temples collapsed and many idols went missing. You could reconstruct it, but it might not be the same again," she shares her learning, "But, reconstructing it to the same structure is also a problem, you know. It is said that the same temple cannot be built twice and if it is done, it is considered faulty and ominous."
"So one option available to us to conserve cultural motifs these temples have been carrying for centuries is to replicate them in other pieces of art."
Therefore, she designed some pieces taking motifs from temples of Kathmandu and opened 'AAMO by Aayusha Shrestha' on October 1, 2015. She launched the business not at any geographical location, but on Instagram and Facebook simultaneously–the only marketing tools she has deployed so far.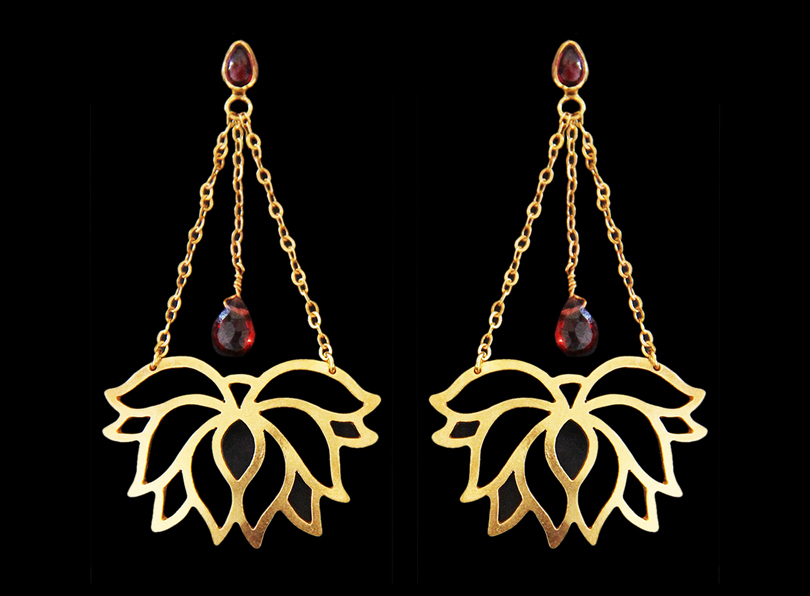 "After years of research, I was not sure if my products would sell much in the modern market. But, as a customer, I had felt a gap of authentic Nepali designs. No, I was not going to compete with any professional jeweller of the city," she says, "But still, I launched the project hoping at least I could convince my friends to use my products."
Anecdotes and odes
One of her first designs was Barsha, which translates to 'rainfall' in Nepali. It is also the name of her mother. Therefore, Shrestha took up the significance of rainfall in traditional culture of Kathmandu in her design and dedicated it to her mother.
Barsha is based on designs of Thangka and Paubha arts, which have been important parts of Buddhism in Nepal. Thangka is said to have originated in Tibet whereas Paubha is created by Newar people of Kathmandu. Shrestha has amalgamated the two aspects of Buddhist art in a jewellery set comprising earrings and a necklace.
Around the same time, she made Garima series and it includes 10 designs. Every design represents a story related to temples of Kathmandu that collapsed in the earthquake.
Another popular choice from her store is Shakti series. The series includes a dozen designs related to Hindu goddesses who are believed to symbolise shakti (power or energy). Almost all of her products have some story behind them.
Or, she produces them dedicating them to some gods, people or concepts. "It is meaning that matters more than the design itself," she reiterates.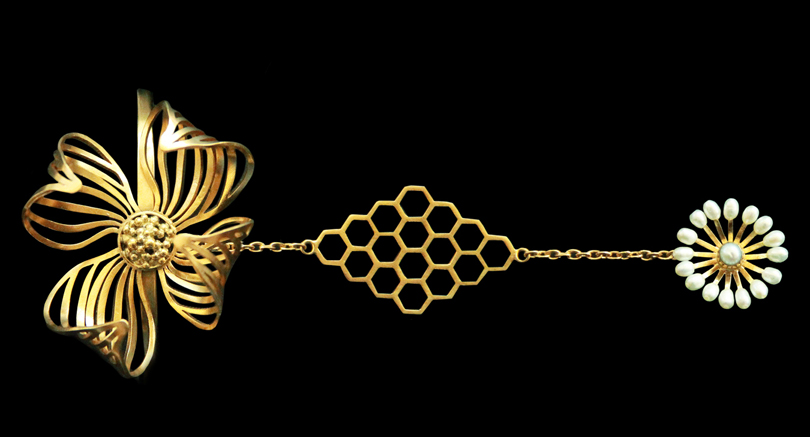 After the launch of her business, Shrestha has designed some ornaments based on orders by customers as well. They too have stories, different from her original plans, but equally interesting.
"I had thought that only people in late 20s or early 30s and above would be mature enough to understand what I am doing and purchase my products," she says, "But, to my surprise, some of my regular clients are teenagers and youth of early 20s. There are some elder customers as well."
"They come to me with interesting orders. They want me to carve names of their beloved on the jewellery. Some even want to reflect a romantic quote or an entire love song on a single piece of art. It is very difficult, but equally interesting, when people ask me to design an ornament to represent their years-long love story," the artist shares, "On such occasions, I spend hours talking with the clients to understand what exactly they want me to design."
Whereas Shrestha puts her own designs on Instagram and Facebook for marketing purpose, she does not make custom orders public unless requested by the clients.
The process
Shrestha's designing process takes time. It begins from an inspiration and ends only after traditionally trained artisans give a tangible shape to her concept. In between is the most important and most time-consuming task of research.
"Inspiration can click in my mind anytime, anywhere. I take pictures whenever I see anything interesting and they inspire me. Or there must be some event or incident; say some people said something about our culture."
"Then, I begin research. Mostly, I read about my inspiration online. I also teach design at the Kathmandu University and I use library at the Hattiban school to know more about my themes. News reports are also equally helpful," she says, "The duration of research is varied from one week to three or four years."
After that, she draws the sketch. "It generally takes me a whole night to do a sketch," Yes, Shrestha finds nighttime appropriate to concentrate on her concept, "Mostly I do it in paper, and finish on the computer."
Then, she meets the artisans and explains the design. "Because some of my designs are too minute, they may take an entire working week of an artisan. They work with commercial jewellers for livelihood. Therefore, I have to frequently put many of my designs on hold," she shares, "It feels both happy and sad when I open 'designs to work on' folder on my computer as there are dozens of concepts pending."
Future plan
Slowly but gradually, Shrestha's business is expanding. She is well aware that commercialisation kills artistic value. She also knows that she cannot survive on designing only. Therefore, she does graphic designing for other projects and teaching for living. It is passion that has been driving her off to this sector.
"No, I will not take my project to mass production. I will limit my every design to a maximum of 50 pieces," she says, "There are a lot of machines for mass production. I do not want my artisans to become machines in the name of expansion. The artists should know what they are doing."
Nevertheless, she has expansion plans. She is thinking of giving a try in similar consumer goods from wood and ceramics. She also plans to take other people together in the business.
"Most definitely, I have a long way to go. I have passion and courage to move ahead."