Two years ago, Rojeena Tandukar, 26, was desperately looking for a lehenga to wear to her friend's wedding which was a week away. She was unwilling to repeat the ones she had already worn, neither did she have enough money to buy a new one.
She then posted about her problem in a private group on Facebook. "I was searching for some thrift store, but could not find any. So, I posted about this on a women's group. I received some good responses from there and also got an idea to start a new group for this purpose only."
She then started a new group on Facebook, women-only, where they can buy and sell used clothes. By now, there are about 65,000 members in the group that has the motto of 'share, recycle, empower'.
Tandukar's experience shows how the culture of thrift stores is growing up in Nepal among the young men and women who are conscious of the value of money as well as the environment.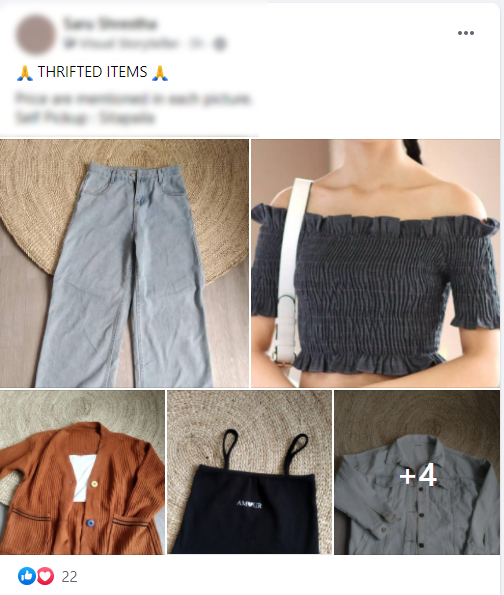 Growing thrifting scene
Thrifting culture, as a part of the pop culture, is very popular in western countries. It has grown as an established billion-dollar industry there. However, it has been just a few years since youngsters have been adopting this concept in Nepal.
Nevertheless, the growth so far seems promising. Apart from the Tandukar-led Facebook group, there are many thrift cloth stores, mostly online, in Nepal. That includes Nepal's Thrift Shop, Hamro Thrift Online Store, Nepal Thrifts, Easy Buy Nepal, Dohoran Nepal, and many others.
As per Tandukar's observation, about 100 posts are posted daily on her group for the sale of used clothes. "These posts are followed by an abundance of comments of the probable buyers," she claims.
An active buyer and seller of the very group, Samikshya Rana Magar, from Butwal, shares, "I had already sold my used clothes worth about Rs 20,000 and also had bought many 'thrifted' clothes from the very group. It is very cost-effective, also a sustainable way of being fashionable."
Sunaina Shrestha, the owner of Thriftmandu, started this store two years ago learning from how thrift stores work in other countries like the US. "When I figured out that I had so many unused clothes in my wardrobe and there was no place to declutter, I initiated this thrift store here in Nepal," says Shrestha, who an MBA graduate from the USA.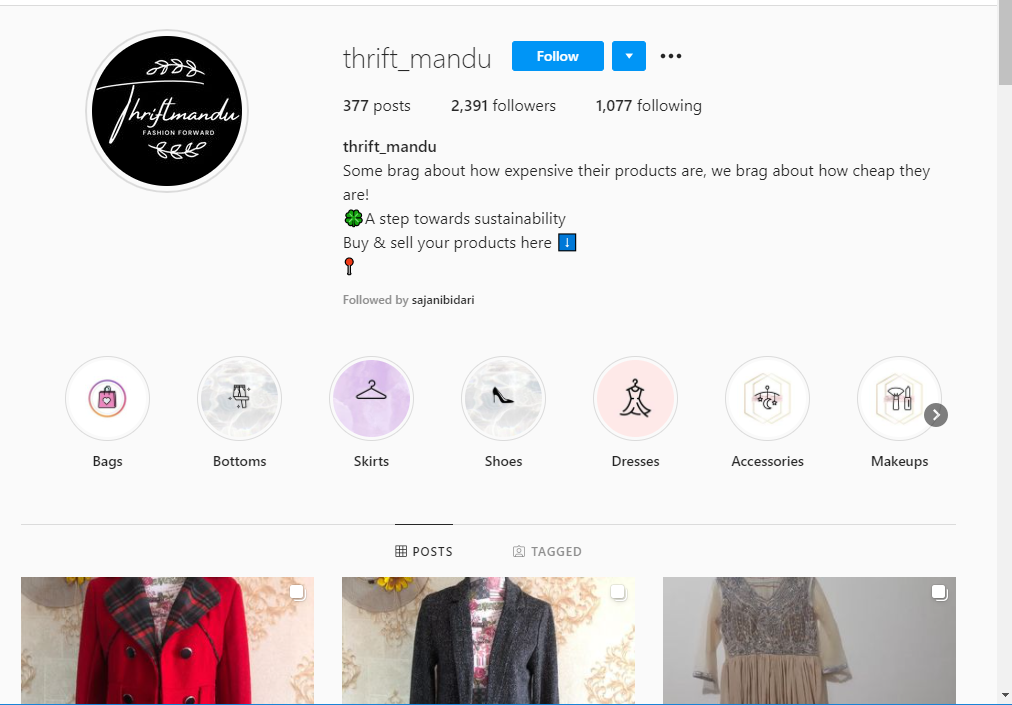 Shrestha also reports the number of transactions in her online store depends on how often she posts.
Further, she explains, "When I have lots of customers who want to sell their stuff, I post about 20 items or more on a single day whereas the average number of posts is a bit less."
Sneha Tamang, a 21-year-old student in Kathmandu, has also adopted thrifting culture like many other youngsters. She says, "I have bought many clothes from the group created by Tadukar, worth around Rs 8,000 in total so far. As one gets the clothes you want at half the market price, why should you go to the other market?"
The sustainable fashion initiative
Sunaina Shrestha, who is also a restaurateur and an educational counsellor, claims her thrift store is not just for profit but is also an initiation towards sustainable fashion.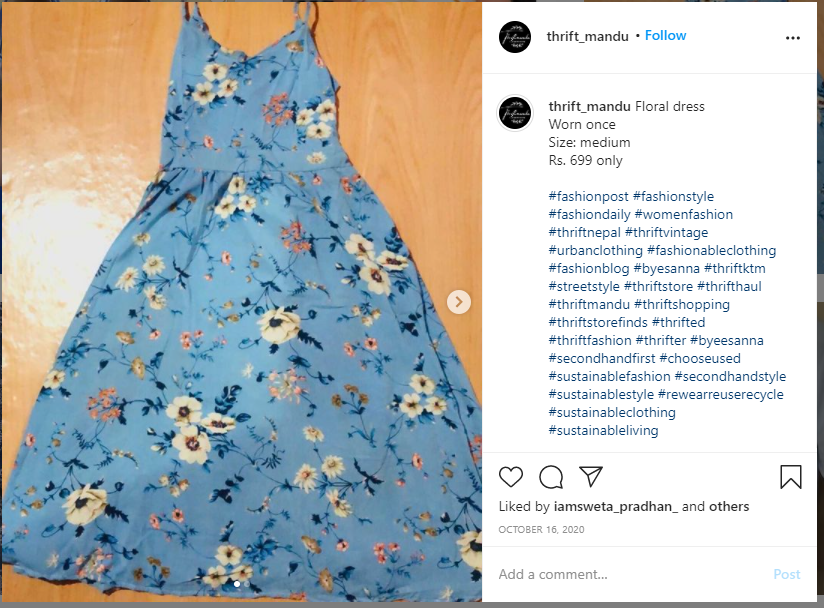 She explains, "We can see that every household has about 10 items more clothes than they actually need. So, our concept is, basically, making people reuse clothes then purchasing them."
She adds, "Because it is very likely that the clothes that do not fit me or that I don't like will be liked by someone else, and I may like something not liked by others, we don't have to buy a new one every now and then."
Aasha Adhikari, 22, a student based in Chabahil of Kathmandu, has been actively selling her clothes through a Facebook group. She also shares similar views, "Nowadays, youngsters do not like to repeat the outfit they had worn once or twice. They like to follow new trends in fashion. So, better than hoarding old clothes, one can re-sell those clothes at a discounted price. And, the others looking for similar clothes can get it. This way, both seller and buyer will economically benefit."
Contribution to environment
Environmentalist Rajan Thapa praises the idea of thrifting clothes as environmentally and economically friendly. He says, "Thrifting aids to the sustainable way of living."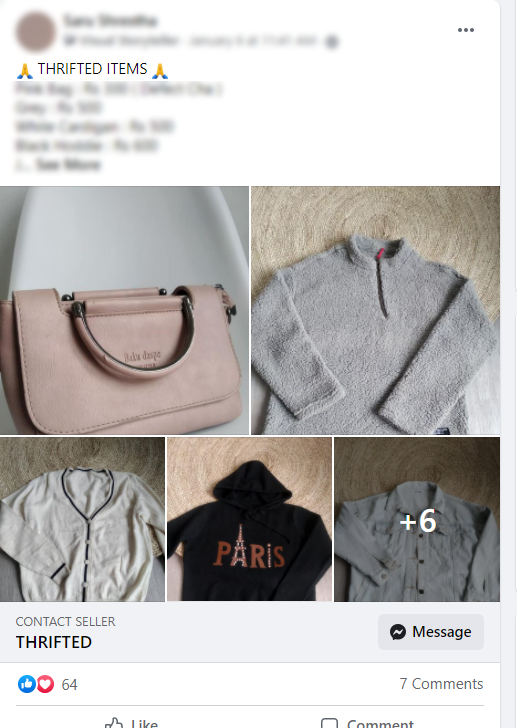 As the younger generation is more into fashion, they buy newer clothes to look trendy and the old clothes will be unused and later thrown as waste. But, when one practises thrifting, they will be economically benefited as well the un-used clothes will be shared."
Thapa thinks it is also an opportunity for those who are economically weak to sustain themselves.
When thrifting is done on an optimum basis, it will eventually decrease the quantity of textile waste. Likewise, in the case of Nepal, where most of the textile products are imported, their transportation itself causes a lot of pollution. Hence, thrifting results in a decine in the amount of carbon emission, according to him. Also, natural resources are consumed extravagantly in the textile industry. Through adopting the thrifting culture, less natural resources will be consumed, says Thapa.
Meanwhile, the promoters are still not satisfied with the growth of this culture so far. Sandhya Ghimire, the owner of Easy Buy Nepal, an online thrift store, views, "Online thrift stores are mushrooming, but a majority of them are not very appealing. Although they are affordable, I think thrifting hasn't matured enough in Nepal."
Ghimire thinks that if celebrities would start thrifting their clothes as well as buying from others, it will influence many citizens and boost the scene altogether.