In January 2020, Ramji Ram, a medical student at National Medical College, Birgunj, was ready for his fourth and final year examinations. A relief had crept in as he, a Dalit, was finally going to become a doctor. This, he felt, could set a precedent that even people from marginalised communities, like the Chamar community, if they worked hard, could make it in this capitalist world.
But, that joy soon turned into trauma as he was barred from the exams as he had unpaid dues. Something similar had happened to Ramji in the third year, after which he had to crowdfund to pay the fees and sit for the exam.
Ramji's case is not solitary. This has happened to a lot of other Dalits who have tried to study MBBS. Many have taken loans from banks, some have crowdfunded like Ramji while some, after losing all hope, have returned to their homes. Even though these students from the marginalised community get government aid to study, the journey to a degree is full of personal trauma and hardships.
Far behind
The government, aware of the hardships faced by people from the marginalised community, had said that it would provide scholarship and aid five students who wanted to study MBBS each year. Since 2015, only 10 students from these communities have received the aid to study MBBS. In 2015, only three enrolled to study MBBS. In 2016, the number decreased to only two. In 2017, the number increased to five and since then, no one has applied to study MBBS from these communities. The reason many say is that people from these communities do not get this information. Around 50 per cent do not even complete secondary education.
But, another argument can be put forward: the applications were not sent because of the hardships faced by the 10 students who had dreamt big enough to study MBBS in Nepal.
"These people don't even have a permanent roof over their head. How can they dream about sending their children to study MBBS," says Ramji. "Even if they want to, information about these scholarships and aid does not reach them."
Pankaj Kumar Ram, another student at National Medical College, questions how the government expects people from such a marginalised community to read the call for application printed on Gorkhapatra.
"There are 10 because we made people aware of this aid. If it wasn't for that, there would be no one studying MBBS from the Chamar community," says Pankaj Kumar.
The dreams deferred
Ramji's journey to becoming a doctor has been full of hardships. Having completed his SLC and ISc in the first division, he was hopeful about going to college. But, due to lack of funds, he had to put his dream on hold and came to Kathmandu to seek work.
"To collect funds for higher education, I worked at repair shops and as a labourer," says Ramji.
While working, he read about the government grant and sat for the entrance exam which he not only passed but got great marks in. He was stoked that him, a Dalit, was going to study MBBS to become a doctor.
The government's grant included free education and a stipend of Rs 5,000 per month. But, when Ramji started visiting colleges, they told him that he had to pay additional fees for a hostel, food, and library from his own pocket.
Ramji's excitement turned to disappointment when he began looking for colleges. He knew that, on a merit basis, he could enrol at any college. His first choice was KIST Medical College.
"Based on my appearance, they didn't even let me in," says Ramji. "They only let me in after I showed them the government papers which said I had passed in the entrance exam and received the grant."
KIST told him he had to pay an additional Rs 1.5 million if he wanted to study there. Disappointed and dejected, Ramji returned.
"I didn't even have sufficient bus fare in my pocket at that time," he says.
When he told them he could not pay such a huge amount, KIST told him to look for other colleges.
Feeling cheated, Ramji then went to the Education Ministry, the Dean's Office of the Tribhuvan University Institute of Medicine, University Grant Commission, Nepal Medical Council and Kathmandu's District Administration Office to seek answers. But, none of these bodies helped him.
"No one seemed to care, which is why I appealed to the National Dalit Commission for help."
Legal battle
Sitaram Ghale Pariyar, who was the commission's member secretary at the time, then filed a writ at the Supreme Court on Ramji's behalf.
Ramji says his case's hearing only started in January 2016 when it should have started around October 2015.
The verdict, when it came, was in Ramji's favour as the Supreme Court ordered KIST to enrol him. But, the IOM's Dean's Office, stating that KIST did not have seats, decided to send Ramji to Birgunj to study at National Medical College where two more who had received the grant–Pankaj Kumar and Rukesh Kumar–had been sent.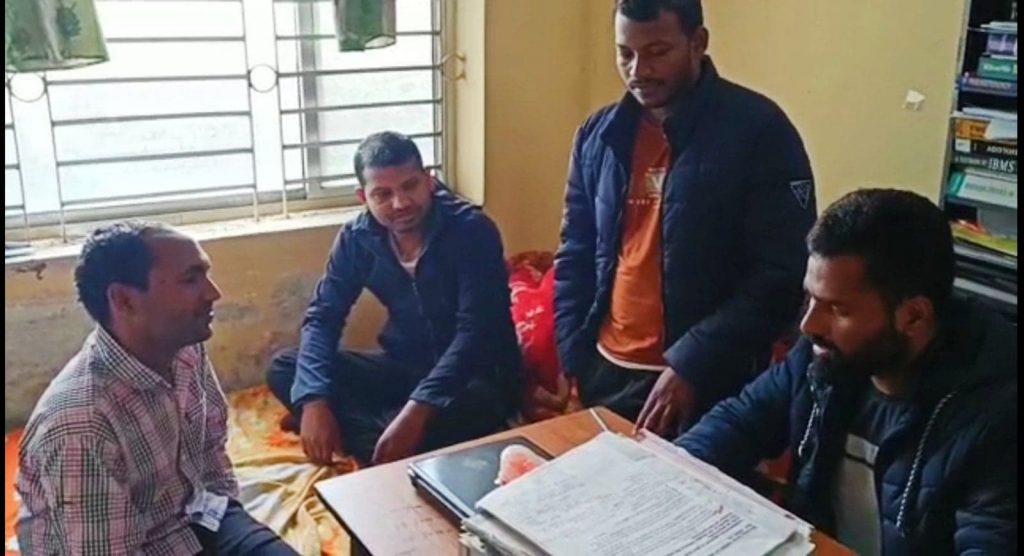 "I realised the importance of money that day," says Ramji.
Dispirited, Ramji went to Birgunj where he faced another hurdle. He had no idea that even though he had received the government grant, he still had to pay additional fees as it was mandatory to stay in the college hostel.
"The UGC had given me a grant through which I paid the college Rs 272,500 (for hostel, food, library, admission fee and exam charges), after which I was enrolled in the college," he says.
Ramji said that apart from the hostel and food costs, the other charges were illegitimate and he should not have been made to pay for that.
He is right. The decision made by the Council of Ministers in 2015 stated that medical colleges could not take excess fees like that for the library, admission, medical council and laboratory fees.
In a bid to save money, he even asked the college if he could stay away from the college. He wrote many applications but the college denied all his applications.
As soon as the first year ended, the college started to ask for the same additional fees.
"I begged and borrowed and submitted these additional fees for the first two years. But, the same thing happened in the third and fourth years and I had no one to ask for money," he says.
Breaking bars continuously
Not being able to pay the fees meant that Ramji would not be able to sit for the exams. His friends, Pankaj Kumar and Rukesh Kumar, were also barred.
The additional fees started to get out of hand when they reached the third year. The college started taking Rs 20,000 per subject if they failed in theory and Rs 10,000 if they failed in the viva.
Ramji and Pankaj Kumar always passed and never had to pay these absurd fees. But, Rukesh Kumar failed in one subject in the second year and was not allowed to sit in a third-year class at all.
Ramji and Pankaj Kumar, who did not have money to pay the additional fees in the third year, were not allowed to submit their exam forms.
In a bid to challenge the college's decision, both Ramji and Pankaj Kumar started to visit the Education Ministry, the UGC, and the IOM.
But, they got no help.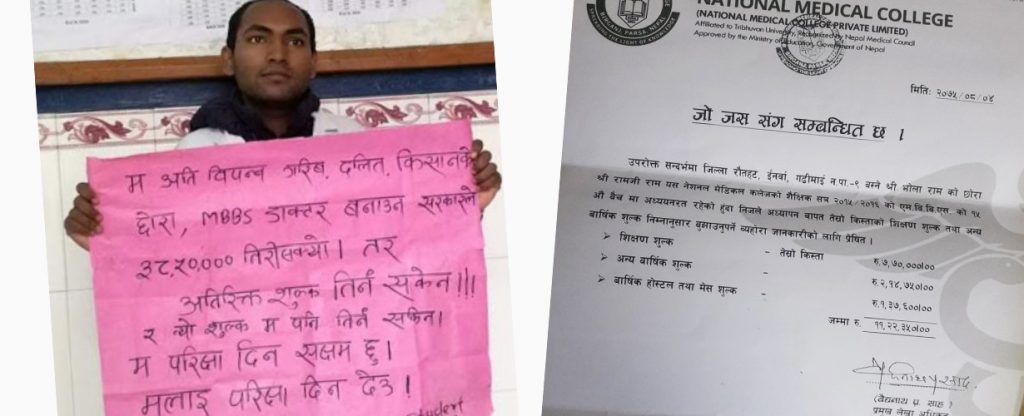 Someone told them to seek help from the Province 2 government, and they wrote an application.
The provincial government helped a few of them. Dinesh Kumar Marik, Pramod Kumar Ram, and Rukesh Kumar Ram got the aid of Rs 350,000 each, but Ramji and Pankaj Kumar did not get a penny.
That meant Ramji and Pankaj Kumar missed the finals of their third-year MBBS exams.
With no help from the central or the provincial government, Ramji and Pankaj Kumar then went to banks to get education loans. They had read about the government's scheme, in which Rastriya Banijya Bank was offering loans at a subsidised rate to students. But, the bank refused as they could offer no collateral.
"We told them we'd repay them after we graduated. But, the bank was not interested," says Pankaj Kumar.
Not giving up, Ramji and Pankaj Kumar kept on trying. They went to various banks seeking a loan. But, none of the banks was interested. They took a loan of Rs 5,000 from different people. But, they still needed more. Their final hope was crowdfunding.
"We wrote to Routine of Nepal Bandh and they posted it on their page. We were able to collect the remaining money overnight," says Ramji.
Both Ramji and Pankaj Kumar are thankful for crowdfunding as it has also helped Rukesh Kumar pay these additional fees.
The fourth-year finals were around the corner, but Ramji and Pankaj Kumar had not even taken their third-year exams. They had not even gone to the college properly in the last year as both were in desperate need of money.
"We had prepared quite well even though we didn't spend much time in college," says Ramji.
After their complaint reached the Education Ministry and the UGC, both bodies went to National Medical College to seek answers.
"When both of them came, we were allowed to sit for our third-year exams," says Ramji.
Things were not different during the fourth-year exams also. Both Ramji and Pankaj Kumar had been barred from filling the exam form as both had due remaining.
In hope that they would be allowed to sit for the exams, they wrote again to the IOM. But, the IOM told them it was not its issue and asked them to go to the Medical Education Commission.
"They told us to prepare for our exams and promised us that they would deal with this issue," says Ramji.
Uncertainty still persists
But, with things uncertain, neither Ramji nor Pankaj Kumar could concentrate and prepare for the exams. In a hope that things would move faster, they went to the Medical Council and also met TU Vice-chancellor Dharma Kant Baskota.
The decision only came one day before their exams., for which they were not prepared.
"We were only told one day in advance. You can't imagine the pressure we went through," says Pankaj Kumar.
But, both of them still went ahead. When they tried to enter the examination hall, they were asked to stay out by IOM's representative Yagya Raj Rai.
"He told us guidelines hadn't been met for us to sit for the exams," says Ramji.
That broke both of them, as both Ramji and Pankaj Kumar, had put in a lot of effort, first to prepare for the exams, and second to fight for the right to give the exam. But, after the news of this reached the Medical Education Commission, they were allowed to sit for the rest of the exams.
But, they were not pleased as both Ramji and Pankaj Kumar, who were not allowed to sit for one exam, had to endure a year's loss.
"How is this fair? They have wasted our time. Why hasn't the IOM said anything," says Ramji.
Ramji, Pankaj Kumar and Rukesh Kumar are still worried if they will be able to complete their MBBS this year. But, they want to carry on fighting for the cause as they feel this is right.
"We want to do this for our community. There hasn't been any one who has completed MBBS and become a doctor. We have a lot of people's hope behind us," says Ramji. "We don't want to let down the people who have supported us. Nor do we want to let down the government. We are fighting for what is right because we want to make people proud."