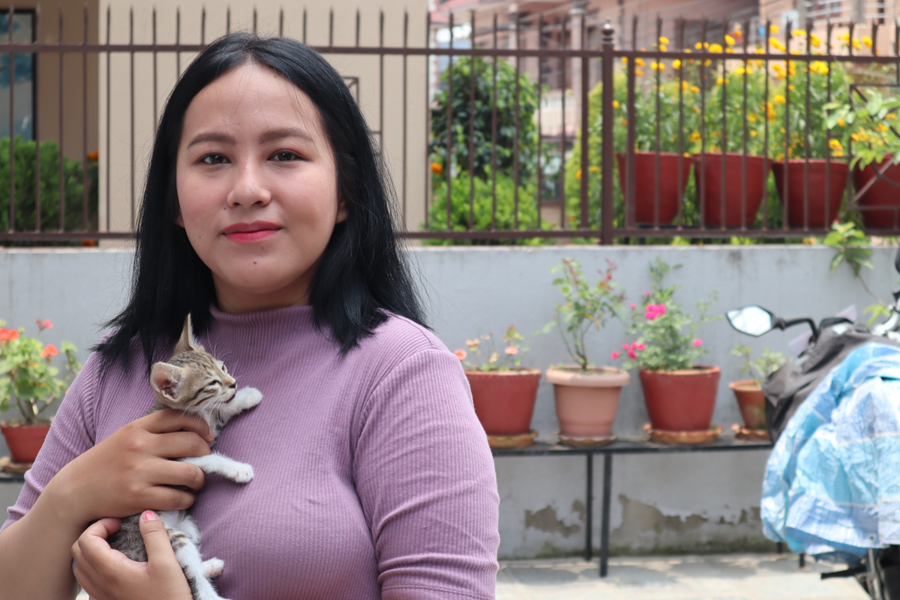 "I'll make no secret of my dislike for cats; frankly, never liked them.  On the one hand, I love dogs, even had them as pets. For me, the reasons remain simple–they obey. Tell them to come–they come. Ask them to go–they go. Command them to sit–they will. They are just wonderful– but cats–no way! I consider them the dumbest of all pets, you can keep."
That's how I was explaining my dislike for cats to Shristi, but she did not so much as bat an eye.  She smiled, instead and told me that she had come to ask me if I could do a story for her on . . . of all things–cats!
They call themselves Catmandu Lovers. Sound quirky, huh? But their objective did not appear a bit harebrained–not in the least. It's a home-based organization, which has dared to take up the challenge of providing shelter for orphaned homeless kittens–feed them, groom them, raise them and last but not least, love them. And Shristi Sherchan seemed hung up about it.
The motivation and goal
Catmandu Lovers is the brainchild of a Singaporean lady called Norfaizah Ramli, better known among her friends as Richi. Prior to starting this venture, Richi did a short stint at KAT(Kathmandu Animal Treatment Center)–a non-profit humanitarian organization committed to the welfare of animals, especially stray dogs.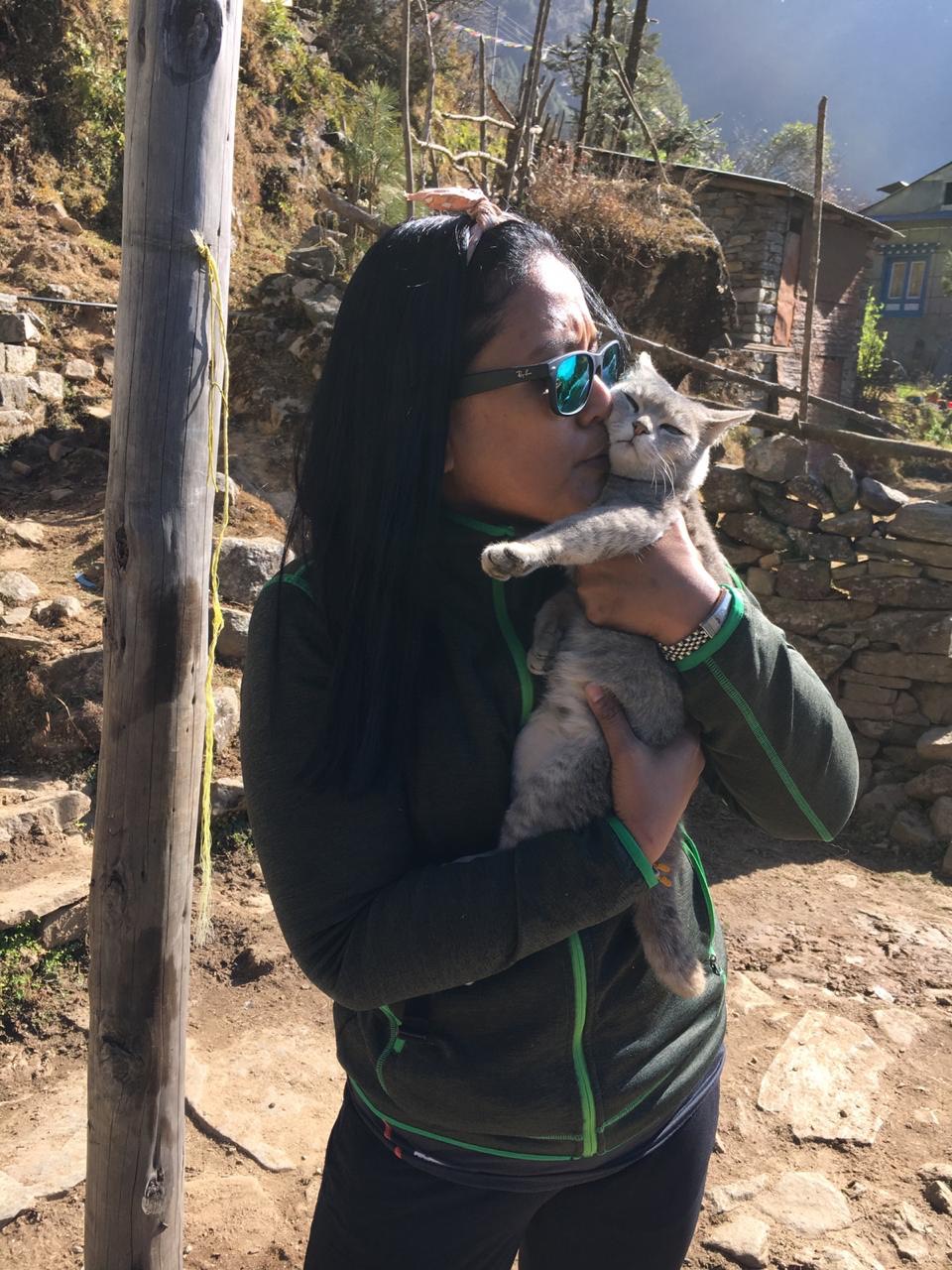 During the devastating earthquake of 2015, Richi rescued 18 kittens and took them under her care. And the year saw the cornerstone laid for Catmandu Lovers. Soon, Neha Dongol from Lalitpur, who also worked with Richi at KAT, joined her campaign.
"Richi was extremely good with handling cats and kittens and she realized that the kittens would have a slim chance of surviving at the KAT Centre since they needed intensive care and the staff always had their hands full attending to mostly puppies and adult dogs, some seriously injured.  She needed to step up and do something about it," Shristi explained.
The goal was set. Their prime objective was to raise the orphaned kittens until they were strong, healthy, and thriving after two months of intensive care–and, finally, put them up for adoption. When Shristi ran into the duo-benefactors, she too got hooked on to the idea. It looked there was no looking back for Catmandu Lovers after the three joined hands.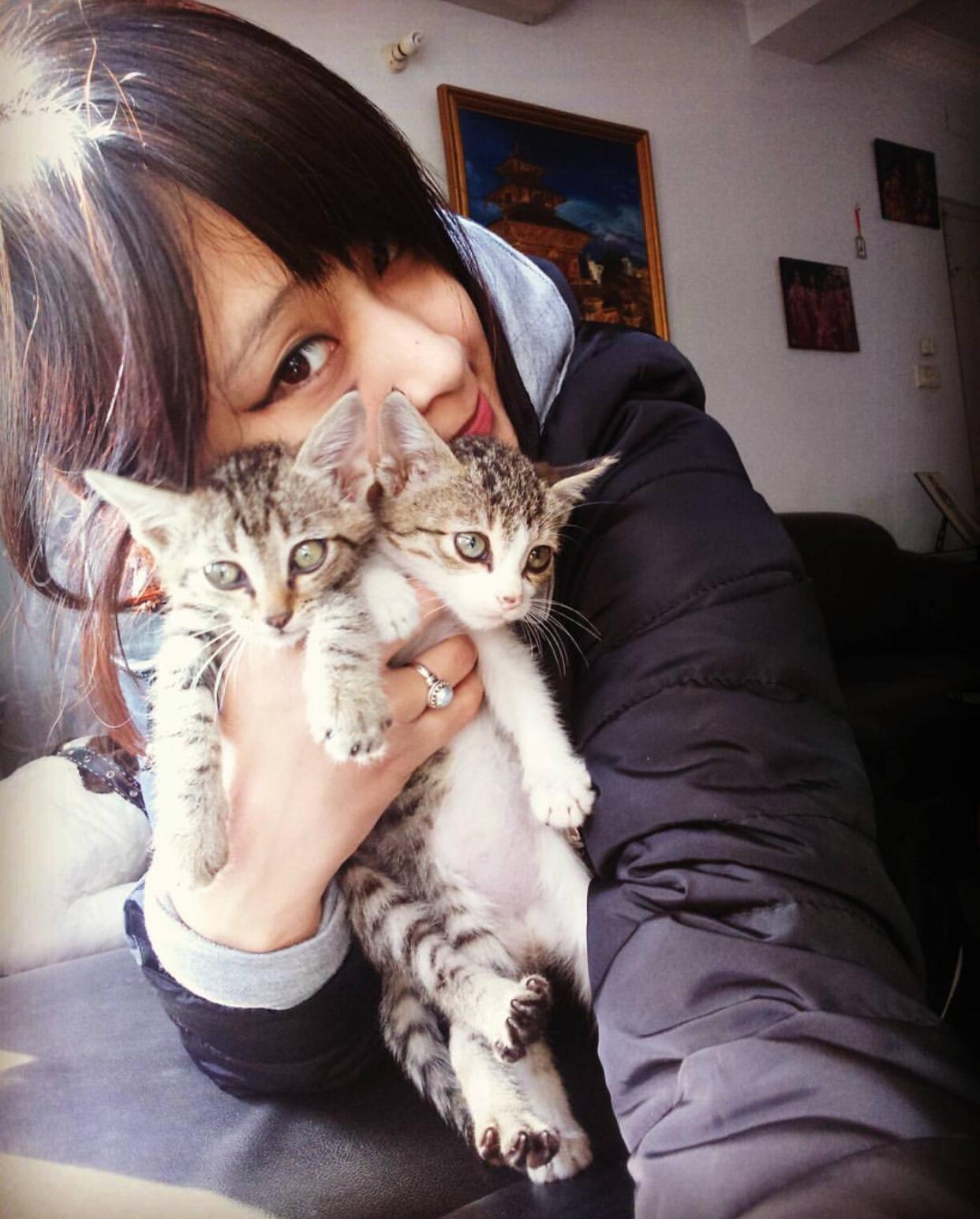 Shristi Sherchan, now 21 years old, was born in Butwal but moved to Singapore at the age of two with her parents. A graduate of, Bartley Secondary School, Singapore, she moved back to Kathmandu to do her A-Levels.
Shristi's father, a resident of Syaulibang, Pyuthan, Midwestern Nepal, works for the Singapore Police. "My father will officially retire from the Singapore Police in December 2019 and the prospect of living life back in homeland Nepal really excites him," says Shristi.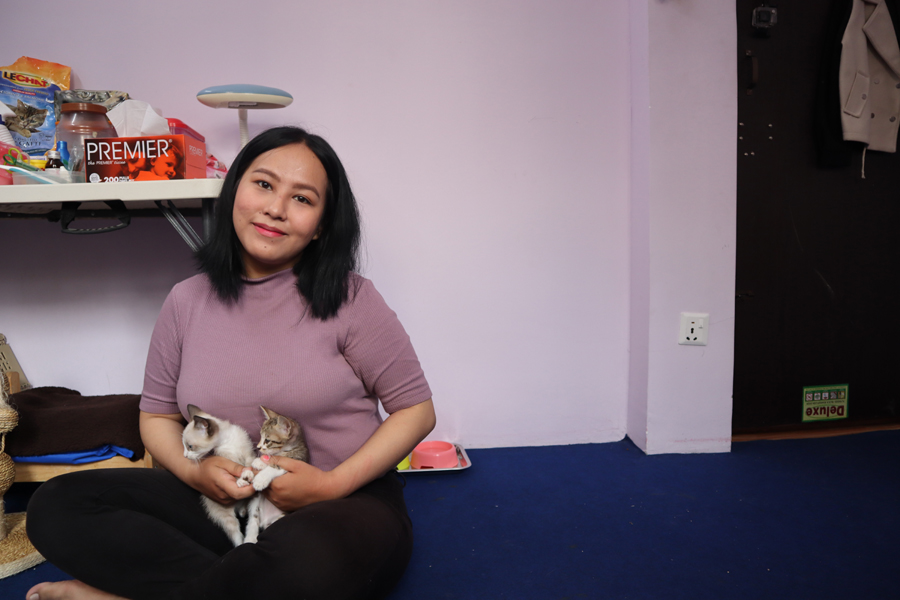 Shristi's love for stray puppies and kittens was innate right from her childhood. Talking to this scribe, she reminisces, "During my stay in Singapore, I visited Nepal with my brother during holidays. I still remember picking up stray puppies in the street and taking them home. That really gave my grandparents a headache. How I'd always dig into my heels despite the big fuss and strong disapproval shown by all the members of my family." She paused to laugh.
"Once, after a row with my family members over my having brought a stray puppy at home, as I sat outside our house gate with my great-grandma, she fondly held the puppy folded in between her lungi." Although she is no more, it still feels like only yesterday." Shristi seemed to sound very nostalgic.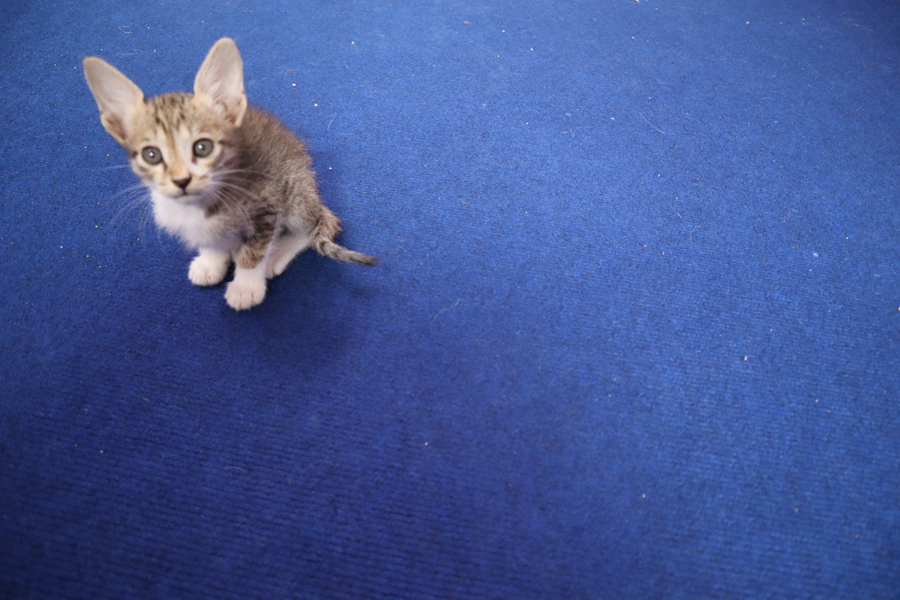 Why kittens
To my question why kittens, she said, "to start with, we focused on kittens alone as there was no organization to address the problem of abandoned kittens.
Instances of newborn kittens, both domestic and feral, dumped in trash bins, the roadside garbage mounds, along riversides or just abandoned by their mothers seemed to spiral up at an alarming rate. KAT does provide for cats, but they normally take care of the grown-ups."
Normally, a mother-cat cares for her newborns until they are eight to ten weeks old. It's been, however, found that a mother-cat may reject and abandon some or all of her litter if either she or they get sick. What Catmandu Lovers are doing is to provide foster-homes for such kittens and care for them.
A shaky start 
Shristi named her first adopted kitten, Luna. The kitten had a new home. Fortunately, even her family accepted the tiny feline guest. Shristi went to great pains to keep the kitten hale and hearty.
She recalls getting up at midnight many a time to check on Luna to make sure she was doing fine. The kitten purred softly and rubbed her nose against her fingers when she stroked her. Everything seemed good and Luna too seemed to enjoy the moments spent with the family,   but it looked like . . . it was not to be.
After three weeks of a blissful time, Luna fell ill. Despite Shristi's every effort, she passed away in her lap. The love and affection of her family for Luna seemed profound too. To quote Shristi in her own words:
"When the kitten I fostered passed away right in front of my eyes, it was the most difficult week of my entire life. I never knew a tiny animal could become such a significant part of my life. My parents took it hard too as they had grown fond of Luna and I often made them babysit for the little kitten when I was away from home. I still recall my mom crying when Luna breathed her last," Shristi sounded sad.
Hard work
For Shristi, looking after new-born, small, frail kittens was definitely not as easy as falling off a log.  Since Catmandu Lovers provides shelter to solely small kittens hardly one week old, mostly malnourished, the work is demanding and requires literally round-the-clock care and attention.
The care includes bottle-feeding the kittens every two-three hours, day and night. They need to be kept warm and checked every few hours. The work is extremely challenging as the orphaned kittens are fragile and are denied of the nutrition and the 'passive immunity' from their mother's milk.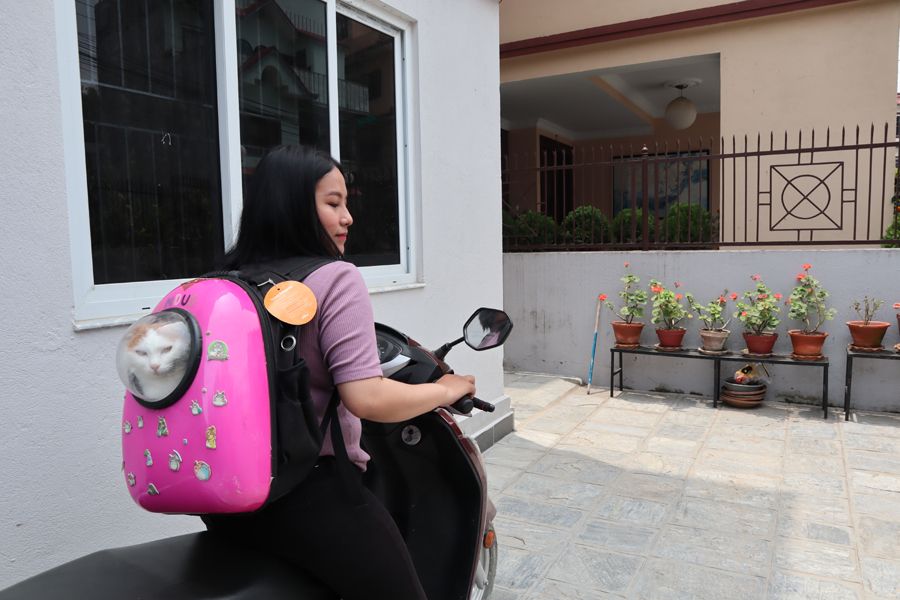 Sterilization
Today, sterilizing (neutering/spaying) or euthanizing the kittens has become the order of the day globally–because the world is bursting at the seams with cats. In the United States alone, an estimated 60,000,000 homeless cats roam the streets–most are feral but many were once lovely pets no longer wanted and dumped with no compunction or conscience to fend for themselves.
"We always make sure that the kittens after they have been adopted are brought back to us when they are five months old for vaccination and sterilization. For us, sterilization is very important as a female cat can give birth three/four times a year from two to eight litters at a time," Shristi explained.
"When people come to us, they are afraid that sterilizing may cause their cats to be more aggressive and may fall to behavioural change. But actually it helps to tone down their aggression and the kittens continue to hold fast to their older selves. Sterilization also helps prevent diseases like cancer, feline leukemia and feline AIDS," she further elaborated.
After the sterilization performed at Animal Nepal, a non-profit organization promoting animal welfare in Nepal, we hand them back to the respective owners," Shristi informed me.
High mortality 
Hand-reared kittens without their mothers' milk are, thus, subjected to an immature immune system and fall prey to an intimidating mortality rate. The death-rate among hand-reared kittens under eight weeks may go as high as 40 to 70 per cent.
"We work hard to act like their moms and feed them with kitten milk-replacer (complete diet milk powder), which are mostly donated by friends and supporters. Despite every effort made at saving them, it's awfully heartbreaking to see them breathe their last in front of our eyes" Shristi spread out her hands clearly looking helpless and upset.
"Whenever I felt devastated, the thought that I at least tried my best to provide them a loving home offering them a fighting chance at survival instead of leaving them to die out in the streets eased my conscience," Shristi said with a sigh.
Setbacks
Apart from the hardships faced, the home-based Catmandu Lovers (one at Tokha and the other at Bhainsepati), often run short of funds. "Our work is supported by sincere supporters and friends, but what we get as donations hardly meet the costs. There are times when we have to bear the costs ourselves to run our care-homes," lamented Shristi.
"Recently, we launched the concept of a Cat Hotel, which has helped a bit to sustain our work. The Cat Hotel provides food and board with foster-care for the kittens upon payment of a certain fee when their owners are away on holidays, work or out of the country for a short period and can't leave their pets to themselves," she explained.
A visit to Shristi's
Obviously, a visit to Shristi's house, located on the way to Tokha, seemed right. Wow! Shristi really seemed to know the ropes as to how to look after the kittens. She had four kittens in a room, not caged, but free to roam around.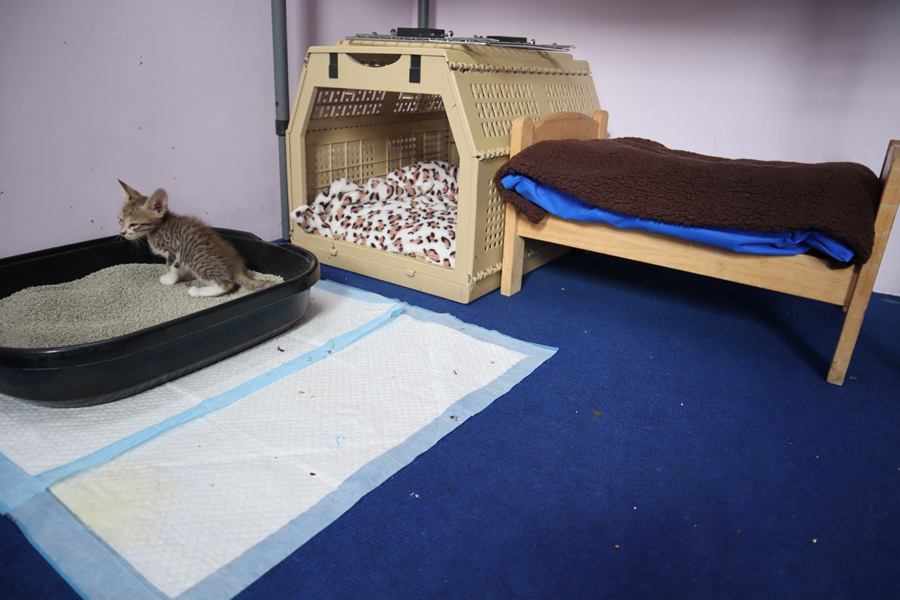 The spacious room had a litter box filled with sand in a corner for the kittens to urinate and defecate. There was no tell-tale sign of cat-poop or wet spots in the room. That meant the furry little creatures were properly trained by Shristi to use the litter box.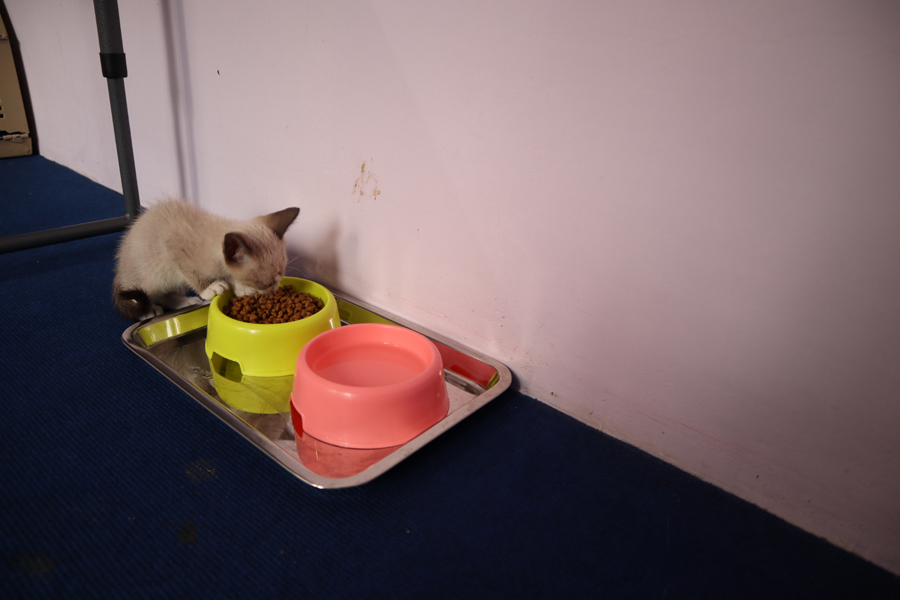 A pet-carrier with its open front sat near the wall and doubled as a carrier and a bedroom for the furry beauties. A mini-bed stood right next to it.  A pet feeder with the kitten food and a water bowl sat a little farther away. To me, nothing seemed lacking in the careful handling of the kittens.
"At times, some kittens need to be put in quarantine owing to illness. In such cases, we seek the help of a Vet," Shristi told me. I enjoyed watching the kittens dart playfully around as Shristi talked with me. Suddenly, Shristi broke into unrestrained giggling. One of the frisky little devils bounded over and clambered up onto the back of my head.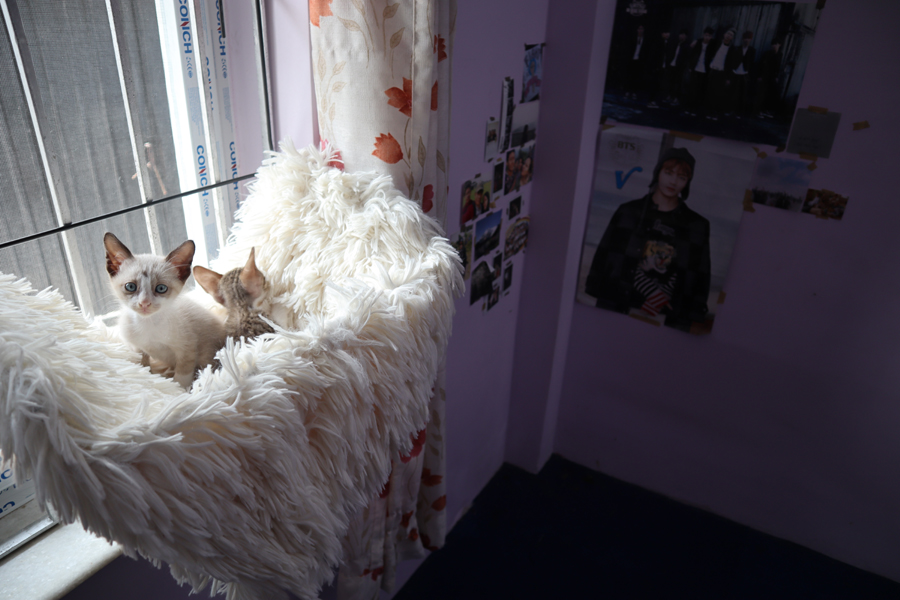 Shortly, I noticed something suspended by the window. Surprise, surprise! It turned out to be a hammock for the kittens. As I was about to leave, Shristi slung a backpack and showed me to the gate. She was also leaving as she had to see a vet.
When I looked at the bag, it left me open-mouthed. A kitten stared back at me from what appeared like a window built into the bag. What on earth was that?  Shristi told me that it was a capsule backpack, a ventilated and cosy bubble window bag made especially for pet cats for hiking, travel and outdoor activity. Wow!
The pleasant tête-à-tête with Shristi lasted a little more than an hour. As I was about to leave, she asked coyly, "Would you still dislike cats, uncle?" That really put me off my guard. To my answer, maybe not, she let out a loud guffaw.
"One more thing, uncle," she continued, "contrary to popular belief, cats can be trained too, equally as well as the dogs. They can be trained to perform even a 'high-five'. No kidding!" I grinned back sheepishly and left.
---
To adopt or donate, contact: [email protected]