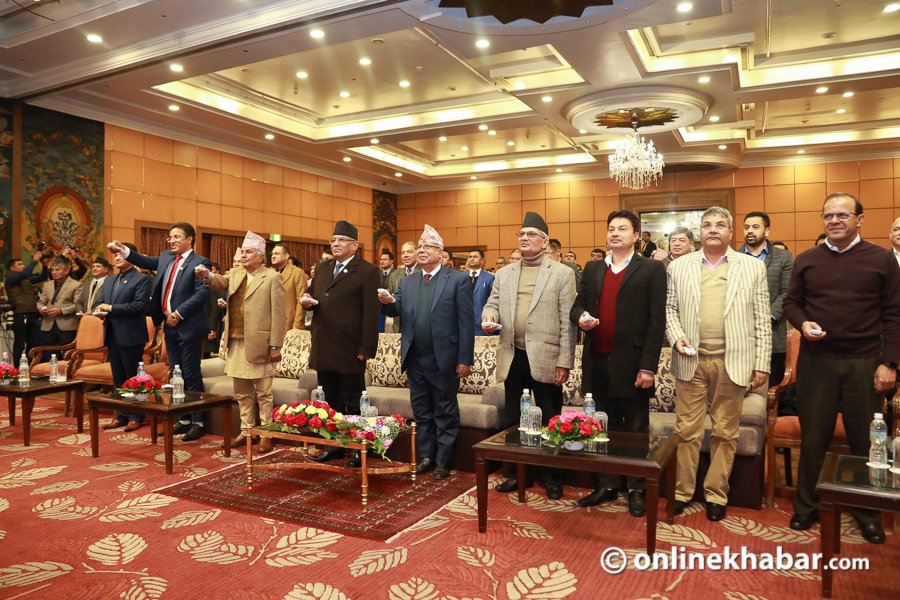 Ladies and gentlemen,
All of you would know that our team has been leading Nepal's digital media industry through Onlinekhabar for the past 12 years. Building on the skills and capital that we earned during this period, we took charge of Himalaya Television six months ago. This means that Onlinekhabar is the foundation stone for the new journey that Himalaya Television is about to begin.
The era of television
Our position in Nepal's media industry is comfortable, as Onlinekhabar is the country's number one digital media outlet. In this context, many people have asked me why our team decided to enter into the television industry even as the world moves toward a digital era. Let me answer that question here.
We believe that we have sufficient grounds to justify our decision in the Nepali context. We believe the real era of television has just begun here. There are some fundamental indicators to prove our claim.
With the beginning of digitisation, the level of certainty about the availability of high-quality pictures has increased. Independent researches have shown that around 45 per cent of the people of the country still depends on television as their first source of information.
It is only been a few years since electricity, an essential condition for watching television, became available round the clock. Access to power is becoming easier in remote villages thanks to solar energy and rural electrification campaigns. Meanwhile, TV sets are becoming cheaper. Our brothers and sisters who work abroad have also helped their relatives back home get quality TV sets. Overall, television has just started becoming accessible to the general public.
If people who have easy access to the TV screen do not get to watch quality Nepali content, they will for sure be compelled to look for foreign alternatives. Therefore, our challenge is to show the audience programming that suits their interests and needs. I believe that if we can cater quality content to the audience, television can become the strongest medium, and I think we can make it.
Now let me highlight our priorities. As I said earlier, we want to address the expectations of citizens, which have evolved with the change in our politics. We want to institutionalise newly-formed governing mechanisms and mediate the conversation between the citizens and the state. We are a dependable and credible stakeholder in the campaign towards peace and prosperity.
But all achieving all this is not devoid of challenges. We see challenges and opportunities in giving newness to the television experience.  Himalaya Television presents itself as an infotainment channel so as to turn the challenges into opportunities. That is why we have set four priority genres: news and news-based shows, entertainment programmes, world-class reality shows, and live sports.
Number one in year one
We will present news and news-based programmes as the voice of the voiceless. Our content will be about the daily life of the people. We do not believe in the journalism that shouts; we believe in credible reporting; it is our motto. I would like to assure you that our news, curated by an editorially independent team, will instill positive energy into the audience and motivate them for creativity and innovation.
Considering the interest of the general audience, the TV will air entertainment content at 8 pm, TV's prime time. You will be watching quality content made in Nepal based on the formats that have won the hearts of millions of people worldwide.
We have accorded equal priority to live broadcast popular sports such as cricket and football tournaments. We conducted a successful test of high definition transmission with the live coverage of Pokhara Premier League last year. We are now keen to add other leagues to our high definition series.
Let me assure you that Himalaya HD TV will not just give you high definition audio and video; our premium content will also be of 'high definition', full of Nepaliness and Nepali voices. We will be a robust voice of the citizen.
Nepali viewers also have easy access to video on their phone. Changes in distribution technologies are apparent, but the audience's demand for and interest in original content has been stable. Therefore, our emphasis will be on original and quality content creation.
Based on the skills and experience we earned in the digital media industry, we have made some audience-friendly decisions. Now onwards, there will be a three-minute ad cap on news bulletins. The 'boring' ad breaks on news bulletins have been reduced to one-third of what is generally seen on TV these days.
Dear audience, without a doubt, we are ambitious. Our ambition is to establish ourselves in your hearts as a dependable news medium. We are working with a target of becoming Nepal's number one television channel on all indicators within the next year. We expect longterm cooperation from the audience, advertisers and other stakeholders in the making this the new era of television.
(This is a translation of Himalaya TV Chairman Bhusal's speech at the launch of the TV's HD broadcasting in Kathmandu on Sunday.)