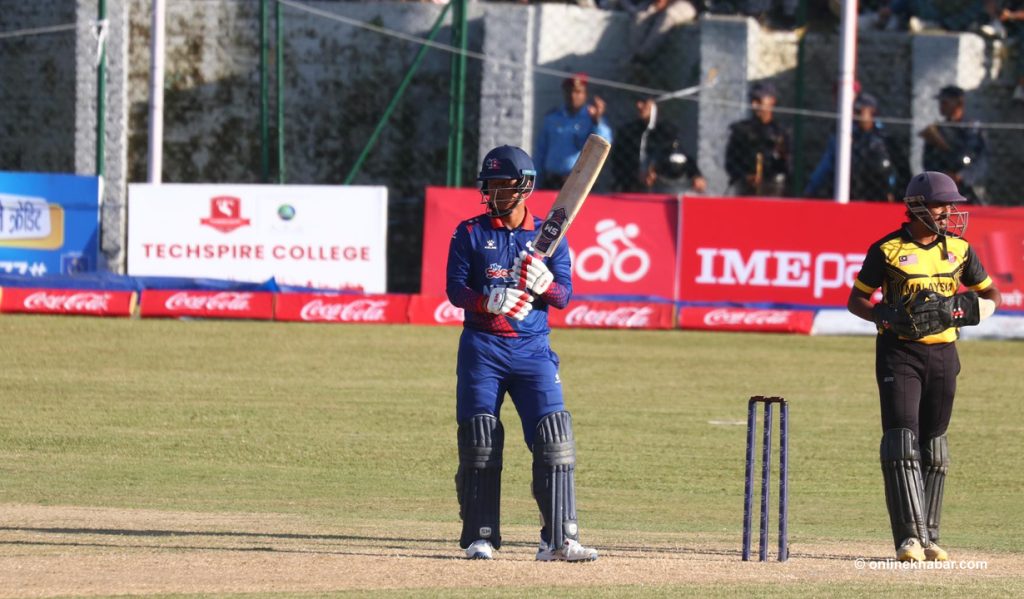 Kathmandu, October 31
Nepal continued their impressive start to the T20 World Cup Asia Qualifier by beating Malaysia by six wickets at the TU Cricket Ground on Tuesday.
The win came thanks to some explosive batting from Kushal Malla who took on all Malaysian bowlers hitting a 25-ball half-century.
Prior to that, Malaysia won the toss and chose to bat first and got off to a fast start with Syed Aziz and Zubaidi Zulkifle taking on the Nepali bowlers' poor bowling. The two managed to put up a 58-run stand, but when Zulkifle was dismissed, a flurry of wickets followed.
Abinash Bohara and Sandeep Lamichhane turned the game around. The pressure they applied also resulted in two runouts, bringing Nepal back into a match that seemed to be slipping away from them.
Bohara picked up four wickets while Lamichanne, Gulshan Jha and Rohit Paudel picked up a wicket each to restrict Malaysia to 165.
In reply, Kushal Bhurtel started off the game with all guns blazing taking the Malaysian bowlers to all parts during the power play. Malla soon came out to continue what Bhurtel was doing finishing with 65 of 34 balls.
With this victory, Nepal entered the semi-final of the qualifiers. They will take on Oman on Thursday to decide who will finish top of the group and play at the TU Cricket Ground.