People from different walks of life have gathered at Aryaghat to pay tributes to Koirala
Nephews Atul and Sudhamshu will consign his body to flames
The national army will offer a 13-gun salute to him
Kathmandu, February 10
The funeral procession of former prime minister and Nepali Congress president Sushil Koirala has reached Pashupati Aryaghat, which is literally overflowng with the late leader's well-wishers.
His nephews Atul and Sudhamshu will consign Koirala's body to flames in a traditional manner, with his kin opposing the use of electric crematorium.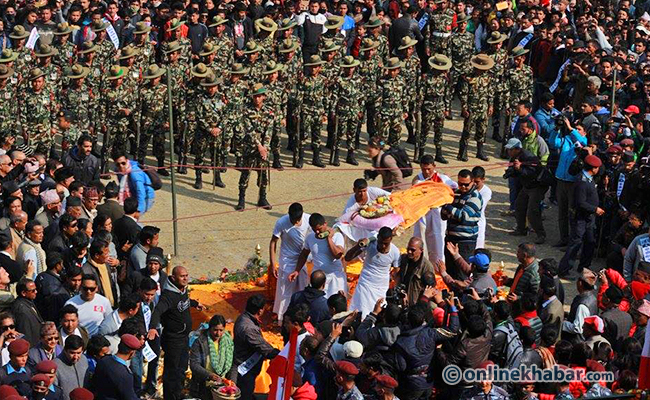 Senior Congress leaders and cadres, activists of other political parties, ministers, lawmakers, securocrats, diplomats, relatives, businesspeople and members of the general public have reached Aryaghat to pay tributes to Koirala.
The government will perform Koirala's final rites with state honours and the Nepali Army will offer a 13-gun salute to him.
Koirala had passed away at his residence in Maharajgunj at 12.50 am on Monday.