When she turned 11, Sumati Bajracharya's father one day said to her 'you will not make it in life. You will only wash dishes and make an earning'. Recalling those days that today is a funny memory, the septuagenarian says, "My father used to get angry that I was not reading. That day he shoved me out of the house and said so."
It was very unusual for the 11-year-old girl as her peers in the neighbourhood would not be shouted at for the same reason as most of the girls, even in core Kathmandu, would be barred from school thanks to the long-rooted gender biases.
But for her, the father's words turned out to be a great motivator. "We, siblings were homeschooled by our father, Divya Bajra Bajrachayra. Till the age of 11, I had not learned to read a word, I was not interested. But when my father said I would be a dishwasher, it hit my mind and my whole life changed. I picked up my books, started reading and then picked up the pace."
Decades down the line up to today, Sumati Bajracharya has established herself as a writer, translator, editor for many newspapers, magazines and house journals as well as has been a teacher to many and is a well-known scholar of Buddhist preachings. She has also handled many other roles as lecturer, principal, and chair in many social, cultural and educational institutions. Her active academic engagement apparently inspires people who have been left behind in their educational journey, women in particular.
Pillars of her life
Growing up in the shadow of her father, who was a well-respected priest and scholar in the community, she always felt protected and nurtured. Apart from that one incident, which she also takes as a motivation, her father has been her guide.
"He always insisted on knowledge and education. Though some relatives used to say that educating girls was a waste as they were to handle the household works only, he never listened to them. Yet, he never liked the school education. He never allowed us to go to school or out of the house. Instead, he himself used to homeschool us or get tutors for us."
When Sumati started showing interested in learning, Divya Bajra made her learn under Shankhar Man Rajbanshi, a great scholar and then chief of the Samshodhana Mandala, who made her adept to learn the alphabets. "After that, under many guides, I and my sister prepared to give exams for Gyan Shree in India," she adds.
Soon after she passed the exam, at the age of 19, she got married. "My husband was educated and used to run his own school at Jyatha, [Bal Ujjwal] Baudhik Bikas Primary School. When I got married, I had not even passed my SLC [the 10th-grade exam]. So, my husband initiated and asked me to clear my basic education. In less than a year, I cleared it and even started working at the school as a teacher, in a salary of Rs 90, and later as the principal there."
Meanwhile, her paternal uncle and historian Dhana Bajra Bajracharya, and his brother and famous scholar, Gautama Vajra Vajracharya, have also been crucial to her growth. "Both have motivated me to keep on learning and guided me to learn about an array of subjects. In every aspect, when it comes to education, I feel lucky that I had that support and environment to learn."
Into writing and academia
Although one among the nine siblings, Sumati feels she was always close to her father. "My father was a learned man and many used to come to him for advice and literary works. Many times, people would just come to request him to commission translation of the Buddhist or other holy scriptures in Nepali. And, being close to my father, I used to help him with the work." That was when her writing career began. Slowly and steadily, she did more translations and writings on his behalf and this also widened her sense of knowledge in various aspects, but mainly in Buddhism.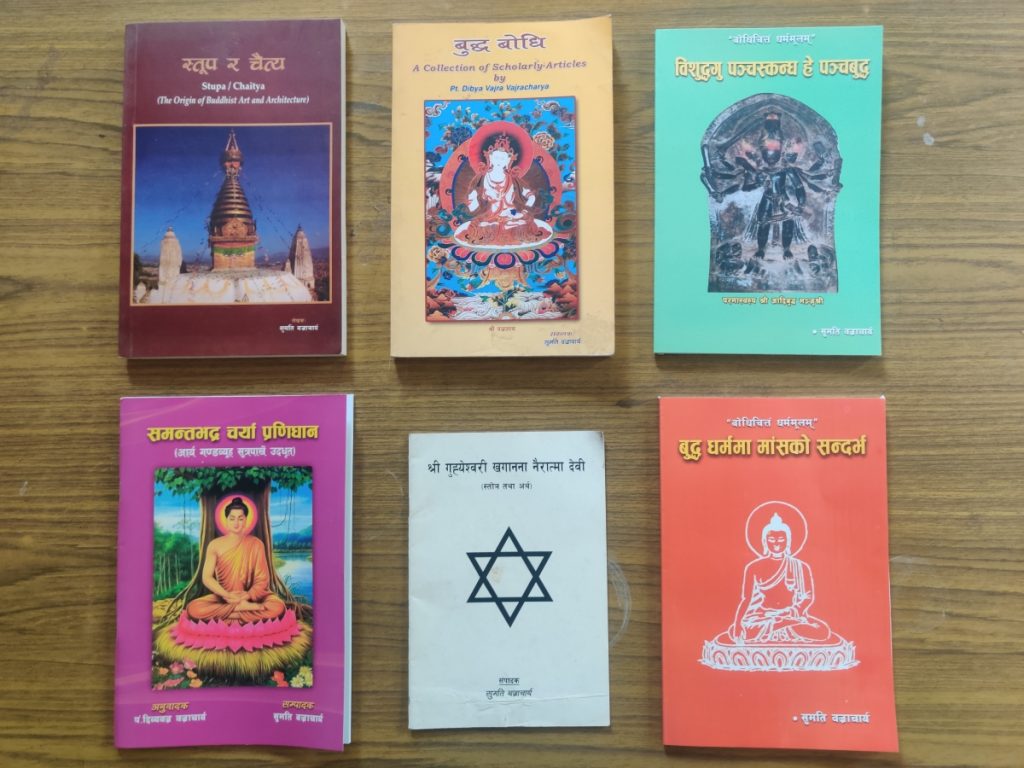 Sumati later established herself as a professional writer and editor and contributed to newspapers; Sewa and Nepal. "Since the country was still under the monarchy, we were censored from writing anything against the royal family. Sewa, published by Samajik Sewa Samanya Parisar and headed by Queen Aishwarya whereas Nepal was the paper that was published from the Department of Information that came out on special occasions of the royal palace. Both had the tendency to praise the royals." 
Besides, her earliest works include translation and arrangement of Bodhi Charya, a booklet for the World Buddhist Conference, and nine scriptures on Bajrayan and Mahayana in Nepali, a book on Chiva and Chaitya among many others.
Though saddened that she lost her husband early, aged 55, she did not put brakes on her professional career. She later went on to teach language in Padma Kanya Campus and retired from there as a professor. She is still active in academia, as the principal of a full-fledged eight-week course of Mahayana and Bajrayana teachings in Gunakara Mahabihar.
She is nowadays busy speaking on Buddhism and preaching Budhha's philosophies. She finds solace in Buddha's words and her work. Gunlaa is a particularly busy time for her for the same.
Branching out
Despite working in different positions and writing a lot of articles, the kind of work that she found satisfaction in includes a few articles where she claims she questioned and challenged the societal norms and values. "I wrote an article on why the Newa community celebrates Ih, the first coming-of-age ceremony for girls, explaining all the reasons and circumstances that gave birth to the thoughtful tradition. It is through such articles that we can change the community for the better."
Through her years of research, the scholar also claims Newa traditions are very pure. "It is a reflection of the societal norms and customs. Our ancestors got inspired by the human lives and practices done for the benefit of the human body, but we do it as a custom or tradition to worship the gods or deities too."
On this branch of thought, she says that there is a kind of misunderstanding in society as people tend to believe and continue to follow traditions as per the misdirected and misguided practices, without question or proper knowledge on the subject matter. "Many traditions have been modified for personal and, more disturbingly, monetary gains. Yet the people have the least bit of interest to question them or research on them. They are continuing the practices because they have been told to do so. They make no efforts to diversify their knowledge."
She also feels little knowledge has been harming culture preservation in the country. "For example, we all know that Buddha is a preacher of non-violence. But, many people think that the panchabali (five offerings) one offers to Buddha is symbolic of animal sacrifice; this is not true. But, people still believe this, neglecting everything Buddha has to teach."
Sumati Bajracharya is of the view that in a society where so many misunderstandings are prevalent, only the right information and ample study can break the chain of misinformation.