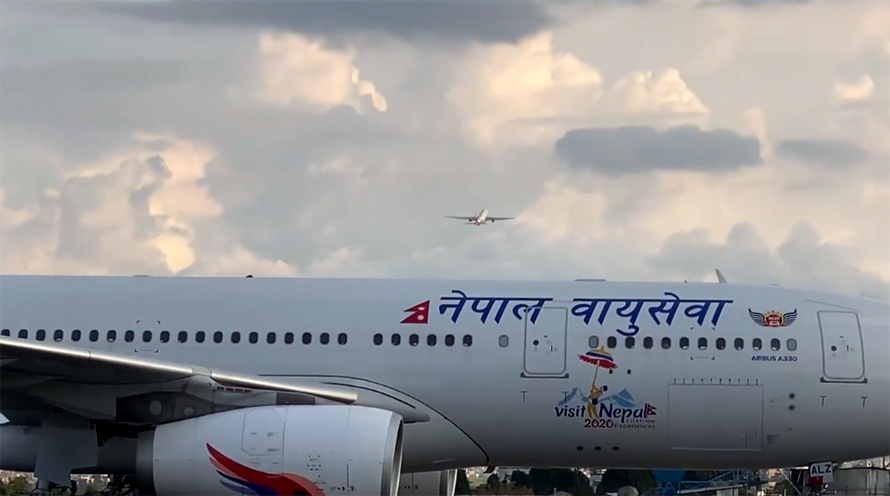 Kathmandu, November 18
Passengers who were going to Doha, Qatar on a Nepal Airlines (NAC) flight last night were asked to return home from Tribhuvan International Airport on Thursday as all the seats of the plane were full.
Many passengers who were told they had to return rushed to the Civil Aviation Authority of Nepal (CAAN) office demanding answers.
"I had a valid ticket but they told me the flight was full and told us our flights would take place on Saturday," says Lakshmi Prasad Dahal, a passenger who was then taken to a hotel in Sundhara.
According to Dahal, when he reached the airport at 8 pm for the 11 pm flight, the counter of Nepal Airlines was already closed. Dahal says the employees took the passengers to the hotel saying that the seats were full. He protested saying that Nepal Airlines has left the passengers stranded due to negligence.
Archana Khadka, the spokesperson of Nepal Airlines, says that some passengers could not be flown last night due to technical reasons. The passengers who were on the NAC's bigger plane had to be transferred to the smaller plane a few days ago.
"We could not send about 100 passengers that day; we are managing all the passengers. That's what happened yesterday," says Khadka. "We don't leave anyone stranded; we send them on another flight."