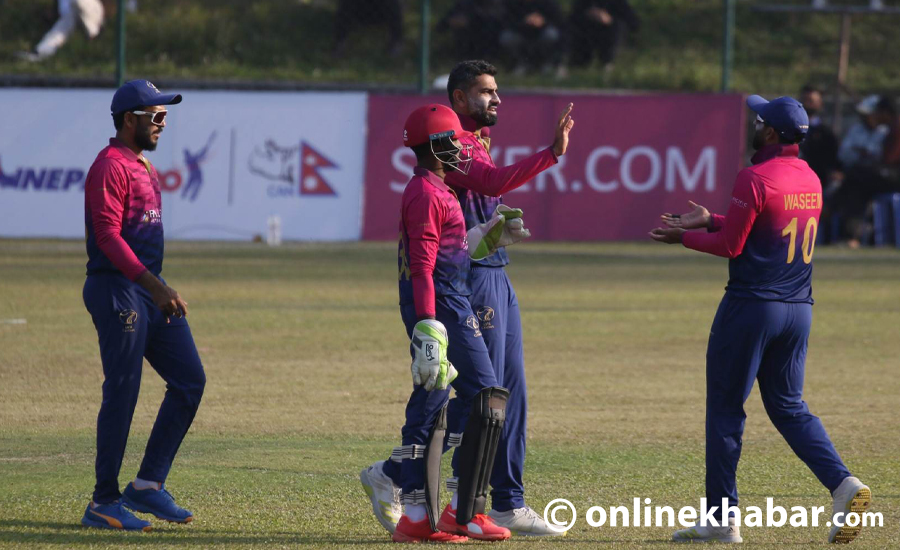 Kathmandu, November 14
Rohit Paudel's first match as Nepal's new captain came to a losing start as the UAE beat Nepal by 84 runs in the first match of the SSixer ODI Series held at TU Cricket Ground in Kathmandu on Monday.
Winning the toss, Paudel asked the UAE to bat first. Openers Muhammad Waseem and Vriitya Aravind gave them a great start as they put up a 76-run partnership for the first wicket. Even though both got out missing out on their half-centuries, Rohan Mustafa steadied the innings with his 73-ball 53. A few run-outs caused issues for the visitors but a late burst from Ahmed Raza pushed them to a par score of 267.
Nepal's bowling didn't look the best as both Karan KC and Sompal Kami struggled. Gulshan Jha did his best picking up two wickets as did Lalit Rajbanshi and Dipendra Singh Airee with their economical spell. But with KC and Kami misfiring, Nepal relied more on their fielding to get wickets with three of the seven wickets being runouts.
In reply, Nepal were off to a horrible start as they lost Aasif Sheikh, Gyanendra Malla and captain Paudel in the first 10 overs. A resilient partnership between Arjun Saud and Airee looked to steady Nepal's innings but as they kept losing wickets, they never got a sniff at victory as they only managed to score only 179 runs in 50 overs.
The UAE's Aayan Afzal Khan bowled superbly as he picked up four wickets for just 14 runs in his 10 overs winning him the player of the match award. Zahoor Khan, Mustafa, Basil Hameed and Raza helped as they chipped in with wickets, which meant the hosts lost by 84 runs.
The second match of the three-match SSixer ODI series will take place on Wednesday.