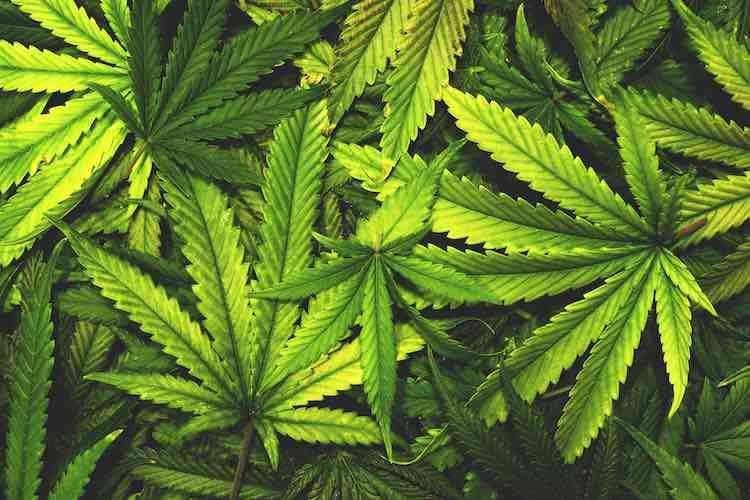 Over four decades after Nepal criminalised the use, consumption and cultivation of cannabis, a debate has started over whether Nepal should lift the ban. This comes at a time when a cannabis legalisation wave is sweeping across the Western world. On January 27, Nepal Communist Party (NCP) lawmaker Birodh Khatiwada, with the backing of 44 lawmakers, registered a motion of public importance in parliament advocating the legalisation of cannabis. And on March 2, Sher Bahadur Tamang, a lawmaker from the same party, registered a private bill in parliament proposing that cannabis be legalised. Speaking on Sagarmatha Television the next day, Khatiwada cited countries such as Canada and the US that have already legalised cannabis and argued that Nepal should follow suit.
What is cannabis?
There are mainly two widely known cannabis plant types — hemp (Cannabis sativa), which is used for producing textiles, paper and animal feed among other things, and marijuana, which is used for medicinal and recreational purposes. The major aspect that makes the two different is the tetrahydrocannabinol (THC) level – a psychoactive ingredient among hundreds of substances present in the two plants. The THC level in marijuana is between 3-30%, whereas it is below 3% in hemp. A growing body of research has found that cannabis can be effective for medical purposes such as pain relief.
What is cannabis farming and production bill?
The bill, registered in the Lower House of parliament, seeks to regulate and promote the cultivation and trade of cannabis in Nepal. It proposes encouraging farmers to engage in commercial cultivation of cannabis for medical purposes. It is not clear whether the bill seeks to legalise cannabis for recreational purposes as well. The bill proposes setting up a board at the centre and agriculture knowledge centres in the districts. These centres can issue licences to farmers for the production and sale of cannabis. The bill proposes restricting farmers from cultivating only cannabis in their farmlands to ensure crop diversification. Likewise, a household can grow up to six cannabis plants without permission. But for engaging in commercial cultivation, the farmer must be of age 18 or above and acquire licence.
Which countries have legalised cannabis?
In recent years, Western countries have been at the forefront of legalising cultivation, production and sale of cannabis. In 2013, Uruguay became the first country in the world to fully legalise cannabis for medical and scientific purposes as well as for industrial and recreational use. In 2018, Canada legalised it for recreational, medical and research purposes. The Netherlands legalised the medicinal use of cannabis in 2000, and created the Bureau for Medicinal Cannabis (BMC), which helped set up a strong pharmacological industry.
In 1996, California became the first state in the US to legalise medical cannabis in defiance of federal law. Thailand is the first Southeast Asian country to legalise cannabis for medical use and research purposes. Other countries that have legalised cannabis include Peru, Chile, Germany, Mexico, Bolivia, Brazil, Jamaica, Colombia, Israel, Czech Republic.
Why Nepal banned cannabis in the 1970s?
Cannabis has remained a part of human civilisation all around the world. In countries like Nepal and India, cannabis holds religious (cannabis is used as an offering to Lord Shiva) and cultural significance. In a chapter of a book titled Cannabis and Culture, James Fisher has written about the use of cannabis in local communities in Nepal. The elderly used it for medicinal and recreational purposes and even in cooking. Ayurvedic doctors use it along with other herbs to cure diarrhoea, cholera, tetanus, and insomnia among other illnesses.
In the late 1960s and early 1970s, the hippies –Western youth involved in a counterculture movement — travelled to Nepal overland from Europe in their quest for spiritual peace. They would use hallucinogens and cannabis, which was in abundance in the Kathmandu Valley. However, due to sustained pressure from the United States, the United Nations, and even the locals, the Nepal government on July 16, 1973 banned cannabis. It is illegal to consume, cultivate and trade cannabis, according to the Narcotic Drugs (Control) Act, 2033.
In 2003, Nepal also signed the United Nations' 'Single Convention on Narcotics Drugs 1961'.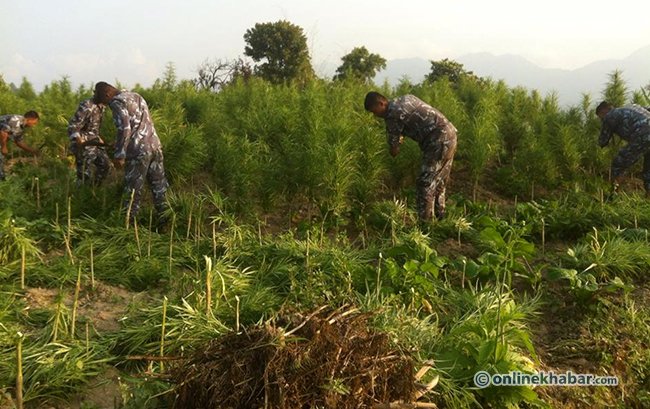 Should Nepal legalise it?
Nepal's diverse climate and ecological zones are best suited for growing cannabis, according to researches. Fisher has written that cannabis is found in most parts of the country except in the extreme north. Despite Nepal having a huge potential for becoming a major cannabis producer, its market remains unexplored in lack of legalisation. According to a study published in the American Journal of Agriculture Research, since cannabis grows in various climates and temperatures, Nepal can be a fertile land for its cultivation.
"We should begin with (cultivation of) hemp because it's easy to grow and is helpful for soil fertility. Hemp could be used to produce different commercial and value-added products," Ravi Pradhan, a pro-cannabis campaigner, told South Asia Check. Hemp is used in making rope, cloth, fuel, and paper among other things.
However, economist Bishwa Poudel doubts cannabis has economic potential in Nepal saying it was already tested and dropped by the tourism sector in the 1970s. "Cannabis might be appropriate for medicinal use, but not for tourism promotion and recreation," he said.
The illegal farming of cannabis across Nepal
Cannabis grows everywhere in Nepal—in the kitchen gardens, fields and even in the wild. People are still cultivating it, although it is illegal, in many parts of the country.
Every year, police destroy a large number of plants across the country. According to the Narcotics Control Bureau (NCB) of Nepal Police, police destroyed around 17,762 cannabis plants in the fiscal year 2073/74 [2016/17]. Likewise, some 9,464 cannabis plants were destroyed in 2074/75 [2017/18] and 198,492 in 2075/76 [2018/19].
According to the latest quarterly report of the Narcotics Control Bureau, police seized 9633.5 kg of cannabis and 2390.8 kg of hashish between mid-December 2019 and mid-October 2019.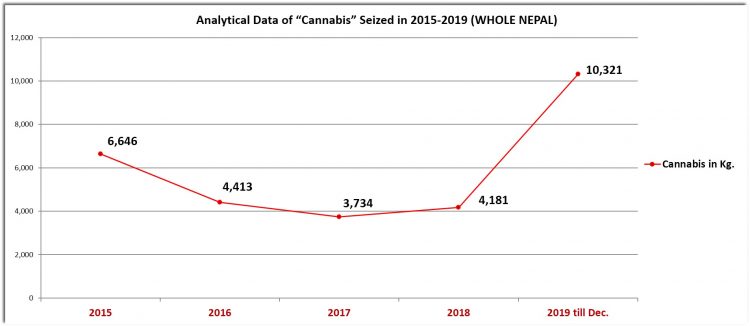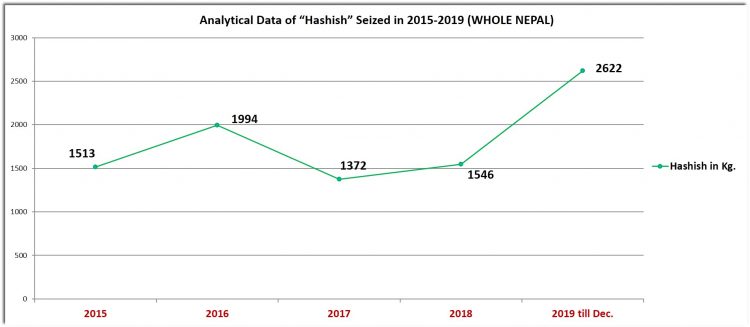 The article first appeared on South Asia Check.