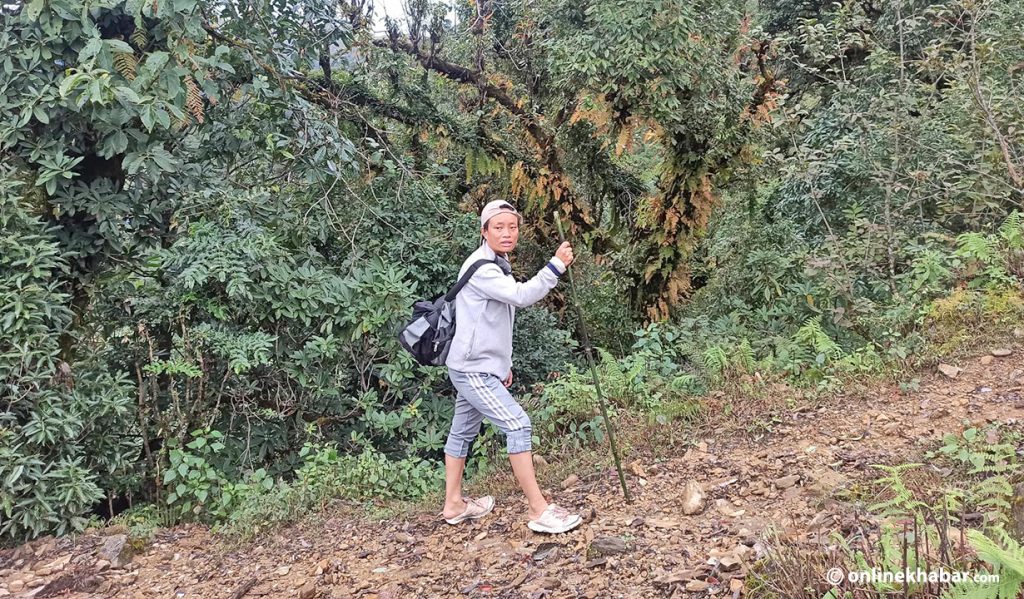 When Sharmila Roka Magar left Bhairahawa to celebrate Dashain with her family in Rolpa, she was not as happy as she would be any other year. She spent a lot of time and effort to ensure she would make the Lumbini provincial cricket team for the ninth National Games, but there were no assurances and she was worried sick.
If she was selected, she would have to go to Pokhara from Rolpa as soon as Dashain was over. She did not want to go, but as her brother insisted, she could not say no as she had not been to Rolpa in years as she was studying in Kathmandu. So she told her brother she would go as long as they return on October 5.
On October 4, Magar received a call from the team's coach, Sanju KC. Her heart was racing, but when KC told Magar she had been selected, she was over the moon. Excited, she told KC she would arrive in Dang by the evening of October 5.
She did not realise what it would mean the next day.
The Herculean journey
The weather was all fine during the day, but by the time the sunset, it started to rain. Not only it started to rain, it started to pour down heavily.
It rained the entire day the next day. Landslides were reported in different areas, which meant that no bus or SUV could come. Due to the incessant rain, the mobile network was also down. There was no way Sharmila Roka Magar would get to Dang.
"I stayed in Rolpa, hoping the rain would stop, but it didn't. And when it didn't I set off on foot in the hope to reach Libang on October 6," she tells Onlinekhabar in Pokhara.
But, it did not go as planned as landslides had destroyed the roads to such an extent that walking was also considered dangerous. As the rain continued, most landslides were reported.
"Walkling those roads felt unsafe as the landslides were continuing in the same area. So I tried to walk through the forest and got lost multiple times. It was almost impossible to get to Libang," she says.
Tired and frustrated, Sharmila Roka Magar returned to her sister's house where she would spend the night. She then walked two hours to get to a place where the phone network was availed and called her coach telling him how it was hard for her to get to camp.
"I wanted to go, but there was no way. I told him. I can't explain how frustrating it was," she says.
By October 7, the weather had cleared up a bit and she then decided to rush to Libang. As the usual roads were not operational, she decided to take a different route. Thanks to locals and family members, she reached Libang.
Sharmila Roka Magar had walked over nine hours and her legs were swollen and her shoes had started to wear and tear as they were not meant to walk the trails she had to take.
"I thought I'd reach Dang quite easily from there, but I was so wrong," she said.
Hope meant no hope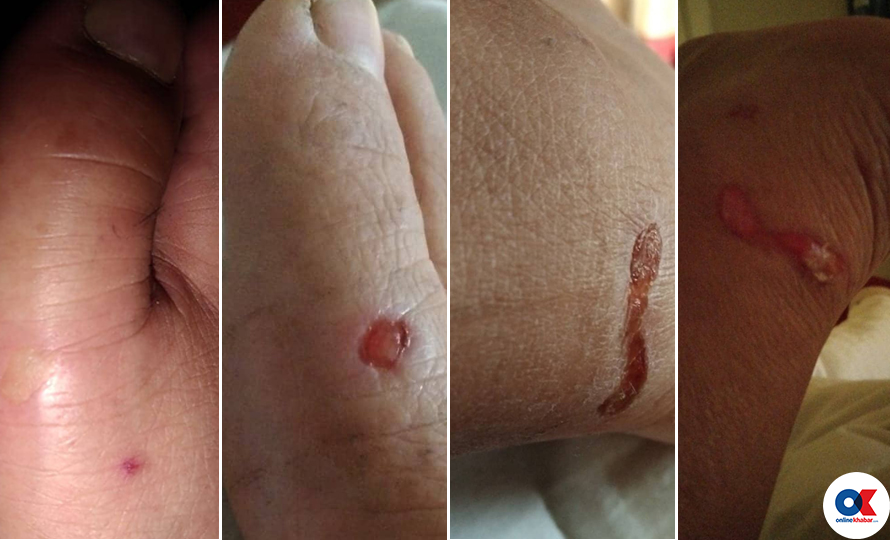 After not finding a bus to get to Dang, she got on a bus to Kathmandu hoping she would get down somewhere. But less than 5 kilometres away, police stopped the bus and told it to turn around as there was a landslide which would take two days to clear.
It was already October 8 and she had to get to Pokhara soon as the first game was on October 10. She had to report by October 9 anyhow.
"The coach told me to get there anyhow but with no roads, I had no other choice," she says.
Sharmila Roka Magar's dream of taking part in the national games was hanging by a thread.
On the bus, she met others like her who had to get to Dang. They decided to hire an SUV and take a different route which they hoped would be clear. But halfway, their plans were left in tatters as they saw another landslide. By that time, it was already midnight on October 8. She only had a few hours to get to Dang.
"We decided to walk. That was the only option," she says.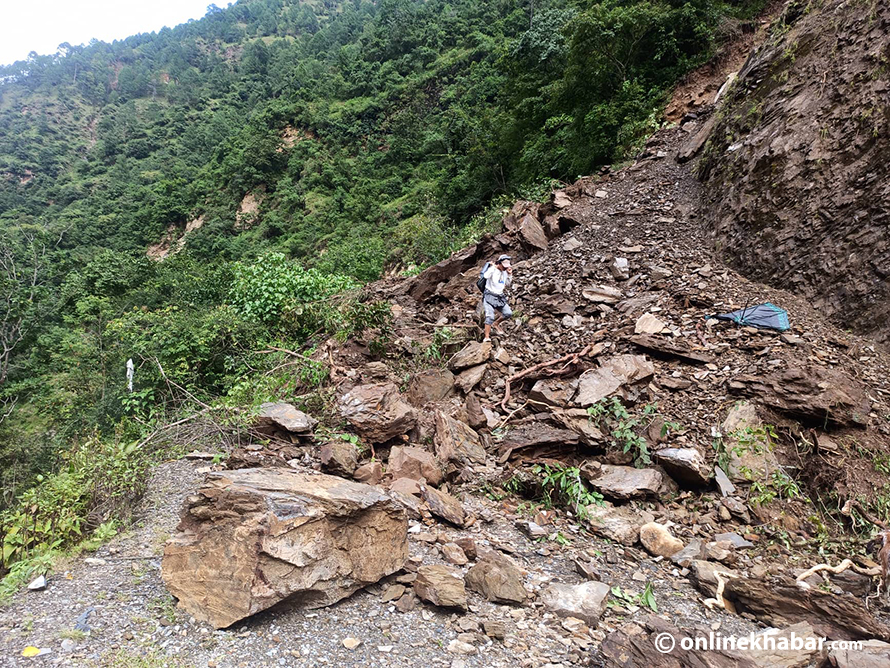 There were 12 people in the SUVs and all of them started to walk towards Dang. Not stopping for even a minute, they walked all night and reached Holeri at 6 in the morning.
Both of Sharmila Roka Magar's legs were swollen by then and due to continuous walking, she had bruises all over it too.
"But I was happy I'd made it as I knew getting to Dang would be a lot easier now," she says.
Destination at last
Sharmila Roka Magar reached Dang, but her team had left for Pokhara already. And, she heard that landslide had obstructed the Lamahi-Ghorahi road sections too.
"Changing one vehicle after another, I reached Pokhara," she says, with a smile on her face.
It was only when she reached Pokhara that she breathed a sigh of relief. She had left Rolpla 48 hours ago. She walked, took buses and SUVs and walked more to get there. For her, playing in a national-level competition meant a lot.
"I had given up many times, but I wanted to play so bad that I finally made it. I can't compare this to anything," she says, adding she will never forget her journey from Rolpa to Pokhara in her life.
Sharmila Roka Magar's team lost to the APF by 67 runs in the first semifinal match on Monday.
---
This story was translated from the original Nepali version and edited for clarity and length.