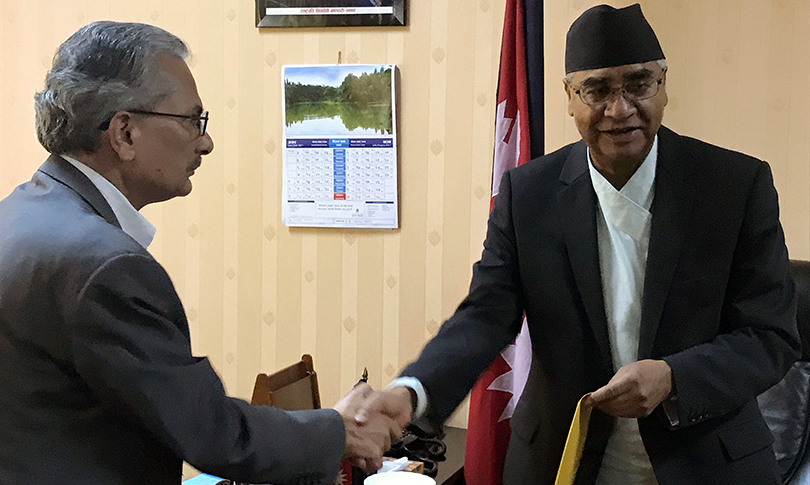 Kathmandu, July 12
Former Prime Minister and Naya Shakti chief Baburam Bhattarai on Wednesday demanded that the government scrap an agreement signed with the Chinese company, Gezhouba Group, for the construction of Hydroelectric Project.
Bhattarai also demanded that the government take action against the then Minister for Energy, Janardan Sharma, who led the decision to handover the assignment. Sharma is incumbent Minister for Home Affairs.
Bhattarai and his party have been claiming that the agreement was illegal and against interests of Nepali people.
Bhattarai met Prime Minister Sher Bahadur Deuba today and handed over a memorandum, demanding that "stern action be taken against persons who made illegal agreements with the company involved in illegal business."
The former PM said the Gezhouba Group had failed to complete previous assignments and was blacklisted by the government. He even claimed the company had evaded tax of Rs 1.16 billion.
The Cabinet on May 23 had decided to handover the assignment to the Chinese firm.
Accordingly, the two sides have already signed an agreement on June 4.
The Chinese company would construct the project in engineering procurement contract with finance (EPCF) model.
According to the model, the company itself will make investments in the project, which Nepal will pay back after the construction.
The detail project report has estimated that the project would cost Rs 250 billion.
Around 20,000 population living by the river in Dhading and Gorkha districts will be displaced by the project.