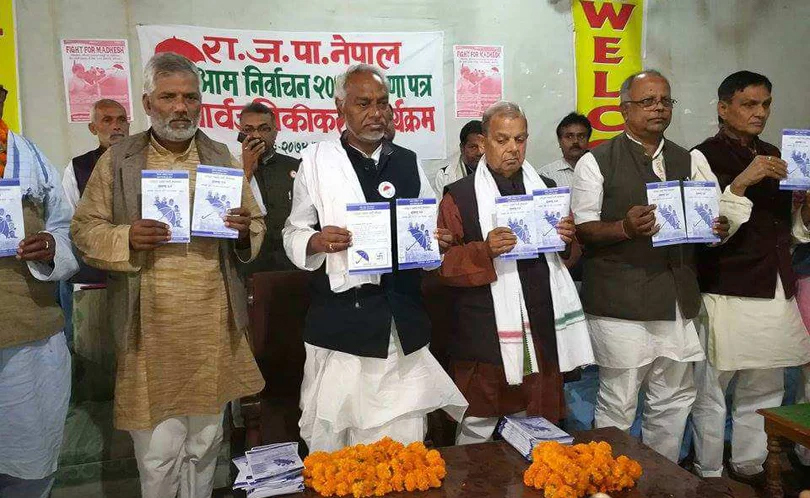 Kathmandu, November 23
The Madhesh-centric Rastriya Janata Party Nepal on Thursday made its manifesto for upcoming provincial and federal parliamentary elections public.
Organising a function in Jaleshwor of Mahottari district, top leaders of the party including presidium coordinator Mahantha Thakur unveiled the manifesto.
The manifesto recognises Nepal as a multinational, multicultural and multilingual country.
The party in the manifesto has stressed prosperity of the country and its people, meaningful constitution, inclusive state, equality-based society and sovereign citizens in the document.
Like other parties, the regional powerhouse has also assured people of various development projects in various parts of the country. As the party's major constituency lives in Terai, the region has been prioritised in development agendas.
The party says it will work to complete the ongoing construction of postal highway at the earliest. It says a modern railway route will be construct in parallel with the East-West Highway. Likewise, other road networks will be developed.
The RJPN says it wants to develop Janakpur as the centre of spirituality and international tourism. For that, a modern master plan will be formulated in consultation with technical experts. The party has also made an assurance to develop the Janakpur Airport to the regional and international standard.
Likewise, the party has made a commitment to develop Birgunj as a hub of banking, insurance, share market and international trade. New industries will be promoted in the city, according to the party.
Development of other Madhesh cities including Biratnagar, Bhairahawa, Nepalgunj, Rajbiraj, Siraha, Jaleshwor, Malangawa, Gaur, Kalaiya, Nawalparasi, Taulihawa, Tulsipur, Gulariya, and Mahendranagar has also been highlighted. The party says each city will have its own integrated urban development programme.
The party stresses that uninterrupted electricity supply, construction and upgrading of industrial corridors, development of labour forces, technical training and end of political interference should be made available for the development in trade and commerce sector.
Likewise, it has assured the construction of modern cricket stadiums in Biratnagar, Janakpur, Birgunj, Bhairahawa, Nepalgunj and Dhangadhi. Two of these stadiums will have facilities to host international tournaments, according to the party.
The party also says it will work to protect history, language, art and culture of various communities living in the Terai-Madhesh region.