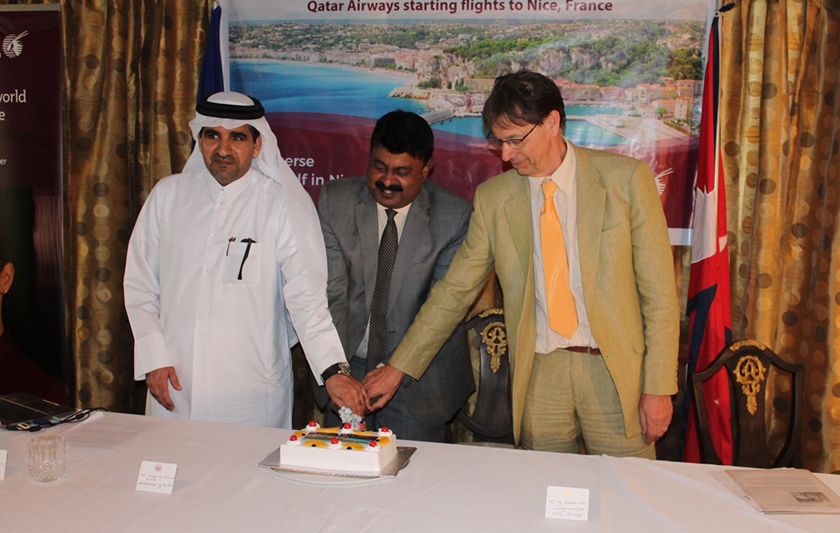 Kathmandu, July 3
Passengers heading to Europe from Nepal will now have an additional option to complete their journey.
Beginning Tuesday, July 4, Qatar Airways, one of the leading airlines in the world based in Doha, will fly to the French city of Nice, a hub for more than 400 leading multi-national companies. The  non-stop service will connect both business and leisure travelers to the airline's extensive network.
The French and the Qatari embassies in Kathmandu, along with Qatar Airways, Nepal, organised a programme in the capital on Monday to mark the launch of the new flights. Qatar's Ambassador Yosuf  Bin Mohammed Al-Hail, his French counterpart Yves Carmona and Country Manager of Qatar Airways Jayprakash Nair jointly welcomed the launch of the new service.
Ambassador Carmona said France looks forward to welcoming Qatar Airways to Nice. He hoped that the new service would help more French tourists to come to Nepal. Qatar Airways'  Nair 'said the launch was a great opportunity to boost French tourism.
Qatar Airways will fly five times a week to Nice, from July 4, 2017. Passengers heading to Nice from Kathmandu can take the 21:20 flight to Qatar, arrive in Doha at 23:20 and then board the flight to Doha at 7:45 am the next day. They can reach Nice at 13:05 on the second day of their travel. Similarly, passengers coming to Kathmandu from Nice can board their flight to Doha at 17:10 and land in Kathmandu at 10:45 the next day.