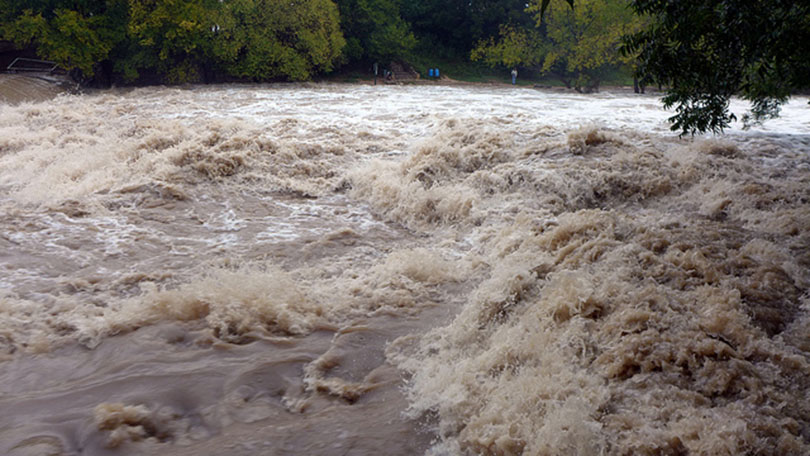 Pyuthan, July 26
Flooding and landslides resulting from incessant rainfall have caused huge losses in Pyuthan district. In course of a fortnight, 19 people have died in monsoon-induced disasters, locals have claimed, though Pyuthan district administration office has confirmed the death of five people. The disasters have displaced more than 250 people in Pyuthan.
On July 5, five members of a family died when a landslide engulfed them at Neta, Rajwara VDC-3.
Chief district officer Janak Panta said three bodies were seen at the dam site of Jhimruk hydropower project on Tuesday. Due to high current in the Jhimruk Stream, rescuers have not been able to retrieve the bodies. In Bagdula, a girl aged around 12 years has been found dead whereas in Bijuwar, body of a man aged around 45 years has been found.
Landslides have buried three houses each in Bahane Bazaar and Simalbuta. Five people, including Shobha Rijal, Kali Pariyar and Kiran Thapa, have gone missing.
In Khawang VDC-3, three members of a family went missing as landslide buried the house of Sabile BK. Eight people have gone missing in Arkha VDC.
Police said incessant rains have affected problems in search and rescue operations.
In Fopli VDC, landslides have buried four students.  Landslides have displaced 195 families in Fopli-5. They have been shifted to Thakurbhumi primary school.
In Mechikhola of Sapdanda, five families have been displaced whereas in Siurikate, Lung VDC, three families have been displaced. Landslide has caused collapse of a house in Okharbot VDC-7.
Landslides have put 43 families comprising around 300 people at risk in Chormola, Khawang VDC-4. Locals have asked authorities to rescue them at the earliest.
Rains continuing since Monday night have affected life in Pyuthan district. Landslides have shut roads, bringing traffic movement to a halt.