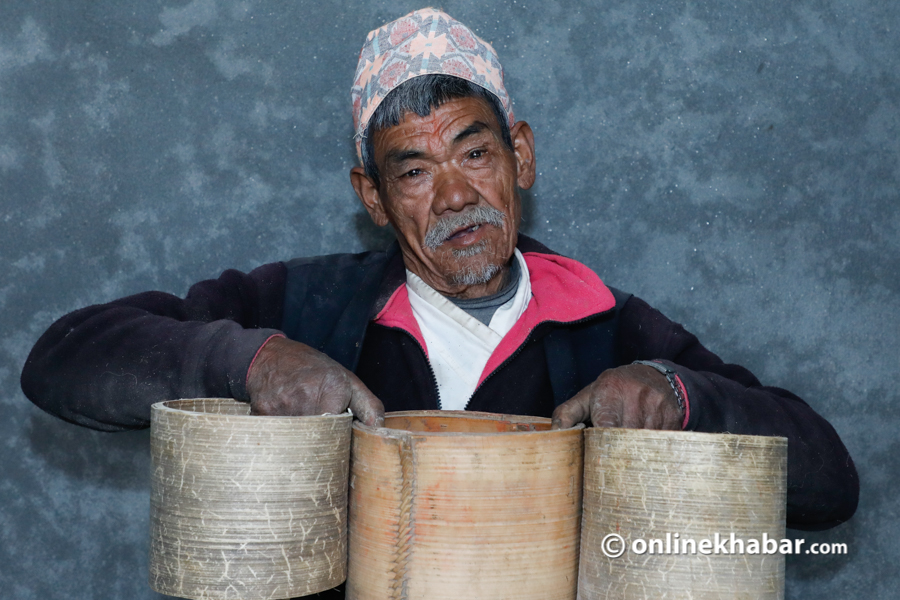 Man Bahadur Maharjan (Jyapu) learned to make pyang, a cylindrical container made of bamboo sheets when he was very young. Today, he is one of the few people who can make pyangs in the entire Pyang-gaun (the Pyang village) in Lalitpur district, south of Kathmandu.
With not many young people interested in carrying the torch of their ancestors, Man Bahadur's concern is that the craft that gave the place its identity is on the verge of extinction. "I am already 81 years old. I do not know how much I will live. There are no other people to do this work," he says.
A village's identity in a little container
The little container, which used to be available in different sizes, was used in the measurement of various items in the past. Man Bahadur says he also used to make the pyangs in different sizes, to match them with traditionally standard sizes of measurement of volumes such as mana and pathi.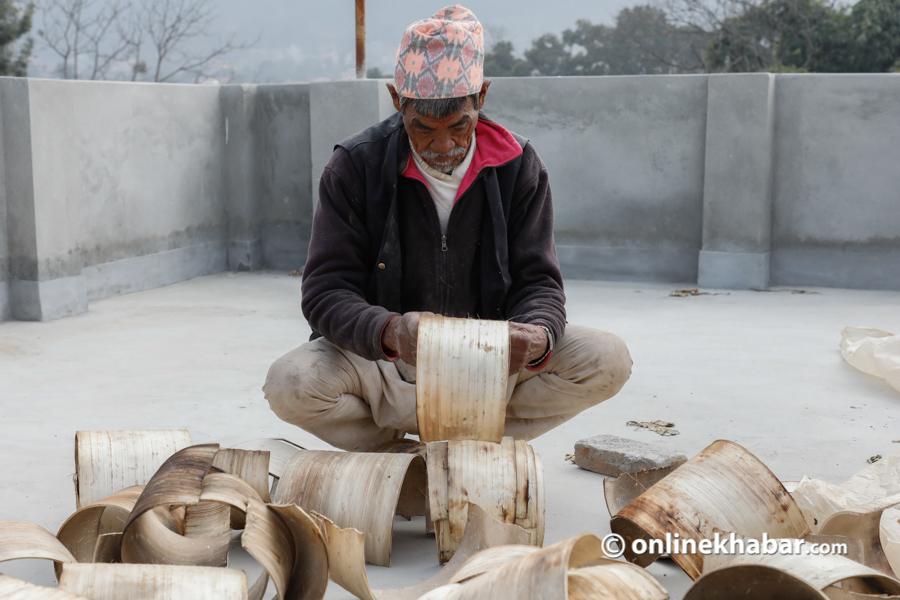 With a spark in his eyes, Man Bahadur explains passionately how a pyang is made. "At first, the outer skin of bamboos is shredded off. Then, the remaining is roasted. Next, the inside layer is soaked into water and dried. Then the layer is flattened into sheets by using a wooden stick in a special manner. Then, we roll two sheets together and sew them together with the skin that we take out earlier."
Man Bahadur still makes pyang of different sizes as many Nepalis still practise the mana-pathi measurement system in household affairs.
According to him, his village was established by a Malla king of Bhaktapur who had come to Sankhu in southern Lalitpur (The name of the place should not be confused with another ancient town, with the same spelling, on the eastern outskirts of Kathmandu). The king fell in love with a girl and impregnated her. Pyang-gaun is the town he settled to keep his mistress and an illegitimate son. The town later adopted the skill of making pyang as a major livelihood option.
That's why Newars of this village have specific rituals and dialects which are essentially different from other Newars of Kathmandu, according to Hari Prasad Maharjan, a 33-year-old local.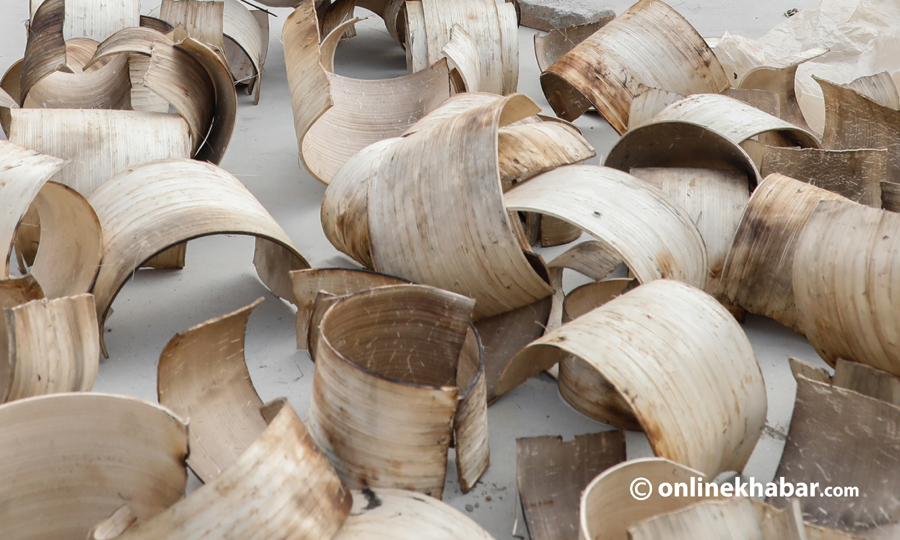 "Our dialect is not the same as that of Patan or even Dhapakhel (a nearby place)," he says, "Nor our culture or tradition."
Past privilege of Pyang-gaun
It is said that with an order of the king, the people of Pyang-gaun could get bamboo from anywhere free in those days.
"We used to go up to Chaarkoshe Jhaadi, a dense forest in eastern Nepal or Hetaunda to fetch bamboos. We would get them for free," Man Bahadur shares his experiences. "It would take around a month to bring bamboos from those places; we would eat rice or roti with salt only during the long trips."
But the situation has changed now. "We need to buy bamboos these days. Neither can we go that far to bring bamboos like we used to." However, the little container still has some market, believes the octogenarian. He says he earns some little money regularly by selling the pyangs.
"People come to my home searching for a pyang," he says. "The price for the one starts from Rs 200 to Rs 2,000 depending on the size."
Imminent extinction
The price that Man Bahadur mentions is so little to support his life given the ever-increasing inflation. On the other hand, no one has made any effort to preserve and promote this skill at a commercial scale. Hence, it is currently difficult to find pyang-makers in Pyang-gaun.
Nakul Maharjan, 40, however, seems an exception from the new generation as he seems to have understood the importance of the traditional container. Likewise, he also understands why youth are not interested in this skill these days.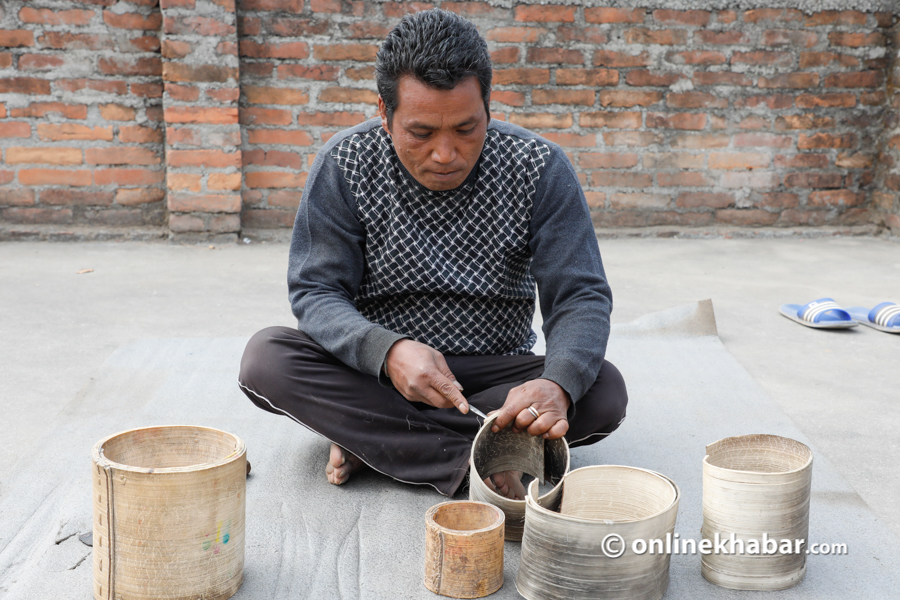 "The market is filled with plastic and steel items that are cheaper," says Nakul. "Also the process of making a pyang is complex and lengthy.  So the number of people making pyangs has been limited these days. "
Nakul remembers his childhood when his village was different from what it was today. "Pyang-gaun used to have traditional houses with big aankhi-jhyals. My grandfather and many other people used to make pyang and weave clothes," he laments, "But today, there are only three or four people in the entire community who can make a pyang professionally."
Also, he fondly remembers how people used a pyang. "A pyang was not only a measuring device. It was equally effective in terms of storing food, grains, and even important documents and money so that these items would not get infested by anything."
However, the pyangs have a very limited market and it is a cause of concern for him. "It is only a few friends of the maker or those who know about pyang who buy them. Otherwise, we would normally gift these to our relatives during occasions."
He is sad that the local government of the area is also not concerned in preserving and promoting the tradition.  "The local government is not supporting any initiative to promote and preserve the craft of pyang. The tradition is dying."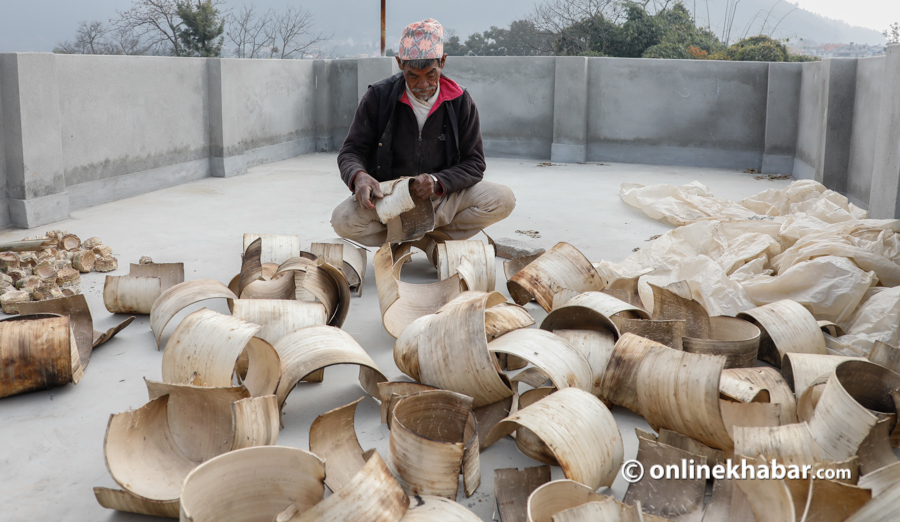 With this, the entire village itself is on the verge of losing its unique identity, says Hari Prasad. "Now, modern concrete buildings are replacing traditional-style houses," he observes,
"Many tourists used to come here to observe the village. But, there are very few of them these days."