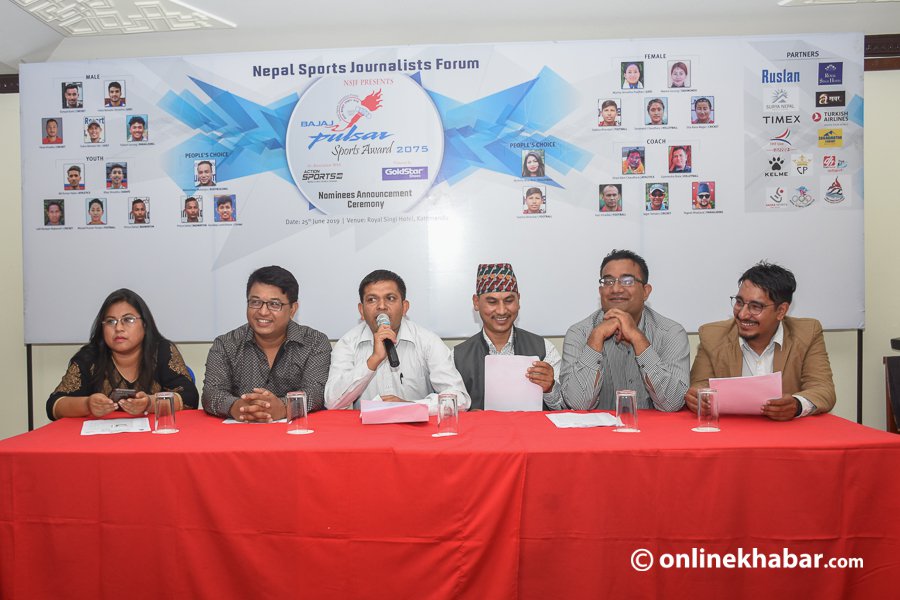 Kathmandu, June 25
Nepal Sports Journalist Forum has announced nominees for four more categories for its annual Pulsar Sports Awards.
One of the most popular sport award show of the country will be held on July 1. This year, the group will honour players and support staff from nine categories. It will also honour an international journalist.
Like earlier years, the Best Players (both male and female), the People's Choice Award winner and the Best Coach will receive a Pulsar bike whereas winners from other categories will receive Rs 50,000 cash each.
The nominees announced amidst an event in Kathmandu today are as follows:
Best Player – Male
Paras Khadka (Cricket), Sompal Kami (Cricket), Sukra Bahadur Rai (Golf), Indra Bahadur Shrestha (Judo) and Yukesh Gurung (Paragliding)
Best Player – Female
Sabitra Bhandari (Football), Saraswati Chaudhary (Volleyball), Sita Rana Magar (Cricket), Nima Gurung (Taekwondo) and Manita Sherstha Pradhan (Judo)
Best Young Player
Ajit Kumar Yadav (Athletics), Prince Dahal (Badminton), Manjali Kumari Yonzon (Football), Lalit Narayan Rajbanshi (Cricket) and Bijay Shrestha (Karate)
Best Coach
Yogesh Bhattarai (Paragliding), Hari Khadka (Football), Dhaniram Chaudhary (Athletics), Jagat Tamata (Cricket) and Gyanendra Bista (Volleyball)