The National Planning Commission Vice-chairperson Biswo Poudel gets quite irritated when he goes on field visits. Everywhere he goes, he sees public property (government property) left unattended. Several buildings that were built, spending billions on raw materials and equipment, await completion while others already constructed are left unused.
The worst part, experts claim, is the government does not even have accurate data on how the money is spent on public property. Nor does it have the data of resources that it purchased to complete the projects. It is quite worrisome as a lot of taxpayers' money is being wasted.
The mismanagement menace
Projects are being undertaken without proper homework and planning, thereby wasting a lot of public property. They buy equipment and machinery without thinking if they need them for other projects as well. This has resulted in the government having to spend more money to save these projects.
It is a known fact that the government has not made proper use of its public property, but sadly, it has also not been able to stop others from misusing it.
"We do things without thinking clearly. We build airports without knowing if aeroplanes will come. We build industrial estates spending billions but these estates don't have industries. Where is the planning when building these," questions Poudel.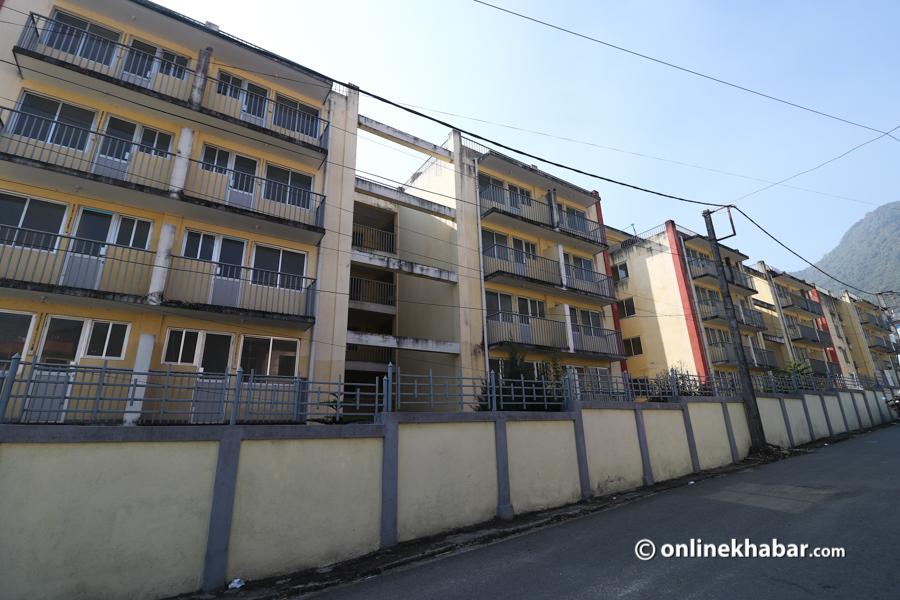 One such project that was built misusing the public property and without planning is the apartments built for the needy and landless squatters in Nagarjun municipality in Kathmandu. Its been eight years since it was completed, but the squatters are still living in their shacks by the Bagmati, Bishnumati and Manohara rivers.
To give them a new home, the government spent over Rs 120 million to build these apartments that have over 200 flats. The then prime minister Baburam Bhattarai commissioned the project, but as the government has not been able to identify the squatters, it has not been able to hand over keys to them. The locals of the area have also been causing problems as they do not want squatters to live on this public property.
"We're using the apartments as an isolation centre for Covid-19 patients. We will not be letting squatters live here," says Mohan Bahadur Basnet, the municipality's mayor.
Other development works are also in a similar state as most of them are undertaken in a haphazard way. These projects, also known as examples of 'dozer development', are carried out without a feasibility study or environmental assessment.
A bridge was built joining Kerauni in Nuwakot and Phosretar in Dhading in April. But, due to roads in Dhading still being incomplete to connect to the bridge, it has not come into operation. The reason – stakeholders were unaware that there was no road on the other side of the bridge. Even though a small track has been set up, the landowners have obstructed the road demanding compensation.
You do not have to go far to see pointless constructions and the mismanagement of public property. An overhead bridge near the western gate of the Parliament building in Kathmandu is hardly used by anyone as the road is very narrow.
"We don't think clearly and we seem to not care about what the public wants or whether it is practical," says urban infrastructure expert Ashish Gajurel. "Unless we start thinking rationally, 'development' like these will continue to happen."
Abuse of resources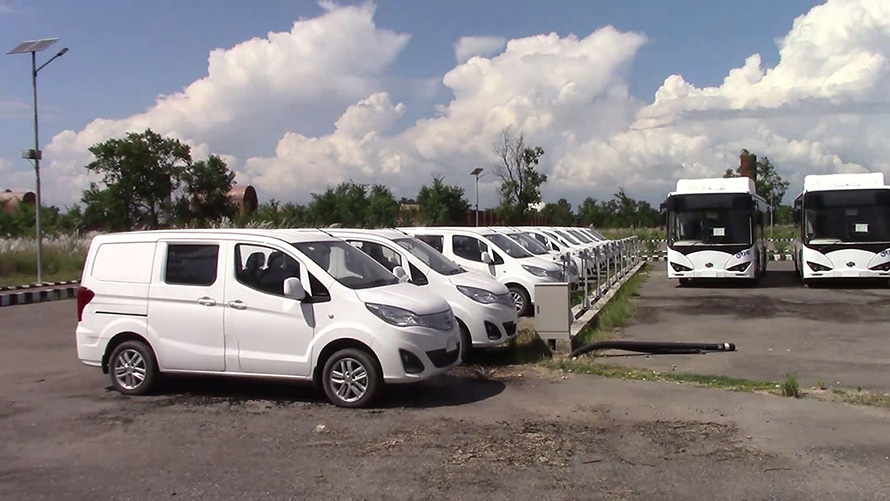 Another occasion when public property management is seen is when the government purchases things it does not know how to use. An example is the procurement of electric buses and taxis to use at the newly constructed Bhairahawa Airport. These electric vehicles are gathering dust as a charging station is still being constructed.
Why are not these vehicles used yet? The Lumbini Development Trust says the Ministry of Culture, Tourism and Civil Aviation has not officially handed them to the trust. As they are not operating and are under the open sky, experts say the chances of them being dysfunctional are quite high.
A similar story can be found in Province 2 where five buses the provincial government bought have not been in operation. Over Rs 40 million was spent to buy these buses. But, there was no plan on how to operate them.
Aircraft, which cost a lot of public property, are also facing a similar fate as six Nepal Airlines Corporation planes have not flown for ages, after which the NAC decided to hand them over to the government in July 2020.  These small aircraft were bought to fly to remote areas of Nepal, but that was decided without proper studies. Hence, the state has faced losses of up to Rs 8 billion. There are plans of reoperating these aircraft, but as the operating cost is high, it is going to take some effort to make money.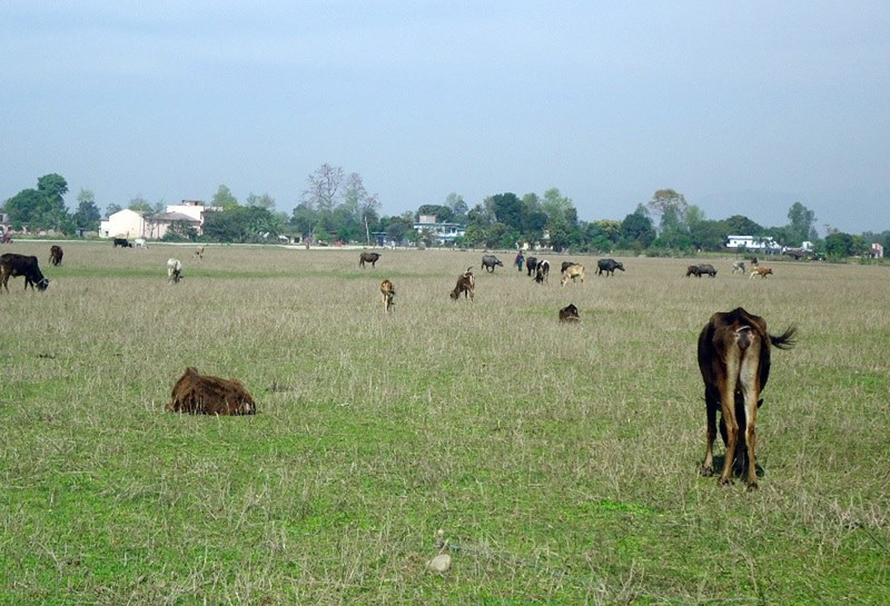 The state has been careless about building and managing airports. Over a dozen airports in the country have shut down as there is hardly any demand for flights. The local governments want to restart the airports, but with a lack of passengers, it is unlikely. This was the same reason why Chitwan's Meghauli airport was shut down and has turned into a cattle-grazing field. Out of the 53 airports, only 10 of them are in profit, says CAAN.
Despite this, there are still plans to build airports as politicians want to ensure that they do whatever they can to receive votes. Even though CAAN knows these airports are not sustainable, they have already started work to build them as they are under huge political pressure.
The government is not sure that even the two international airports that will be built in Pokhara and Bhairahawa will make any money.
Meaningless machines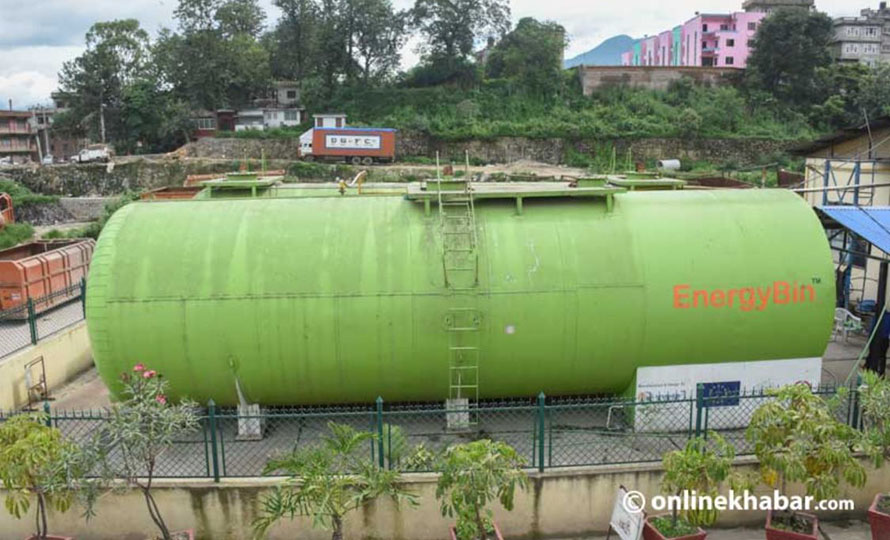 Public property mismanagement is evident when buying machinery also. The Kathmandu metropolitan city bought machinery that would produce biogas and electricity out of rubbish over four years ago. The officials said this was the city's answer to the load shedding that plagued the country for years. But, the machine, purchased for over Rs 30 million, has not been in operation for a while.
As the past has shown the country, the future of many projects are questionable. One such project misusing public property is the Janakpur-Jainagar railway. Nepal purchased a train from India to operate on the Janakpur-Jainagar line. It has been a year now since the train arrived in Nepal, but it is not been in operation. When will the train come into operation is a question no one can answer as Nepal does not have skilled human resources that can operate the train. Neither has the Railway Company received adequate funds to hire skilled people who can operate these trains.
"Even if we do operate the train, we won't make enough to sustain the company. Almost all trains like these in India are under a loss, so I don't know what the thinking was behind purchasing these trains," says infrastructure expert Surya Raj Acharya, who calls on the government to think ahead when making plans like these.
The reason public property mismanagement happens is the hastiness of those in power. Poudel from the Planning Commission says those in power want to buy things immediately or issue a tender notice immediately. He, nonetheless, maintains not all projects are undertaken to cheat as there are people who want to do good.
"But, they don't do due research before undertaking these projects. These people don't have any idea how to manage the public property in the long run and that is a major problem," says Poudel, calling on everyone to stop the misuse of government resources.