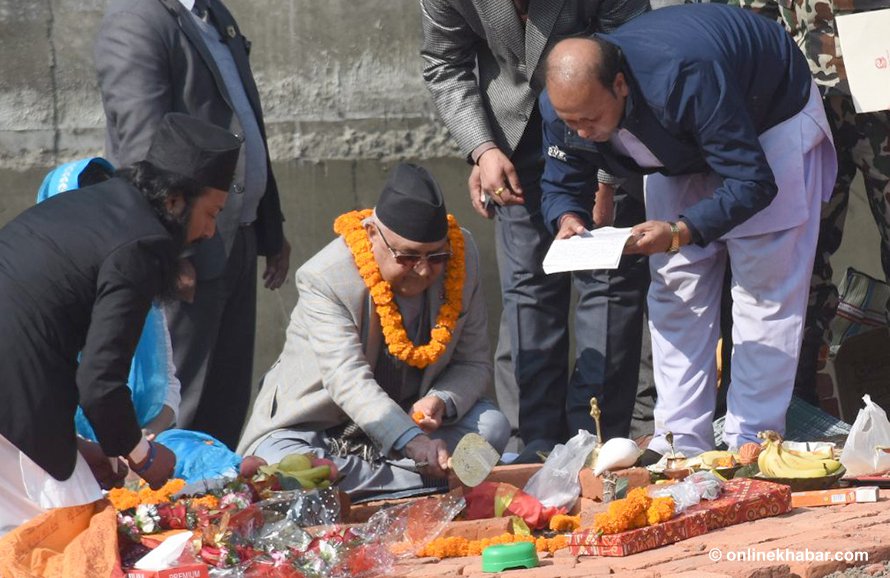 Kathmandu, December 27
Prime Minister KP Sharma Oli has laid the foundation stone to the new Dharahara that is to be built next to the ruins of the historic tower devastated by the 2015 earthquake.
Oli, during his previous stint as PM, had promised that the tower will be rebuilt. He even launched a campaign to raise funds for the project, which did not take off.
Speaking at the event, PM Oli said that he wanted to look at a clean Kathmandu from the top of the new Dharahara and also added that he had given the contractors two years to finish the project. "Even senior citizens will be able to get to the top of the new Dharahara," the PM announced.
The National Reconstruction Authority has signed a contract with GIETC-RAMAN J/V and given it Rs 3.45 billion to finish the project. The 'old' Dharahara will be preserved by covering it with glass while the new Dharahara will be built next to it.
According to the Heritage Department Chief at NRA Raju Man Manandhar, the new Dharahara will look like the older one, but will be built using modern technology. He also added that the new Dharahara will also have all modern amenities.