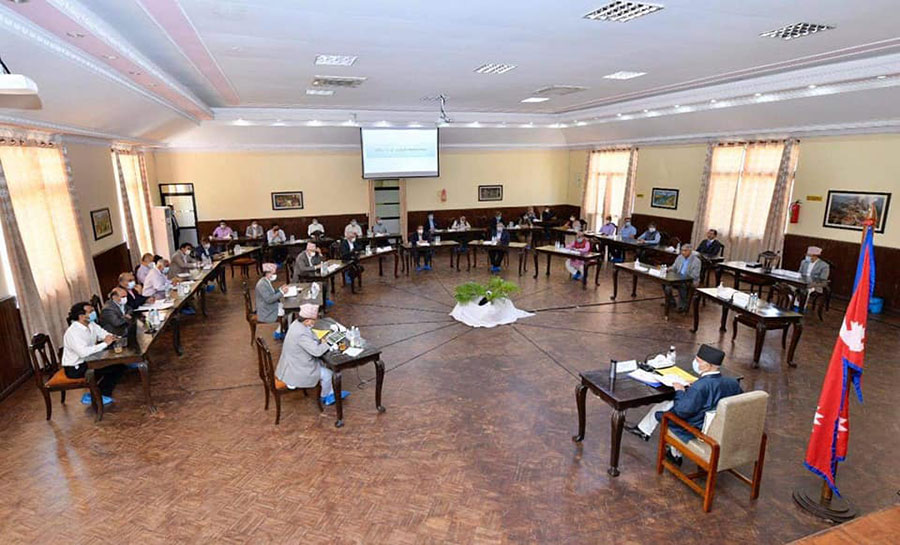 Kathmandu, August 4
Prime Minister KP Sharma Oli has consulted leaders of the opposition parties and experts about the government's Covid-19 response.
The main opposition leader, Nepali Congress President Sher Bahadur Deuba, and People's Socialist Party Nepal Chairman Mahantha Thakur were present in the meeting.
Sources say another chairman of the ruling Nepal Communist Party, Pushpa Kamal Dahal, was also invited, but he could not make it. It has been learned that Dahal was busy meeting the party's vice-chairman Bamdev Gautam this morning.
Speaking in the meeting, Oli urged all not to consider the crisis as an opportunity to protest the government. "Sometimes, you protest saying why there was lockdown, sometimes you protest saying why there was not," Oli's communications expert, Ram Sharan Bajgain, quotes the prime minister as saying, "The pandemic is a challenge for everyone. You should not consider it an opportunity."
Deuba said the government should make it mandatory for the public to wear masks and maintain distance at public places, adding whether to impose a lockdown again could be decided after considering the ratio of community transmission of the disease.
Before this, Mahendra Guragain, a secretary of the Office of the Prime Minister, gave a presentation about the government response to the crisis.